Introduction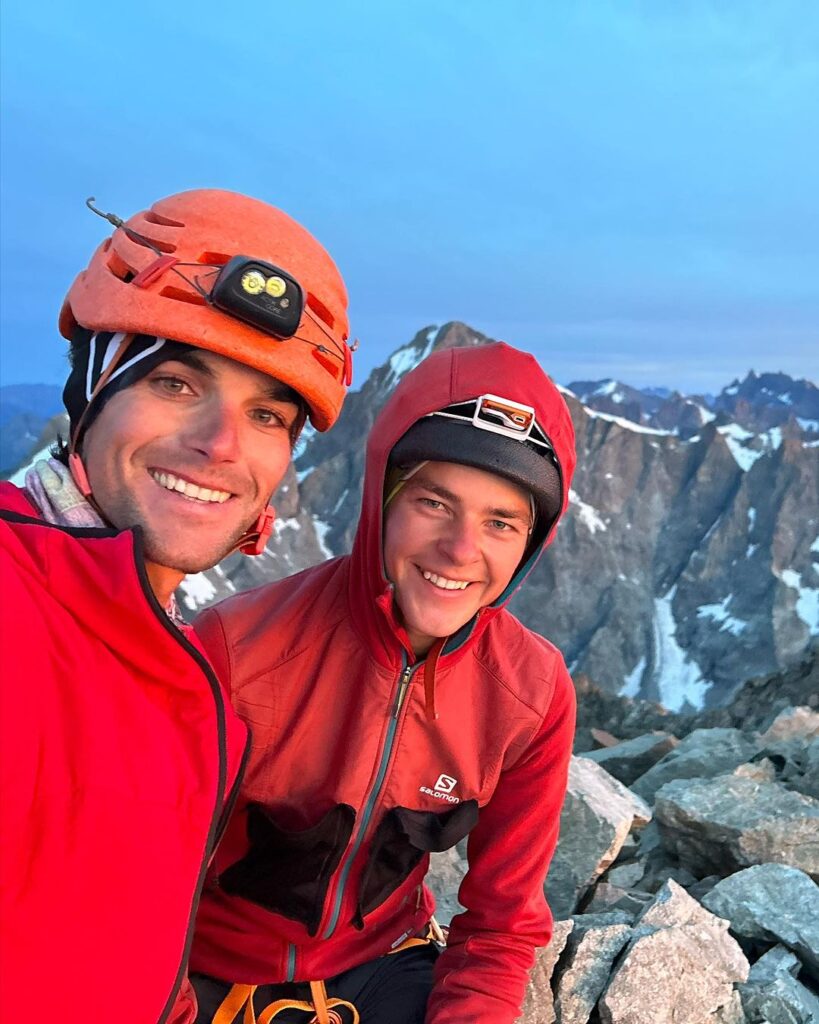 Hi Peter! My name is Benjamin Védrines and I'm a mountain guide in the French Alps. I'm writing to you because we're planning to cross Zanskar with my girlfriend in 15 days' time. I want to go through the wilderness, in particular the village of Shade from Zangla via the Rotang La. I saw that you've already done this section. My questions: Do you have any villages other than Shade on this section? Going fast, how many days do you think it would take from Zangla to Shade, walking a long way each day? Finally, I think we'll only have one Ladakhi guide so we can communicate with the locals, and we'll have an ultralight tent in the bag so we can sleep outside for two consecutive nights. Finally, I'm equipped with a satellite message transmitter, the Garmin Inreach. Do you know if I can pick it up and use it on site? I know that India is very fierce towards these communication devices… Thanks in advance for all your information! See you soon!
Actual Plan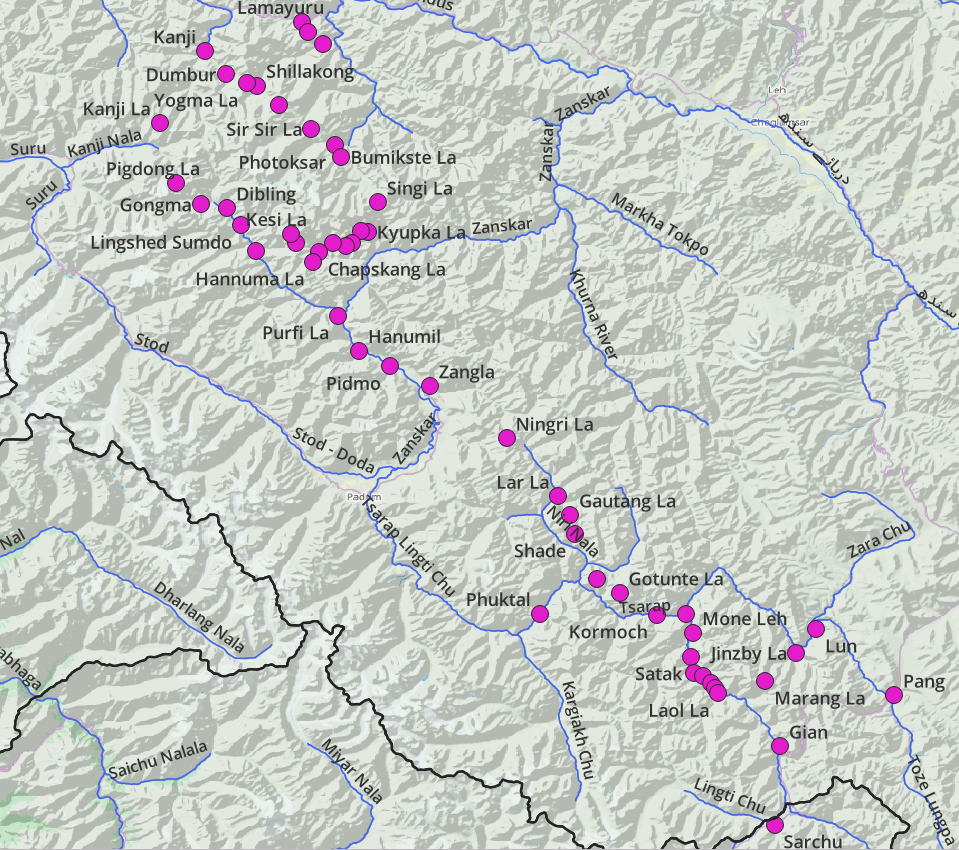 [Peter]
Zangla – Ningri La – Lar La – Gautang La (=Rotang La) – Shade is a beautiful remote traverse through the alpine desert of Zanskar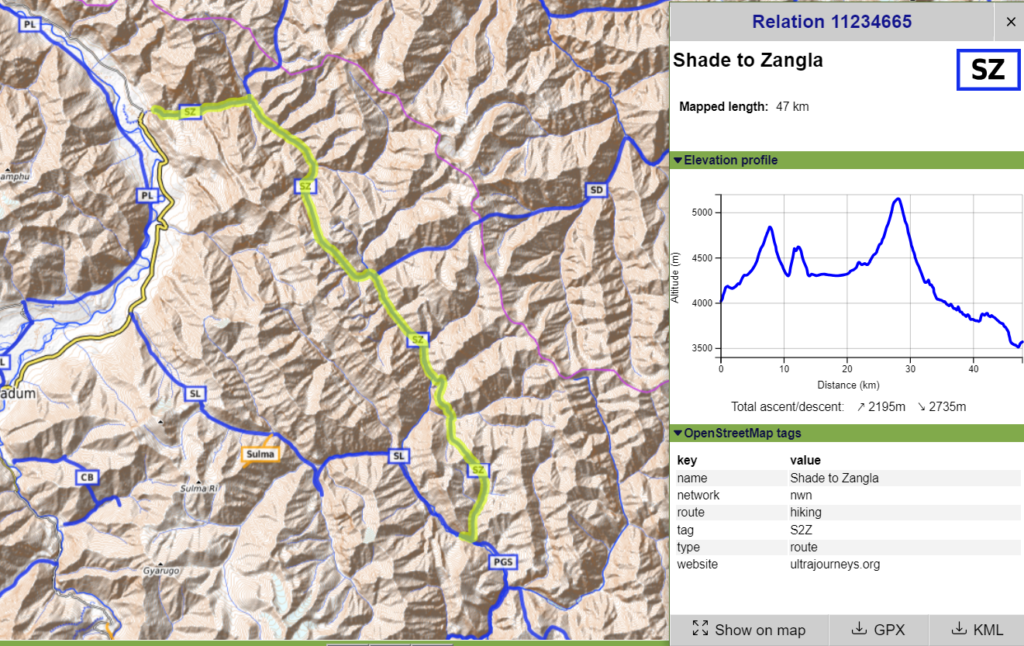 Total distance is 47km / 2200m+ gain so you can easily do it in 2 days. You ll find a nice campsite near 33.54814 N, 77.15791 E where you ll find some rock shelters and maybe still a few yak herders from Shade grazing the meadows nearby
The trail is accurately recorded in Open Street Maps so a guide is not really necessary. Just download OSM maps offline. I use OSMAnd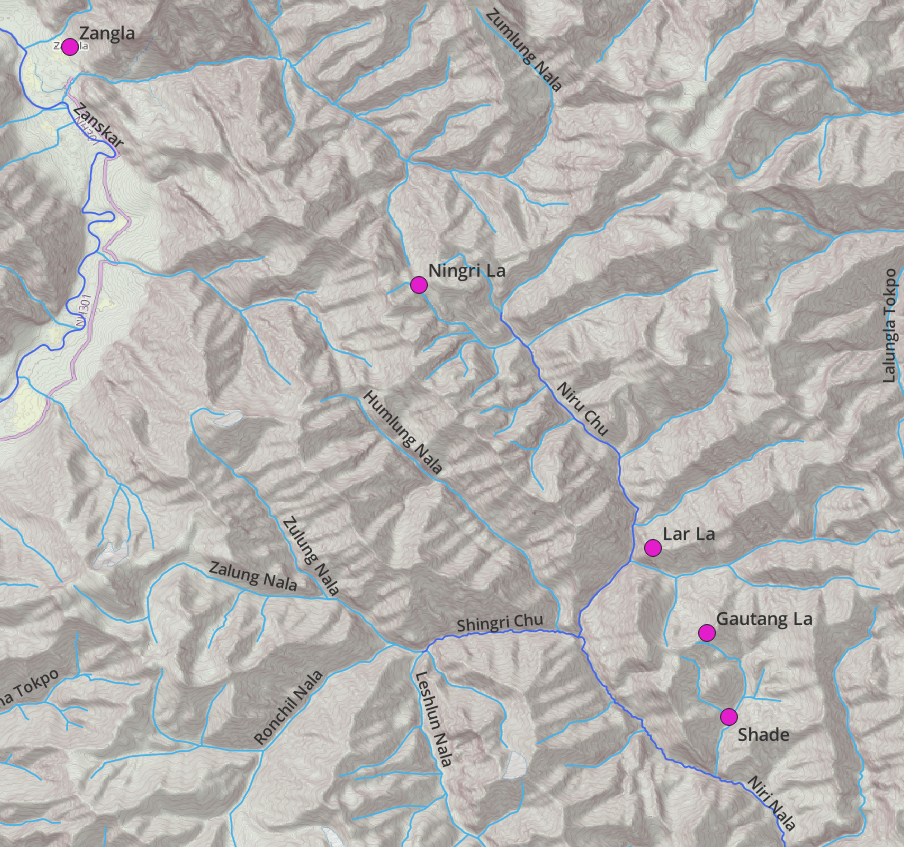 There is nothing in between Shade and Zangla except for a couple of deserted summer dwellings which might no longer be in use or only during summer by shepherds: Zangla Sumdo (intersection two valleys), Ningri (above location, after descending from Ningri La) and Ningri (in valley just after descending from Lar La)
Go ultra light so you can move fast. You can pack up food (e.g. alloo parata's at any homestay in Zangla) for 1.5 days and again resupply at Shade (1 private homestay). After that you can exit via Pukthal gompa – Padum (or Manali via Singo La) or do another amazing traverse along the Tsarap Chu river to Sarchu
Garmin inreach should work. I am guiding an Australian (Pete Jost) on a longer traverse in Ladakh/Zanskar and I received messages from him. Do be careful however as satellite communication devices are officially not allowed in India and the customs might take it away while entering the country
https://www.garmin.com/en-US/c/outdoor-recreation/satellite-communicators/
Mid September is usually the onset of winter which means less melt water in the streams so stream crossings should be fairly easy (no major crossings in this traverse) and at the same time temperatures will start dropping at this higher altitude
A satellite transmitter might not really be required in this smaller traverse as there are no tricky sections like glaciers, snow, wild streams, etc. It s hardly 2 days. I strongly suggest you add something extra to it. Check the 5 traverses done by Pete Jost in Ladakh / Zanskar in the above link
[Benjamin]
thank you very much for all these details, it's superb! I was thinking of taking the garmin Inreach because I have someone who can send me the weather. and if you ever have a problem on a trail, it's still easier.. I know a lot of accidents on simple mountain trails, even among very experienced people. I prefer to have a means of communication. We were thinking of doing it like this: Kanji – Photoksar – Lingshed – Zangla – Padang La – Lar la – Rotang La – Shade – Phuktal – Purse – Sking – Surichan La – Sarchu
[Peter]
Got your point. In that case please do check with Pete how he got his inreach through customs as you don't want them to confiscate it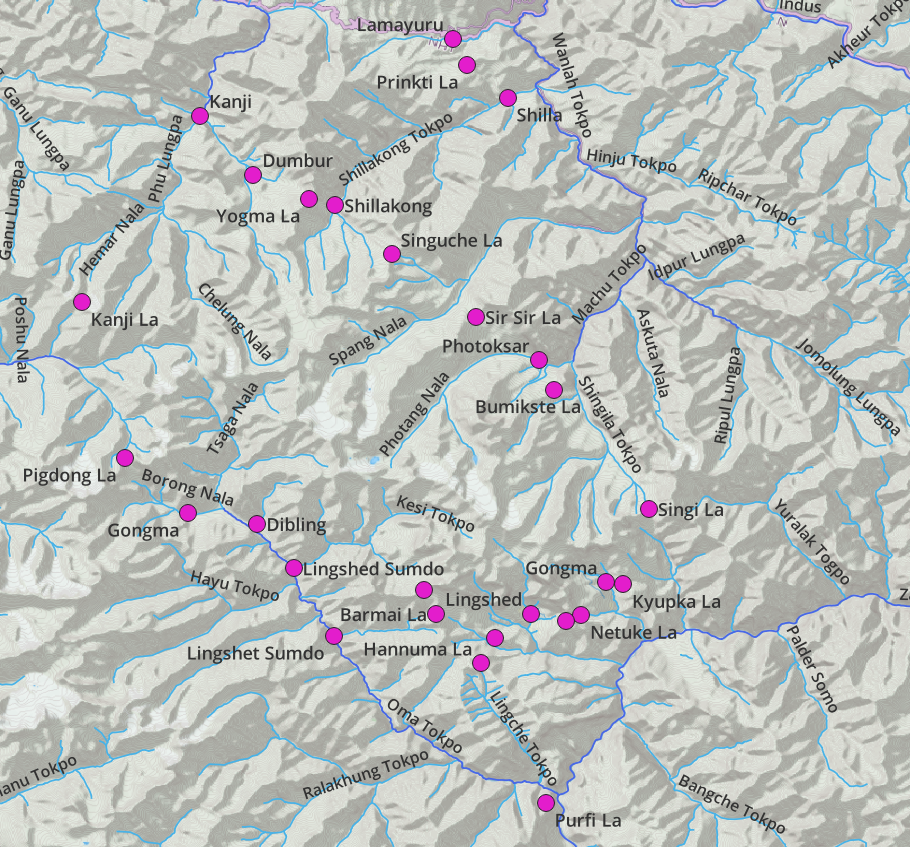 Kanji – Yogma La – Shillakong – Shinguche La – Sir Sir la – Photoksar – Singe La – Kyupka La – Murgum La – Lingshed – Chapskang La – Hannumu La – Parfi La – Zangla is a nice traverse although you ll find a good amount of new roads between Photoksar and Lingshed.
Instead of starting from Kanji you could also consider doing Lamayuru – Prinkti La – Shilla – beautiful gorge – Shillakong and then proceed via above. Lamayuru is more easily accessible to hitch a ride compared to Kanji which is more remote.
Phuktal – Purne – Sking is mostly road now on the right (West) bank. You ll still find a trail on the left (East) bank. Although personally I find the Tsarap river traverse much more beautiful: Shade – Nialo Konste La – Gotunte La – Tsarap river valley – Sarchu
Alternatively you can also divert via Tsarap river valley – Marang La – Jinzby La – Lun – Toze Lungpa – Pang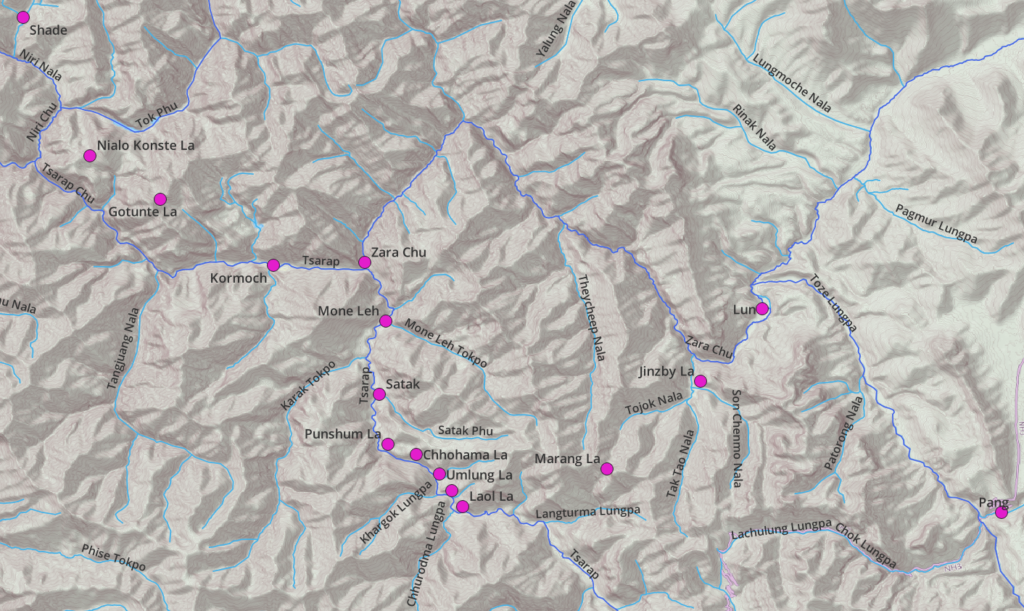 I also suggest you carry offline Survey of India maps with you which have excellent terrain details on the Indian Himalayas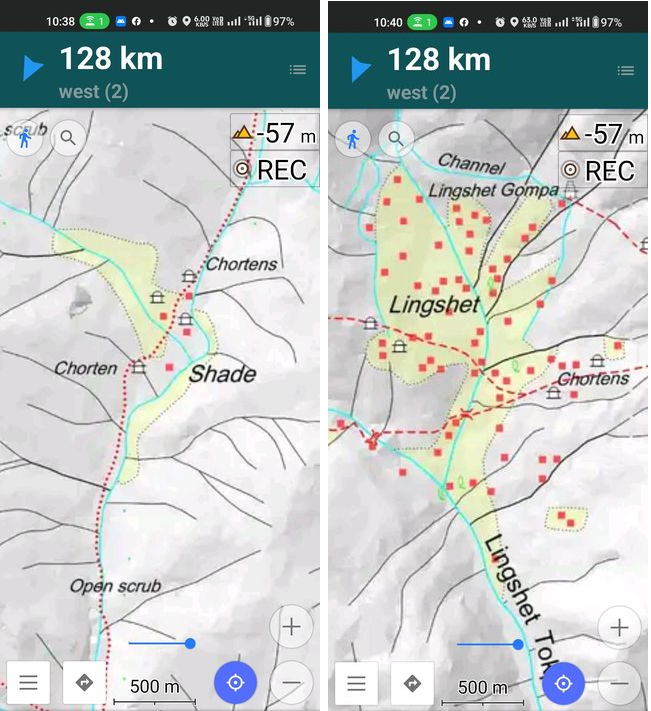 [Benjamin]
what you propose below: the Tsarap river crosses much more beautiful: Shade – Nialo Konste La – Gotunte La – Tsarap river valley – Sarchu. it looks interesting, but do you have villages to sleep and/or buy food? do people generally understand English in this region? do you advise me to hire a carrier who can translate or be independent enough? in the big crossing of the upper Dolpo that we had done in 2021, we had a guide because it was compulsory. I usually don't like it but I admit that it was interesting to be able to communicate with the locals.
[Peter]
To skip the Photoksar-Lingshed road section you could also consider Kanji – Kanji La – Pigdong La – Dibling – Barmai La – Lingshed. This is really beautiful / more interior / less touristic section but requires a crossing of the Orna river (before Barmai La) which should normally be ok mid Sep (less glacial / snow melt as temperatures drop)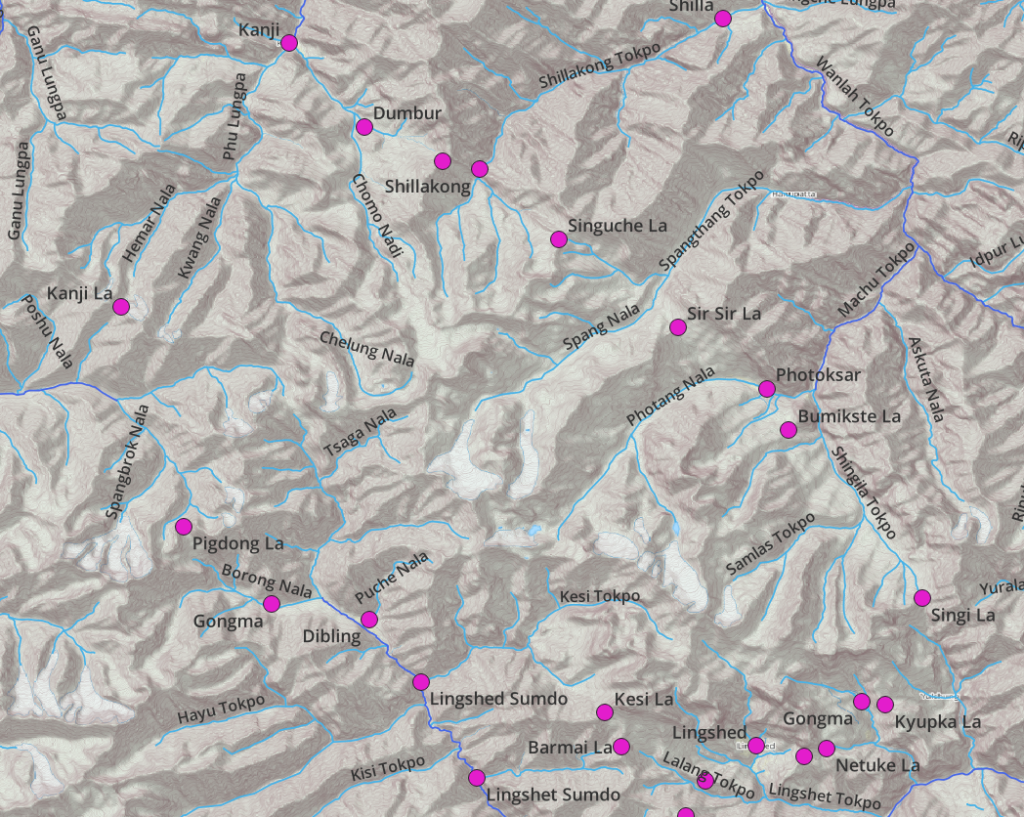 Shade has no dhaba's but it's frequented by international tourists (via Phuktal) so there is a private home which hosts hikers and where you can ask to pack up 2-3 days of food for the Tsarap traverse. Alternatively it's a day hike to Phuktal gompa where you ll find a dhaba (and the monastery is definitely worth a visit) and then a half a day hike back to the base of the Nialo Konste La. No inhabited villages between Shade and Sarchu but quite a few (4-5) abandoned ruins which make nice night halts.
Ladakh has an international hiking scene for the past 2 decades due to the availability of good topographic maps (Olizane Swiss maps) and as such people speak English in villages but might not in the more remote settlements. Still languages is never an obstacle to get around in the Indian Himalayas as per my personal experience
I personally hate guides and have solo hiked some 350+ Indian Himalayan passes. Nothing beats the freedom of solo hiking. India has no mandatory guide policy like Nepal. I strongly suggest you go on your own given that you are a mountain guide. Especially as a couple I feel privacy is also valuable to not have a guide along 😉
The only benefit as you say would indeed be communication with locals (only in remote settlements): Shade, Dibling. The touristic / frequented villages (Kanji, Photoksar, Lingshed, Zangla, Phuktal) you ll find people who speak English
Once you finalize your route I can suggest you the places for food supply (optimize your weight) and suitable night halts. Especially as a couple I feel privacy is also valuable to not have a guide along 😉
[Benjamin]
THANKS. I will look at the route by the Kanji pass, and Dibling. there are fewer villages to get supplies and find beautiful places to live, but the option seems interesting to stay in the wild! I think we're going to go on our own, thanks to your advice. at most we will pay a porter for half of the route to facilitate things in the villages, up to Zangla.
we'll see but it's always more complicated with a guide or porter, to achieve big steps as we like to do.
Thanks again !
[Benjamin]
I hesitate to take a solar panel. do you usually take one in this region?
[Peter]
I had a not so good experience with my panel – efficiency while carrying on backpack, weather conditions, weight, durability. I stick to a 10KmhA power Bank which I recharge in every village on the way. I usually get 2 days out of my phone battery while in flight mode plus 2x charge on power Bank gives me 5-6 days. In some smaller villages in Ladakh you lll find solar panels, batteries, inverters to charge your electronics
Summarizing the individual sections:
Part 1 – Kanji to Lingshed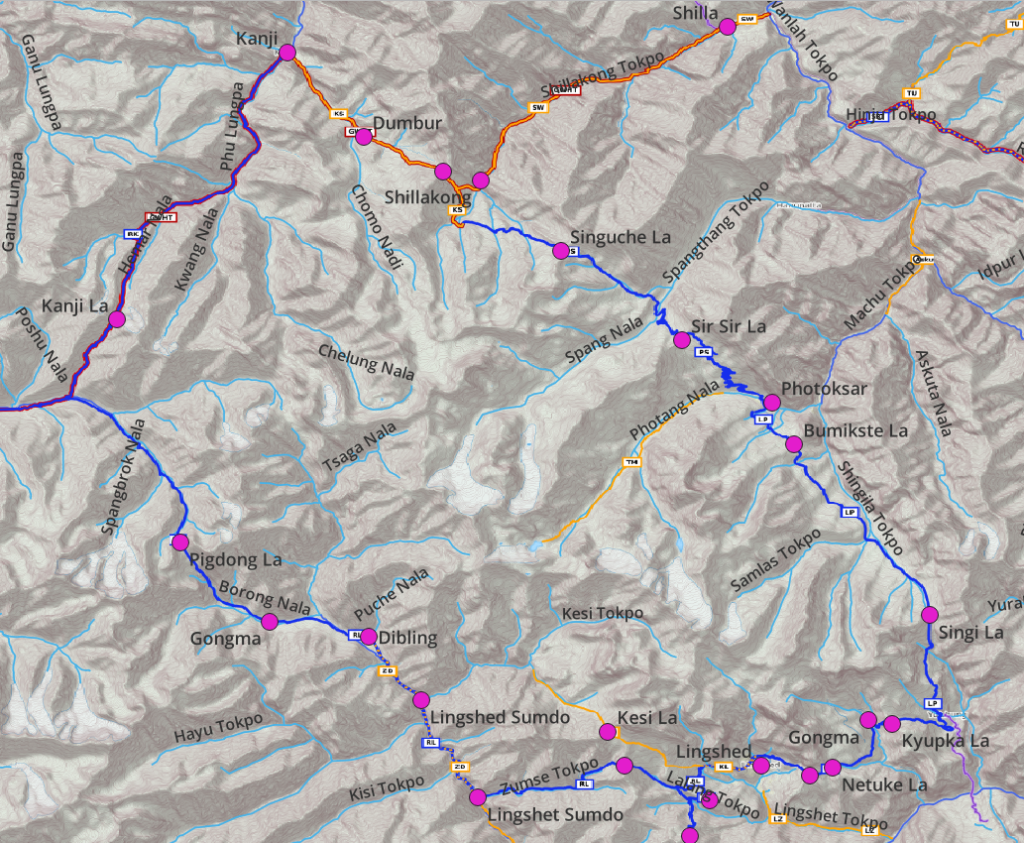 4 passes / 4 valleys:
Kanji (food, dhaba)
Phu Lungpa
Homar Nala
Kanji La
Kanji Nala
Ringdom Nala (flat space to camp at confluence, cross early morning / less melt water flow)
Pigdong La
Borong Nala
Gongma (summer dwelling, mostly uninhabited)
Dibling (summer dwelling, homestays)
Orna river
Lingshed Sumdo 1
Wooden bridge (cross Orna from East to West)
Fjord across Orna river West to East (cross early morning, if too much water flow then exit via Lingshet Sumdo 1 – Kesi Tokpo – Kesi La)
Lingshed Sumdo 2
Zumse Tokpo
Barmai La
Lalang Tokpo
Chapskang La
Lingshed (major settlement, dhabas)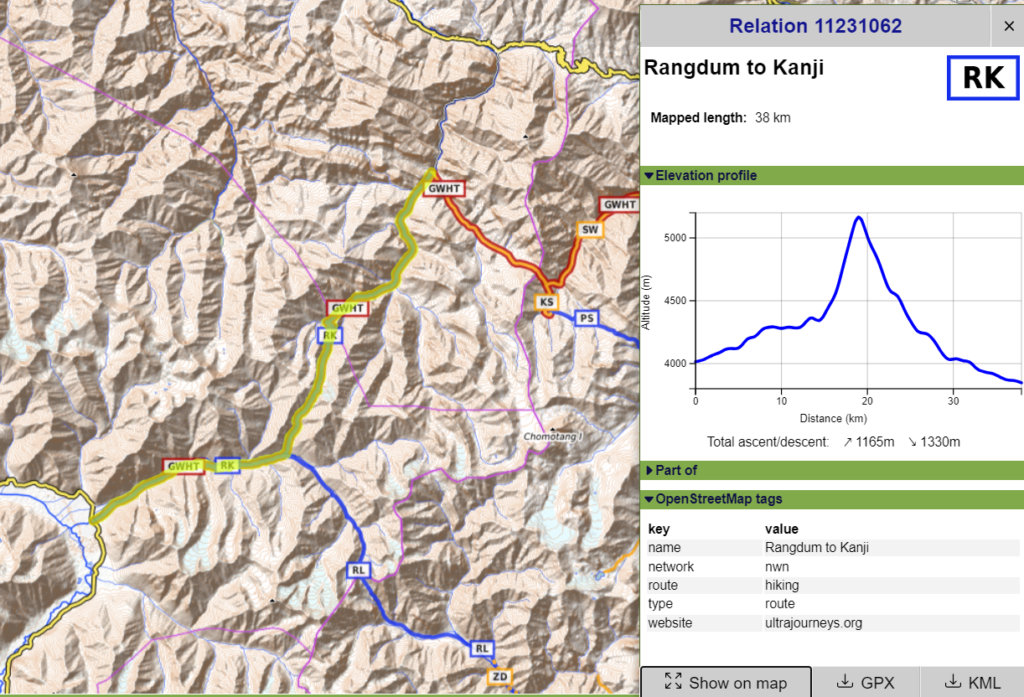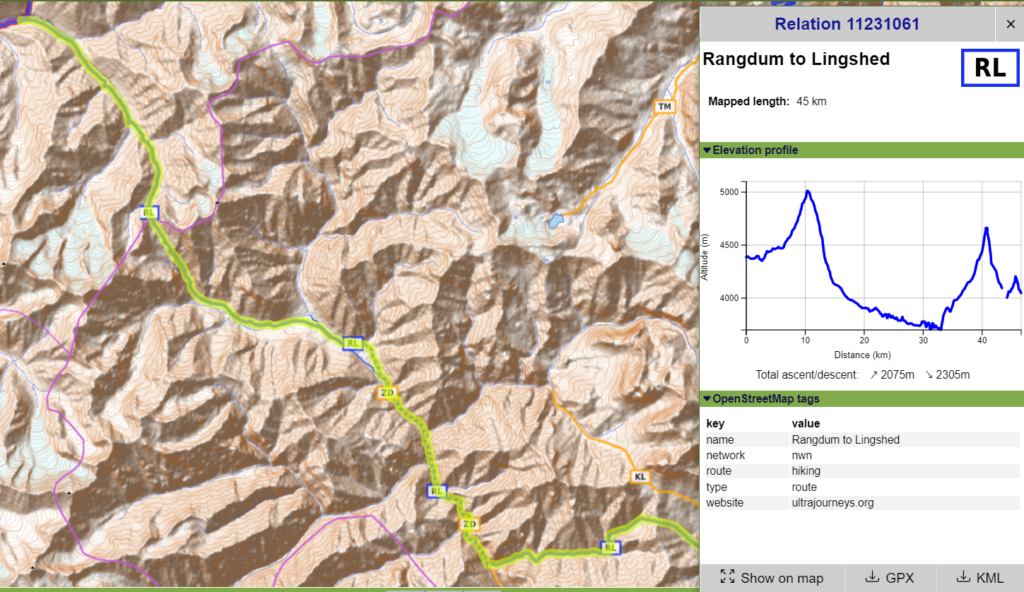 Part 2 – Lingshed to Zangla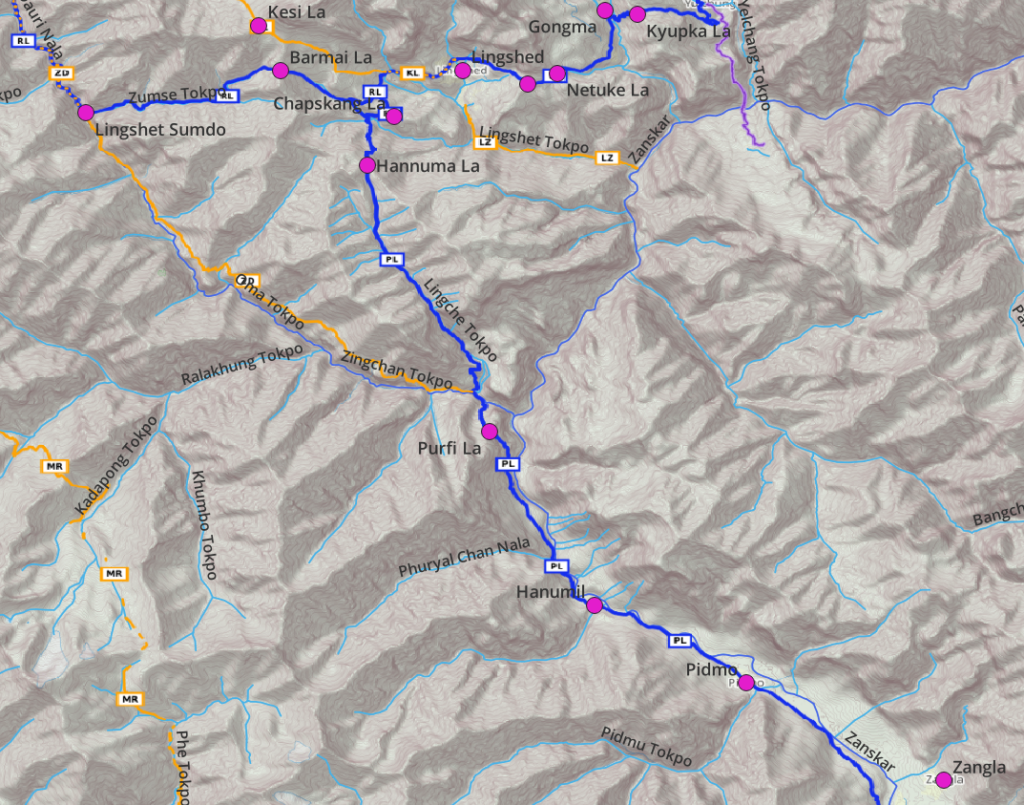 3 passes / 3 valleys:
Lingshed (food)
Chapskang La (small saddle)
Lalang Tokpo
Hannuma La
Lingche Tokpo
Orna Tokpo (bridge)
Neche (campsite)
Parfi La
Zanskar river
Hanumil (food)
Pidmo (cross Zanskar, bridge)
Zangla (food, homestays)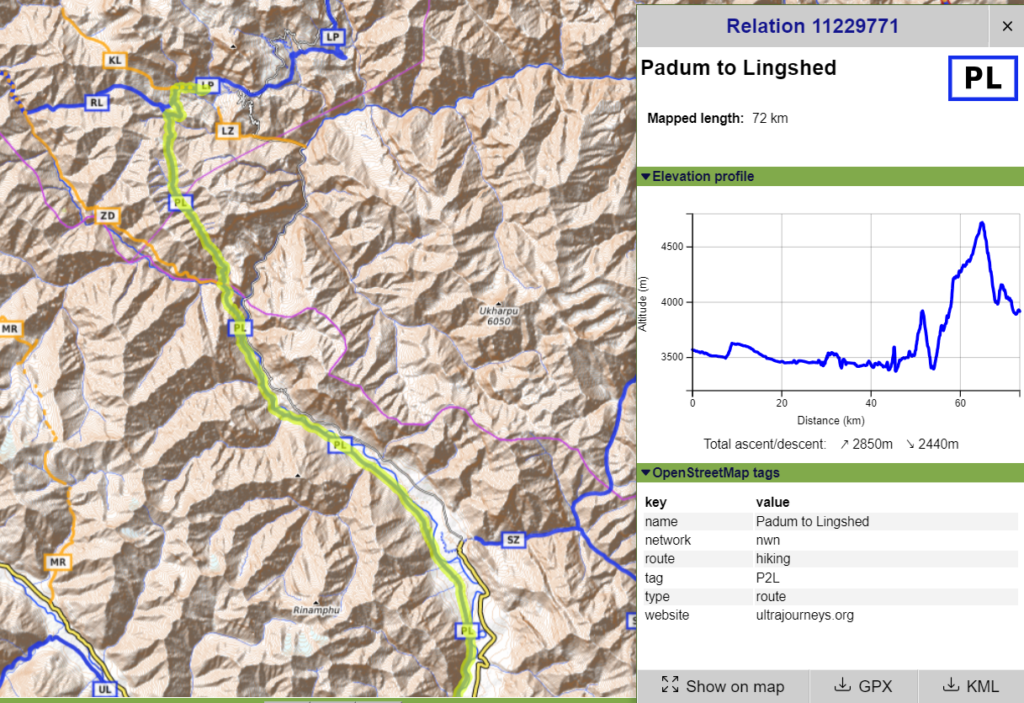 Part 3 – Zangla to Shade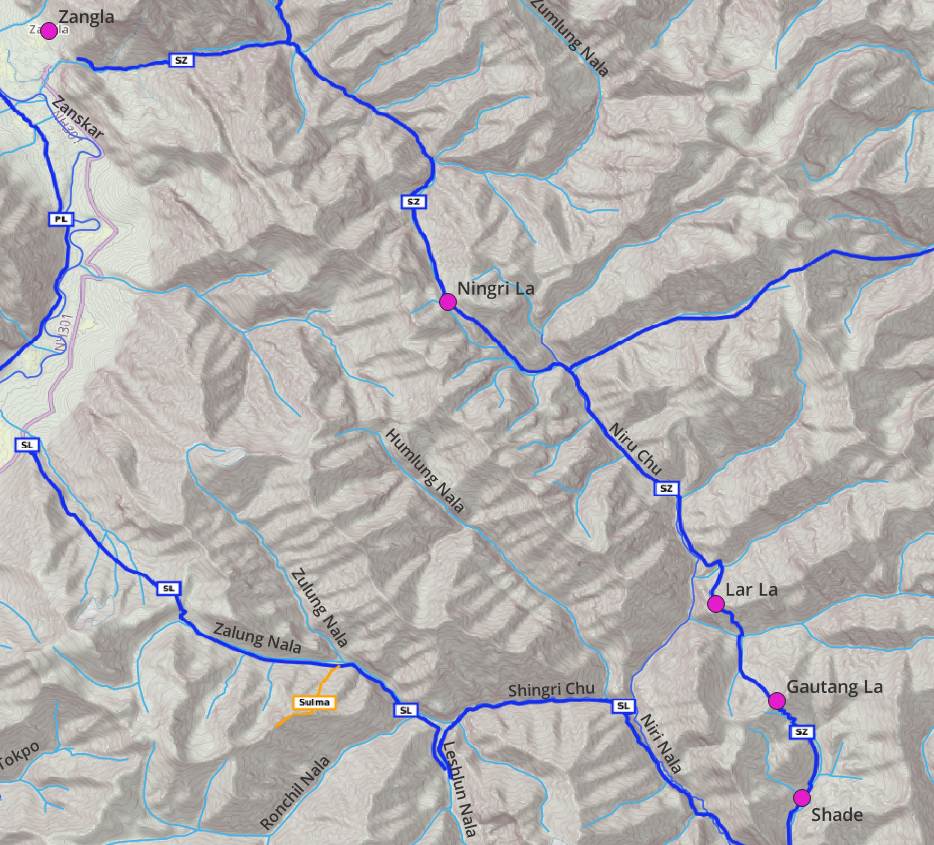 3 passes / 2 valleys:
Zangla (food, homestays)
Zumlung Nala
Zangla Sumdo (deserted rock shelters)
Ningri La
Ningri (summer dwelling, few rock shelters, near confluence Niru Chu)
Niru Chu
Lar La
Ningri (deserted rock shelters)
Gautang La
Shade (food, homestay)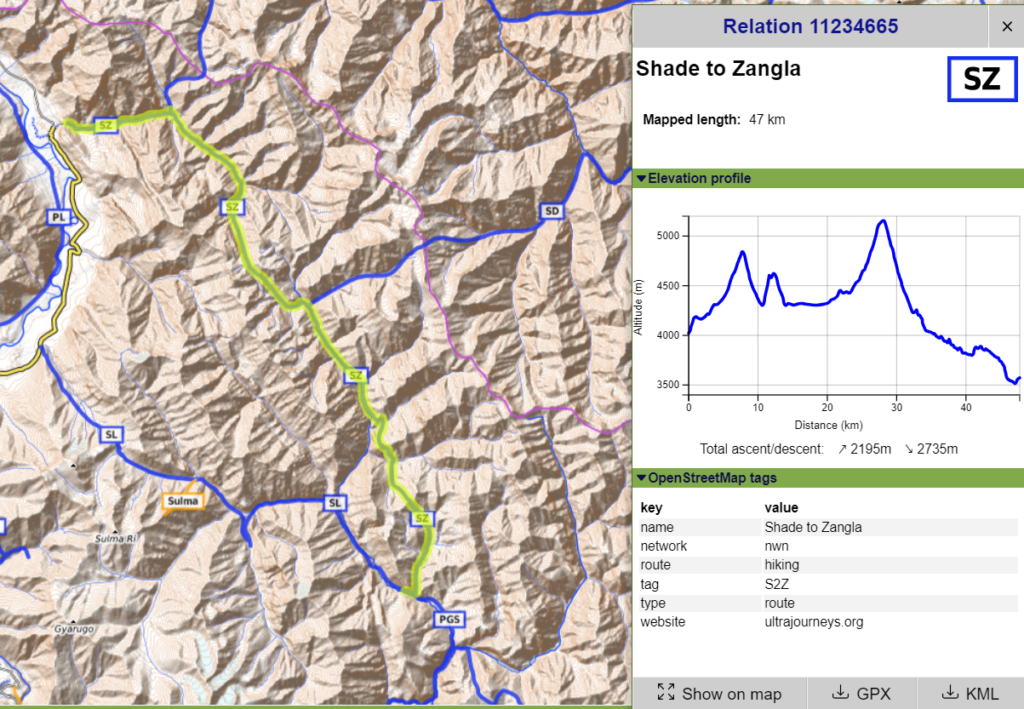 Part 4 – Shade to Sarchu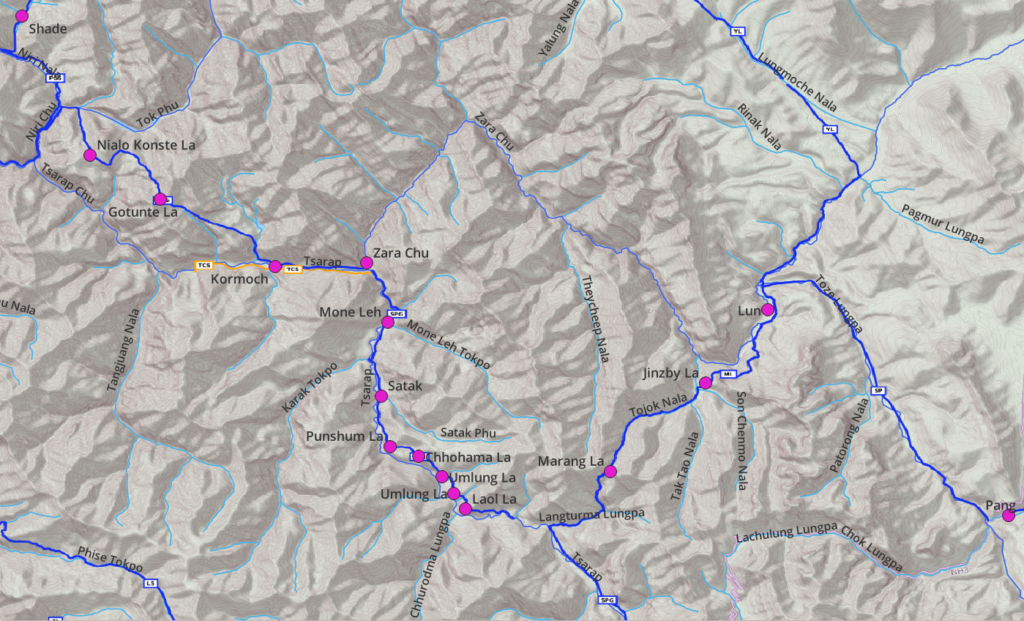 2 passes / 5 smaller passes / 2 valleys:
Shade (food, homestay)
Niru Chu
Phuktal gompa (optional, dhaba)
Tok Phu
Campsite / spring mid-way to Nialo Konste La
Nialo Konste La
Saddle (viewpoint on Tso Topkhu lake North)
Gotunte La
Viewpoint on unnamed lake
Tsarap Chu river valley
Kormoch (deserted rock shelters)
Zara Chu (new bridge, river crossing)
Mone Leh (ruins rock shelters)
Satak (beautiful settlement, in ruins)
Punshum La (5 small passes across small ridges to bypass Tsarap gorge below)
Chhohama La
Umlung La
Umlung La
Laol La
Tsarap river
Sarchu
Optional you can consider: (need to pack more food in Shade / Phuktal)
Langturma Lungpa
Marang La
Tojok Nala
Jinzby La
Zara Chu
Lun (deserted summer dwelling)
Toze Lungpa
Pang (food)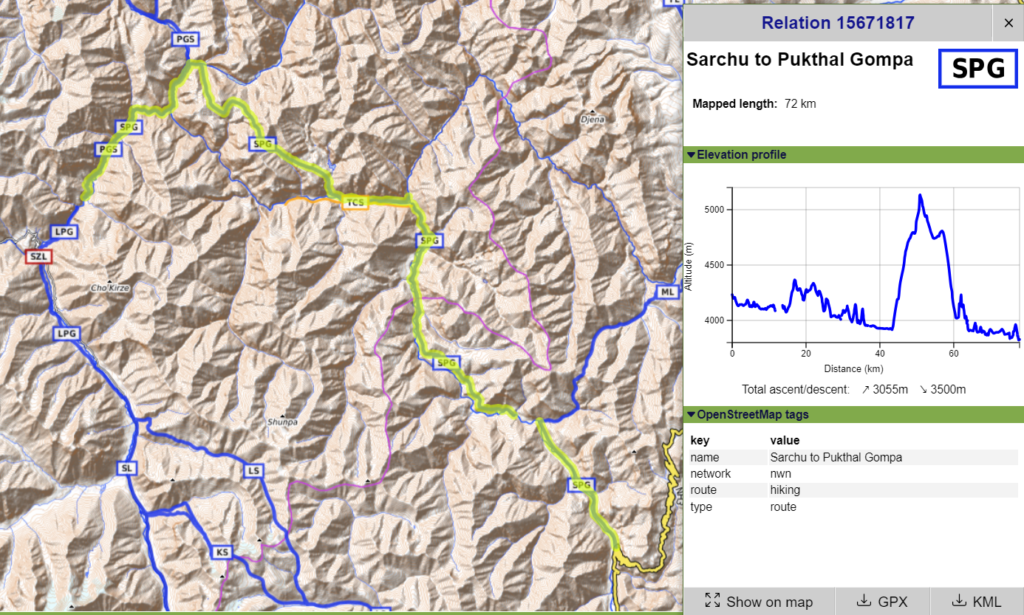 Estimated duration: 11 days
Kanji to Lingshed – 3 days, 75km
Night halts: Kanji, Ringdom Nala confluence, Dibling, Lingshed
Lingshed to Zangla – 2 days, 40km
Night halts: Neche, Zangla
Zangla to Shade: – 2 days, 47km
Night halt: Ningri, Shade
Shade to Phuktal – 1 day, 21km (optional)
Night half: Phuktal
Phuktal to Sarchu – 3 days, 72km
Night halt: below Nialo Konste La, Satak, Sarchu
Acclimatization
Your first pass Kanji La is 5200m so of course do proper acclimatization: e.g. Leh 3000m, Kanji 3900m, possibly one more campsite before Kanji La in Chelung Tagu Lungpa 4300m. Or even better: start from Lamayuru – Prinkti La – Shillakong – Yogma La – Kanji as a first acclimatization traverse