Introduction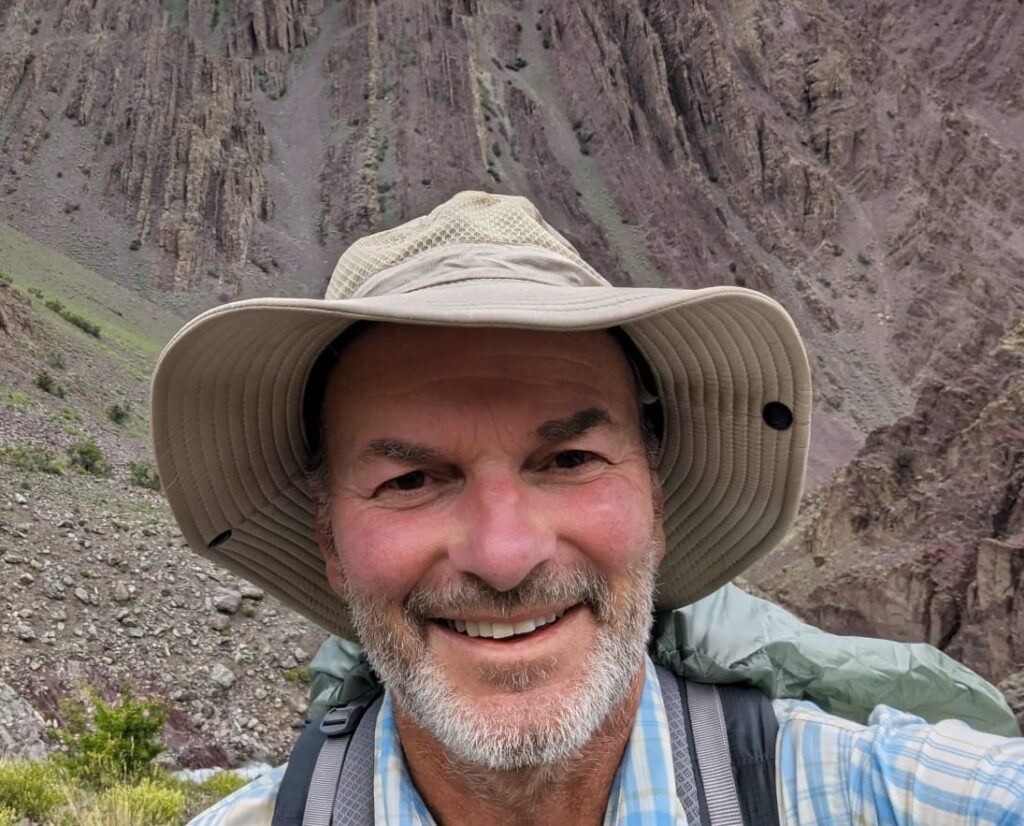 Peter Jost one of my Patrons. I've been a bushwalker in Australia for decades and have walked in Sichuan, Qinghai, Nepal, Zanskar over the years. I'm planning to spend July & August this year doing a few of the treks you've documented. Its hard to choose but thinking of going to Manali, doing Pin Parvati to Spiti, then Parang La to Tso Moririri, then getting to Bharatpur tent colony and doing trips from there.
Due to flooding in Kullu in July we decided to skip the Parvati / Spiti sections, fly to Leh and do some traverses in Ladakh. I proposed following circuits to Pete: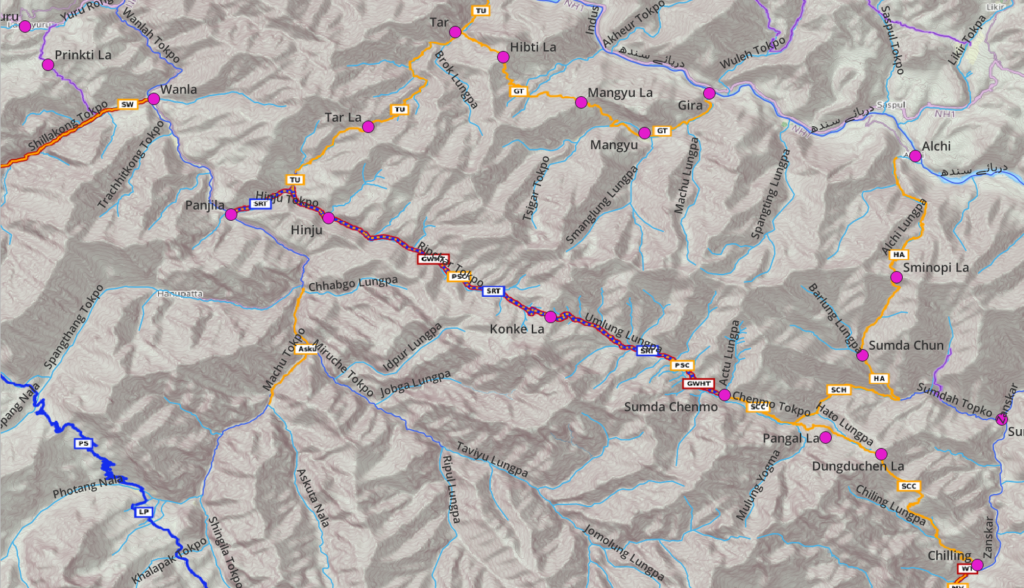 9 valleys / 8 mountain passes
Yoru Rong river (Lamayuru)
Prinkti La
Wanlah Tokpo (Wanla)
Hinju Tokpo (Hinju)
Konke La
Umlung Lungpa (Sumdah Chenmo)
Pangal La
Dungduchen La
Zanskar river (Chilling)
Sumdah Tokpo (Sumdah Chun)
Sminopi La
Indus river (Alchi, Gira)
Tsigar Tokpo (Mangyu)
Mangyu La
Hibti La
Brok Lungpa (Tar)
Tar La
Hinju Tokpo (Panjila)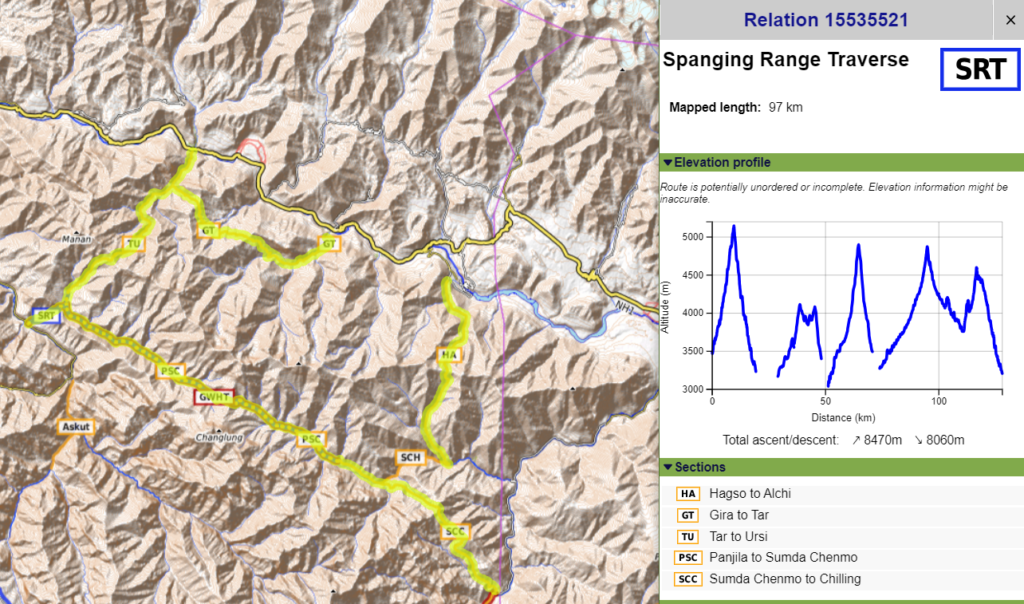 Food points
Lamayuru – dhaba / shops
Wanla – shops
Panjila – homestay / dhaba / shops
Hinju – homestays
Chilling – dhaba (optional diversion)
Alchi – dhabas / tourist spot
Sapta / Tar nothing but you might find hospitality or small shops in private homes
Panjila – finish
Blog Posts
Webinar
Photo album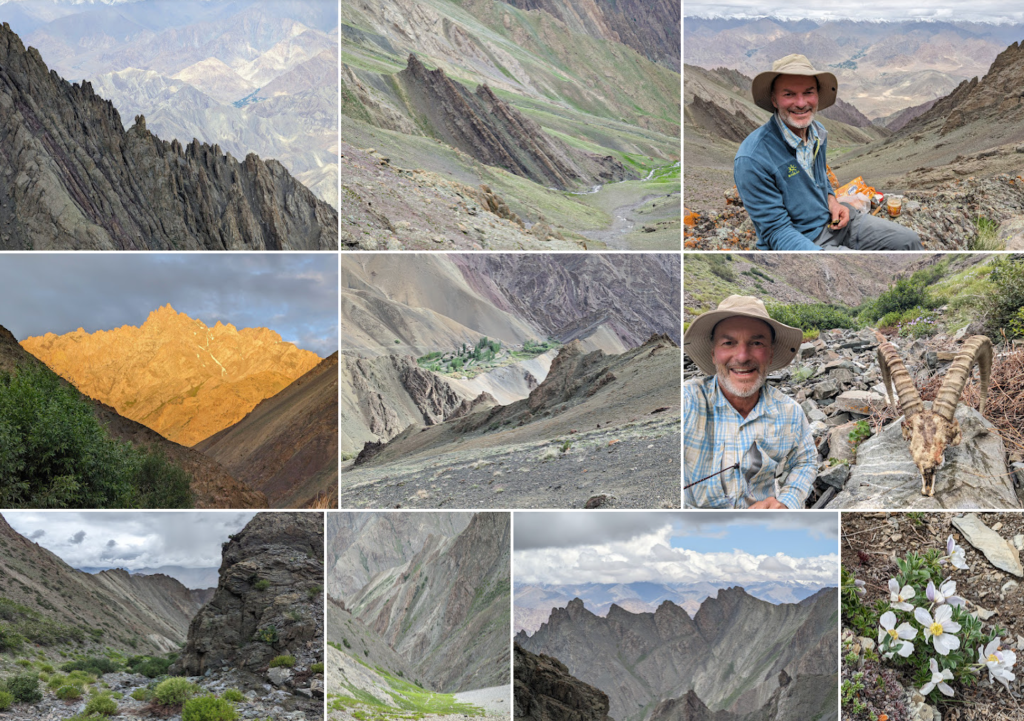 Photos taken by Pete upon completion over here.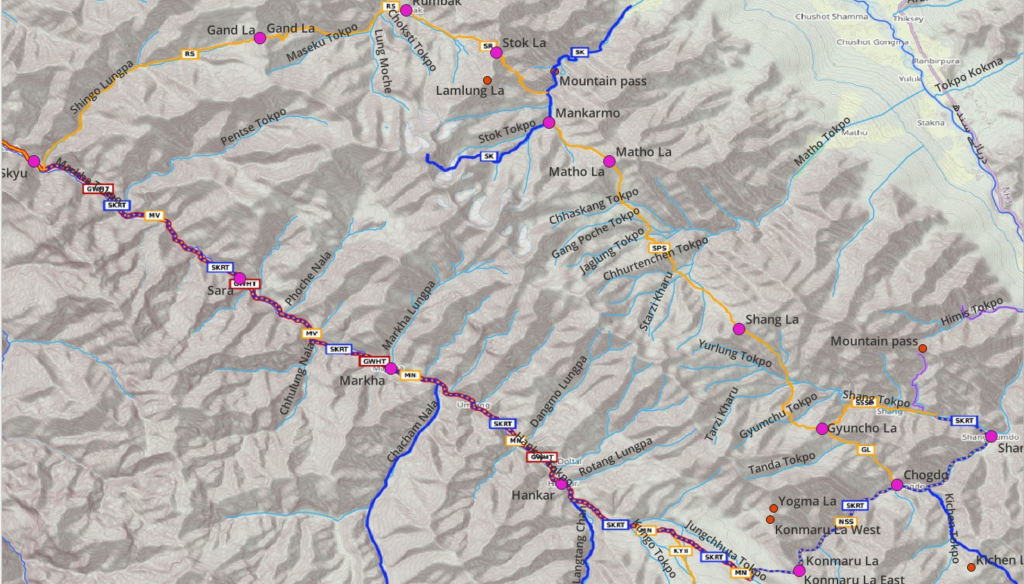 8 valleys / 6 mountain passes
Indus valley (Leh)
Rumbak Tokpo (Rumbak)
Stok La
Stok Tokpo (Mankarmo)
Matho La
Matho Tokpo
Shang La
Gyuncho La
Shang Tokpo (Shang Sumdo)
Martselang Tokpo (Chogdo)
Konmaru La
Markha valley (Hankar, Markha, Skyu)
Singo Lungpa
Gand La
Rumbak Tokpo (Rumbak)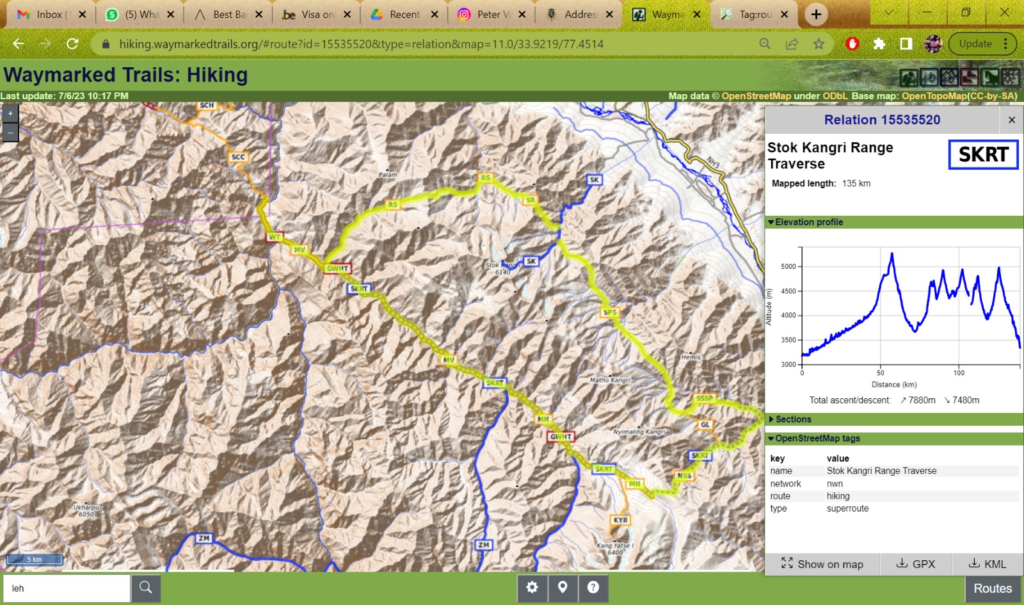 Food points
Chilling – dhaba
Markha valley – lots of cafes, home stays. Full package includes 1200Rs for dinner / night stay / BF / packed lunch. Although you can also just buy food and camp outside. Last village is Hankar
Shang Sumdo – dhaba
Mankarmo (base camp of Stok Kangri) – dhaba (might not be there if Stok Kangri is closed. Check with locals beforehand
Rumbak – cafes / homestay
Skyu – dhaba
Blog posts
Webinar
Photo Album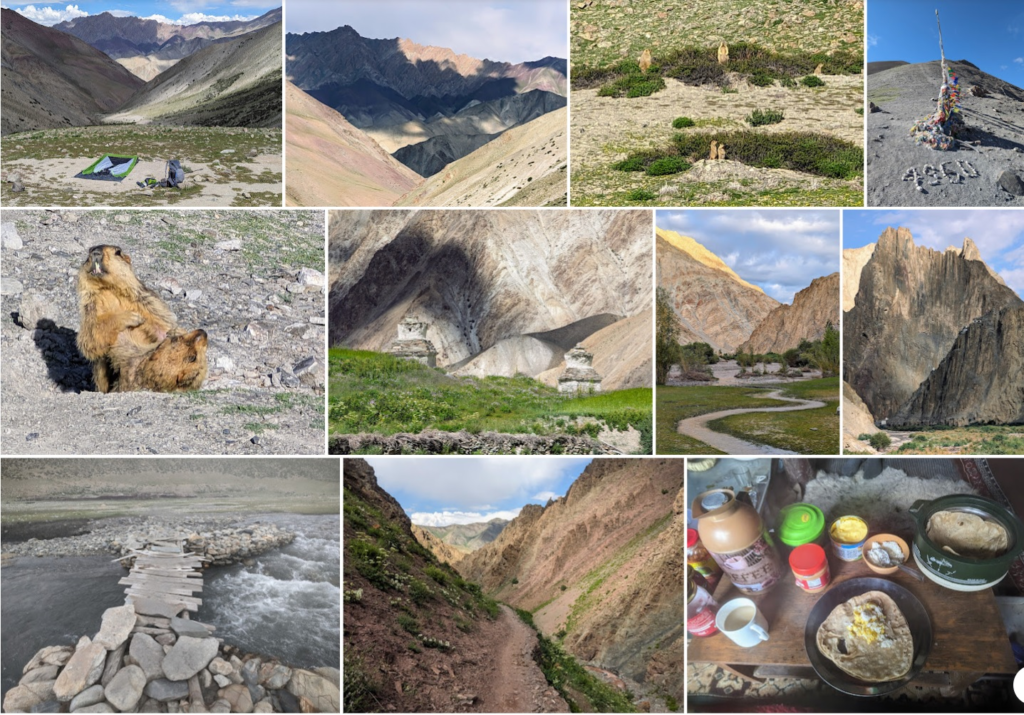 Photos taken by Pete upon completion over here.
What's next?
After completing the above two circuits we discussed on various other options in Ladakh / Zanskar as the monsoon was still active in the lower Himalayas: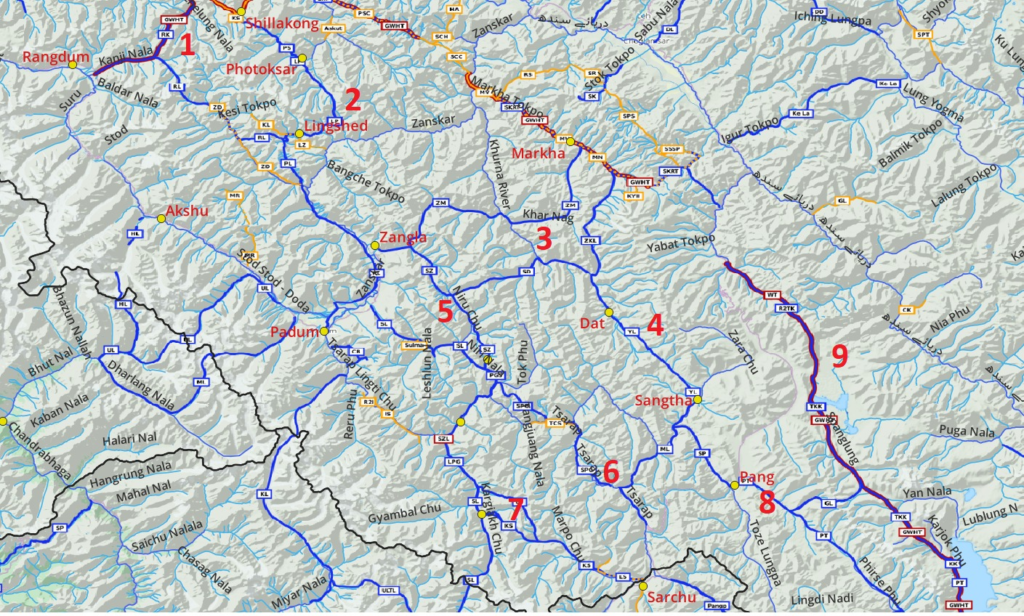 Kanji – Dibling – Lingshed – requires Orna river crossing / not possible in current water flow
Kanji – Photoksar – Lignshed – Zangla – popular route between Leh-Zanskar
Markha-Zangla-Markha – requires Kurna river crossing / not possible
Markha – Zalung Karpo La – Dat – Sangtha
Zangla – Ningri La – Lar La – Gautang La – Shade – continue 6
Tsarap river traverse: Shade / Phuktal Gompa – Sarchu
South Zanskar Khurgiak – Phirse La – Sarchu
Pang to Tso Moriri
Debring – Tso Kar – Tso Moriri
Above can be combined as:
2-5-6(-8)
2-5-7(-8)
2-6-8
2-7-8
4-8
4-9
9
After discussion with Pete we decided on below 4 traverses: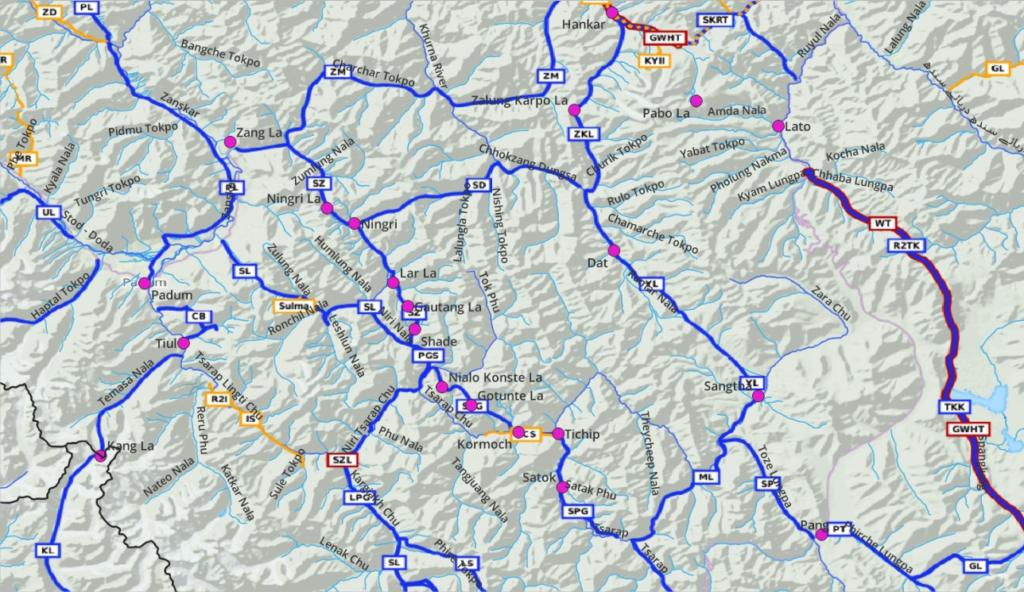 3. Lato to Pang – 124km / 3000m+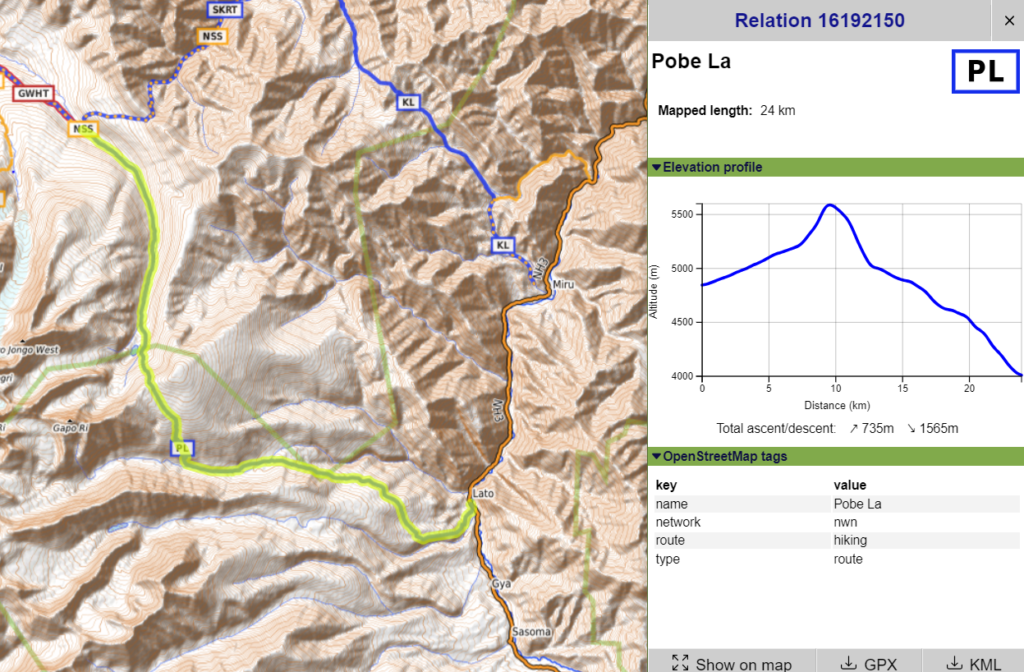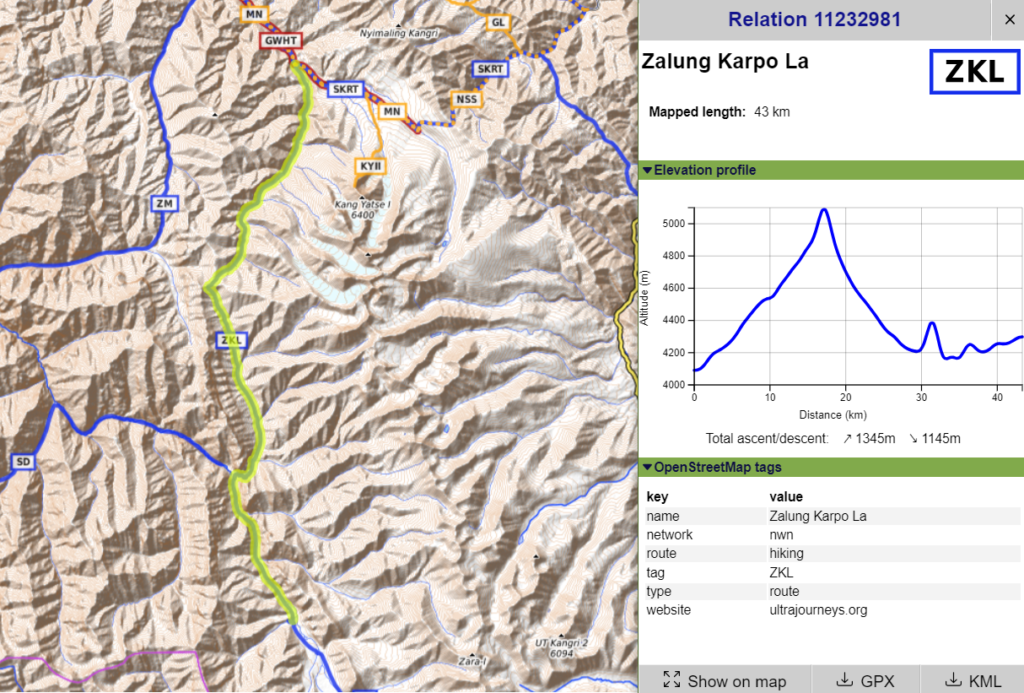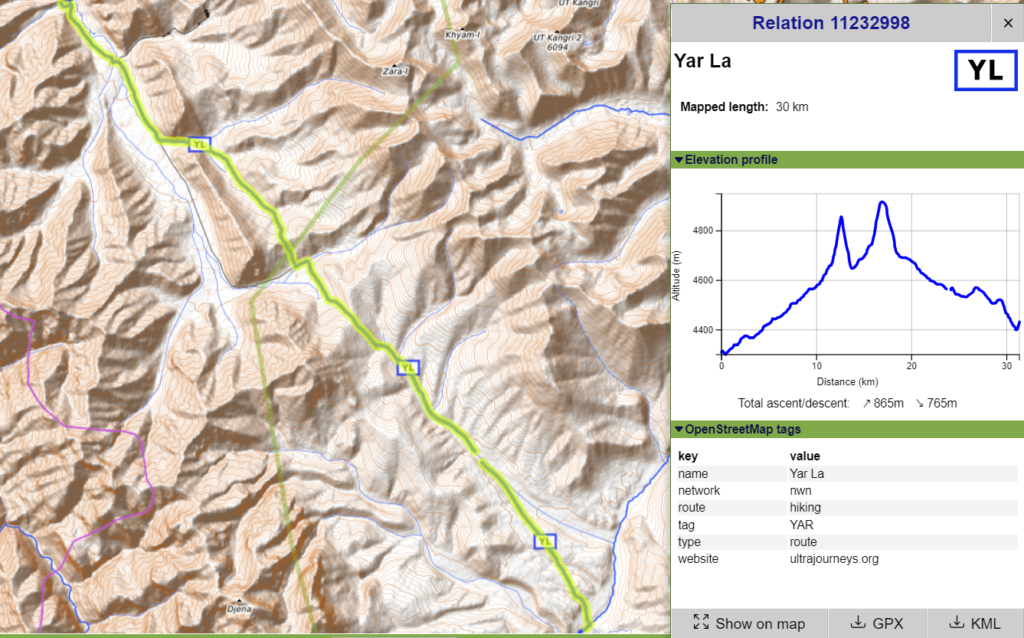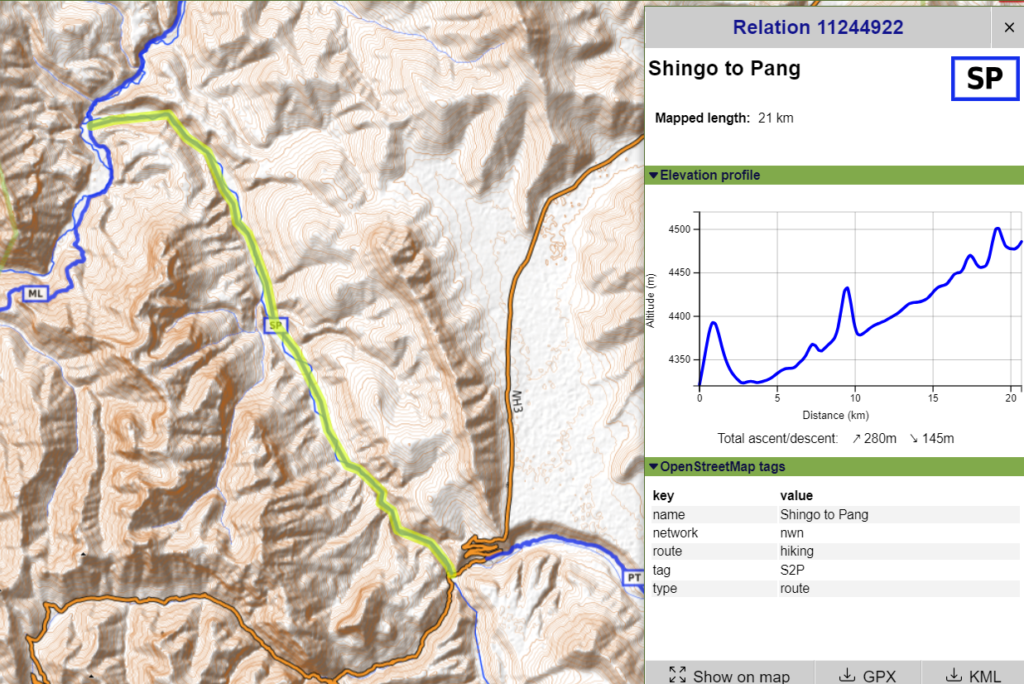 3 passes / 6 valleys
Mundar Tokpo
Lato (food)
Pobe La
Nimaling Tokpo
Markha valley
Hankar (food)
Langtang Chan
Zalung Karpo La
Gunjur Nala
Khar (unihabited dwelling, night shelter)
Dat Tokpo
Dat summer dwelling, no dhaba)
Jeep track
side-trail via unknown pass
Yar La
side-trail
Lungmoche Nala
Kharnak (summer dwelling)
side-trail
Zara Chu
Sangtha (summer dwelling)
Yabuk Barma (summer dwelling)
Toze Lungpa
Pang (food)
Blog posts
Zalung Karpo La
https://ultrajourneys.org/trans-himalaya-2019-hankar-to-dad-july-22/
Dad to Debring (you will divert via the Toze Chu instead)
https://ultrajourneys.org/trans-himalaya-2019-dad-to-debring-july-23/
https://ultrajourneys.org/trans-himalaya-2019-zara-chu-pogmar-la-aug-15/
4. Sarchu to Shade – 72km / 3000m+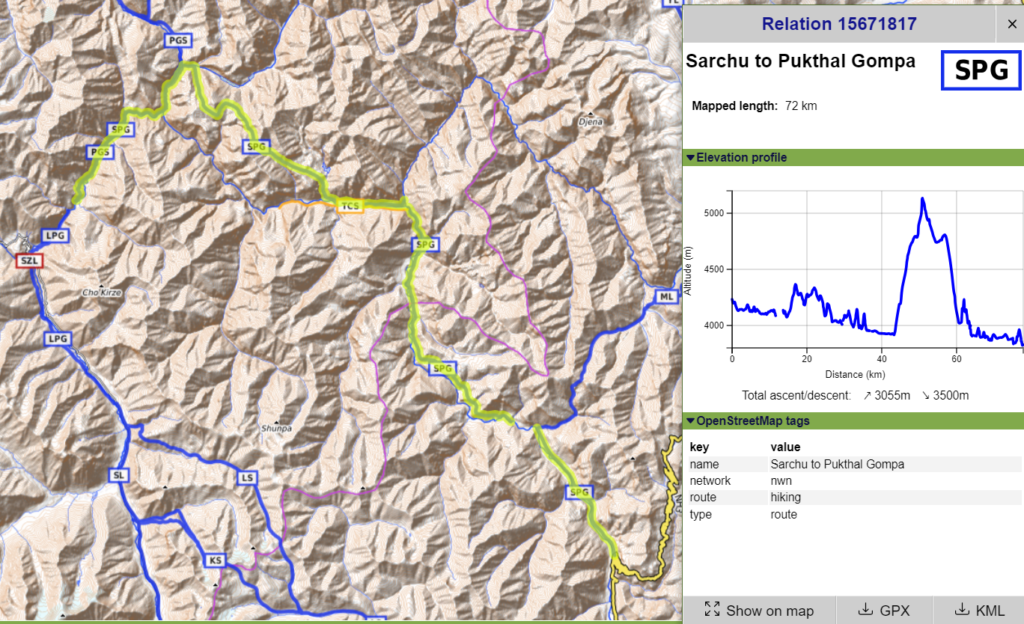 1 valley / 6 passes
Pang (food)
hitch lorry ride to Sarchu
Lachlung La
Yunam river
Sarchu (food)
hitch lorry ride back to Gata loops
Tsarap Chu
// series of small passes
Laol La
Umlung La
Umlung La
Chhohama La
Satok (beautiful deserted dwelling, night stay)
Tichip (cross Zara chu)
Kormoch (deserted dwelling, night stay)
Gotunte La
Nialo Konste La
Tok Phu
Niru Chu
Tantak (deserted dwelling)
Shade (food)
Webinar
Blog posts
Tsarap traverse:
https://ultrajourneys.org/07-gata-loops-tsarap-alley/
https://ultrajourneys.org/07a-gotunta-la-5100-nialo-konste-la-4830-phugtal/
https://ultrajourneys.org/trans-himalaya-2019-tsarap-marang-la-aug-14/
5. Shade to Zangla – 47km / 2100m+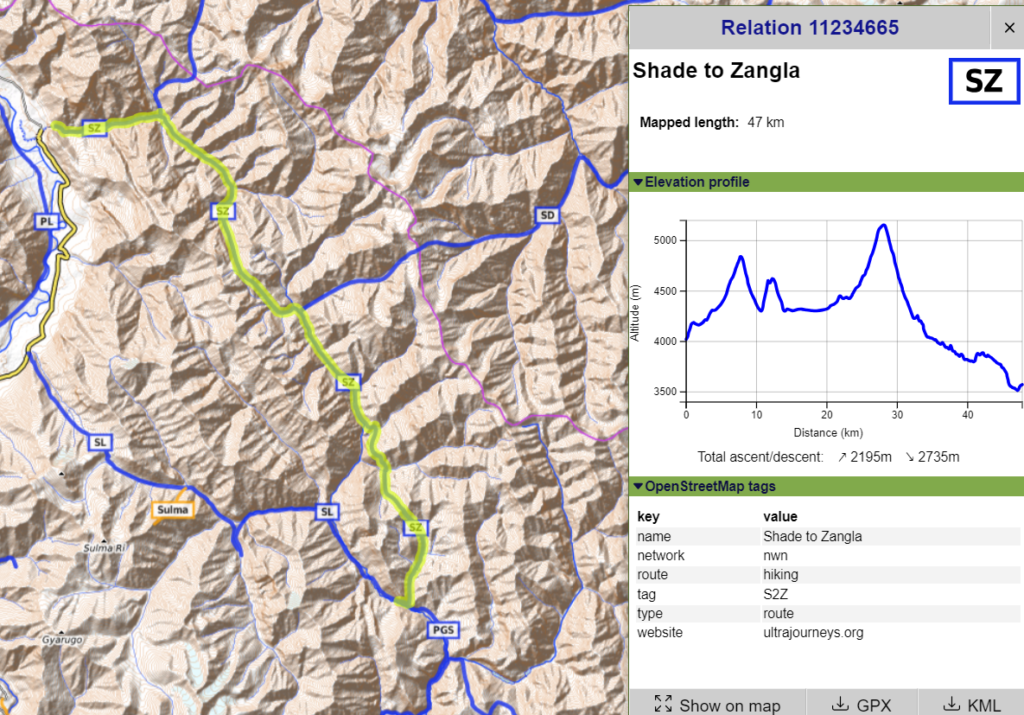 3 valleys / 3 passes
Shade (food)
Gautang La
Niri (deserted dwelling)
Lar La
Niru Chu
Ningri (summer dwelling, night stay)
Ningri La
Sumdo (deserted dwelling)
Zanskar valley
Zang La (food)
Webinar
Blog posts
Shade to Zangla:
https://ultrajourneys.org/08-shade-rotang-la-4900-lar-la-4670-padang-la-5170-zangla/
Photo album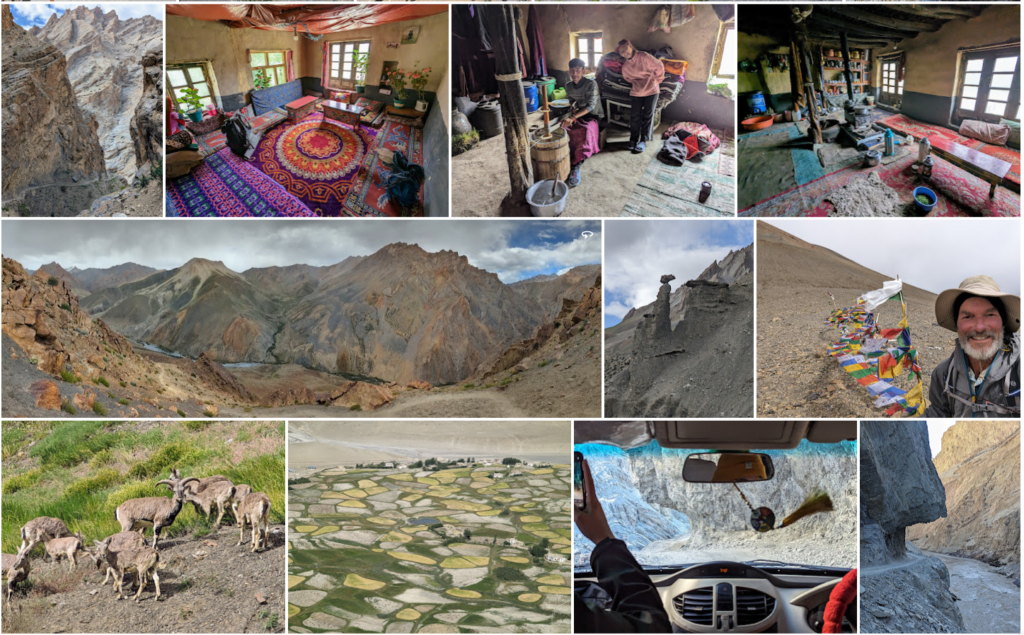 Link to Pete's photo album
Exit options
Remember you have various exit options:
Hankar (via Markha valley) 1 day
Sanghta (via jeep track North to Debrig) 2 days
Pang (Manali-Leh highway) 1 day
Sarchu (Manali-Leh highway) 1 day
Shade (1 day to Pukthal gompa / road head) 3 days
Padum (taxi to Manali) 2 days
Udaipur (bus to Manali) 4-5 days
6. Padum to Udaipur – 75km / 1500m+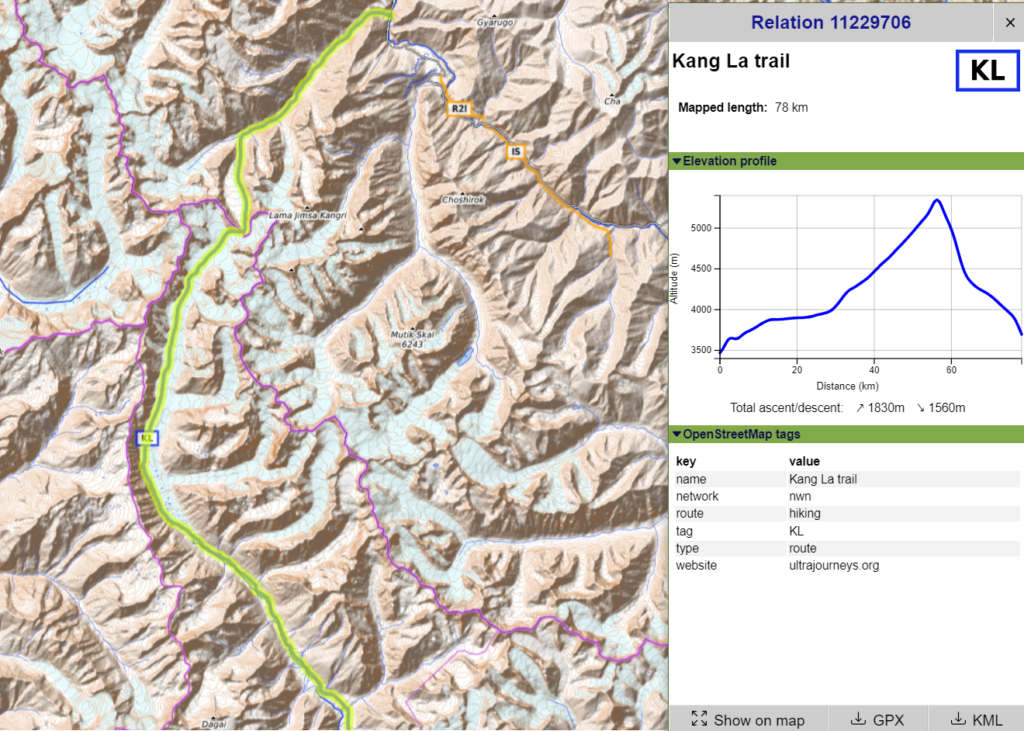 3 valleys / 1 pass
Zangla (food)
Zanskar valley
hitch ride to Padum (highway)
Padum (food)
Tsarap Karghiak Chu
hitch ride to start of Kang La trail
unknown summer dwelling)
Temasa Nala
several flat spots to camp
turn South to glacier (crevasses)
Kang La (5400m)
long glacier traverse
(camp on morraines next to glacier)
long morraine traverse
Miyar valley / meadows (camp)
Many shepherd rock shelters
Khanjer (first Bhuddist settlement)
Urgus (food, road head, bus stop)
Udaipur (food)
Chenab river valley
bus to Keylong
bus to Manali
Blog posts
Kang La:
https://ultrajourneys.org/trans-himalaya-2019-kang-la-july-11-13/
https://ultrajourneys.org/trans-himachal-2021-kang-la-sep-28-30/
Food planning
All you need to do is plan your food stops in the villages in between. The trails are quite clear as Ladakh has an active hiking community. You can easily cover 1-2 passes per day 20-30km depending yon your pace / backpack weight. Download OSM map + contours of Ladakh and set the Survey Ladakh map as overlay map (additional terrain details).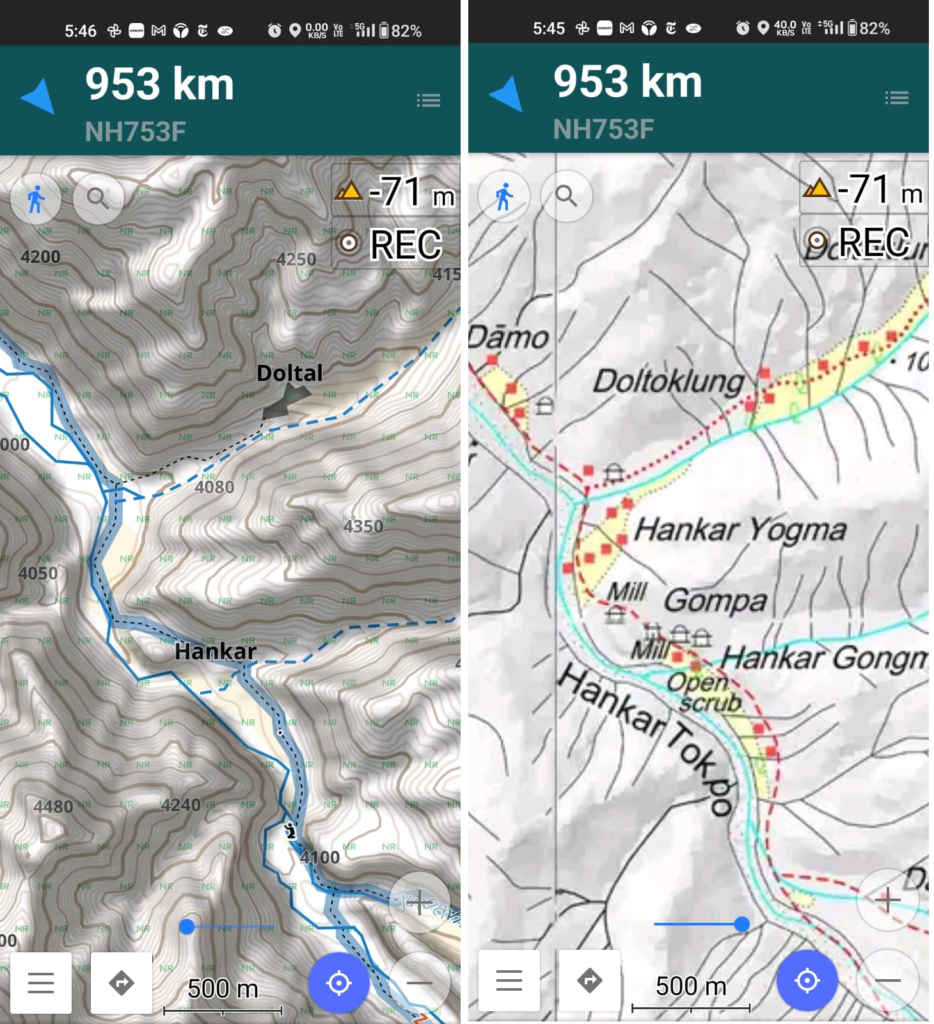 I usually carry 50ml of kerosene in a small plastic bottle, keep a plastic cover between bottle and the tap and keep it upright in my bag. Alternatively you can carry some camphor which works very well to start a fire. Even in Ladakh where there is less vegetation you can pick up some dry animal dung (yak, horses, mules) 2km before the campsite which is sufficient to make a small (cooking) fire
I usually eat freshly cooked food in dhabas and then pack up some alloo parata's or anything fresh for the next 2-3 meals. That gives me fresh food for 1.5 days until I reach the next settlement / dhaba. So there is actually no need to cook yourself unless you go for longer traverses > 2-3 days between settlements
If you have more time you can consider climbing Kang Yatse II and Stok Kangri, both non technical 6000m peaks with stunning views on the surround Hemis national park
[Pete 21 Aug 2023]
Hi Pete, got to Pang yesterday morning. Bit of a hole, but it had the necessary things! Only major problem I had was getting to Dat and finding the whole village had left for some festival! Only one visiting monk and done Nepalese labourers at the gompa! So no food to be had but the lovely monk have me 6 Maggi and 4 Tibetan bread. Enough with what I already had to get to Pang. A couple of the days were a bit of a slog but you've got to expect that. Apart from that all good. I'll stick with the Tsarap River traverse. Thx for your help
[Pete 20 Aug 2023]
This is something I wrote last night. I'm sure more detail will come out when I go through my photos.
I met trekking parties most days on this trek. I suspect it may be one of the last Zanskar treks. People coming from Zangla, Phuctal and Lingshet. Mostly couples with horses
Leaving Pang, so many empty trucks, no pickup because they're contracted to army. Eventually an empty minibus picked me up. It was going to Gata Loops to pick up a trekking group that was doing the same trek as me but in reverse!
Camped at Tso Mesik.
Next day to Satak. That was eerie. A bit like the Marie Celeste. Seemed the people left in a hurry. Next morning huge cat prints on the track leaving Satak. As big as the front half of my foot. Must be snow leopard.
Next to the entrance to the gorge that led to the 2 high passes. That bridge that crosses the slightly too deep river crossing with the blue glacial water. It's still there but is deteriorating rapidly. What incredible country that is, walking up high after crossing the bridge and climbing almost vertically afterwards.
Thought about staying at Kormoch but it had a bleak feeling and it was better to be close to the start of the climb.
That was a long day over the 2 passes
Getting to the river junction where to turn left to go to Phuctal was beautiful. Had to look around to find anywhere to camp but found it down low by the river.
Next day a short walk to Shade and then luxury of a homestay. Saw baby take being milled. Basically a rest day.
Next day over 2 high passes walking in parallel with Swiss trekking group. Left them after second pass and didn't see them again. Camped at Ningri Sumdo but there is more than one by that name. The one I camped at had almost nowhere suitable for a tent but I made do.
Lastly, over Ningri La and camped at Kong Lumche.
Down the gorge the next day.
I know this is a logistical description. I was marveling at the views and geography each day. Also continually amazed at my lack of injuries – breaking a leg or whatever was continually on my mind, but it didn't happen.
Saw lots of blue sheep, in herds of perhaps 10, many days. I've lost a fair bit of weight. My trousers have a draw string, and I can do them up a lot tighter now. It struck me that this area is a totally underused resource for bushwalking. The lightweight approach is necessary because of the altitude and limited food options, but it is possible, and the views and remote experience make it absolutely worthwhile. I think I've spent 35-40 days trekking and I only met 2 other couples doing it alpine-style, funnily both at the same time in Markha valley!
Do you mind if I mention this subject on a bushwalking website on Australia? I'm sure you'd get a few more patrons and plenty of enquiries