Do you love the outdoors but are afraid of getting lost in the wild? Are you looking for budget friendly hikes in the Himalayas? Do you want to start hiking independently in the mountains?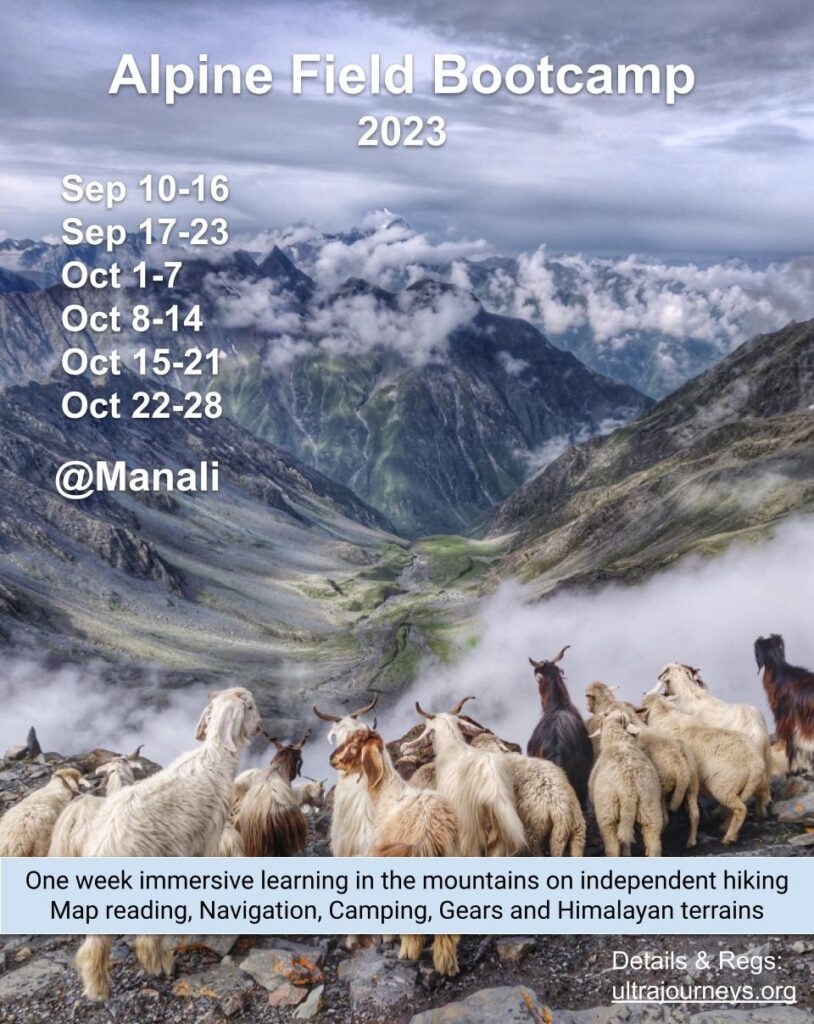 Get priority entry into the Alpine Field Bootcamp through Patreon.com
Objective
The Alpine Hiking Bootcamp was started in 2022 as a one week practical course to teach people on alpine style exploration of the Himalayas and grow the independent hiking community in India. The course consolidates my extensive field experience on exploration of more than 300 passes across the Indian Western Himalayas in recent years and teaches students to independently plan and navigate Himalayan traverses. The bootcamp is organized twice annually in Manali in Spring and Autumn. More background over here.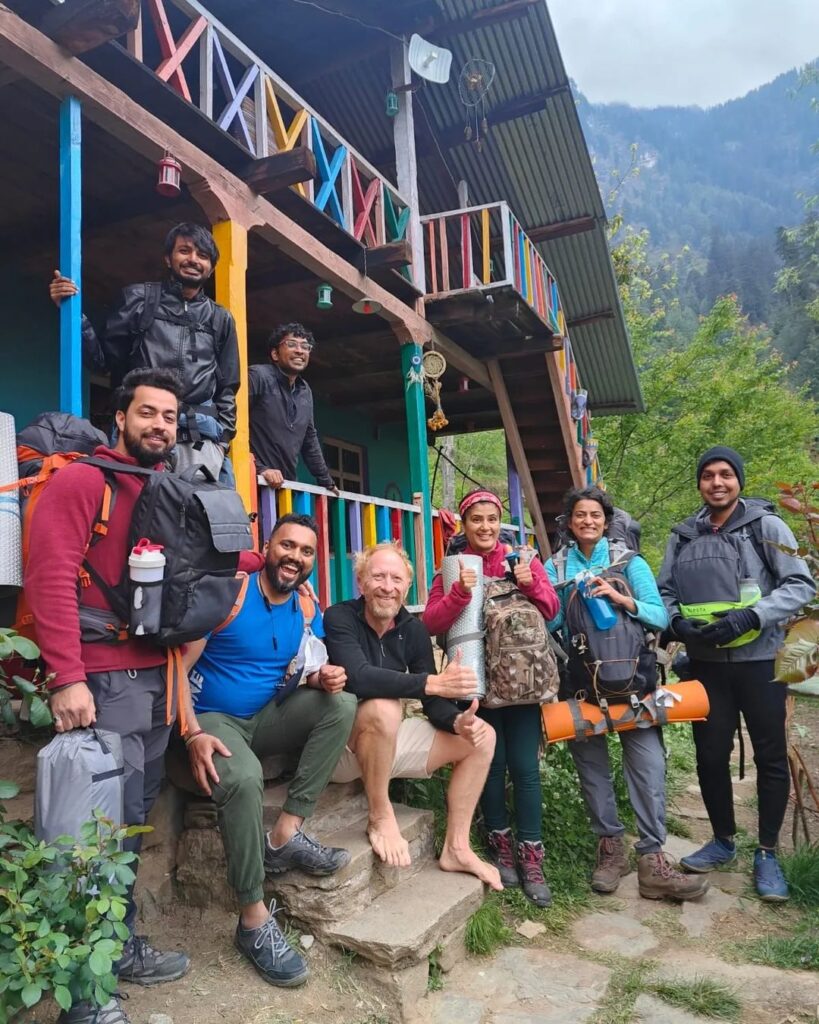 Inspiration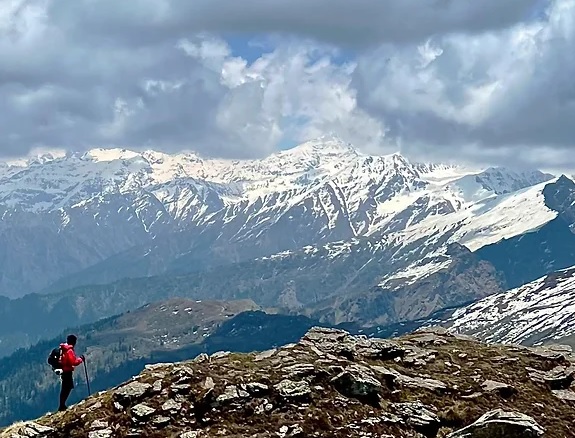 After completing the Alpine Hiking Bootcamp in April 2023, Sant completed a solo 21 day alpine style traverse covering 320 kms across 13 high altitude mountain passes in Kullu, Shimla, Uttarkashi and Tehri Gharwal districts of Himachal Pradesh and Uttarakhand with a total elevation gain of 32,565 meters. He explored new routes using Survey of India maps, went ultra light, supplied food on the way and dynamically adapted his route as per weather and snow conditions. Read his experience over here.
Schedule
Autumn 2023 (Sep-Oct)
Batch 1: Sep 10-16
Batch 2: Sep 17-23
Batch 3: Oct 1-7
Batch 4: Oct 8-14
Batch 5: Oct 15-21
Batch 6: Oct 22-28
Spring 2024 (Apr-May)
Fixing dates and confirmations happens 3 months prior after which participants can make travel arrangements. Register below to get notified.
Each batch runs for 7 days: Sunday till Saturday. 5 weekdays (take leave) + 2 weekends covers travel & participation. Previous Sat / Following Sun can be used for to / from travel. People usually travel through Delhi (train/flight) and take overnight bus to Manali.
Program
Location: Manali
A one week immersive learning in the mountains on independent hiking – understanding Himalayan geography, high altitude terrains, reading topographic maps, planning a Himalayan traverse as per the seasons and weather, fast-hiking and minimalist lightweight gears, learning various techniques to navigate the wilderness, night stay & shelter, managing wildlife encounters, food planning & hydration, digitally mapping new hiking routes
Participants will check into a beautiful basecamp in the mountains where above topics will be taught through theory, practical assignments on mobile and hands-on field assignments in the surrounding forests and meadows. They will plan and execute multiple day and overnight hikes to master the art of independent hiking.
Registrations
Interested participants for upcoming editions register here. Confirmation / payment will happen 3 months prior to the start date. Do not re-register if you already signed up earlier but did not attend.
Cost = 25K INR. This includes 7-day packed course condensing years of valuable field experience, comfortable stay and delicious food in a beautiful, remote basecamp in the mountains and personalized guidance on your future alpine hikes. This amount equals cost of 1 commercial hike and gives free lifetime independent hiking.
Agenda
Pre-joining Fitness – participants will initiate a 2-3 months "Get fit routine" to ready themselves for the field assignments in mountains
Himalayan Geography – understanding the geography of the Indian Western Himalayas, main ranges, valleys and rivers
Map reading & Route planning – topographic maps, Open Street Maps, Survey of India, Satellite maps
Navigation & Trail finding – master different techniques to navigate – GPS based, geo-referenced maps, pre-recorded routes, terrain reference, contours, compass
Planning your journey – understand elevation profiles, acclimatization
Weather & Seasons – importance of weather and seasons to plan your journey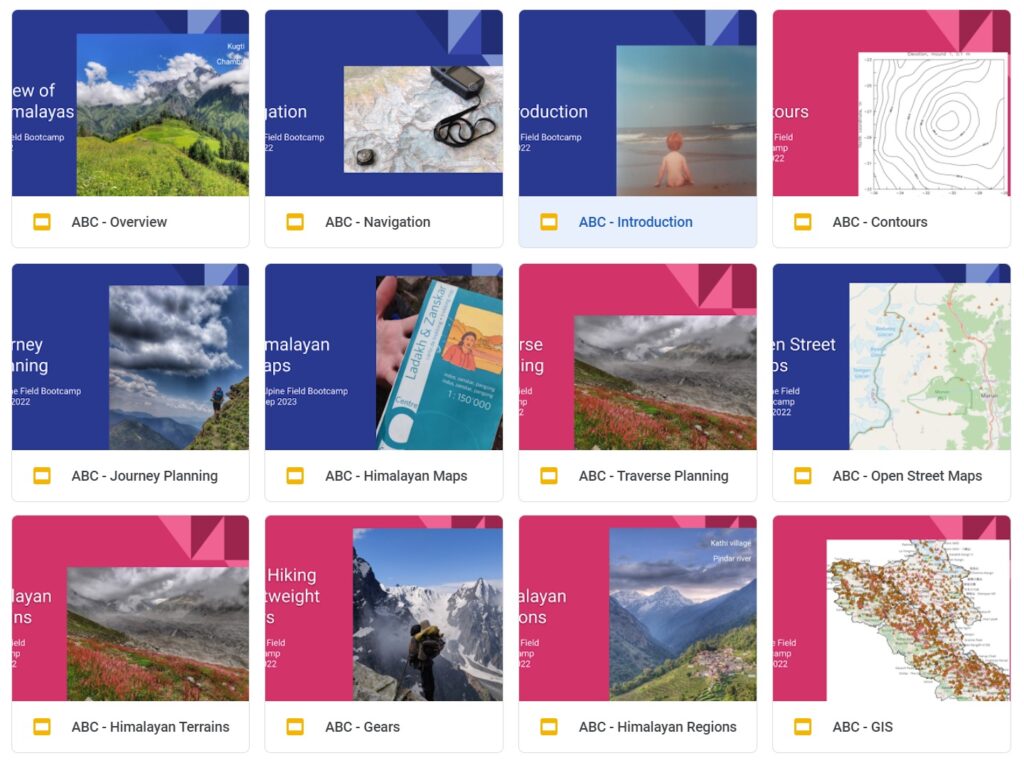 Night stay & Shelter – identifying suitable campsites, different types of shelters, how to pitch up tent, sleeping bag
Food planning & Hydration – choose the right nutrition and planning food ration, cooking, identifying water points
Fast-hiking & Minimalist gears – benefits of lightweight hiking, clothing, shoes, backpack, electronics & managing power, technical gears
Himalayan Terrains – understanding valleys & streams, human settlements, high ranges & passes, forest & meadows, rock & ice, snow
Managing Wildlife – precautions, avoiding surprise encounters
Mapping Routes – map your own hiking routes in Open Street Maps for the international outdoor community
Future Hikes – organizer will provide guidance in planning future self supported hiking
Profile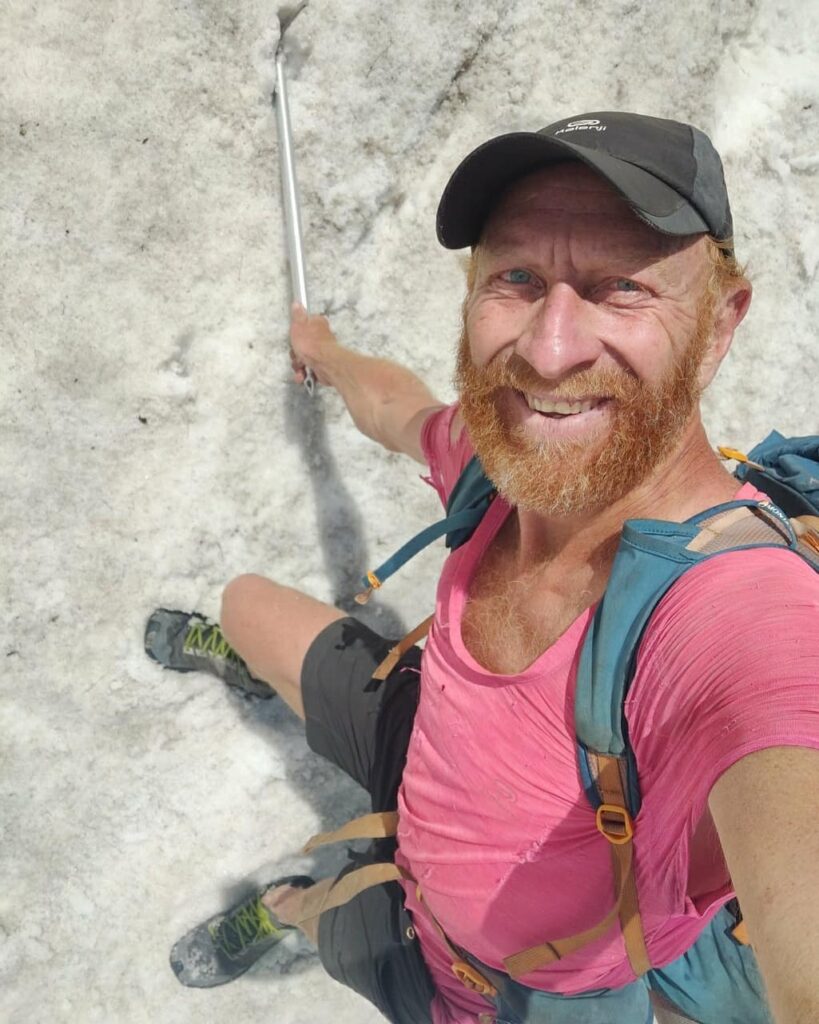 Ultra-runner, explorer, alpinist and minimalist. Born in Belgium, settled in India since 1998. Quit the corporate world in 2017 and since then into full-time exploration of the Indian Himalayas. Founder of the Chennai Trekking Club, a 40 thousand member volunteer based non-profit outdoor community. Explored the South Indian jungles for over a decade. An accomplished ultra-runner having ran self-supported ultras over thousands of kms across the Indian Himalayas
In recent years I have explored (mostly solo) over 10 thousand kms across the Western Himalayas (Uttarakhand, Ladakh, J&K, Himachal) alpine style, self planned and navigated. I have been teaching independent hiking to the outdoor community for the past 10 years. I strongly believe in independent hiking as a more sustainable way of exploring the mountains. In the same spirit I GIS mapped the Indian Himalayas in detail to support the International outdoor community.
My motto "Die with memories, not dreams".
Testimonials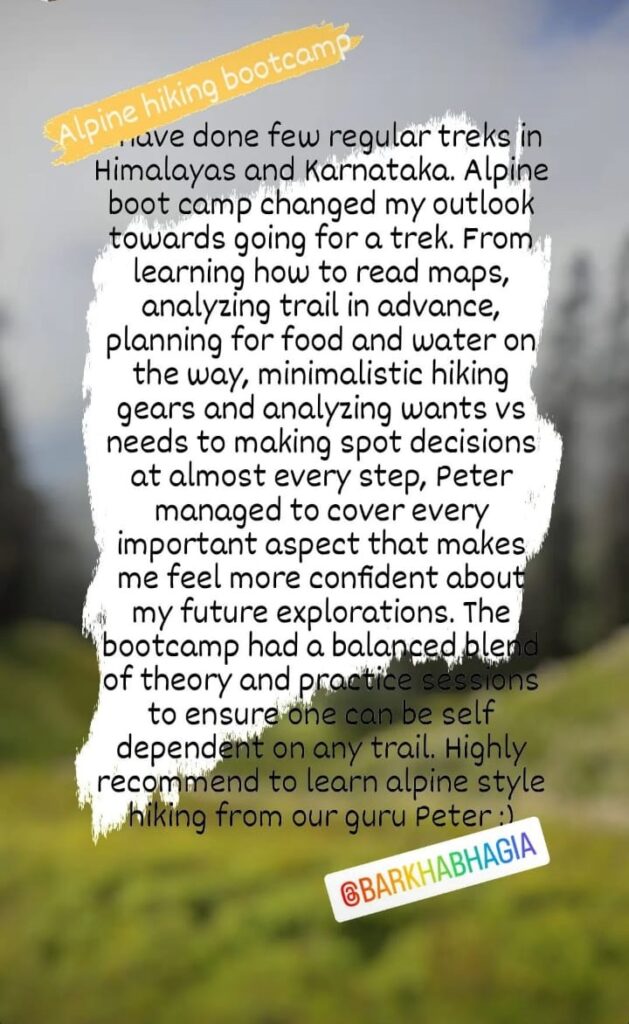 Guidance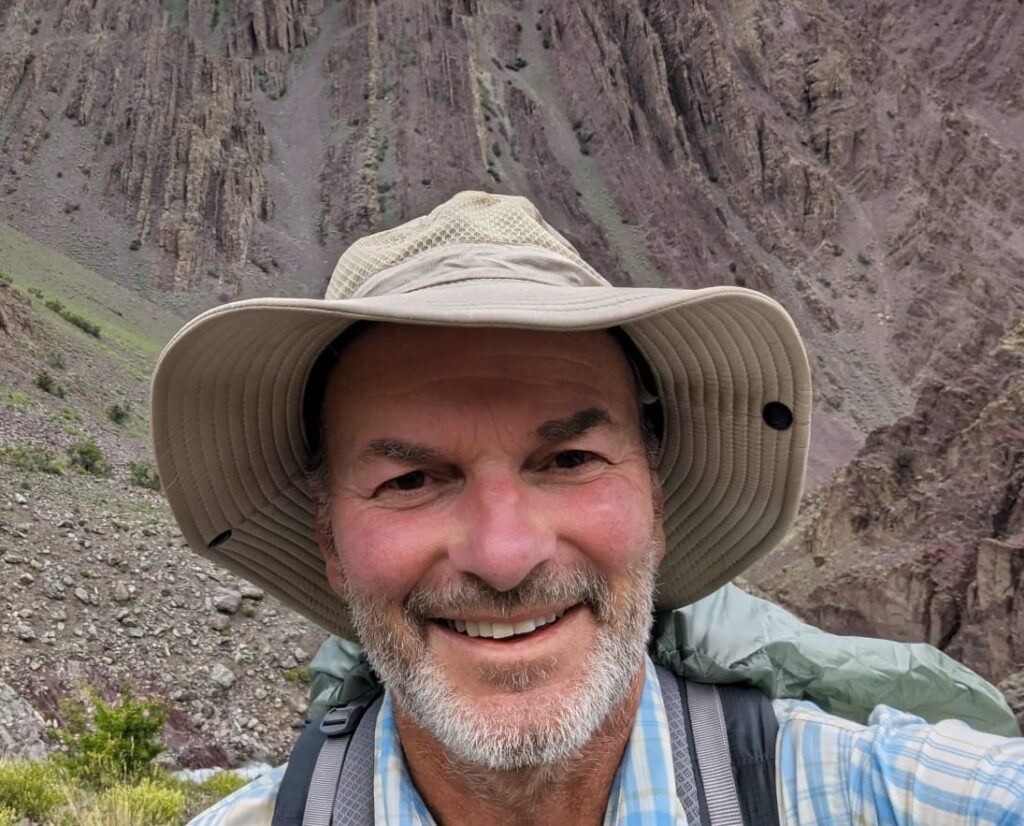 Based on my extensive Himalayan exploration and mapping experience I am passionate in guiding alpine hikers on planning and executing their own Himalayan traverses.
Peter Jost, Australian Bushwalker, 63 years, recently solo hiked a 240km / 16.000m+ traverse across central Ladakh across 14 high passes covering 17 valleys. He went ultra light and planned food supply along the way, navigating using offline Open Street Maps.
Benefits
Economical – one bootcamp equals the cost of one single commercial trek and gives you a lifetime free hiking
Sustainability – independent hiking (solo or small group) leaves a smaller footprint on the environment vs. large organized groups
Hospitality – experience unseen humanity in unexplored regions vs. frequented touristic places
Gratification – of planning and executing your own independent hikes is immense
Freedom – make your own way, chose your own destination, pace and schedule
Knowledge/Learnings – gain insight in route planning, navigation, terrain study, weather & season planning
Peacefulness – experience inner peace while exploring the lesser known paths far away from the crowded commercial locations
Accomplishment – sense of accomplishment is far greater than an organized trek where everything is pre-arranged
Decision making – your decision making and planning skills are tested every day
Prioritize – between want to have (comfort) vs. need to have (essentials)
Hiking Styles
| | |
| --- | --- |
| Alpine Style Hiking | Organized Group Hiking |
| Cost effective | Expensive |
| Environmentally sustainable | Environmentally deteriorative |
| Plan own route and understand terrain | Guide shows you the way |
| Differentiate between needs vs. wants | Porters carry luggage, comfort |
| Hospitality in untouched places | Crowded commercial campsites |
| Sense of accomplishment | Everything taken care of |
| Discover yourself – push your limits | – |
| Total freedom | Fixed schedule, group, pace |
| Pre-trek preparation & fitness | – |
| Peacefulness | Crowded touristic places |