The state of J&K has abundant natural beauty to lure the outdoor enthusiast: numerous beautiful valleys and rivers, extensive trail network, mountain peaks, large glacial lakes, mountain passes, glaciers and forest cover. The state borders Ladakh Ladakh on the East, Himachal on the North and has 18 districts as per map below.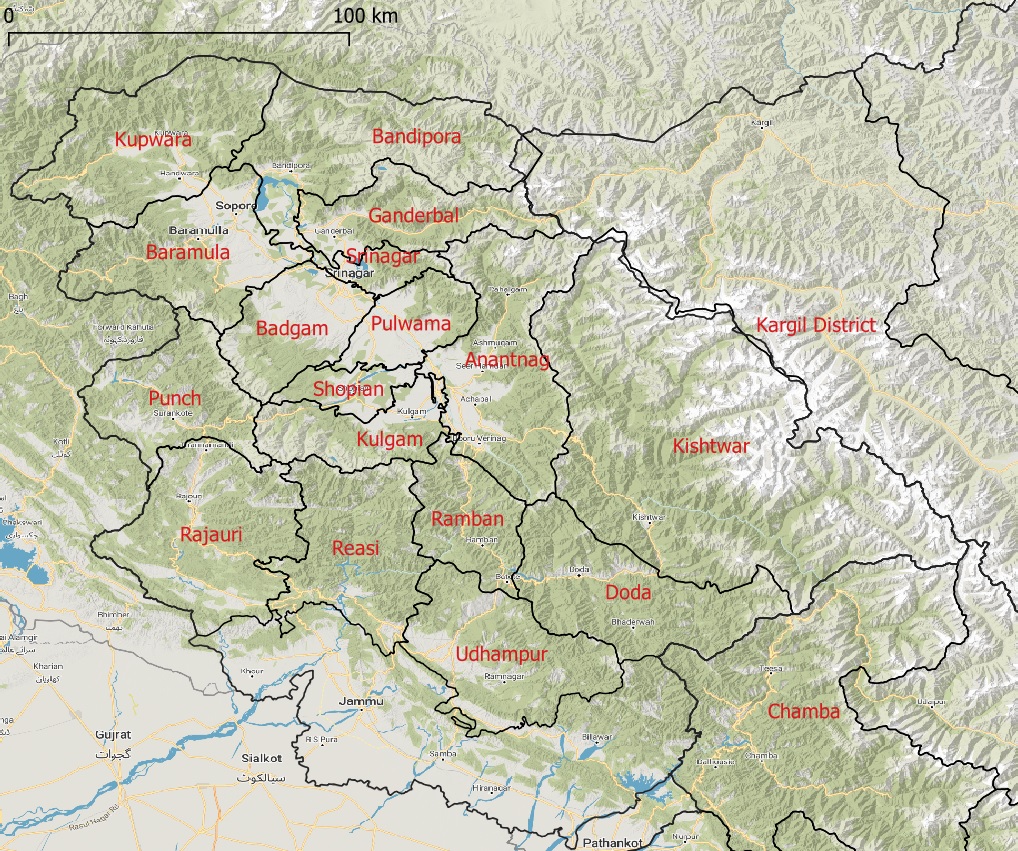 To assist the alpine hiker in exploration of this beautiful Himalayan state I recently mapped the region in detail in Open Street Maps. Thousands of key terrain features were mapped to assist in planning and navigating a traverse:
Major valleys / Rivers – 50
Minor valleys / Streams – 1500
Mountain passes – 700
Alpine lakes – 500
Mountain peaks – 600
Glaciers – 160
Settlements – 80 Towns, 1000 Villages, 3000 Hamlets, 2000 Dwellings
Trails – 8000 km
Paths – 6000 km
OSM Hiking routes – 56 mapped, 1800km
Access detailed high resolution Himalayan maps, GPX files with thousands of kilometers of hiking routes and detailed offline maps for navigation through Patreon.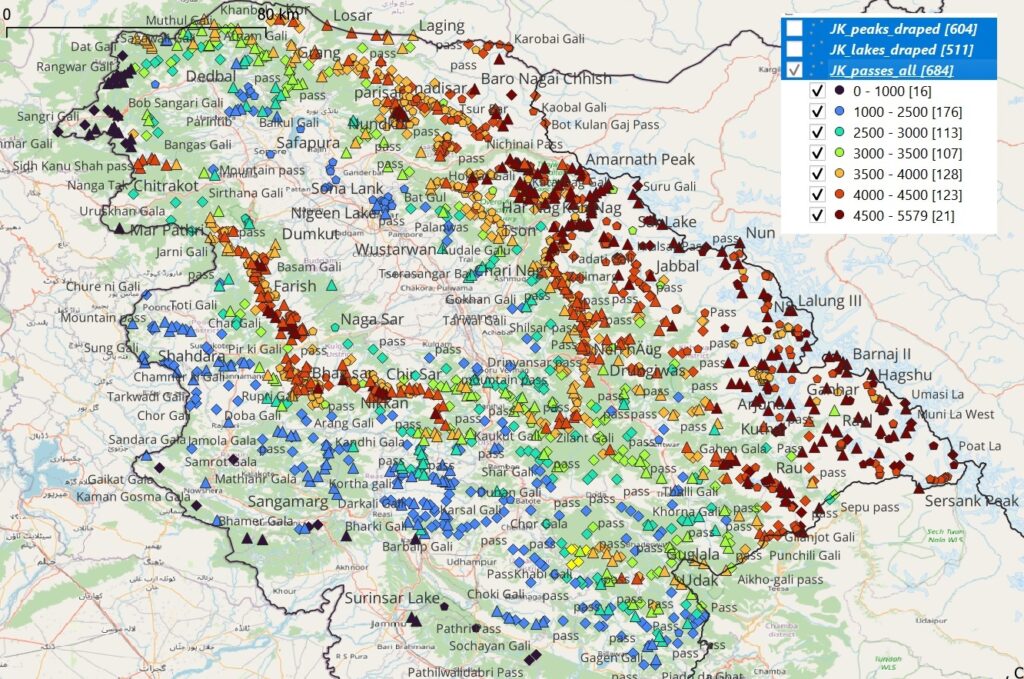 Zooming into a lower scale the individual features appear on the map: valleys, streams, forest cover, glaciers, peaks (triangle), mountain passes (diamond) and lakes (circle) which allow us to plan and navigate a traverse through a given region. The map colors peaks, passes and lakes as per altitude allowing the alpine hiker to plan as per the season / snow cover.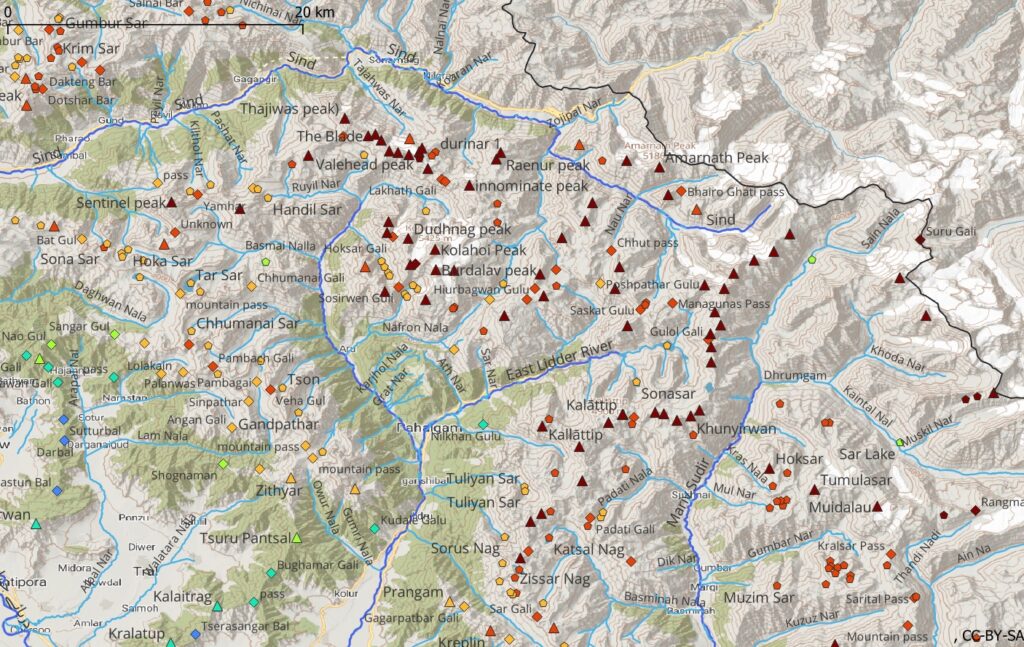 Zooming in further we can show the paths (wider) and trails (smaller) which allow us to easily traverse a region. Trails and paths run inside valleys or connect neighboring valleys through mountain passes.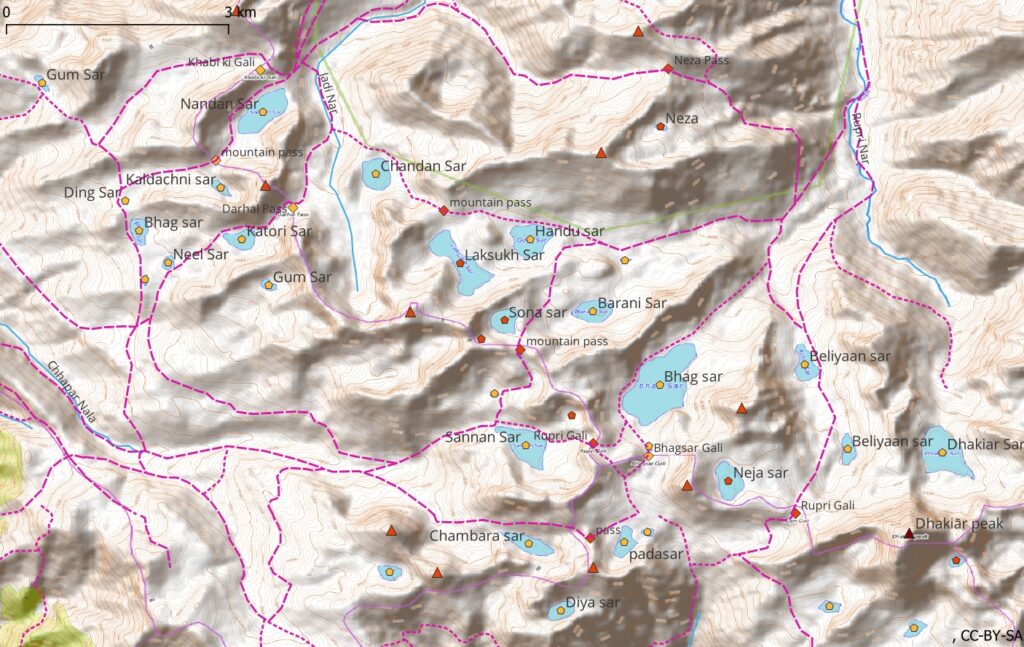 In the lower and mid-altitude regions we can bring up the human settlements: villages (red), hamlets (yellow) and dwellings (green) which allow the alpine hiker to plan food ration and night halts.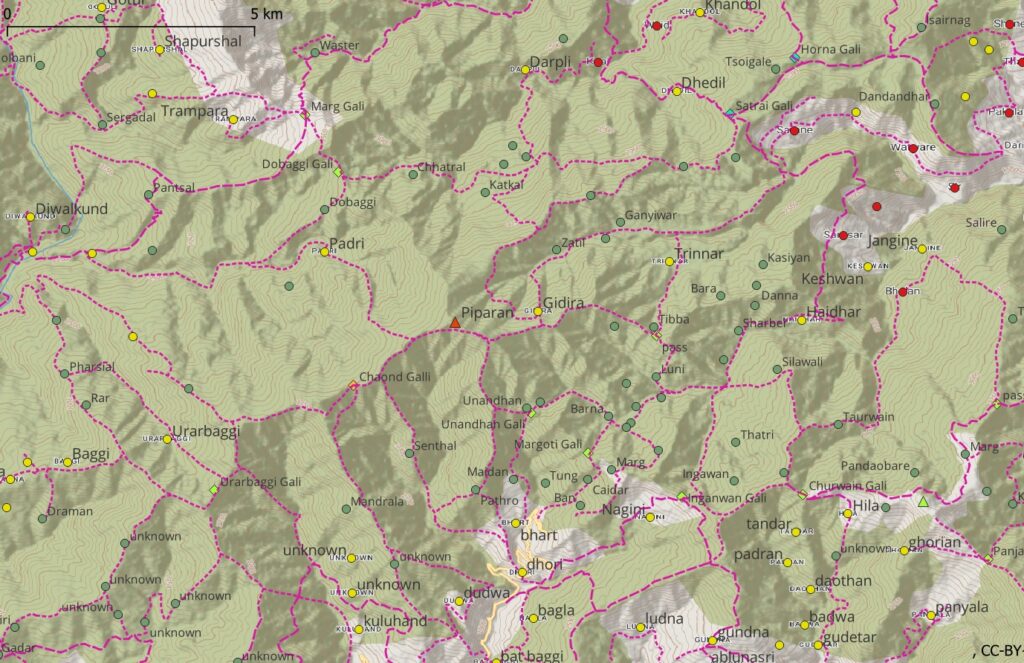 Let's take a closer look now at each of the individual features in detail below.
1. Valleys / Rivers / Streams
Valleys formed by rivers (major) and streams (minor) are important terrain features in the topography of any region. Streams provide life for human settlements which are mostly located in valleys and near streams for irrigation of farms and drinking water. They provide a named geo-reference for the alpine hiker and are of course useful for hydration (although we can find water even in many smaller gullies). Below the Lidder river flowing through the Lidder valley.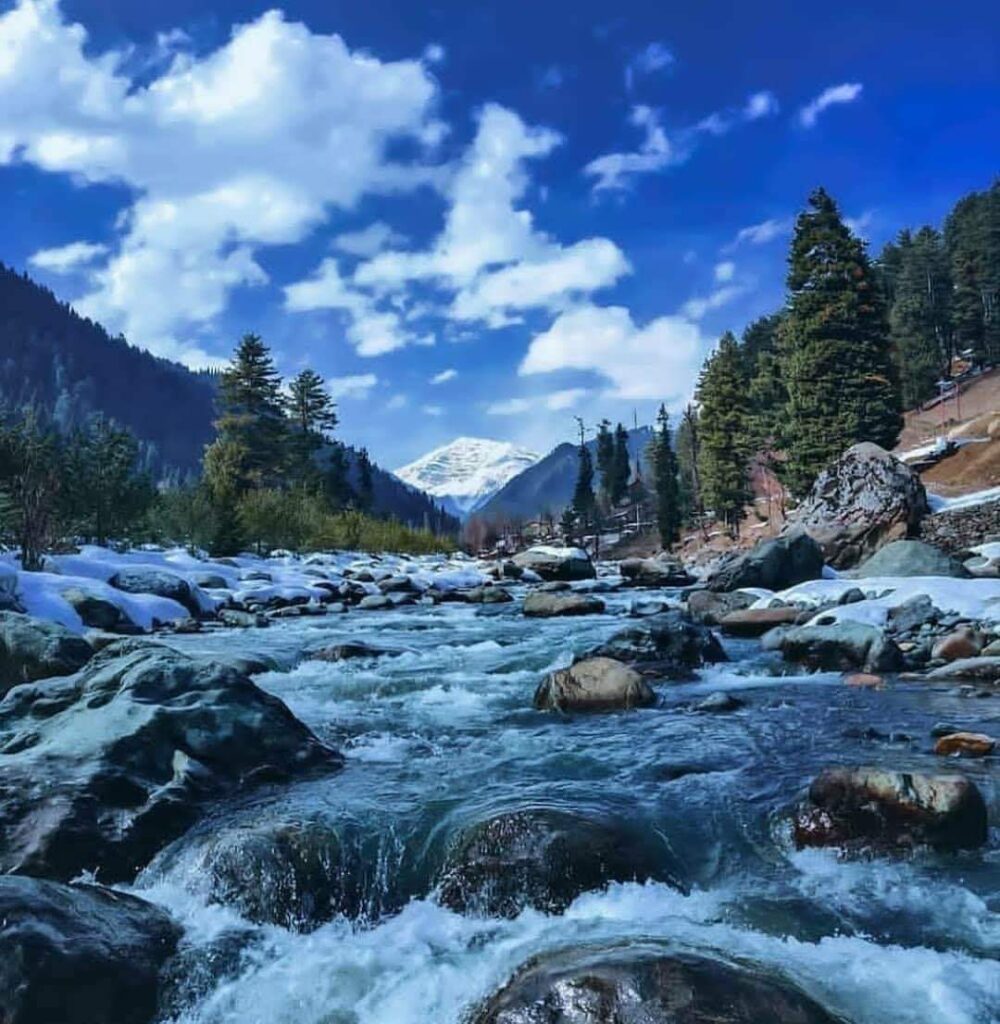 Below the Chenab river as it flows through the Kishtwar region separating surrounding mountain ranges and ridgelines.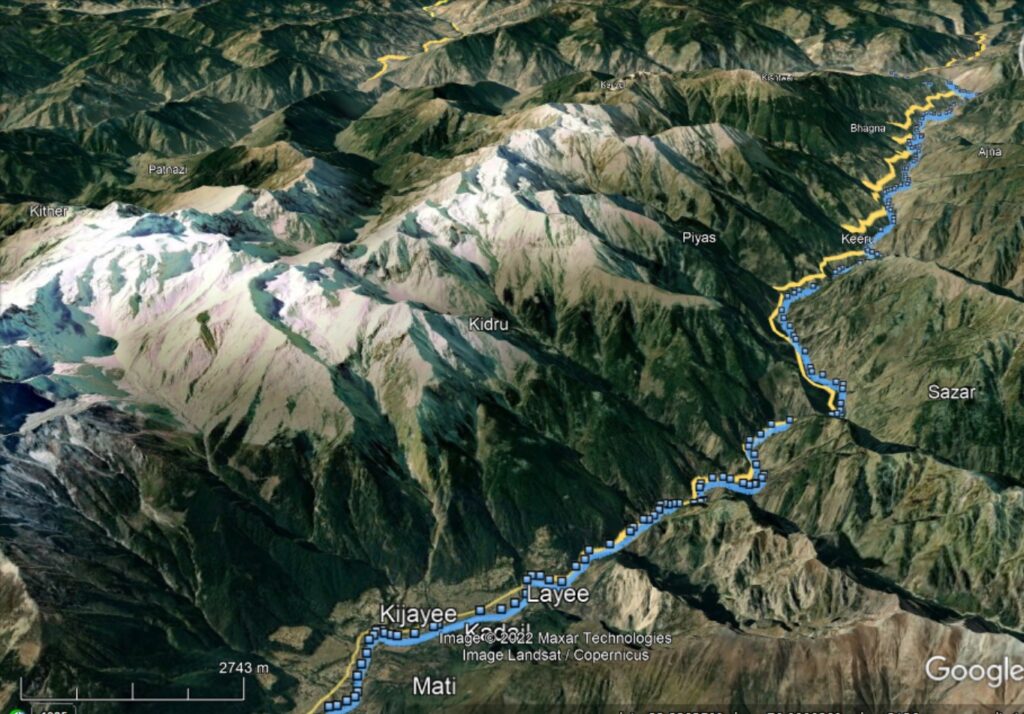 The state of Jammu and Kashmir has some tens of rivers (dark blue) and 1600 smaller streams (light blue) which drain the mountainous terrain from rain and snow melt water, forming larger and smaller valleys. The alpine hiker can either traverse inside a valley along the stream or connect neighboring valleys through mountain passes.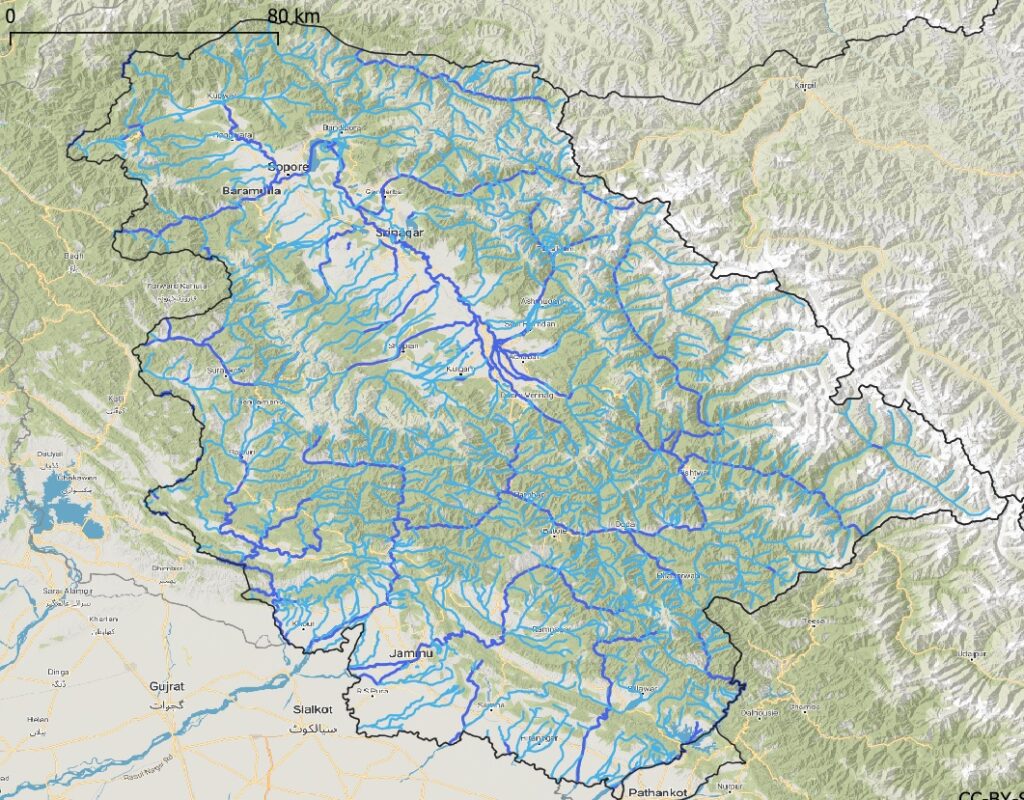 If we zoom in to the lower scale we can see the names of the rivers / streams / valleys which provide us with a named geo-reference to plan or document our journey. Valleys are separated by mountain ranges and ridgelines which make beautiful traverses for the alpine hiker offering mesmerizing views on the surrounding valleys and topgraphy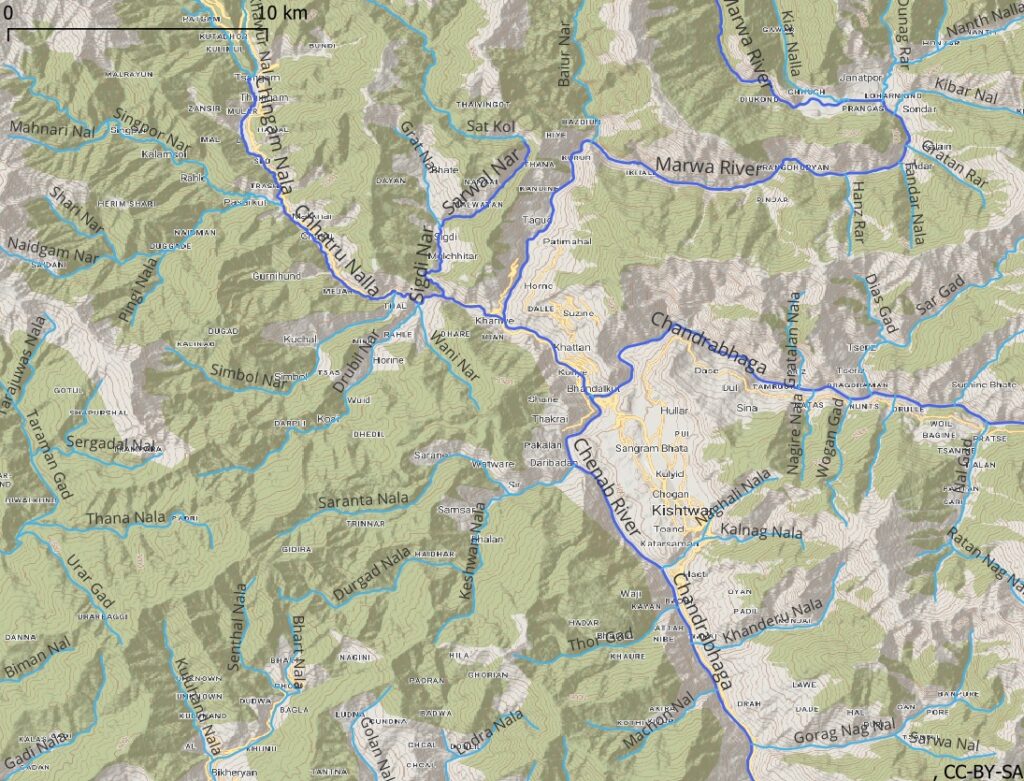 2. High ranges & Mountain Passes