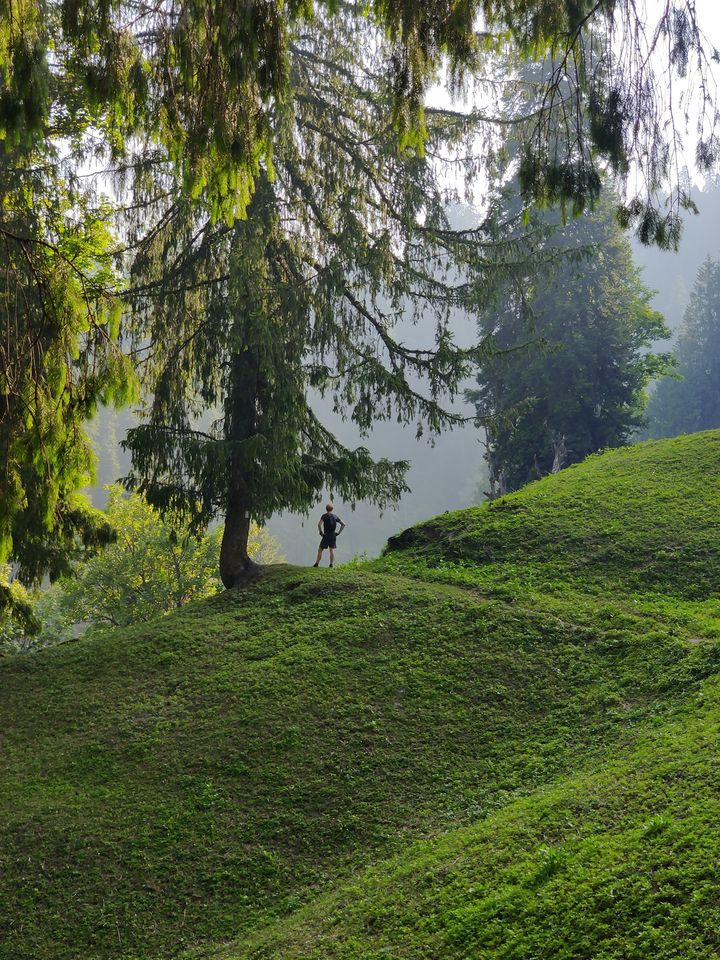 Manali is a well known destination for the outdoor community offering many beautiful hiking routes through pine forests and meadows on the surrounding slopes of the Beas river valley. There are both small local hikes connecting neighboring villages suitable for beginners as well as longer traverses to higher altitudes for intermediate hikers.
Chose the right route (altitude) during the right season. Higher altitude routes are off limits during winter due to snowfall. One can usually hike up to 2500m in winter (Jan-Feb), 3000-3500m in spring (Mar-Apr), 4000m in early summer (May-Jun) and higher up in late summer (Aug-Sep). Monsoon (July-mid Aug) is usually not recommended due to heavy rainfall / landslides / dangerous stream currents.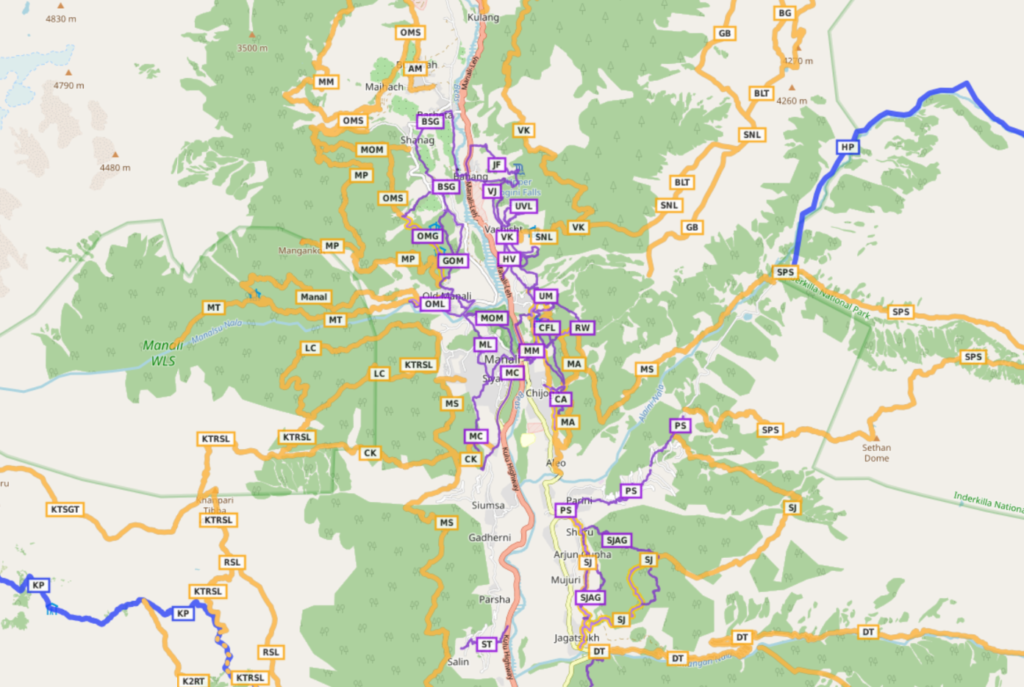 Many of the routes around Manali were initially explored and accurately mapped in Open Street Maps by @creedaz. OSM maps can be downloaded on your phone and used for easy navigation of the respective routes. OSMAnd is my favorite app.
Hiking Networks
OSM hiking routes are categorized in 4 different networks:
Multiple individual hiking routes can be connected in a longer continuous or circular traverses. Beginners usually cover around 10km per day while experienced hikers can easily complete around 20km. Villages and hamlets in between can be used for guidance, food supply, safe night stay and charging your electronics.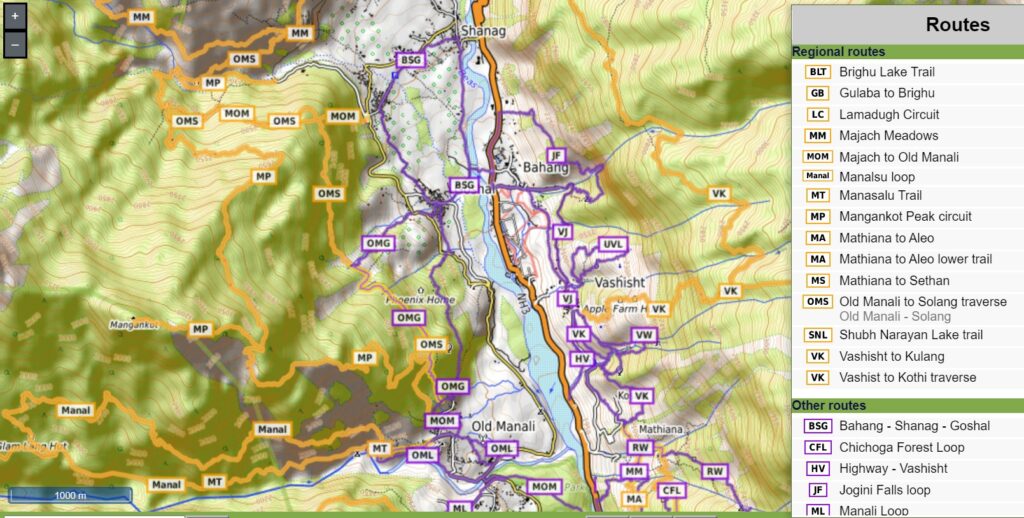 16 Local Hikes around Manali
The local hikes (purple) around Manali are a perfect start for beginners to gain experience and build confidence before taking up more challenging day/multi-day regional hikes (orange). Local routes can be completed within (less than) one day so no camping / overnight gears are required. Many of these local hikes connect the immediate surrounding villages of Manali: Old Manali, Goshal, Shanag, Bahang, Vashisht, Koshla, Mathiana, Chijoga, Aleo, Sethan, Chhyal, Nasogi. These smaller individual routes can be connected in longer, continuous traverses. Distance and elevation gain (total climb) for each hike is given below.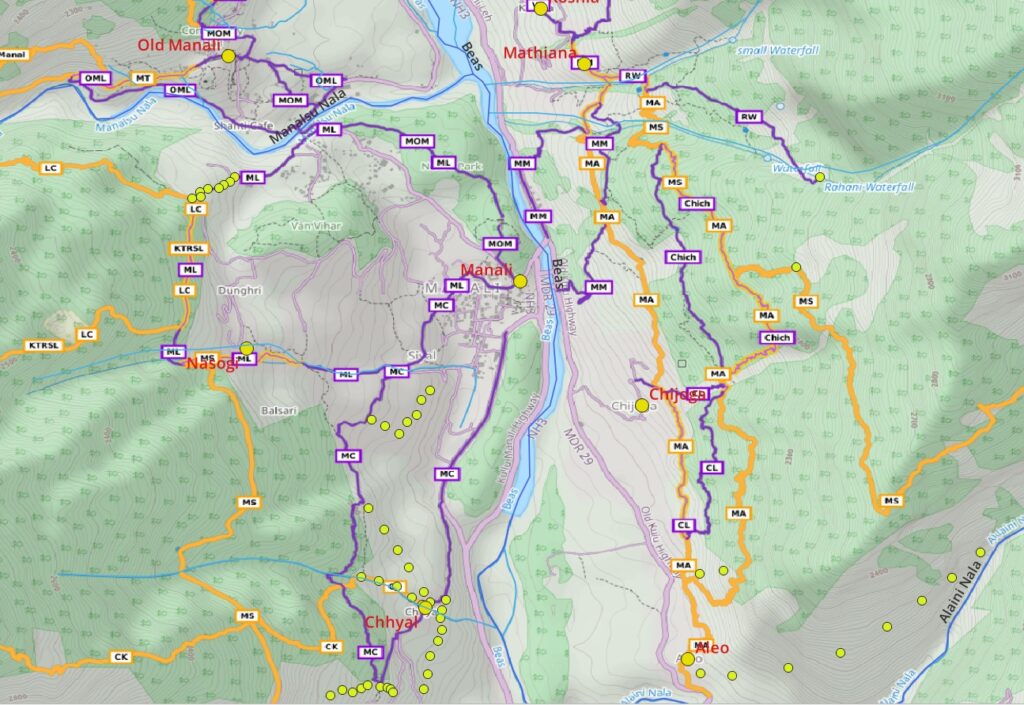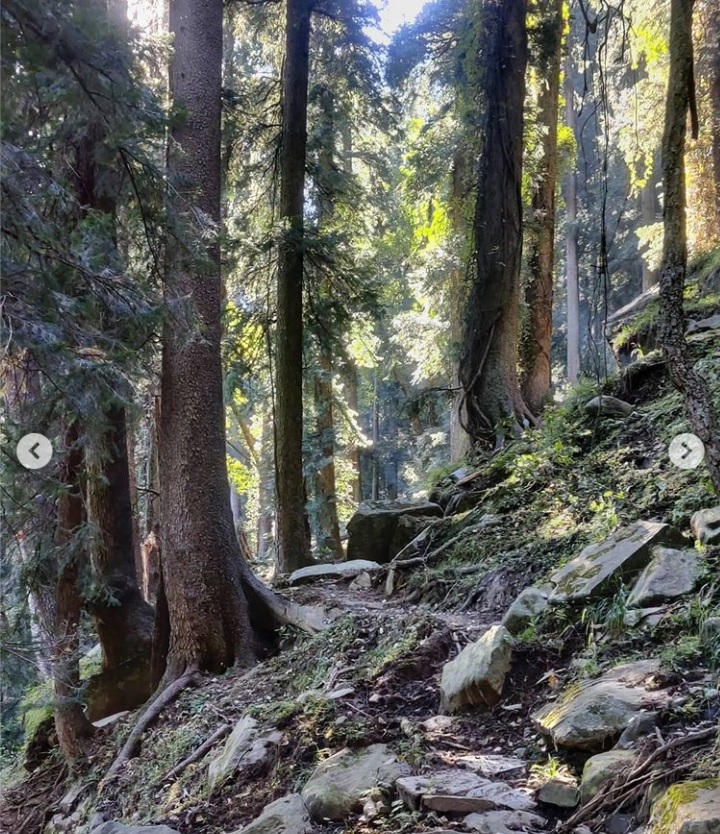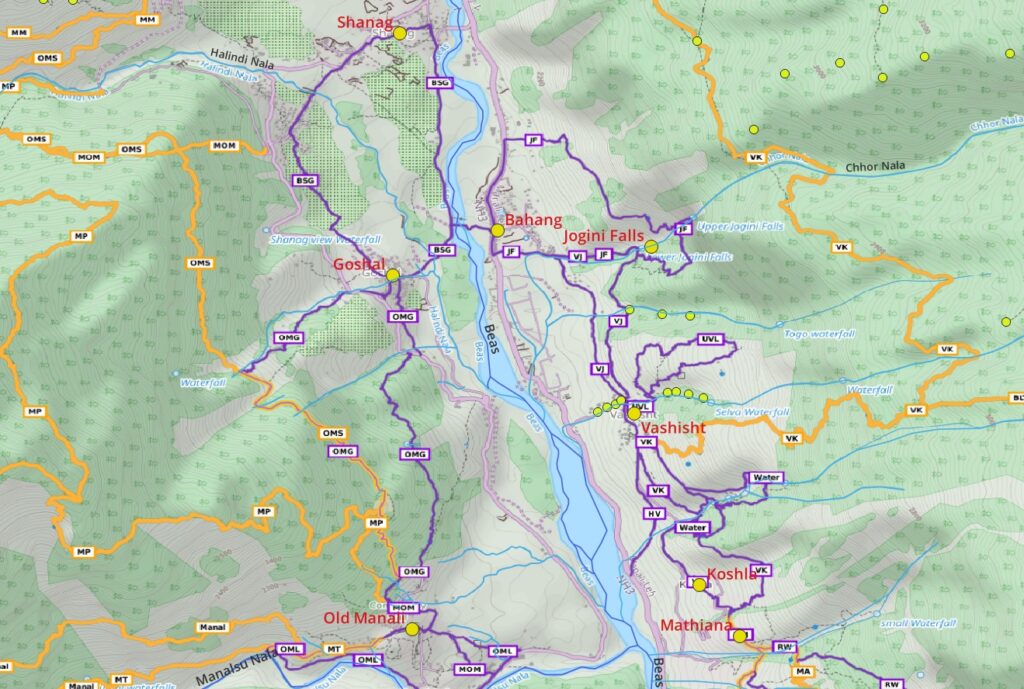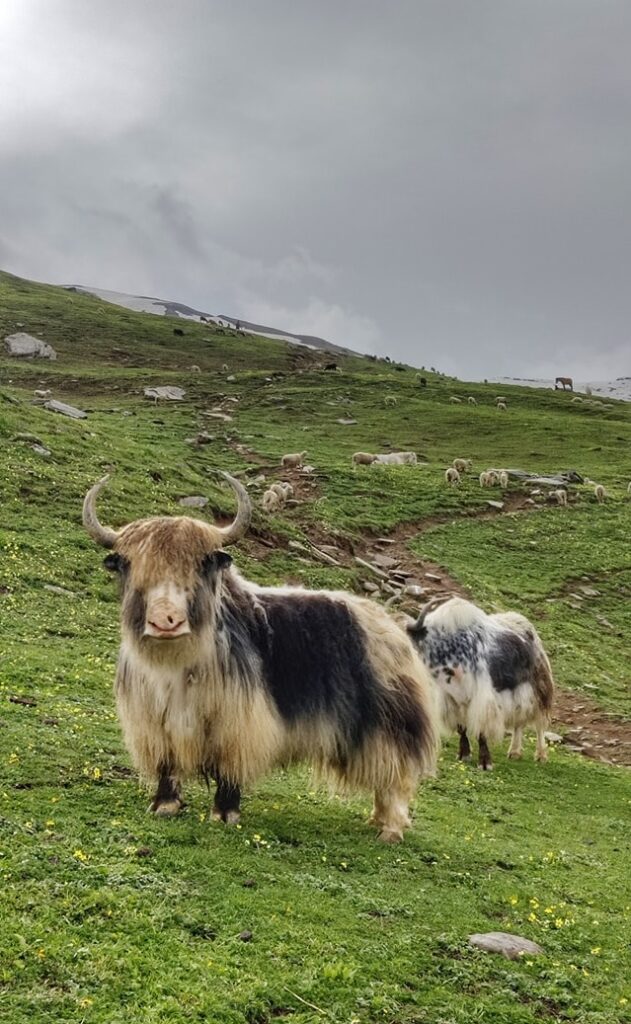 21 Regional Hikes around Manali
Once you have gained confidence in the local hiking routes you can try some of these mid-level hikes around Manali. Depending on your pace most of these routes can be completed as either day or multi-day hikes. Plan accordingly.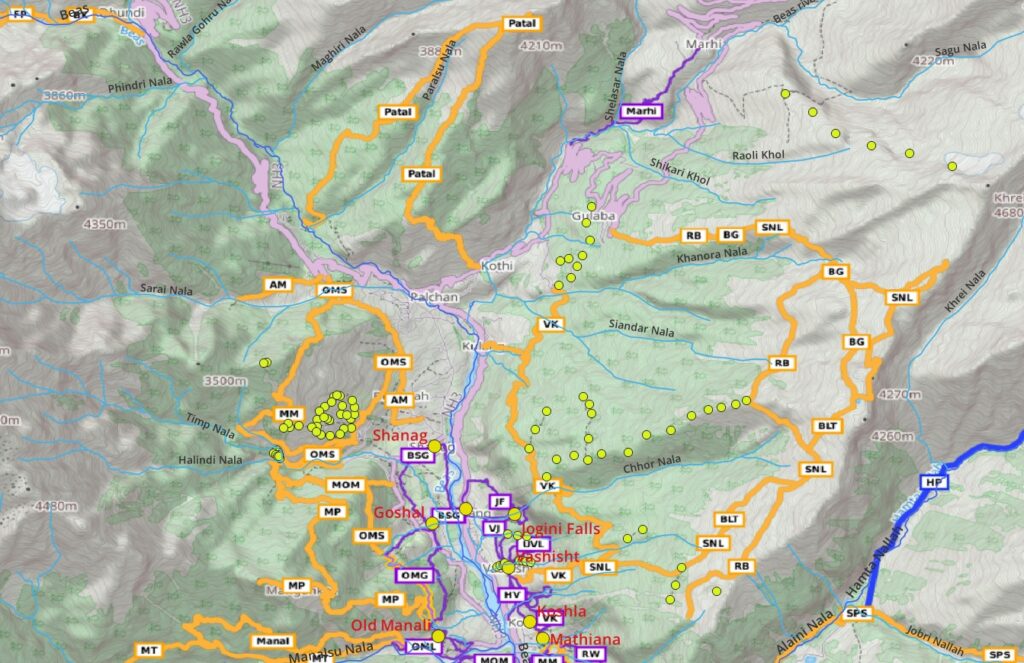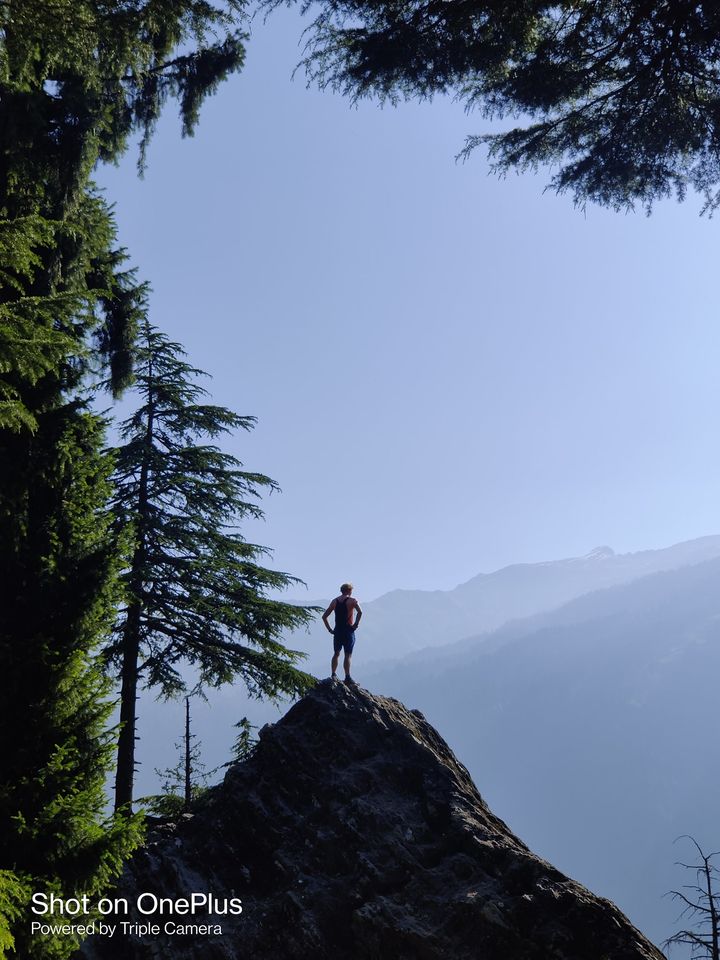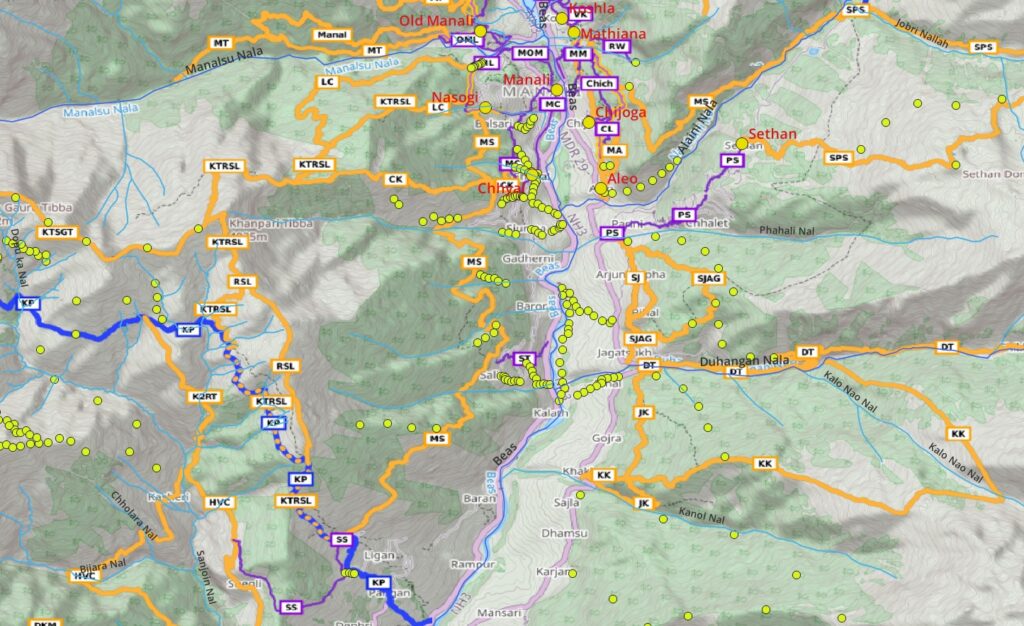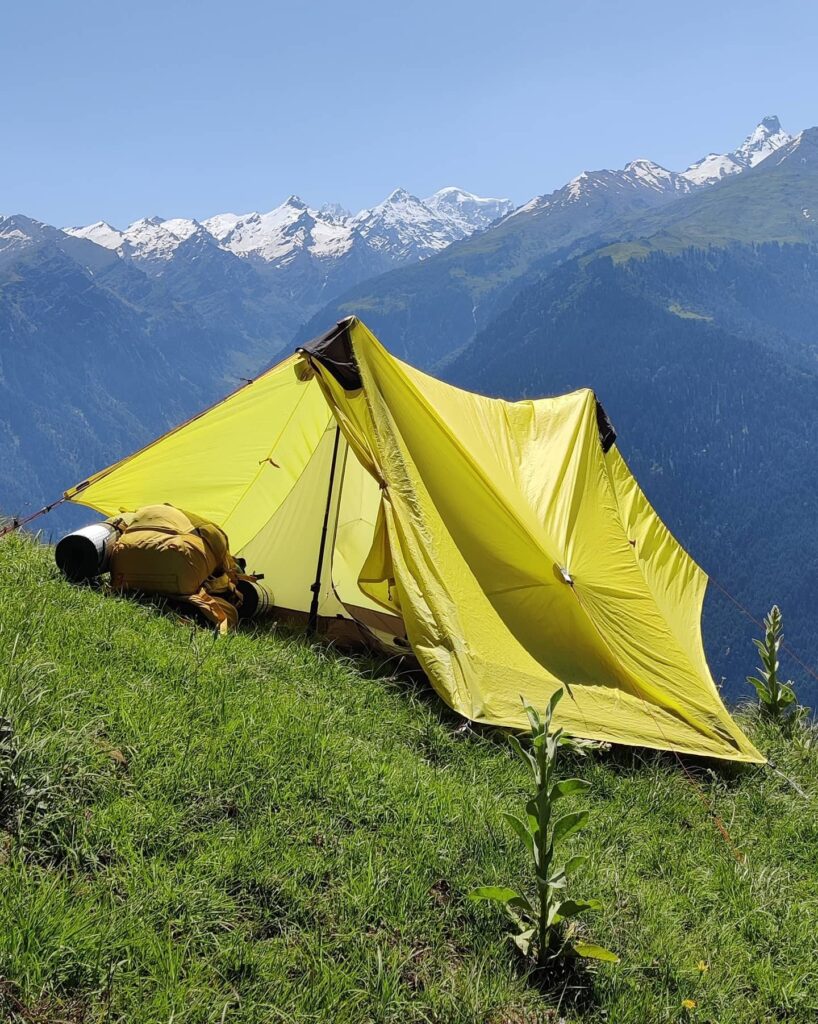 3 Long distance Hikes around Manali
Once you have gained sufficient experience on multi-day regional hiking routes and you feel confident enough you can try some of these long distance hikes around Manali across major high ranges to neighboring districts. These are multi-day hikes which require proper planning.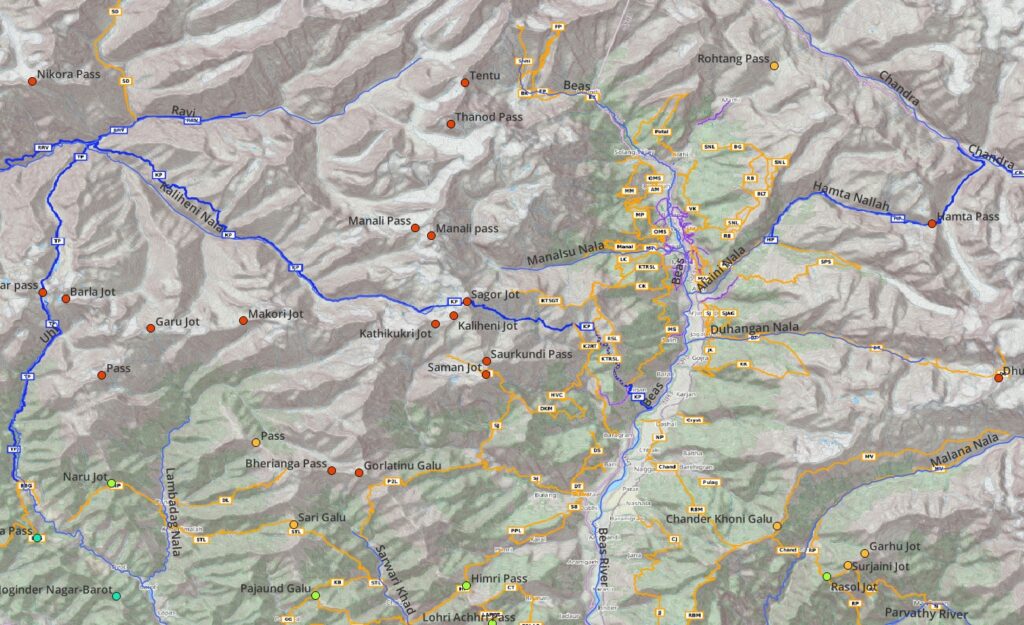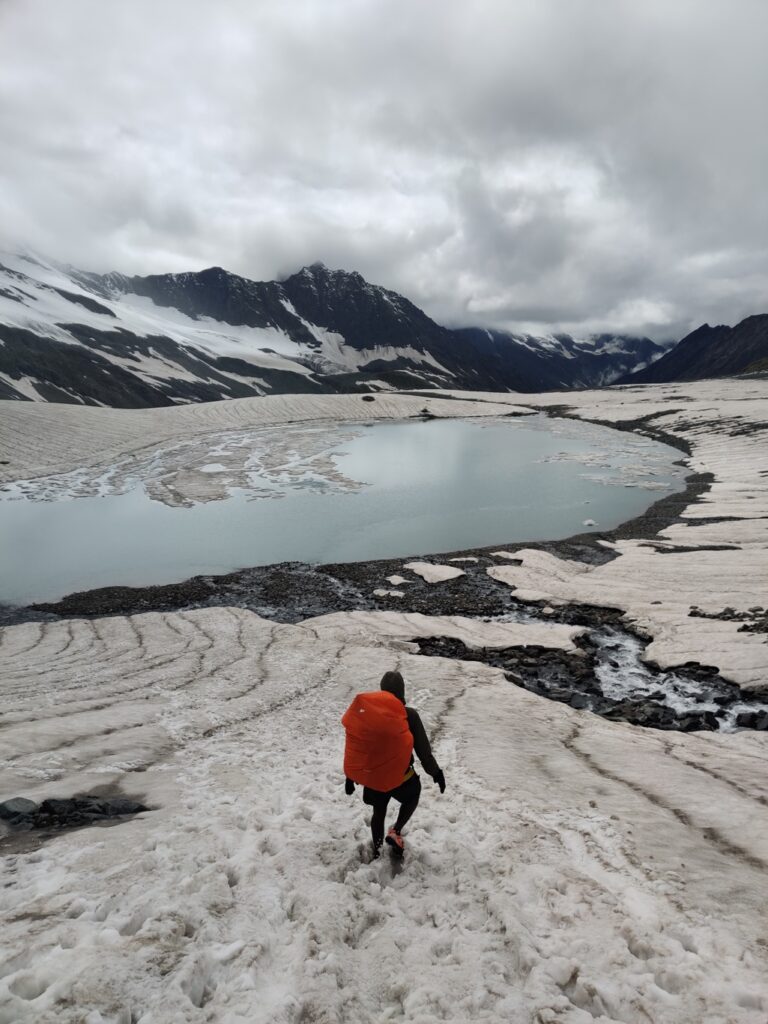 The above 50 hiking routes are located around the Manali region in the Beas river valley. Hundreds of additional hiking routes can be found further South in the Kullu region, Parvathi, Lug and Barot tributaries of the Beas and Great Himalayan National Park. More on the larger Kullu region in a subsequent post.