The night was rainy and puppy slept cosely to me inside the tent. Woke up Neil at Krishna cottage and after egg Maggie the three of us set out by 7am. Initially the cobbled path climbs up from Kathi 2200m and then descends towards a bridge to the opposite side. The original wide path on the right side (upstream) got destroyed by multiple landslides during the 2013 floods.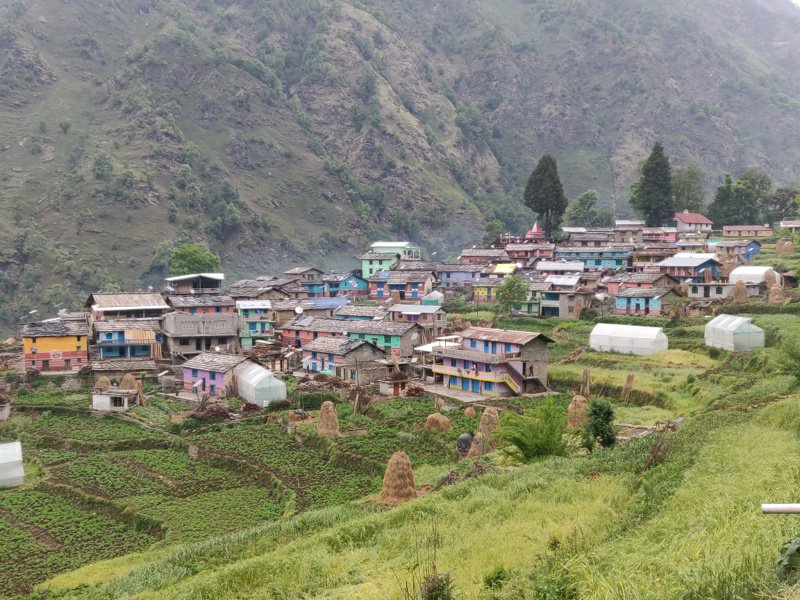 PWD and ADB (Almoda Development Board) created a beautiful path on the left side with regular shelters, benches and a number of rest houses. At Diwali 2600m where the Kafni and Pindari rivers join there are a few dhabas and a guest house. One has to cross two small bridges as the path on the left bank is still under construction.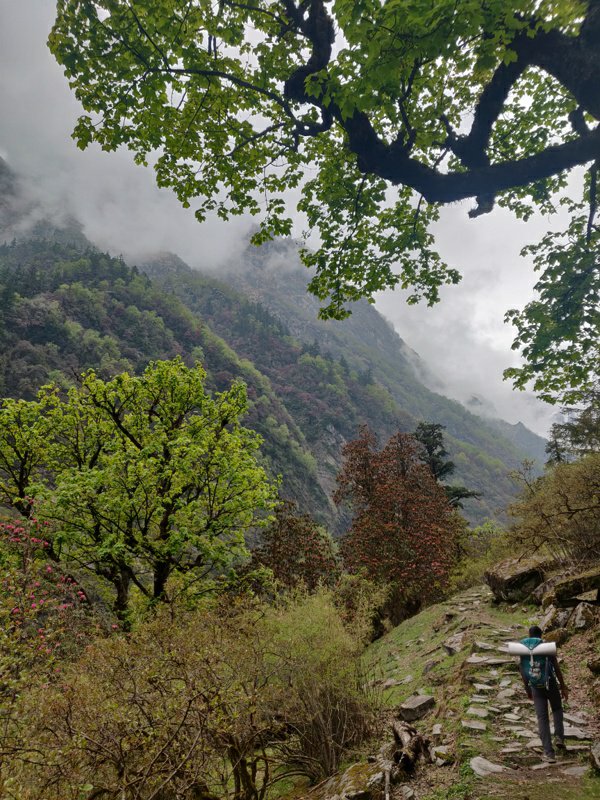 Today was the day the baba started his return to the Pindari Baba Math ashram another 13km / 4 hours from Diwali. After an early lunch at Diwali we proceed forward along the right side (upstream) of the river. The trail climbs up steadily above the river and after 2 hours and a couple of snow bridges we reach Phurkia 3200m tourist rest house where food and shelter is available.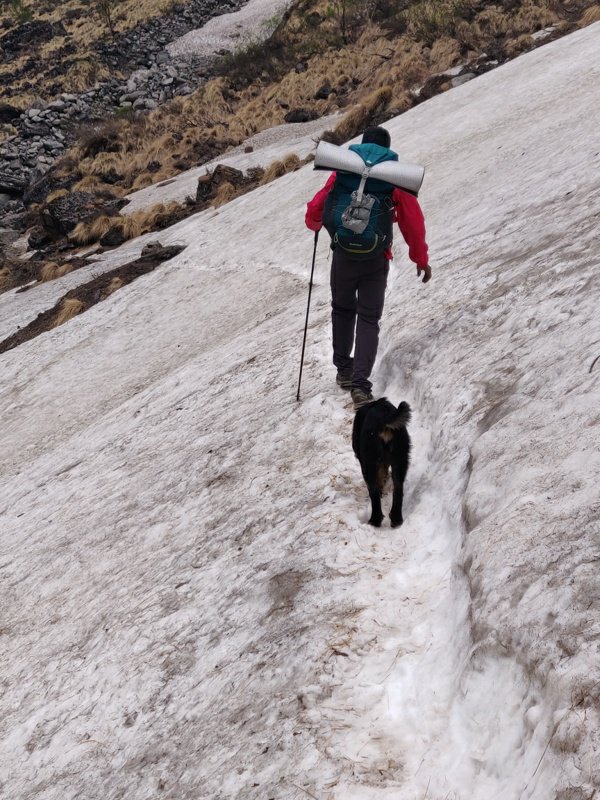 The path gets more treacherous now with a few landslides and frequent steeper snow bridges along the way. Still the snow is fairly soft in the afternoon making it easy to walk across. At regular distances we encounter PWD rest shelters, some of which are broken due to fallen rocks.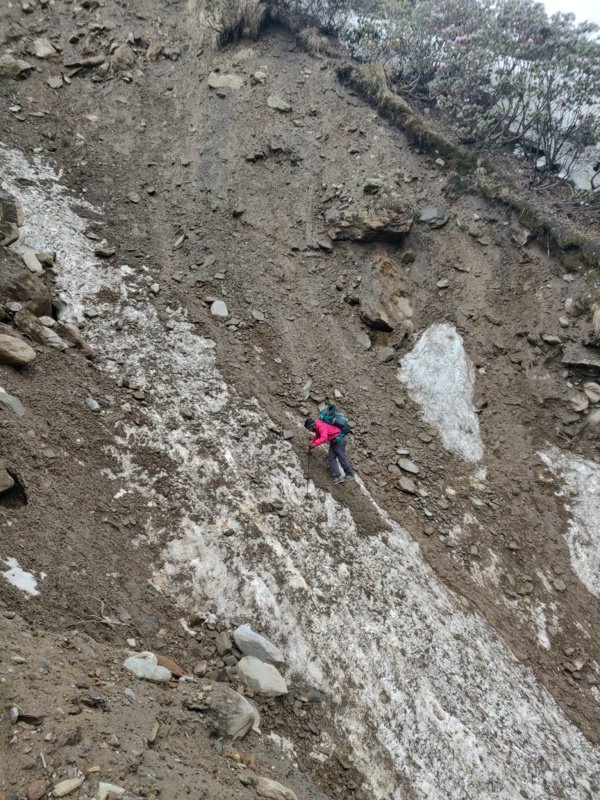 The final stretch to Pindari is fully covered with snow but fairly easy to cross. We find a small shelter house, a temple and the Pindari Baba Math ashram still covered below the snow. Aside a light drizzle the weather holds up nicely till evening.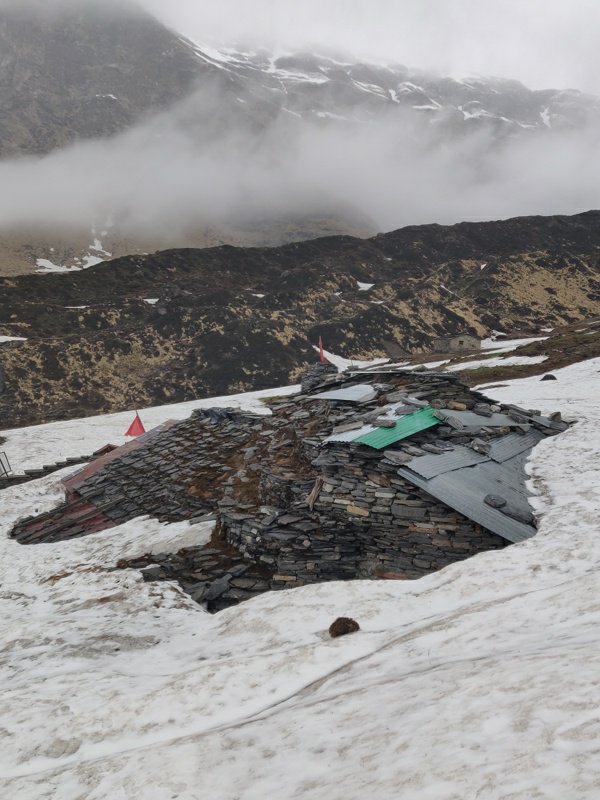 After a quick drone shot to capture the beauty of the beautiful vast white landscape and a few running videos we retreat back to a slightly lower altitude away from the cold snow towards a house we spotted on the way. Upon closer inspection the stone house with straw roof is open and perfect for night stay with firewood and straw covered floor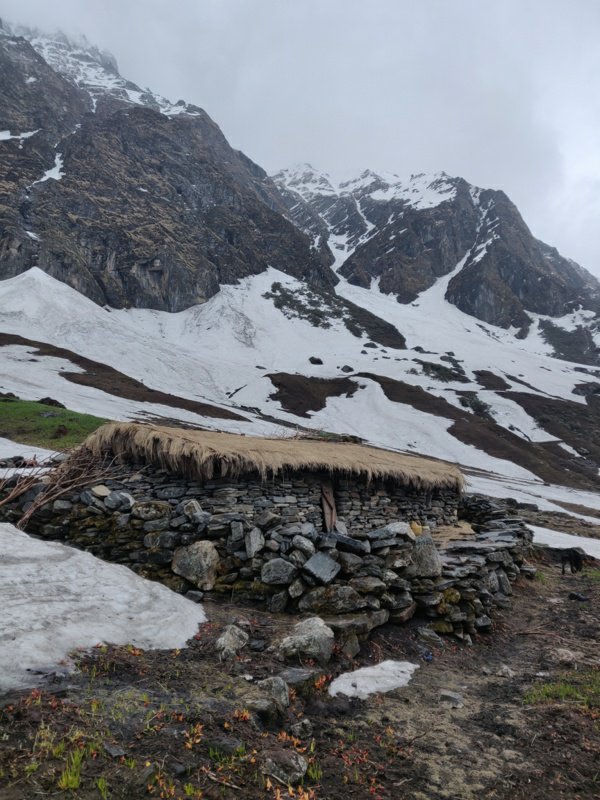 The night was…. very cold, even while fully layered up. Key was to keep the sleeping bag thightly closed up trapping the body warmth. Next morning we started our return which turned out much more treacherous with snow frozen hard overnight making it much more difficult to traverse the many steep snow sections.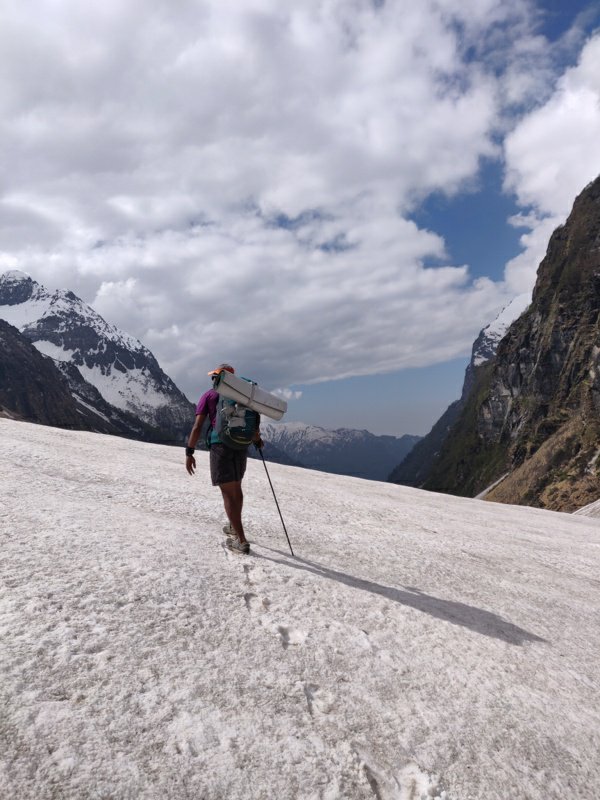 Progress was slow trying to get a grip with our shoes and yesterday's footsteps now smoothly frozen and slippery. On the way down we met the Pindari Baba with 5 porters on his annual return to his ashram near the Pindari glacier. He will stay and meditate there till December before returning back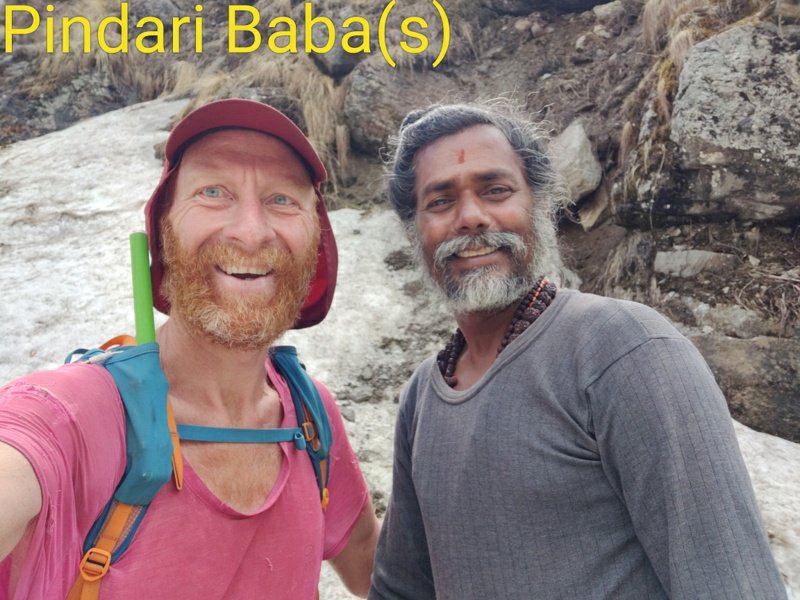 Further down at Phurkia we met a hiking group who were doing some snow sightseeing and took Maggie egg breakfast around 9am. Below Phurkia there are no tricky snow crossings and we could proceed fast down to Diwali where we crossed both Kafni and Pindari streams and continued on the right side (downstream) of the valley through beautiful green forest while the sun was shining above.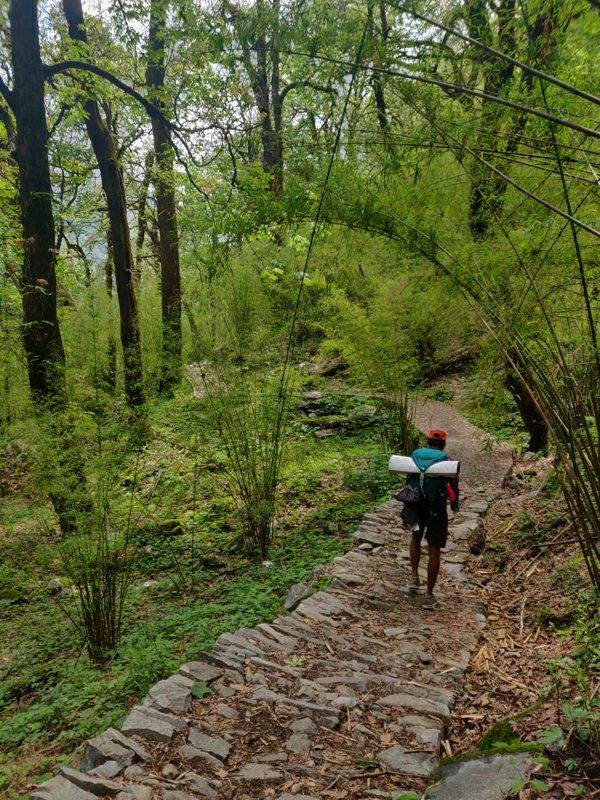 Even tough we were heading downhill we reached Kathi only by 4pm and were starved. We gobbled up two meals with dhal and proceeded to Kharkiya hoping to meet up with Pratap who was coming in through the Dhakuri pass from Loharkhet. On the way we met two girls hiking alpine style to Kathaliya inspired by my last year short film "Running the high Himalayas".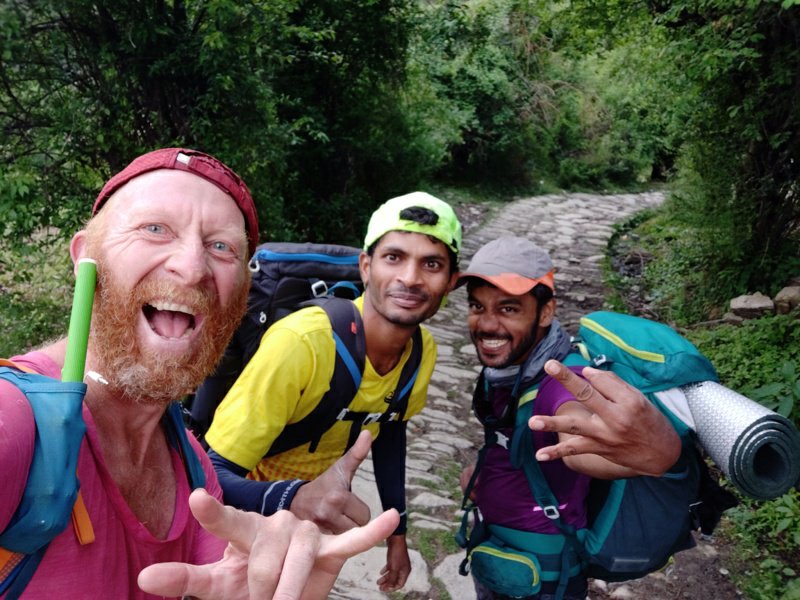 A short while after that we met up with our first guest co-trekker Pratap from Coimbatore who had traveled 2 days and 1 night to join in with us. We continued till Kharkiya where we had yummy parottas with alloo sabji.