Early morning I woke up hearing people running on the open ground where I camped. It was a pretty chill night on the banks of the Alaknanda river on the outskirts of Rudrapayag. I slept comfortably a bit away from the traffic noise on the NH7. I packed up my gears and walked down the highway looking for a share taxi to Rishikesh.
I picked up some oranges as breakfast snack and was stopping passing jeeps enquiring for their destination. I finally got lucky with a Sumo heading to Rishikesh. I jumped in and squeezed in aside three others on the middle bench. The highway was a mix of new road, pothole patches and one lane landslides being fixed. Our driver was a pro race car driver flying over broken roads.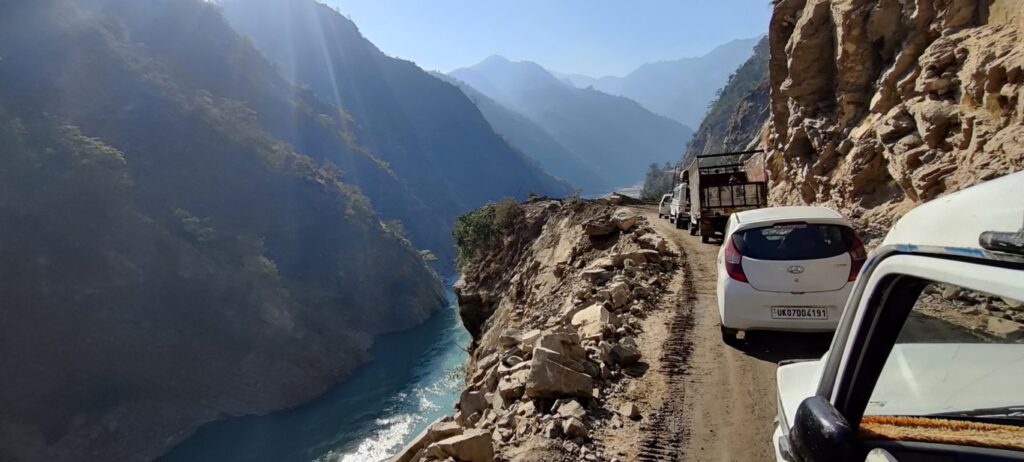 Mid way we stopped for breakfast in a small dhaba. Aloo paratha with pudina, best one I had tasted anywhere and that for 30Rs. We boarded our flight again and touched down in Rishikesh at 11am, a good 3.5 hours to cover 150K. I got down near Tapovan at the start of my next hike. Today s plan was to climb a 1300m high peak on the other side of the Alaknanda river.
I dropped into a road side dhaba and grabbed some mommo's and charge my phone. By 2pm I start moving, cross the bridge across the river which is flooded with tourists. A monkey steals my peanuts from my backpack while I shoot a video of a raft floating underneath. Too crowded here – I need to get out of this place! I step into the trail next to the bridge and – vanish! No one to be seen anymore.
Tourists come to the mountains not to appreciate nature but to roam in the concrete city between their hotel, shops and eateries. For the next 3 hours it s nobody but just myself and a pristine jungle next to an over crowded city. I hike up a nice trail which contours around the mountain. The forest at the foothills of the Himalayas appears greener then those higher up.
I pass the hamlet of Totla where the locals warn me about the dense jungle ahead. I spot regular elephant poop, first time seen in the Himalayas. There s a lot of bamboo and lower altitude vegetation not seen at higher elevations. I climb up in a valley to the deserted hamlet of Simaldhani. A bit higher up I meet one sadhu meditating in a single home.
He invites me to take a break and treats me on dry fruits, papaya and tea. I continue my ascent and discover an unmapped hamlet of Bhandari just below the top of the mountain. A friendly young man invites me to stay over at his home suggesting it s too cold to camp in the open on top. I drop my bag and climb up to watch the sunset above Rishikesh. A chilling wind appears as soon as the sun disappears.
I descend back to my host who shares s nice comfortable room with me. Bed, warm blankets and home cooked dinner. Plan is to climb together early morning to a small temple on top of a nearby peak and watch the sunrise. Some kids from family come over to play.
At 7pm we go to a traditional kitchen room where a tasty dinner is prepared. Fluffy chapattis, sabji, fresh home made butter. Genuine, non expecting hospitality. People of the mountains have a pure soul. Humanity we lost in the cities.