I had a sound sleep in a comfy bed in the home of a friendly man at Pokhri town. Beautiful sunrise from my room and I bid goodbye to my host. Grab some breakfast and fix today s target – valley traverse straight towards Rudrapayag. Until now I had focused on forest areas for exploration. This was the first valley dotted with numerous hamlets and roads.

Still I was able to carve out a 30K route along trails and paths through picturesque isolated settlements without touching any road. I descended steeply from Pokhri along a ridge into the valley below. A nice path took me to tiny farming hamlets, climbing up and down over a number of side valleys roughly in a straight line towards Rudrapayag. I carefully avoided road sections which are pretty monotonous to hike on.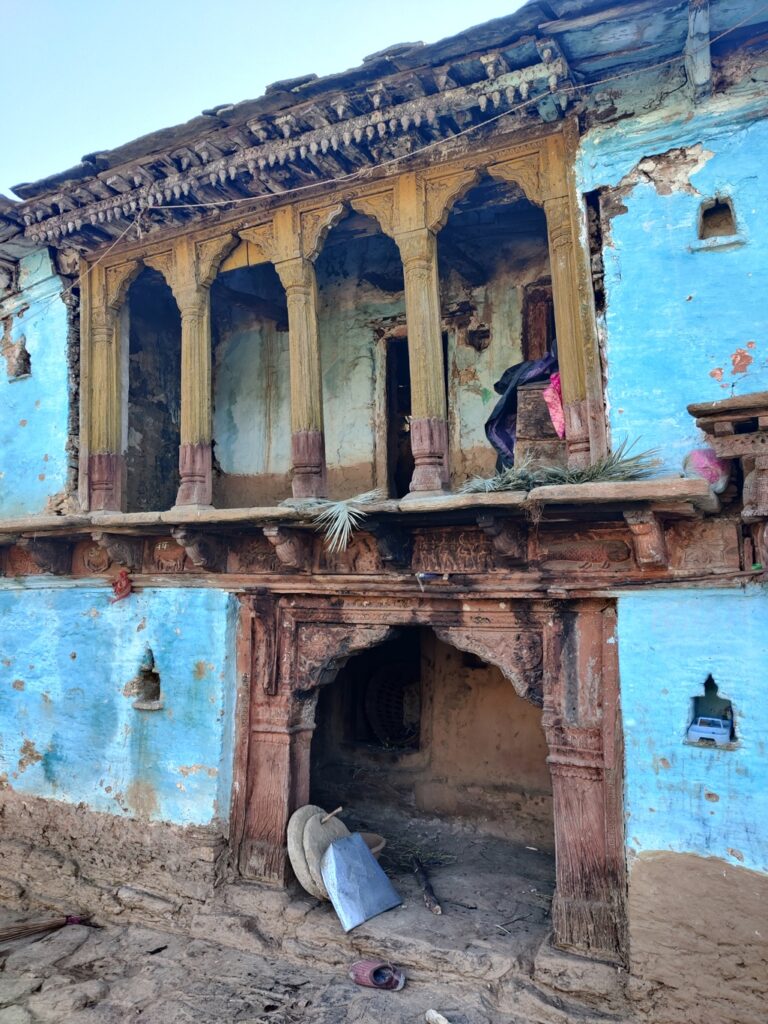 In one hamlet the locals we're excited to meet this lone traveler. One man offered me some black lemon tea while I was admiring a 200 year old house with beautiful handcrafted wooden designs. The settlements away from the road are usually constructed in traditional style with natural materials. Once road reaches a hamlet modern building materials flow in spoiling the heritage feel of the settlement.

The walls and roofs of the traditional homes really enchantes me. The natural feel of these makes for such a pleasing living space. Along the way I came across orange, lemon and pear trees. The old path crossed a new road here and there. I touched down in the base of the valley to climb up again on the opposite slope cutting a corner. In between the hamlets I was walking through forests and scrub slopes without meeting a single soul.

Some hamlets were just a handful of homes tucked in a corner of some side valley and completely disconnected from the outside world. People were living in their own little world far away from modern society and big cities. Surrounded by pristine nature, pure oxygen, clear waters and living self sustained. People are simple, innocent and genuine, soul unaffected by money and materialism.

After crossing a 2nd side valley I climbed steeply up again across a saddle to step into a path made of big rocks contouring high above the valley. The sun was slowly setting in the late afternoon when I hit the final descend into the Alaknanda valley. After 30K I finally stepped on the road some 15K from Rudrapayag. I hitched a ride bolero which just passed by dropping me 10K further on.

I continued on foot in the dark until I hit a small dhaba where I grabbed dinner after a long 10 hour day from Pokhri. I charged my phone, posted some photos on social media, shared the GPS log with my open street maps mapping team. By 8pm the dhaba closed and I continued my way looking for a suitable place to camp. Nothing near the road contouring along the steep valley slope.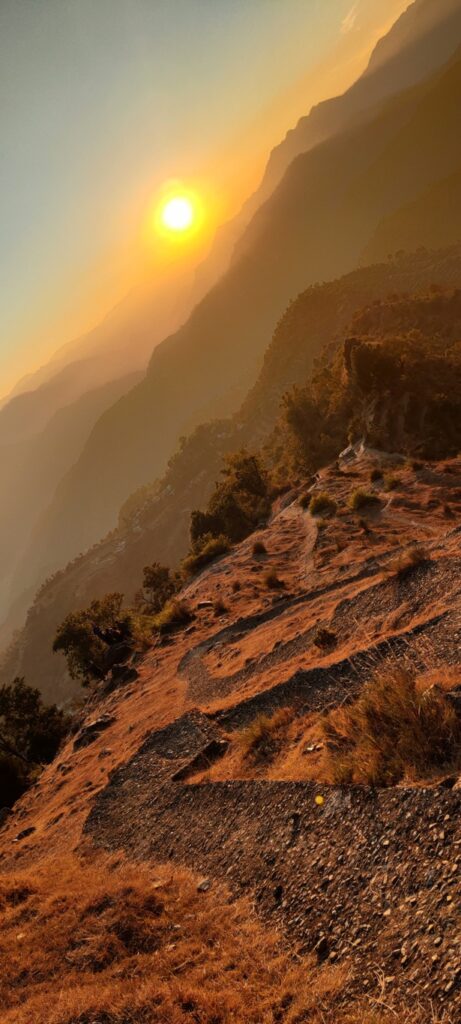 Finally a biker gave me a ride till Rudrapayag on the confluence of Alaknanda and Mandakini rivers. I walked outside the big town along the NH to find a big open ground where I could peacefully settle down for the night. Pitched up my tent and wrote this blog before dreaming of…