After a low altitude Winter traverse Trans Jammu in March touching the snowline at 2000- 2500m altitude I was excited for my next ultra journey: a 2 month mid level Spring traverse across passes up till 3500-4000m in May-June. Palani a good hiking friend from Chennai decided to join me last minute.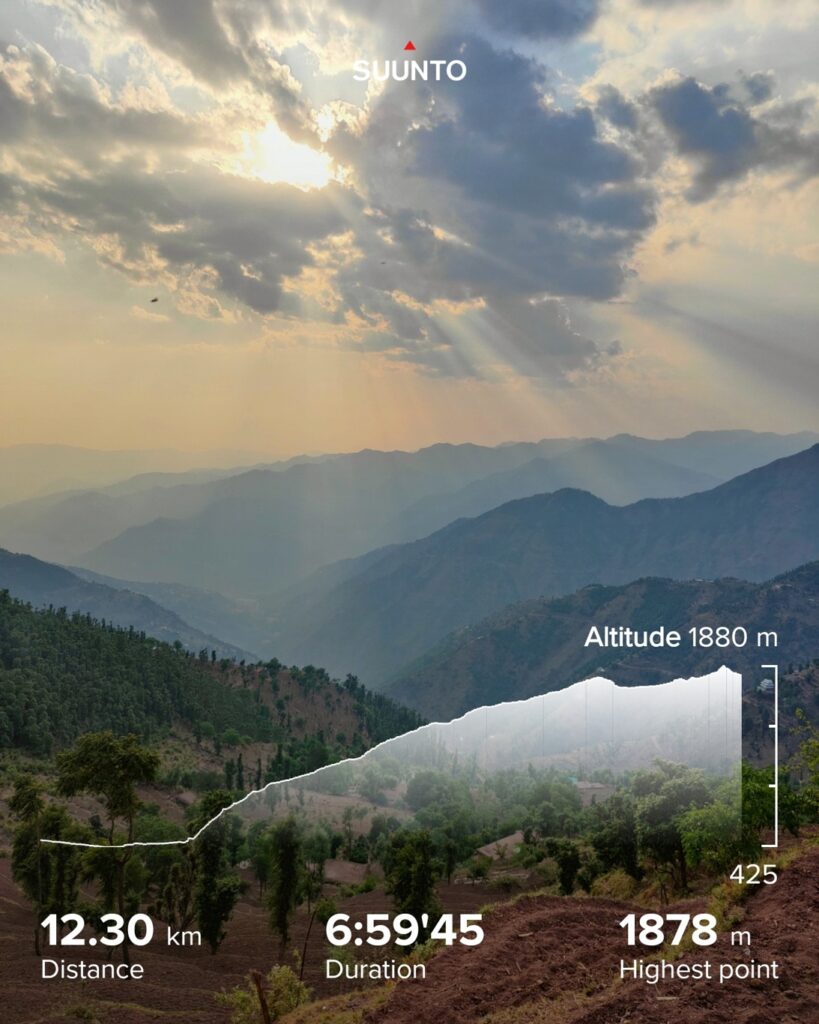 I had mapped J&K in Open Street Maps in significant detail identifying hundreds of rivers, streams, passes, peaks and settlements which would be useful to execute this alpine journey. Suitable ridgelines were identified in QGIS and the latest OSM basemap, contours and Survey maps were downloaded in my phone ready for offline exploration.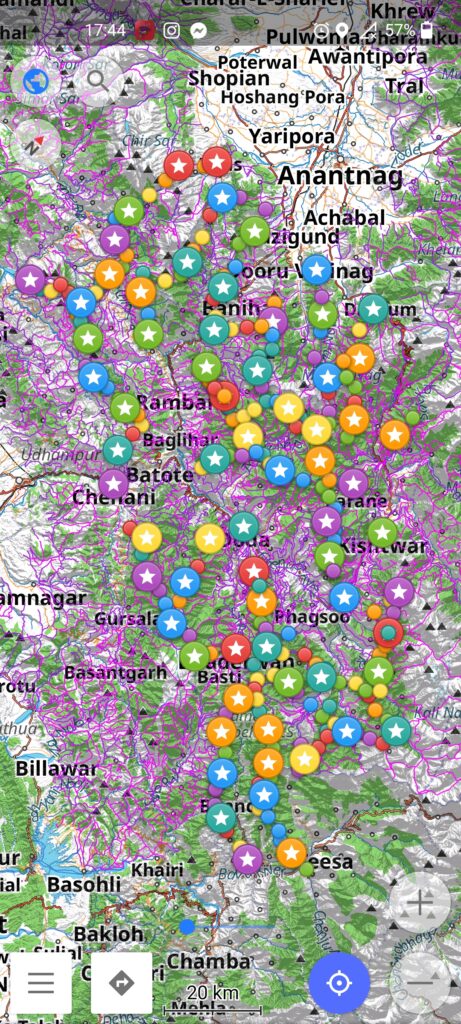 It was a long travel journey. Started on Apr 26th from Chennai with GT Express to Delhi 35 hours followed by Udhampur Express to Jammu 10 hours. A share tempo took us to Reasi in 2 hours and another 1 hour to the village of Kanthan, our starting point at the confluence of the Chenab and Ansi river valleys.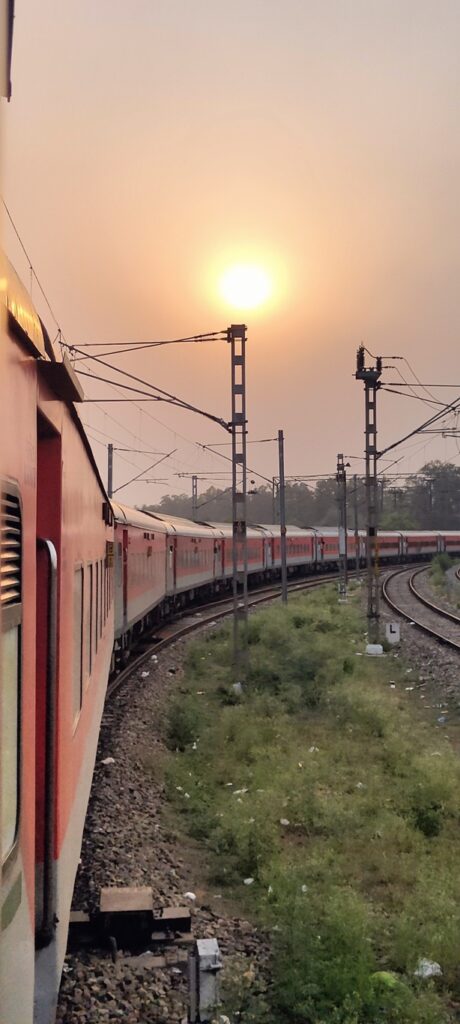 First planned section was a West-East crossing from Reasi – Chenani – Bhaderwah – Teesa (HP) which would take approximately 10 days. We had breakfast and packed up two days of food in a nearby dhaba. 10 chapattis, 2 omlettes, 2 samosa, bananas and snacks to cover next 2 days on the ridgeline above before touching the next food point.
At this point the Chenab river flows out of the foothills of the Himalayas after a long journey from its origin in Chandra Tal, Lahaul flowing through a large section of Jammu.. From Kanthan at 500m altitude we climbed up an ancient rock path beneath the scorching sun to the ridgeline between Lancha Nala and Chenab river valleys. Mesmerizing views on valley below.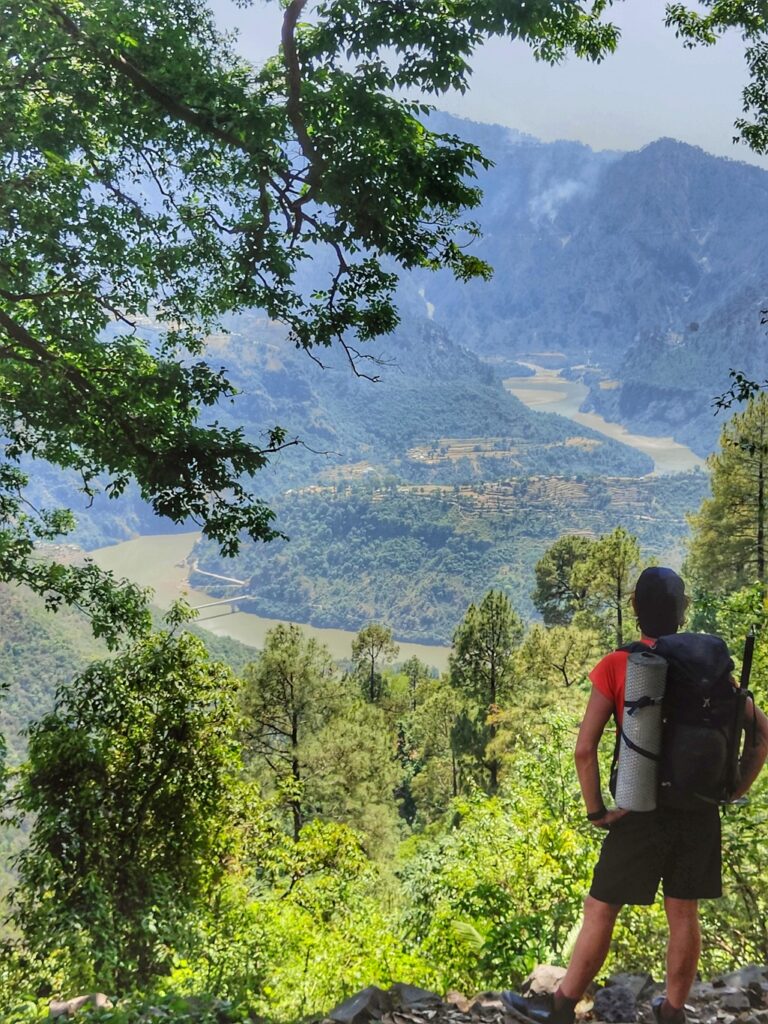 We passed an ancient fountain with old stone carvings depicting traditional life in the mountains. The spring water was cold and refreshing after the 700m ascent. We got onto the ridgeline at 1200m altitude from where a wide rock path took us higher up passing several small hamlets each with a handful of homes.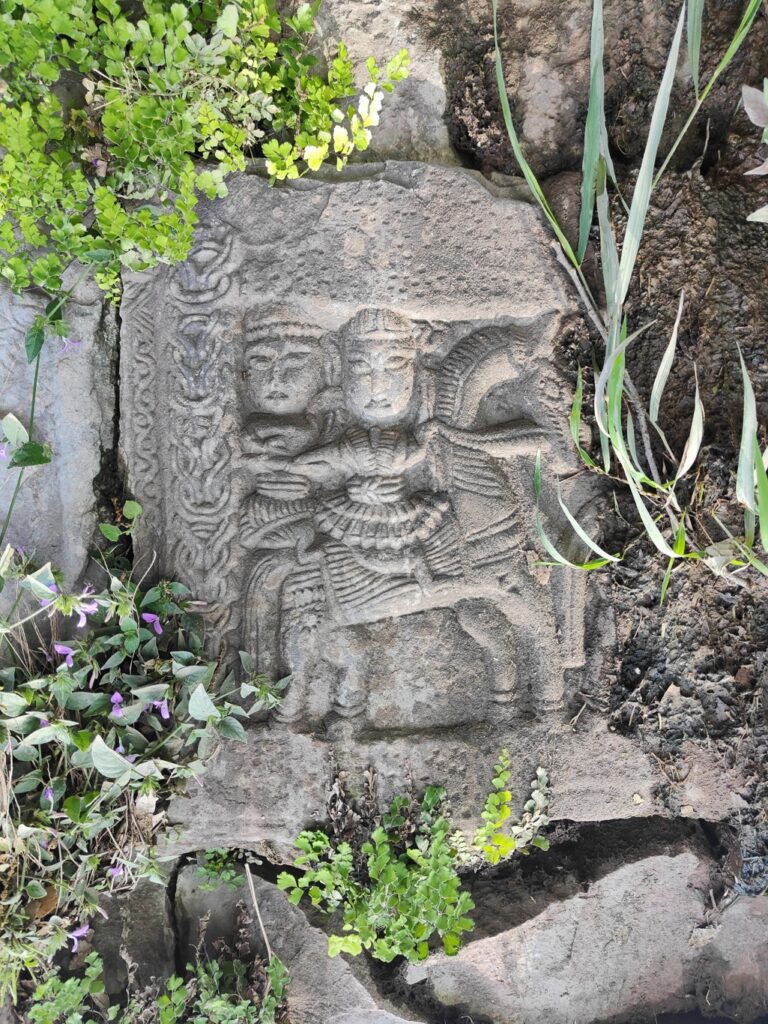 Houses are built with natural materials: rock walls plastered with cow dung & mud, wooden beams for the frame and large roof waterproofed with branches and soil. Views on the Chenab river below were simply mesmerizing as it snaked its way out of the foothills. We passed a temple encircled by large stones with beautiful ancient rock carvings.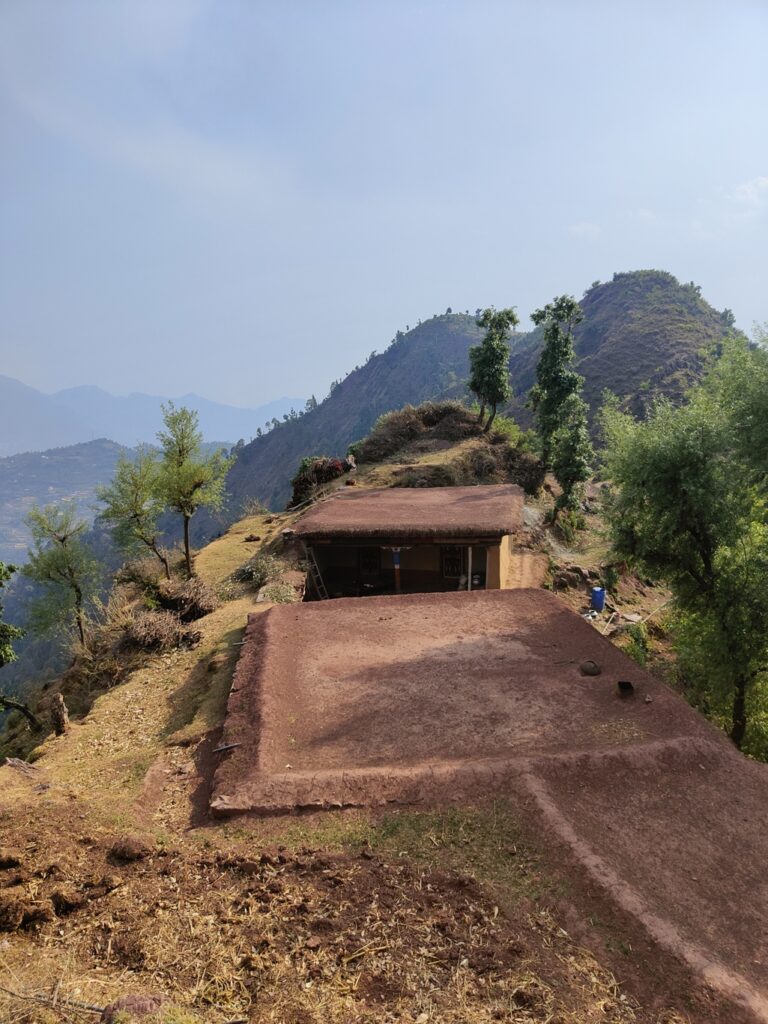 Further up the ridgeline the Survey map trail was inaccurate and made us lose the actual path. Around 1900m altitude we reached the scenic hamlet of Challad where we socialised with locals at a small shop while admiring the breathtaking views around. Everywhere locals were surprised to see outsiders in this unexplored part of J&K.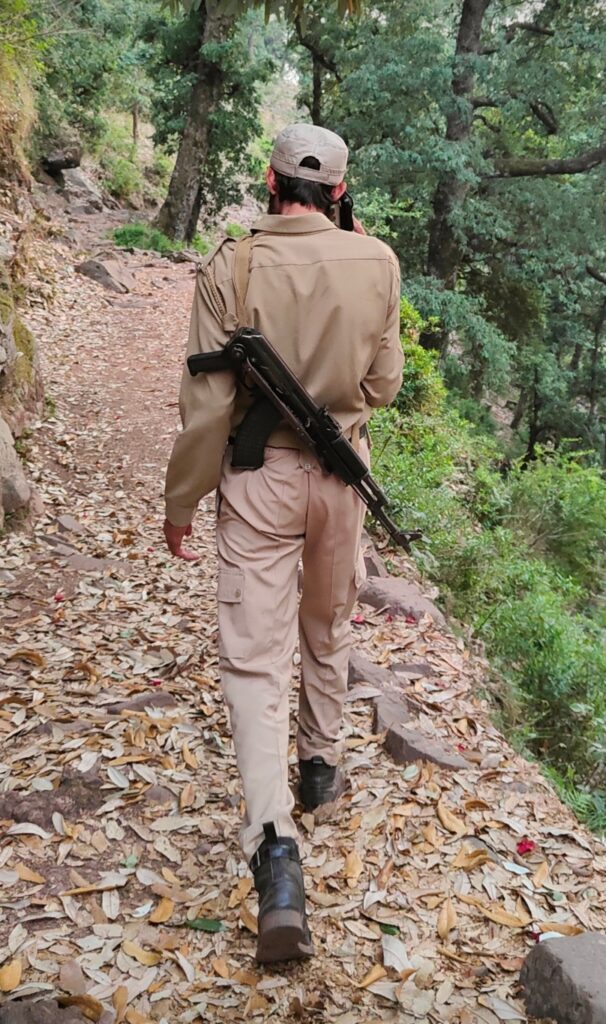 As we climbed higher up two J&K police men armed pointing AK-47s called us down. Suspicious of our presence and intentions in this region they firmly asked us to put our bags down and show ID. We pulled out our Aadhar cards and explained the purpose of our visit. They told us that we should have prior informed the police station in the valley below.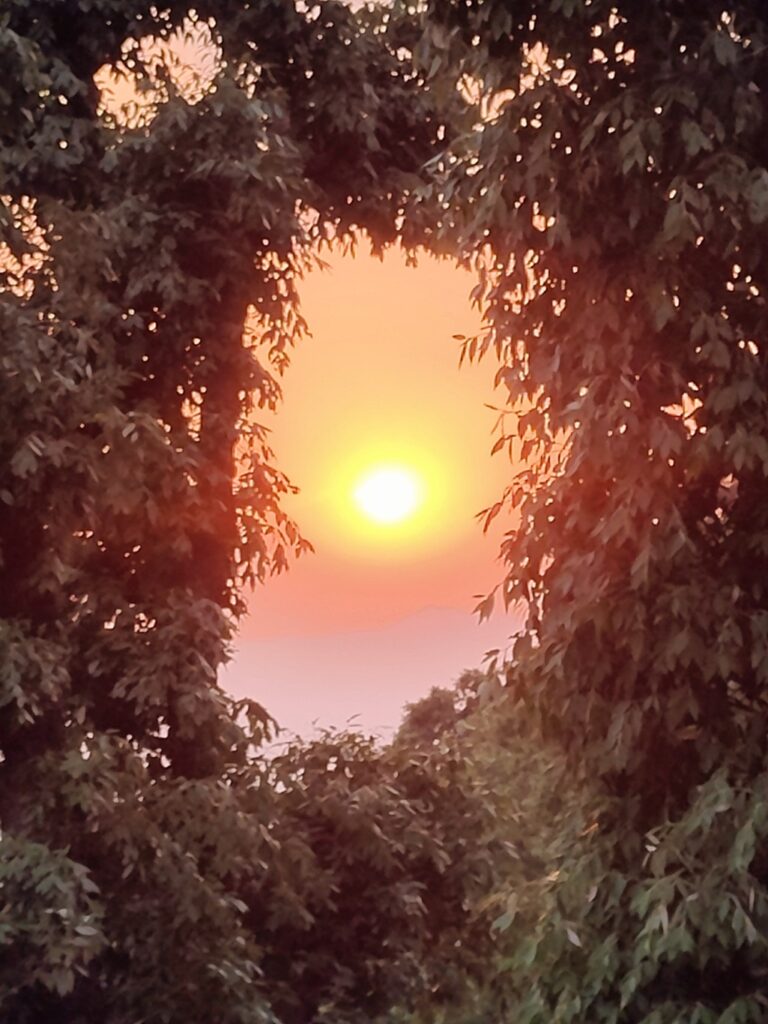 They decided to take us to their superior at Judda village below, a one hour descend losing our precious gained elevation. Meanwhile the Western skies above Kashmir turned deep orange as the sun set down. We reached Juda by nightfall and after an initial enquery people treated us on heart warming hospitality, well known in J&K.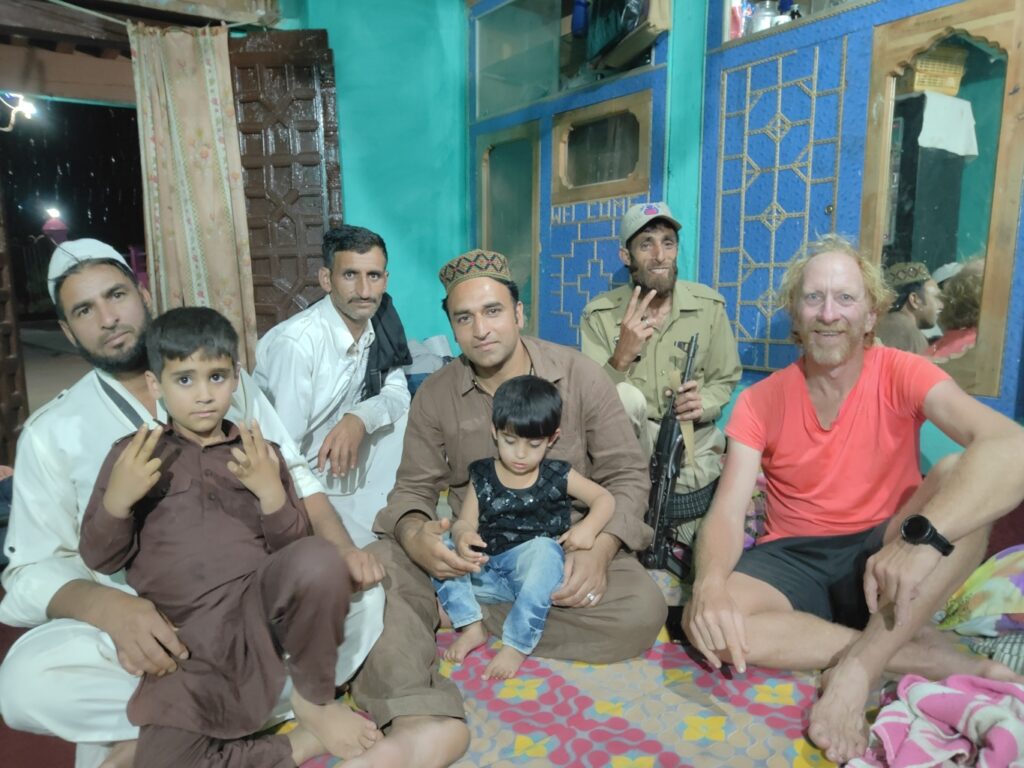 We received a sumptuous non veg dinner after a long tiring day. The SP of police insisted we sleep over at his home. A very kind gentleman with a lovely family. After a long travel from South and a pretty intense first day we fell into a sound night sleep having covered 20km and 1800m elevation gain.