My next target was a 60km ridgeline traverse between Siul and Sewa river valleys connecting Bhaderwah with Himachal. The ridgeline ran within 3000-3500m connecting several peaks and passes. I estimated it would take around 2-3 days to complete this traverse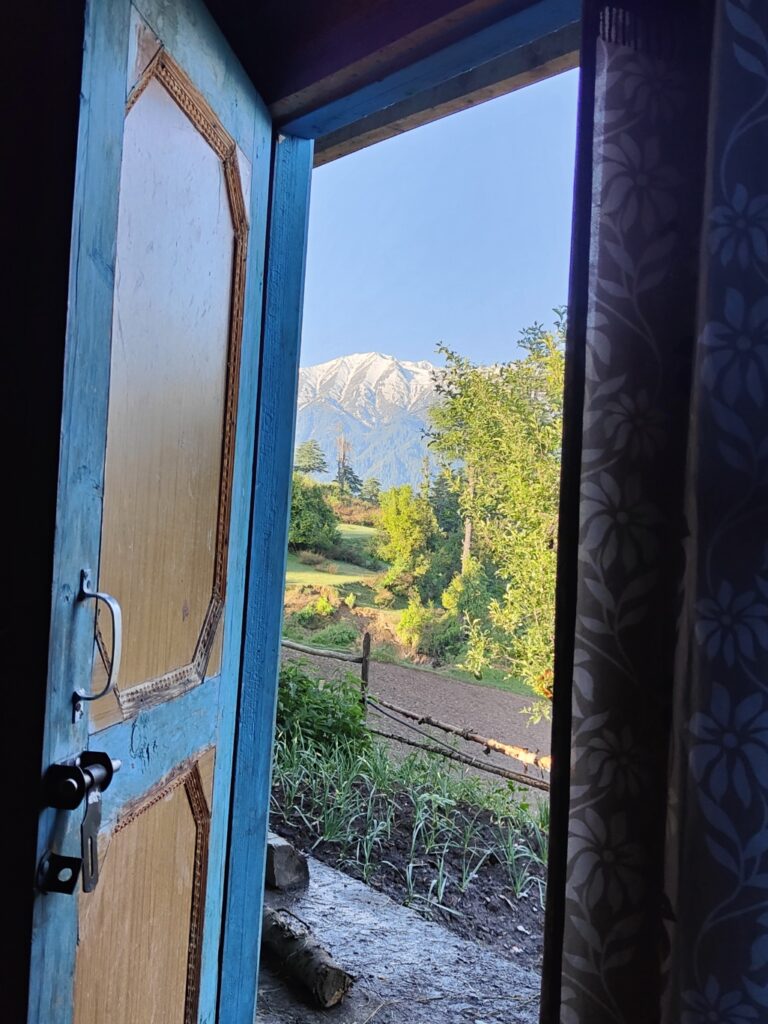 I woke up from a refreshing night rest refreshed in my cosy room in Kansaru at 2400m. It was a pleasant, sunny morning with deep blue skies. My host offered tea and breakfast but I kindly refused as I was not hungry and has sufficient food ration packed up.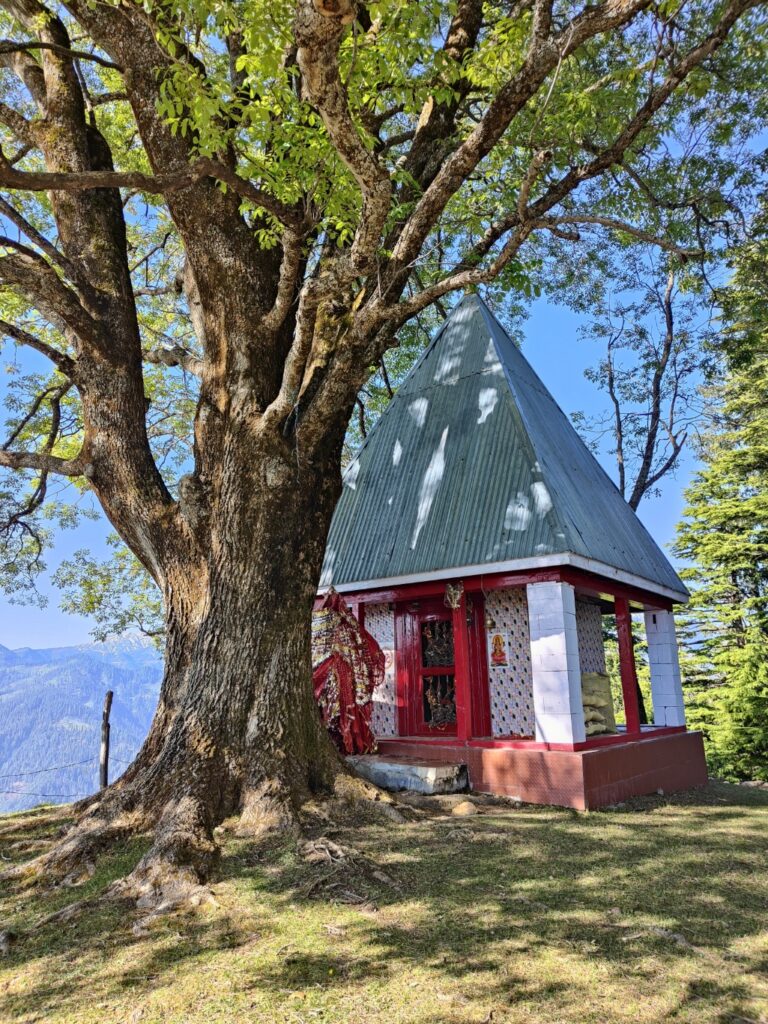 I climbed up above Kansaru to a ridgeline at 2700m where I found a beautiful mandir. I continued along a nice path on top running through open meadows and pine forest sections, gently ascending and descending across small hillocks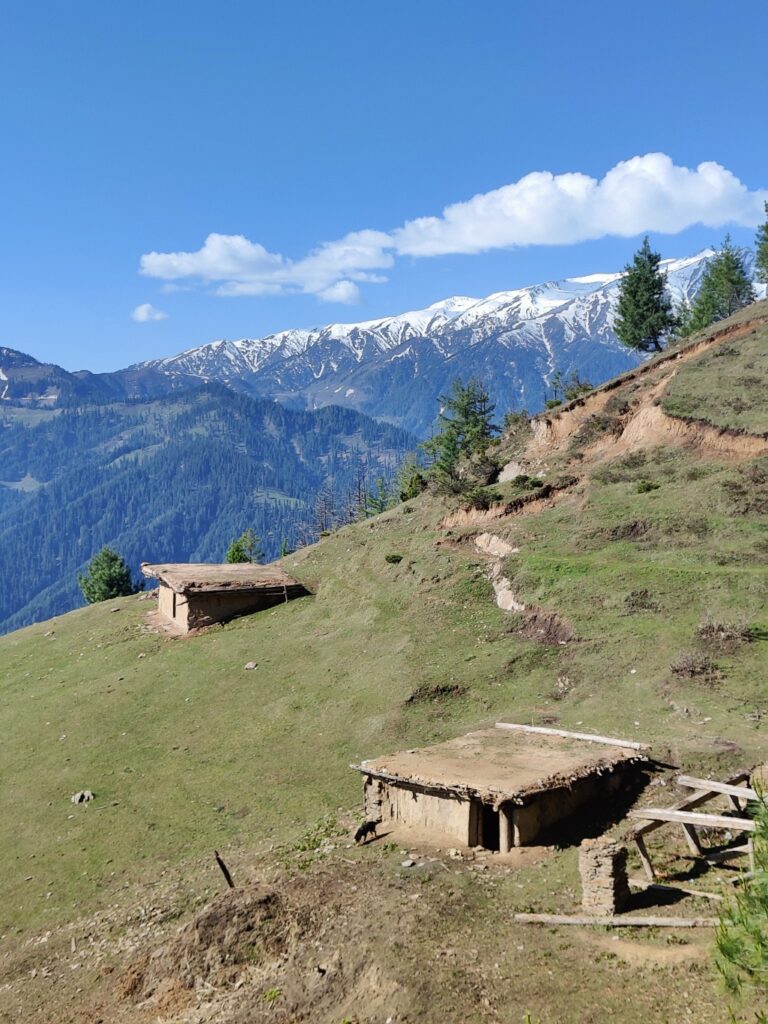 I met a first shepherd who was feeding a small goatie which was just born. It was visibly shivering in the chill morning at this altitude so he carried it to an open meadow where it could soak up the warmth of the sun.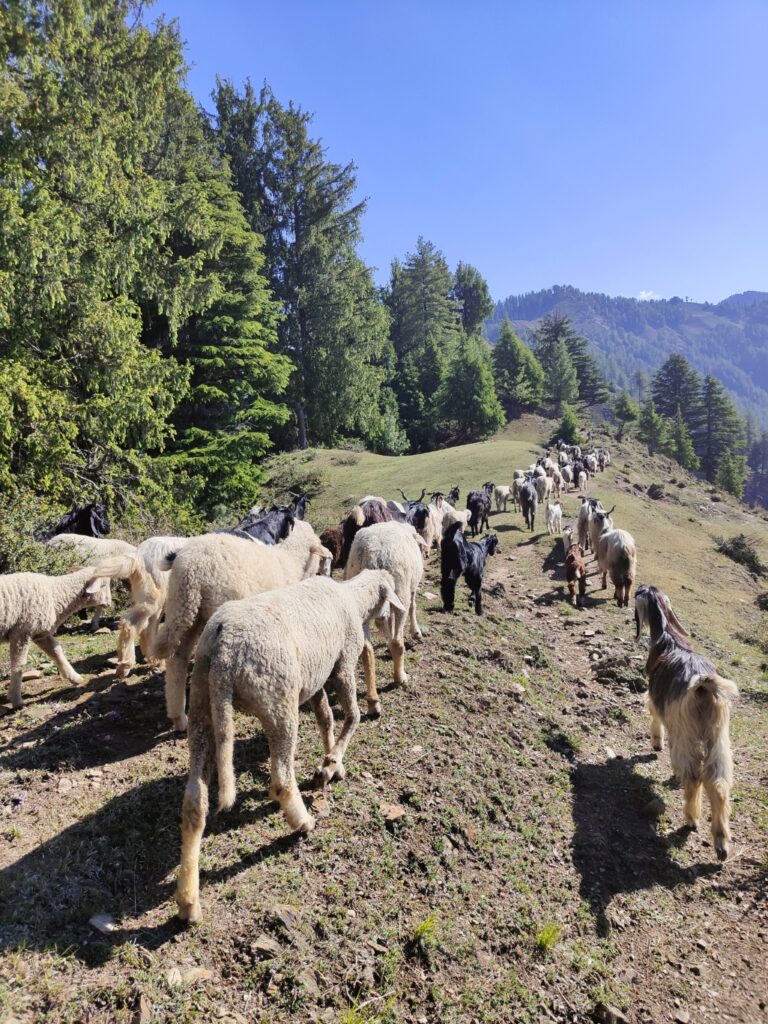 Mom was licking her newborn while the other members of the herd curiously came to check out the new member of the herd. The goatie was trying his best to make his first steps in the grass.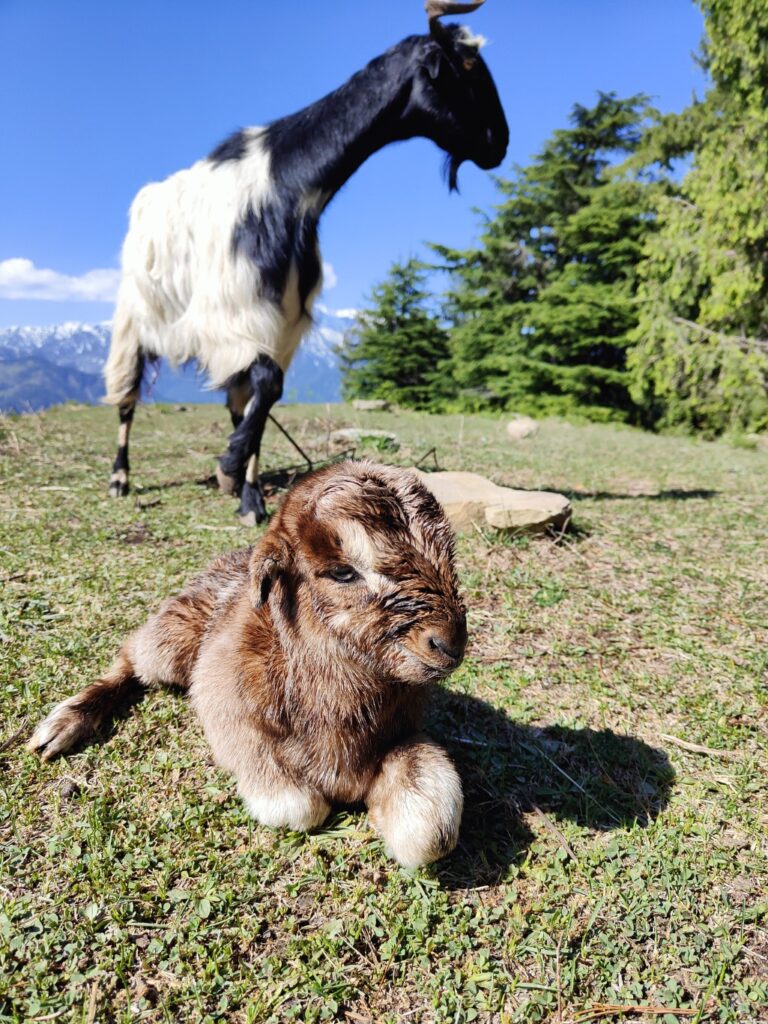 The ridgeline took me to the base of Machaura Tibba, a 3200m peak. The Survey map showed the trail contouring around the peak avoiding unnecessary elevation gain. I had to search a bit but finally found the corresponding trail on the ground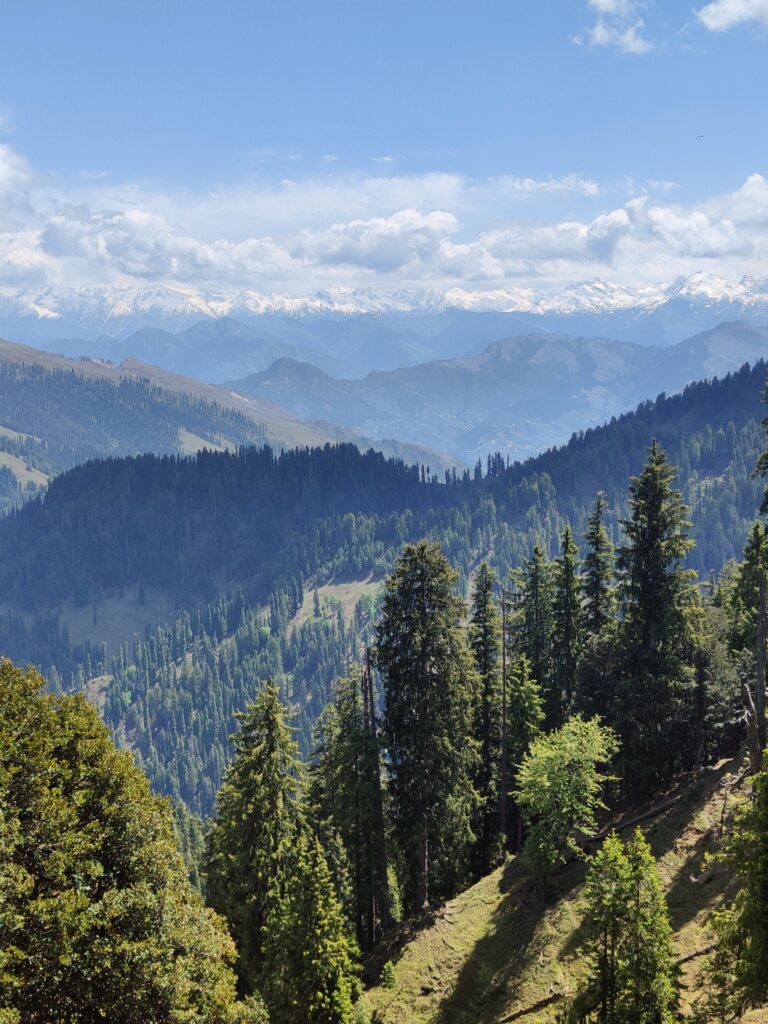 A bit further I met a few gujjar families. Horses were decorated with colorful, handmade accessories. A beautiful sight. The animals were carrying heavy loads: thick blankets, food and cooking gears. One horse was carrying a few small goaties.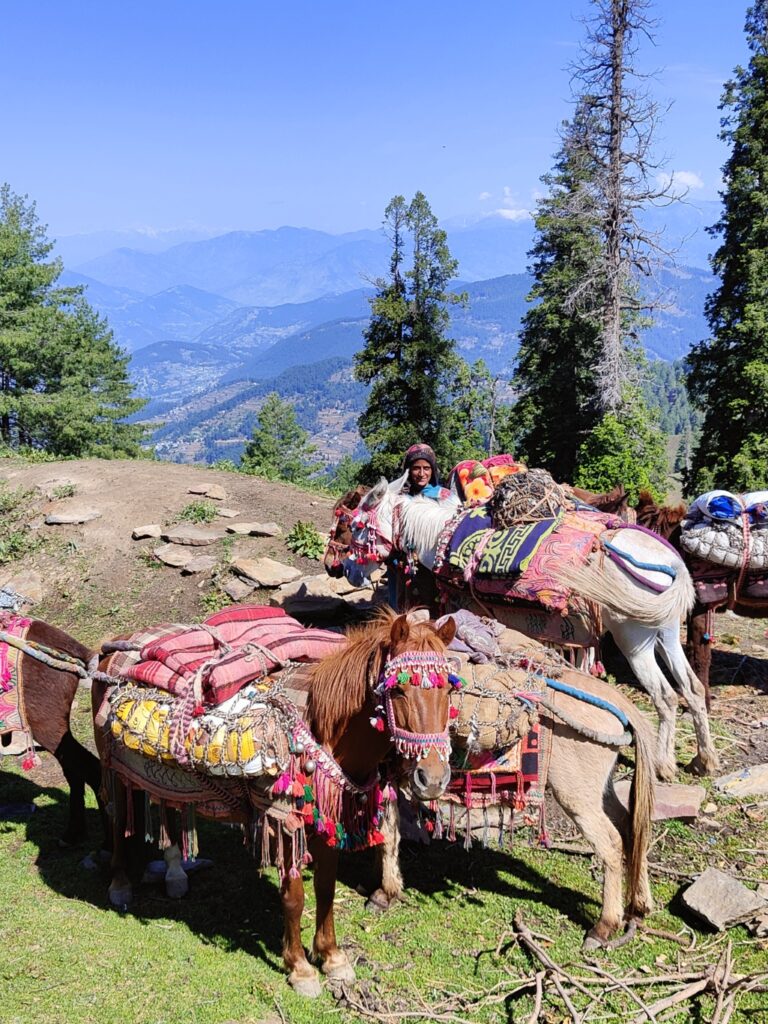 The men were herding the sheep, while the women were managing gears and horses. The entire family including small children were taken along on the anual journey to graze the alpine meadows during summer.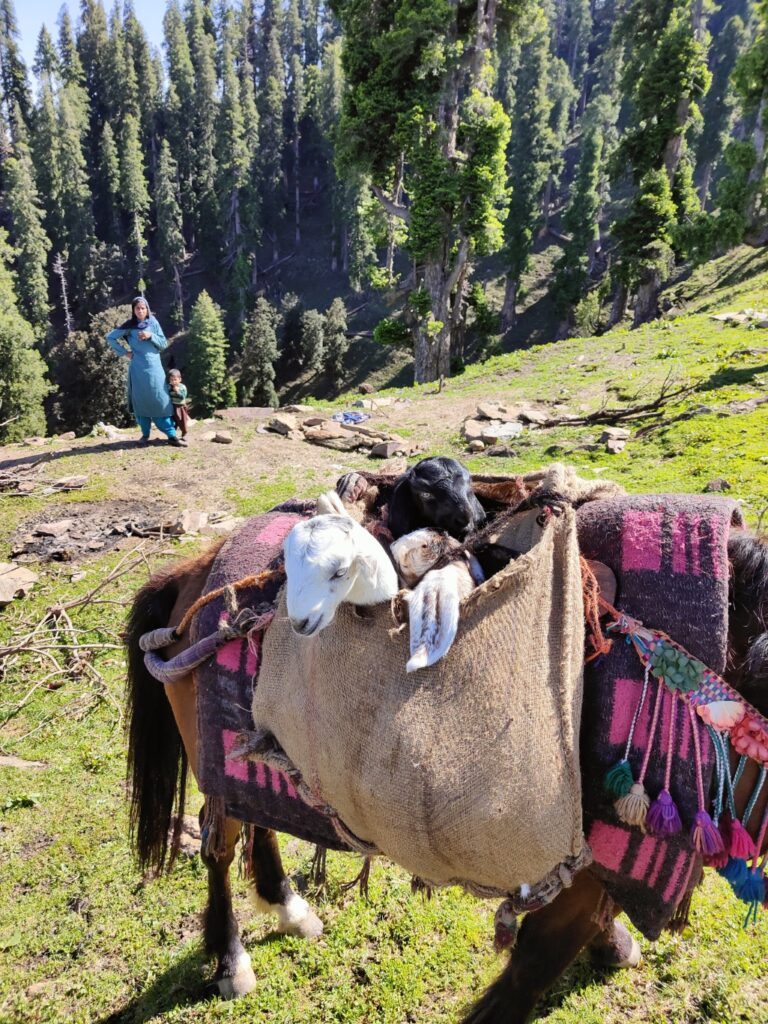 I settled down on top of a scenic meadow where horses and sheep were grazing. It was 11am, time for late breakfast: rottis and jaggery. My presence did not bother the animals who were indulged in grazing the snow fed meadows .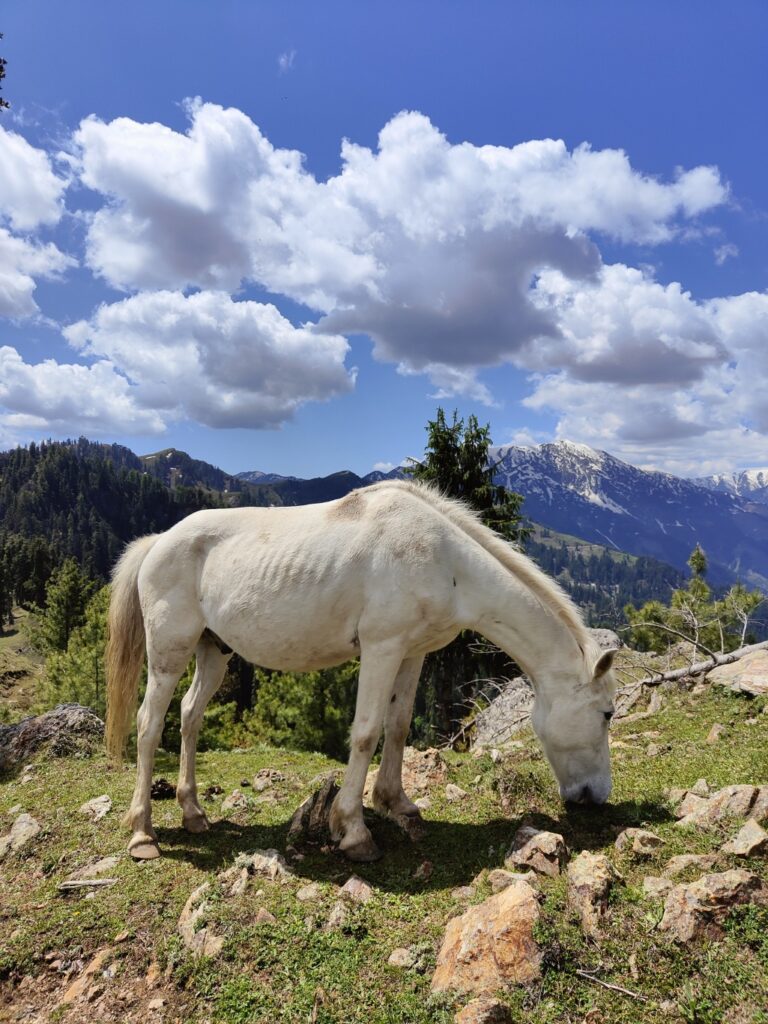 The remote dwelling of Manyedu was just below the hillock. I continued across a steep snow covered gully towards the Katari di Gali pass. On the other side I crossed another gujjar family along with a large herd of buffaloes and sheep. Men, women, children, everyone was helping in some activity.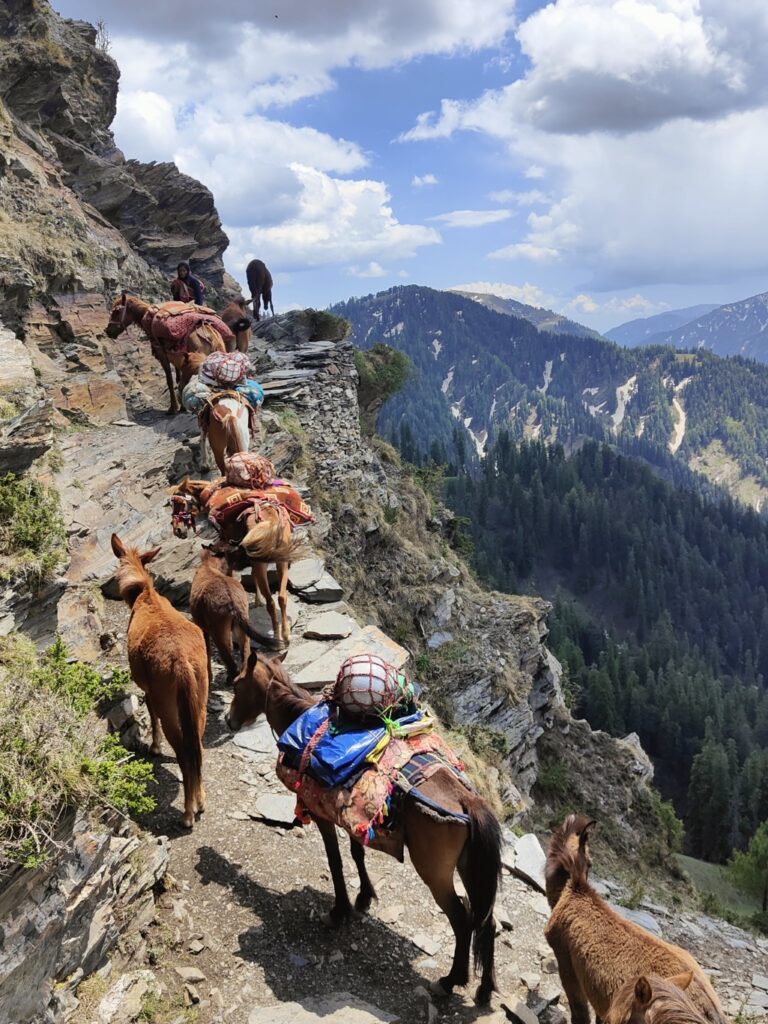 I now descended towards the Padri Gali road pass connecting Bhaderwah with Himachal. Some 10 colorful decorated gujjar horses were ascending a steep rock path. Below I admired a large herd of sheep traversing a big meadow below the snow peaks around Kailash Kund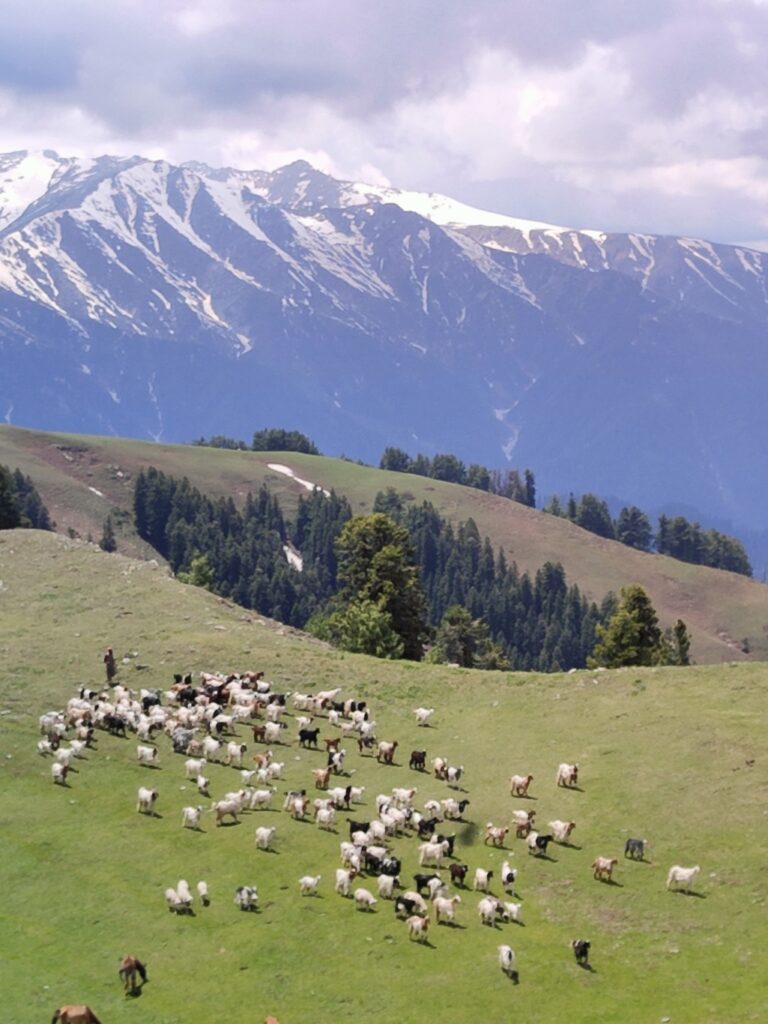 A few army men from Chamba stationed at the Padri Gali pass were impressed to learn about my solo journey across J&K. A bit further down the road I got back into wide rock path. Yet another gujjar family was on their way up, lots of gears loaded on their horses.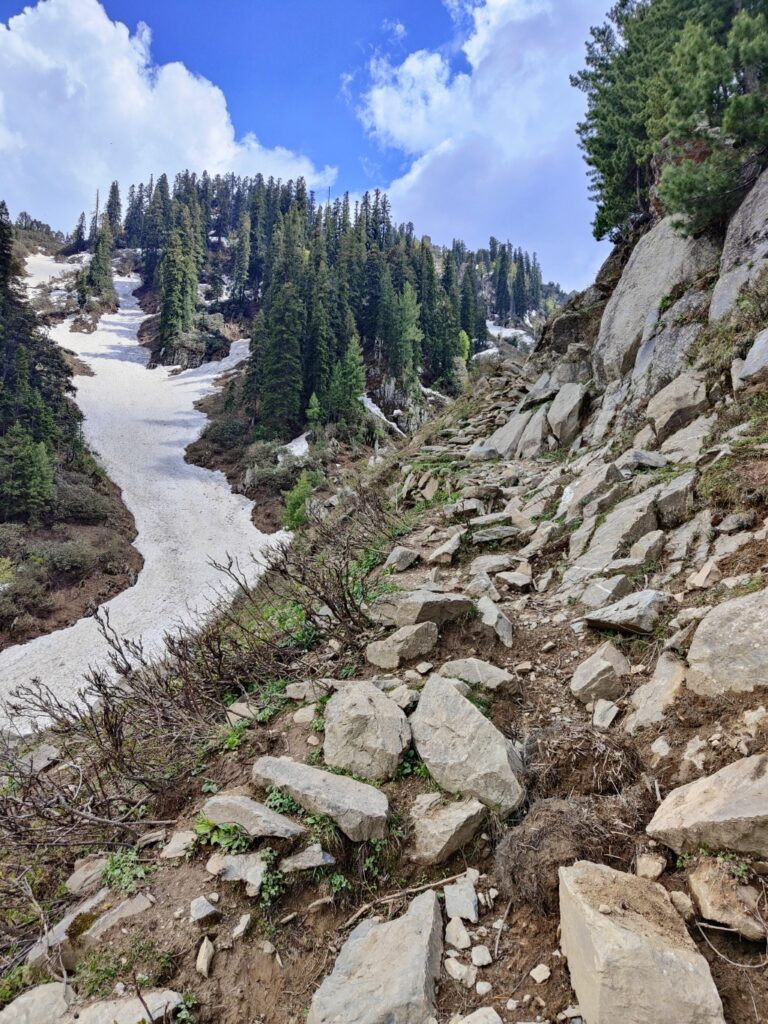 The path here hair pinned up steeply towards the Sundain peak (3750m). Parts were still covered in winter snow. I was impressed how fully loaded horses had navigated across these steep snow sections. Below the peak the main path descended into the Sewa river valley below from where the gujjars came up.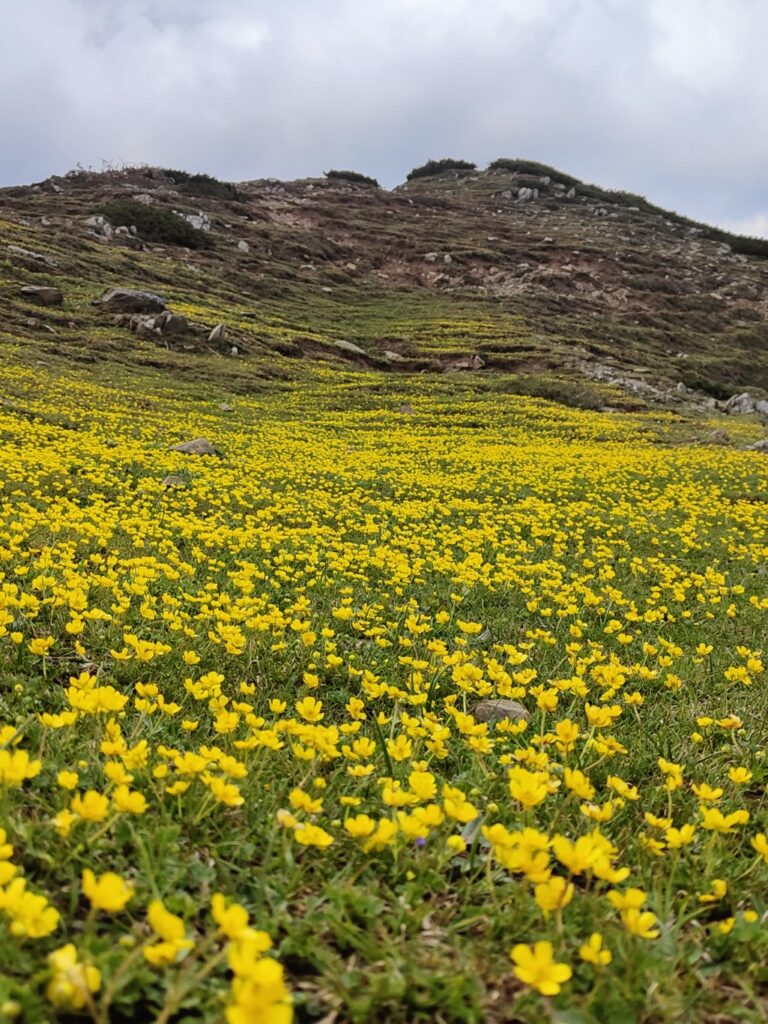 I took a side trail which turned South along the main ridgeline towards Himachal. As I walked across rolling, green meadows, I got treated on mesmerizing views of the Siul and Sewa river valleys below. Yellow flowers decorated the landscape.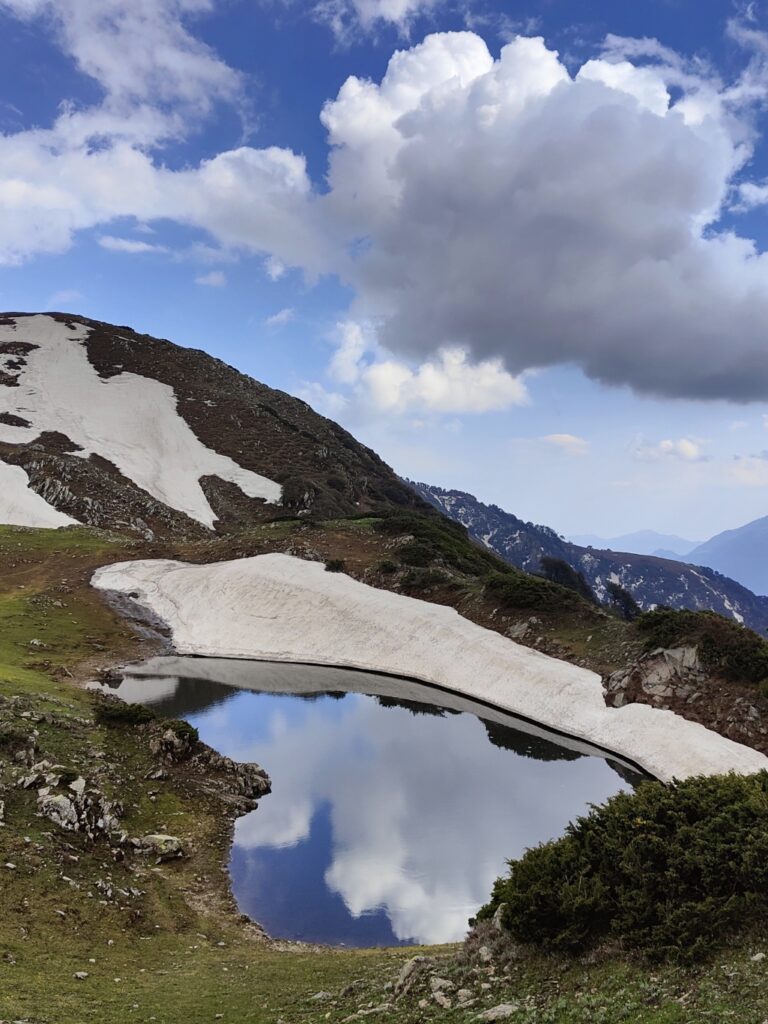 I came across several beautiful small lakes reflecting the clouds in the sky above. These lakes were providing drinking water for herds grazing the meadows. Near Udak peak (3500m) I had to negotiate a few steeper rock sections. I used my ice axe to get across one steep snow gully.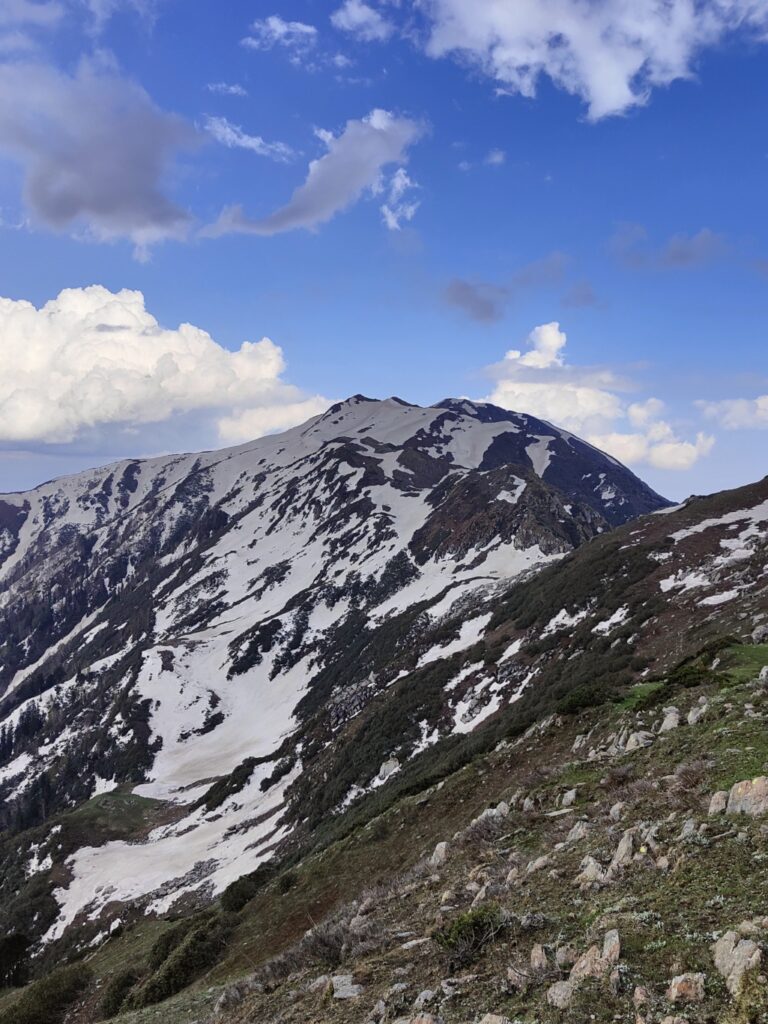 The main challenge of the day was just ahead – Kalethu peak (3600m), the Northern approach slope covered in snow. The Survey trail went left around the peak but was inaccessible due to snow cover on steep slopes. I decided to go straight over the top.
I used my ice axe to traverse the steep frozen snow. An ice axe is more piece of mind compared to a set of hiking poles giving a more sure footing. From Kalethu the ridge went steep downhill towards a flatter section of rolling meadows with yet another scenic lake.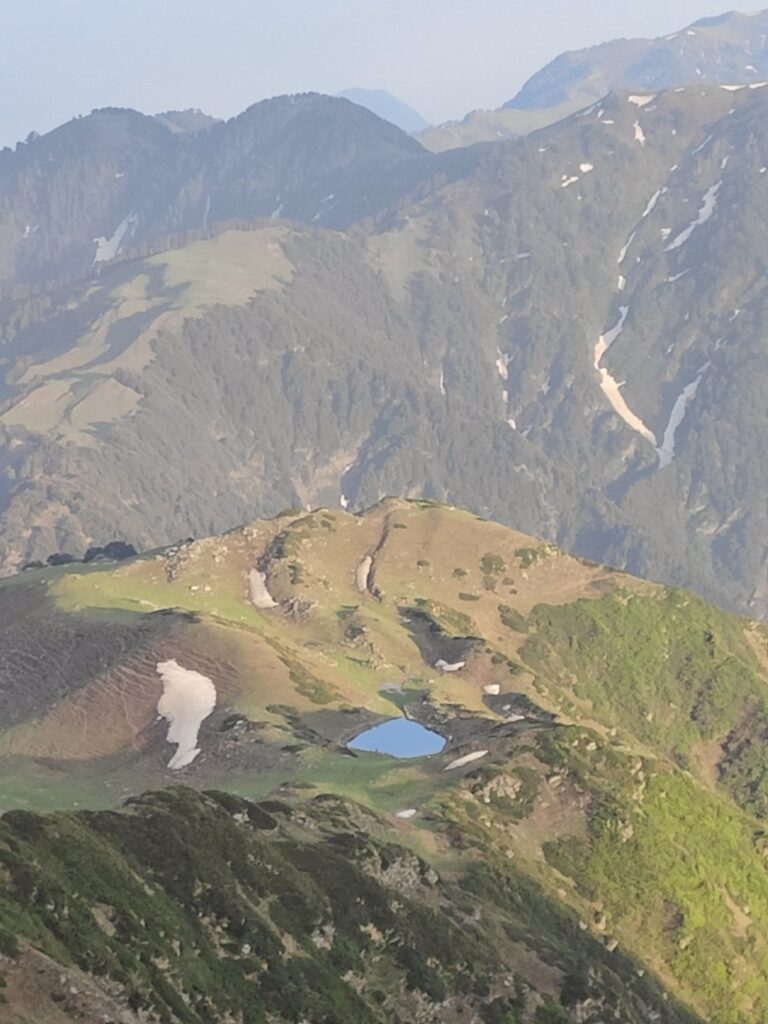 There was a beautiful small temple near the lake and several flat spaces used by pilgrims during their anual yatra. It was a picturesque spot, perfect to pitch up my tent for the night after a long, intense day. I quickly got into my quilt as a cold wind blew across the meadows at 3300m