Woke up from a peaceful night in the green alpine meadows at 2800m at the base of the Kalasant peak. We had pitched up our minimalist T2 tent next to a gujjar camp who were grazing their sheep in the surrounding meadows. Their 5 dogs were running around in the forest at night barking at possible noctural predators.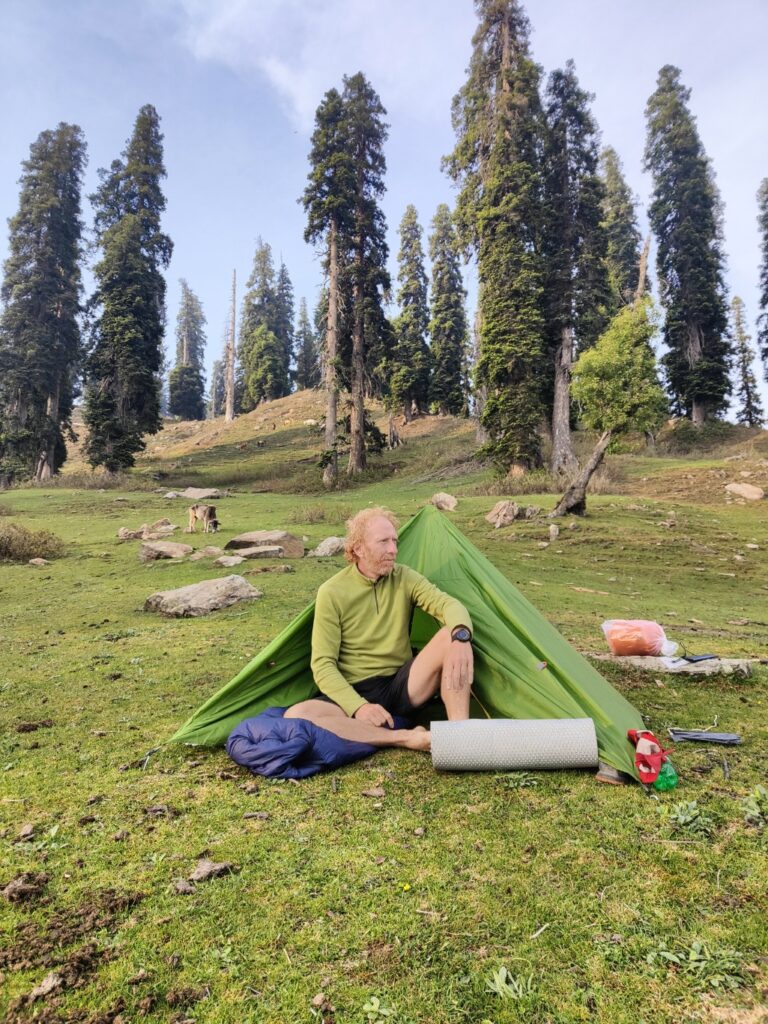 Today's plan was to hike up a gradual ridgeline towards Kalasant peak at 3100m and the attempt to cross over Licha peak at 3850m. As the sun was rising above the mountains we packed up our gears and bid goodbye to our hosts. A nice path climbs up gradually on top of the ridgeline to the meadows above.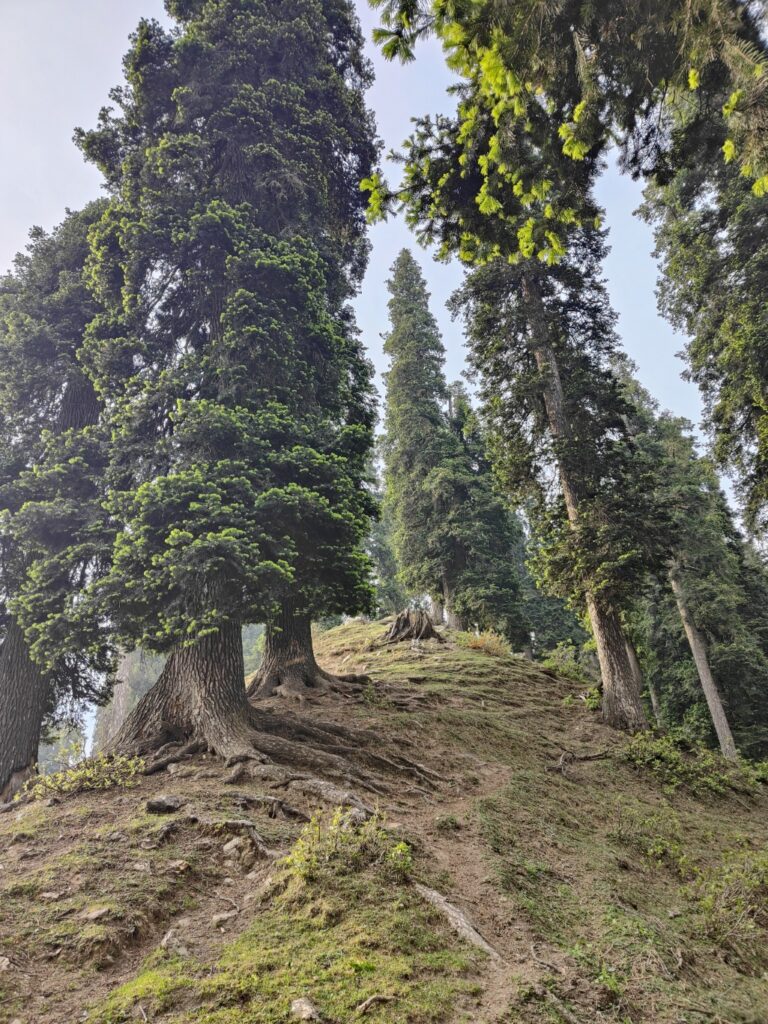 At 3100m we exited the forest and came into beautiful vast alpine meadows. Lush green, fed by winter snow melt, the meadows were rolling across the top valley slope below Kalasant peak (3300m). We passed various gujjar summer dwellings all similar built.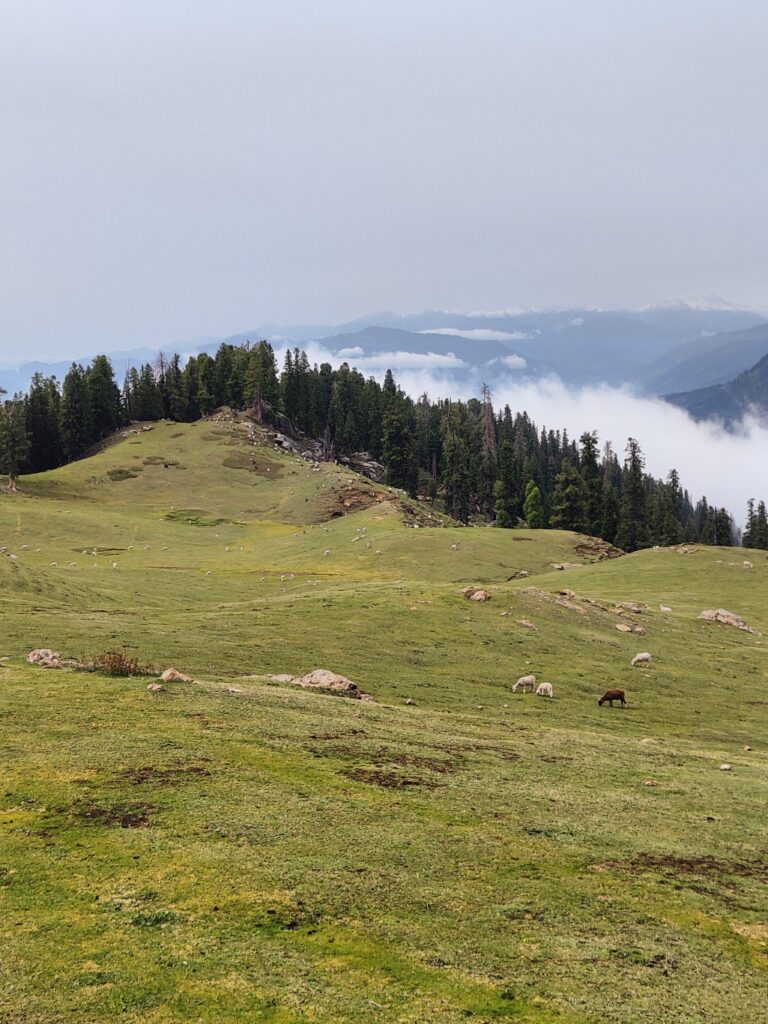 The trail marked on the Survey map faded out into the forest leading us to a deadend . After looking around we found a new trail higher up that took us towards the Triogalghat Gali pass from where we could attept the Licha peak.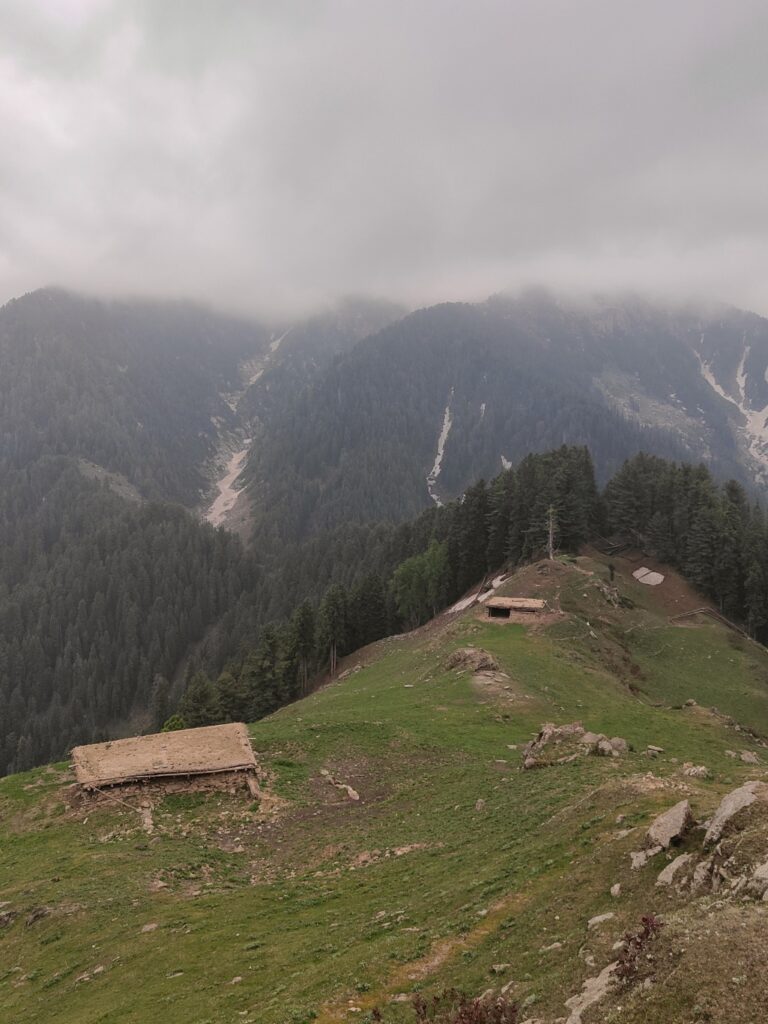 Suddenly dark clouds set in and we could see lightening. A cold wind blew over the top ridgeline at 3100m. Soon it started raining and thundering and we took shelter in a deserted gujjar home. The house had open entrance with two compartments for animals and people.
It had a kitchen, a double bed made of planks and pine branches and even a cupboard. We lit up a small fire to keep us warm as rain + wind at 3100m felt very cold. We found a tawa and cooked some Maggie noodles to kill time. It took 3 hours before it stopped raining at 12pm.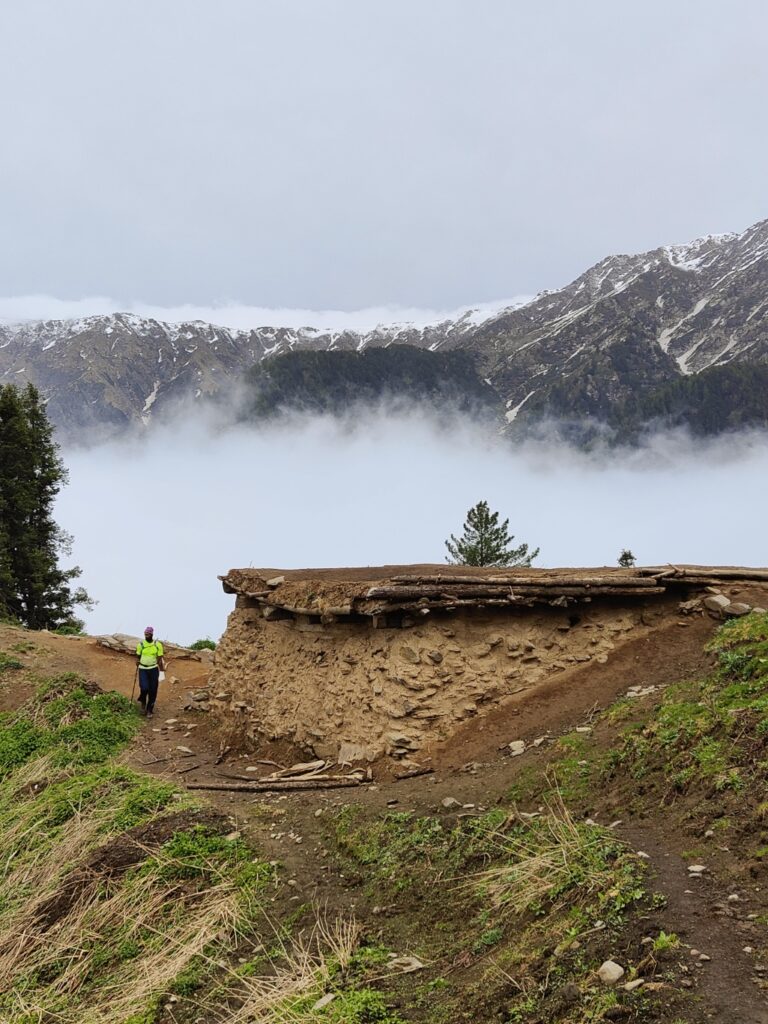 The surrounding peaks were covered in a fresh snow blanket. We resumed our journey descending into the valley South passing the remote dwelling of Tringalghat. The Survey map led us along a stream flowing down into a narrow valley. Soon we got stuck into a gorge with no easy way around.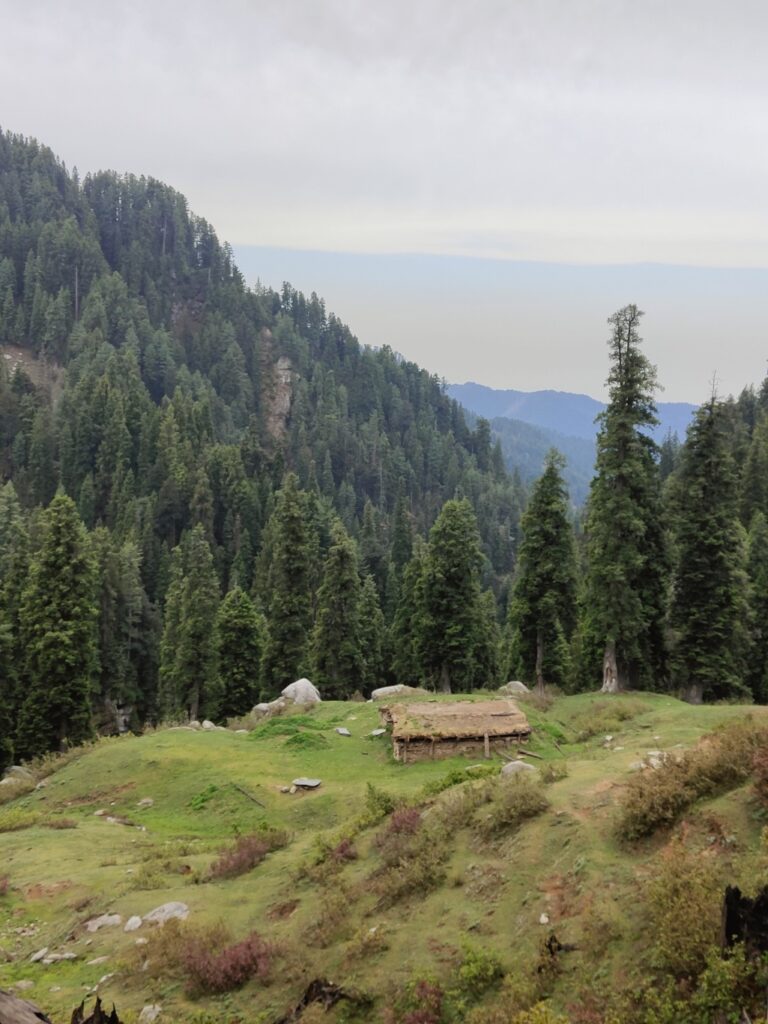 We decided to climb back up to Triogalghat Gali and attempt Licha peak from here. Time was hitting 2pm. We had lost 3 hours in rain, 2 hours in deadend trail and looking at Licha 1000m above covered in fresh snow, running low on food, power and Palani seemingly drained I decided to call it off.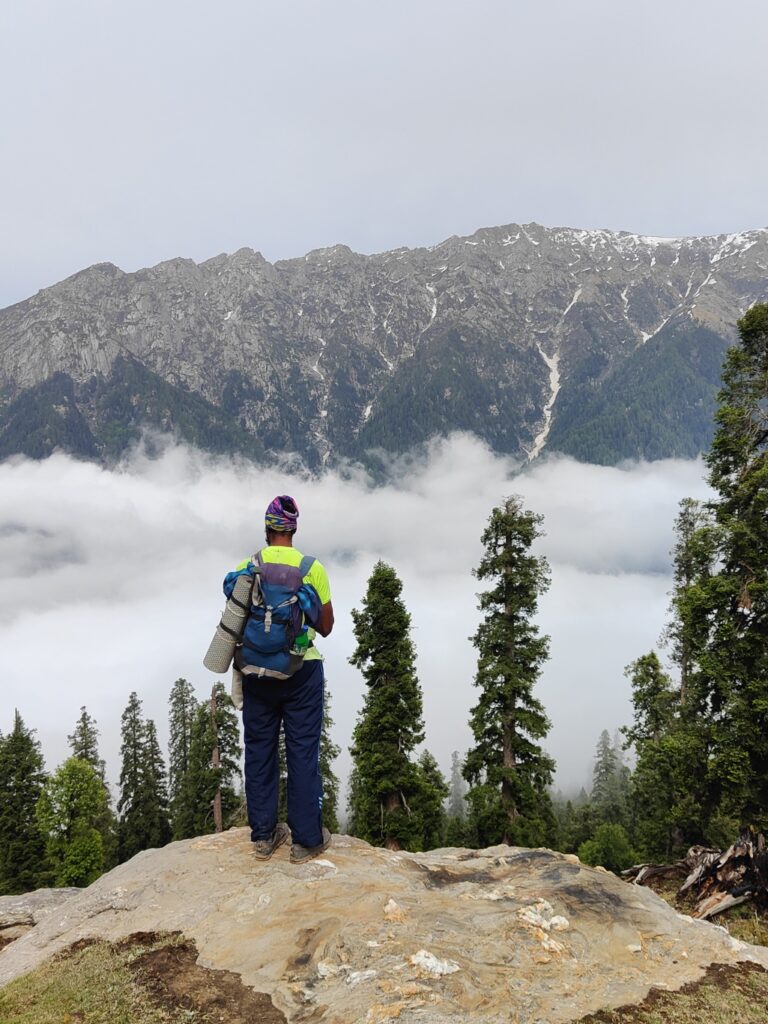 We were now planning to descend back into the Chenab river valley towards Doda to resupply food, charge our electronics and climb back up to Licha / Kirmir / Sundrikot peaks from a different access ridgeline. Tough choice but no other way.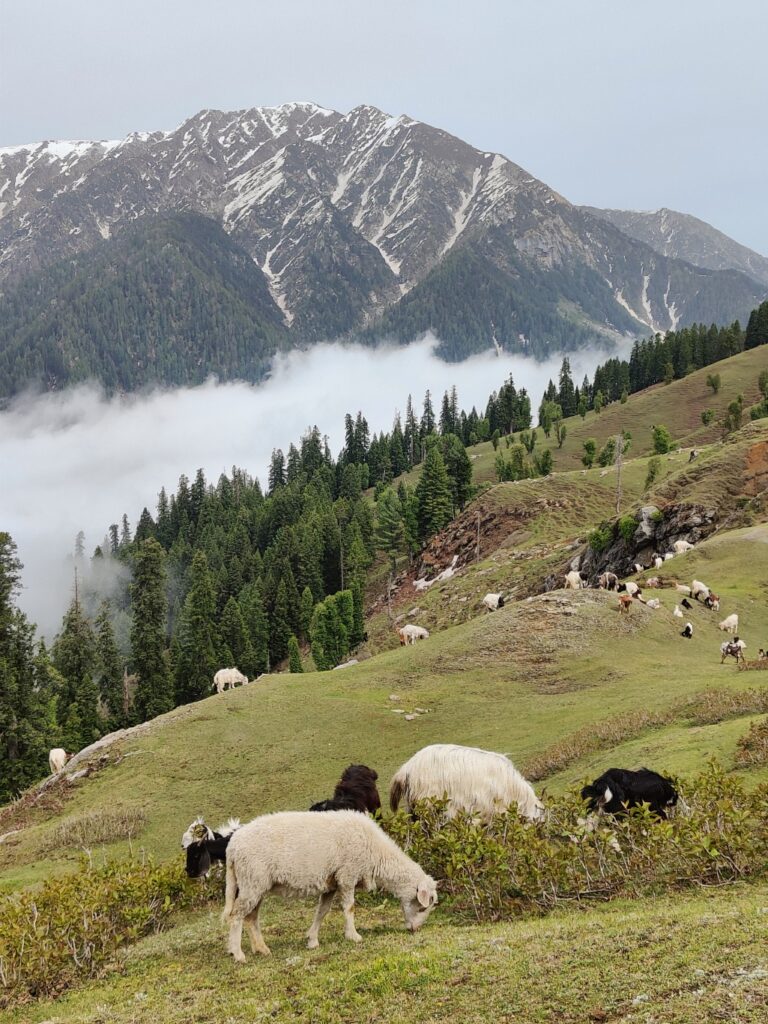 We descending back through the beautiful green meadow slopes near Kalasant peak where our gujjar hosts were grazing their herd. The valleys below were covered in clouds. Surrounding high ranges were peaking through clouds covered in fresh snow.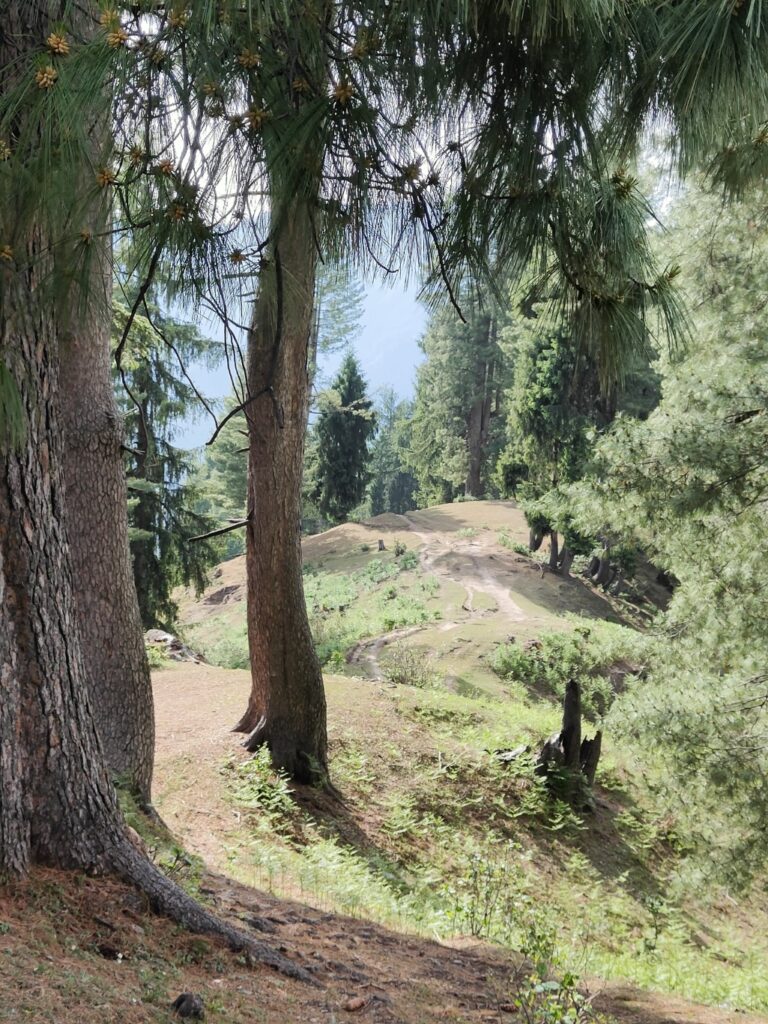 We descended into the Kalmut Nal valley below, a thousand meter drop along a gradual ridgeline. We passed through scenic forest, green meadows and beautiful farming hamlets. We finally hit the road head at Kathrira village where a steep trail dropped into the valley.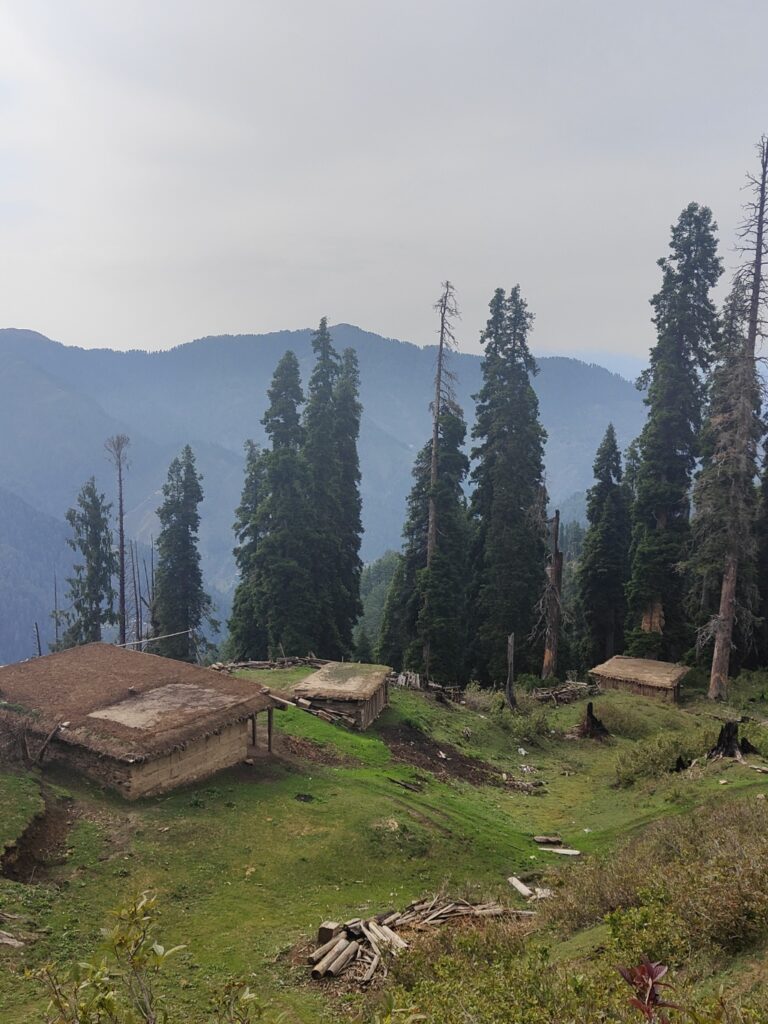 We crossed a metal bridge and climbed up to a road on the opposite valley slope in search for a dhaba. We passed through Ukanro, Manjmali and Mangota but unfortunately no dhaba around. Without food resupply we could not resume our attempt.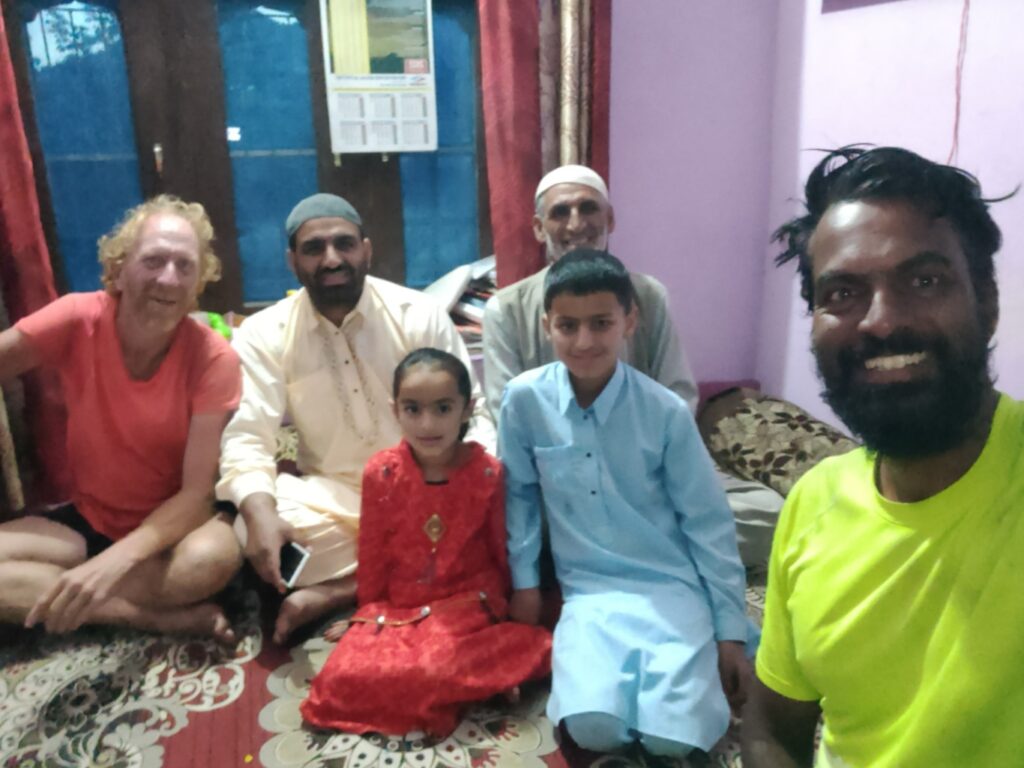 Local people told us we would have to head towards Doda 40km away to find food. A kind gentleman offered us to come to his home for dinner and nightstay and take an early morning bus to Doda. He served yummy home grown chicken and peas complemented with home made curd.