Kugti Pass (5040m)
From: Rapay village, Lahaul (2800m)
To: Kugti village, Chamba (2600m)
Duration: 2 days
Ascend: 2240m
Descend: 2440m
Terrain: meadows (valleys), lose rocks, slides (pass)
Gradient: moderate (valleys), steep (pass)
Difficulty: moderate
Danger: sliding soil while climbing up pass (Lahaul)
Kugti Pass
Goats and sheep returning home at the end of the summer from the high alpine meadows of Pangi. Behind the high ranges of Lahaul are visible while crossing the Kugti pass (5040m) on the way to lower altitude Chamba valley
Annual Migration
500 sheep crossing the Kugti pass (5040m) between Lahaul & Spiti and Chamba valleys, August 2018. Every summer hundreds of shepherds from the lower Himalayas take their herds across one of the many passes to Pangi and Spiti to produce the best quality milk, butter and cheese by grazing high alpine meadows.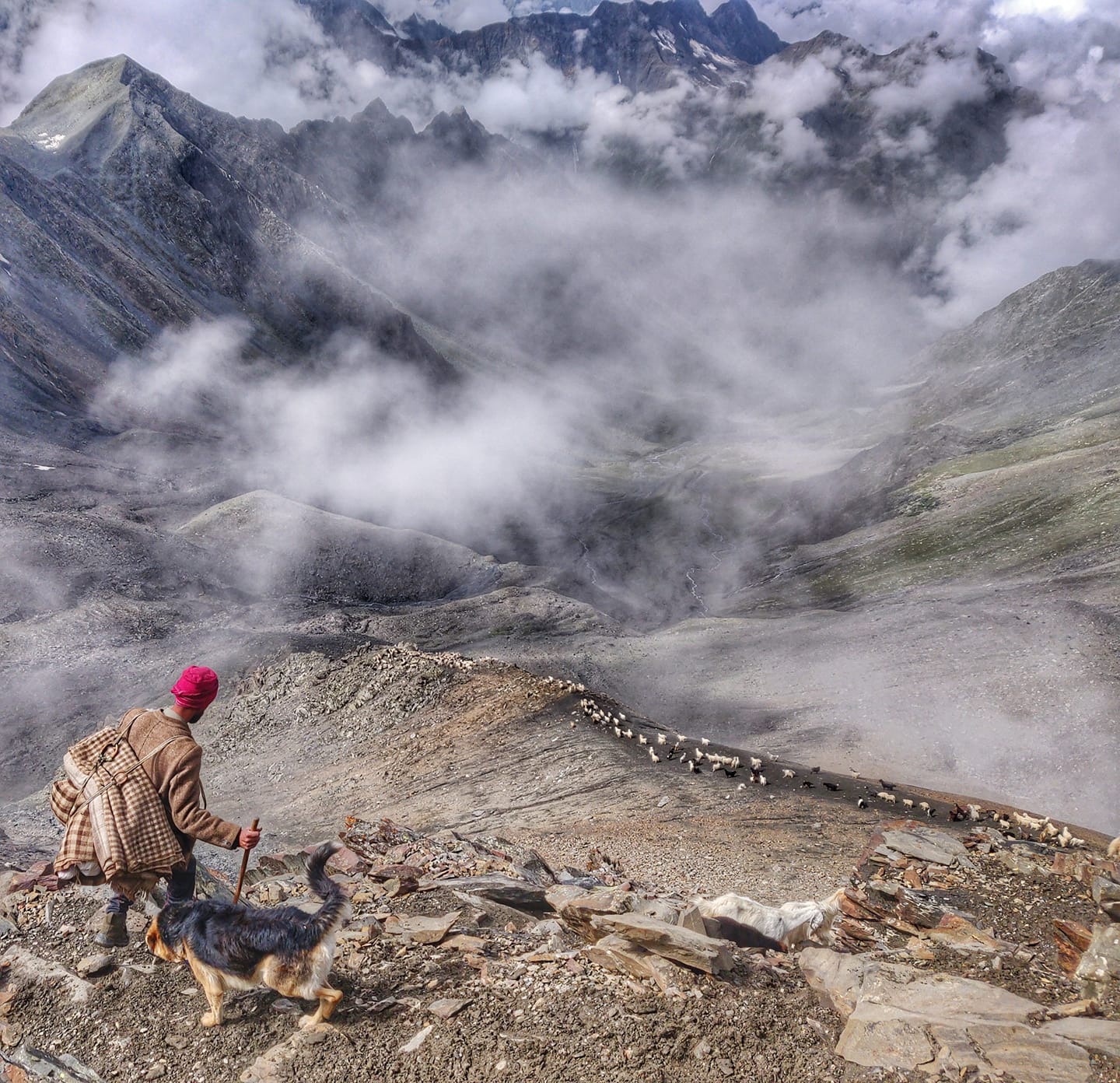 Green Chamba
Shepherd safely guiding his herd of 500 sheep from the Kugti pass (5030m) into the green Chamba valley below returning home at the end of summer.
Climbing up
Shepherd carrying his shelter, clothes and food while climbing up the Kugtipass (5040m) returning home to Chamba at the end of the summer after grazing his sheep in the high altitude meadows of Lahaul and Pangi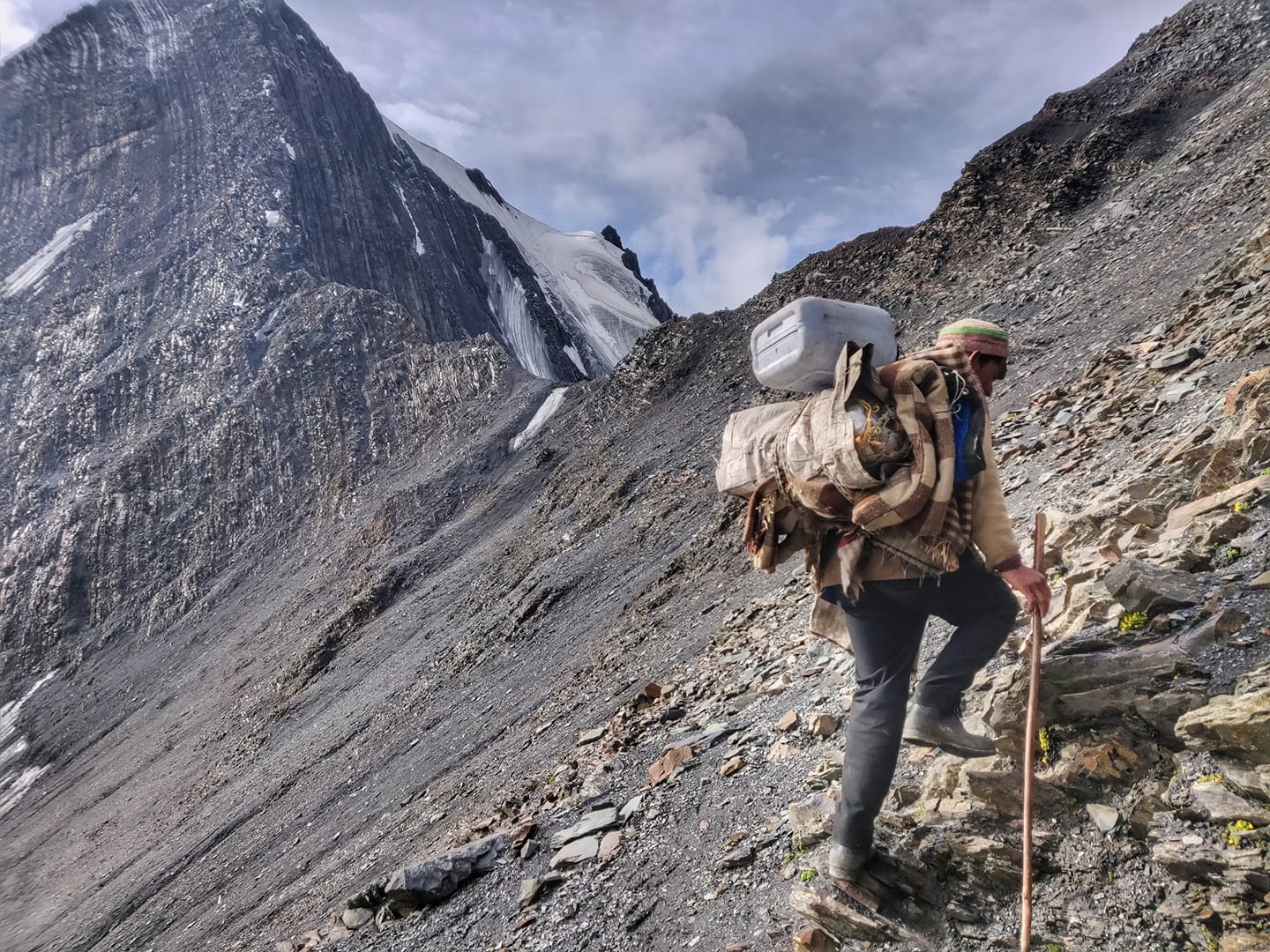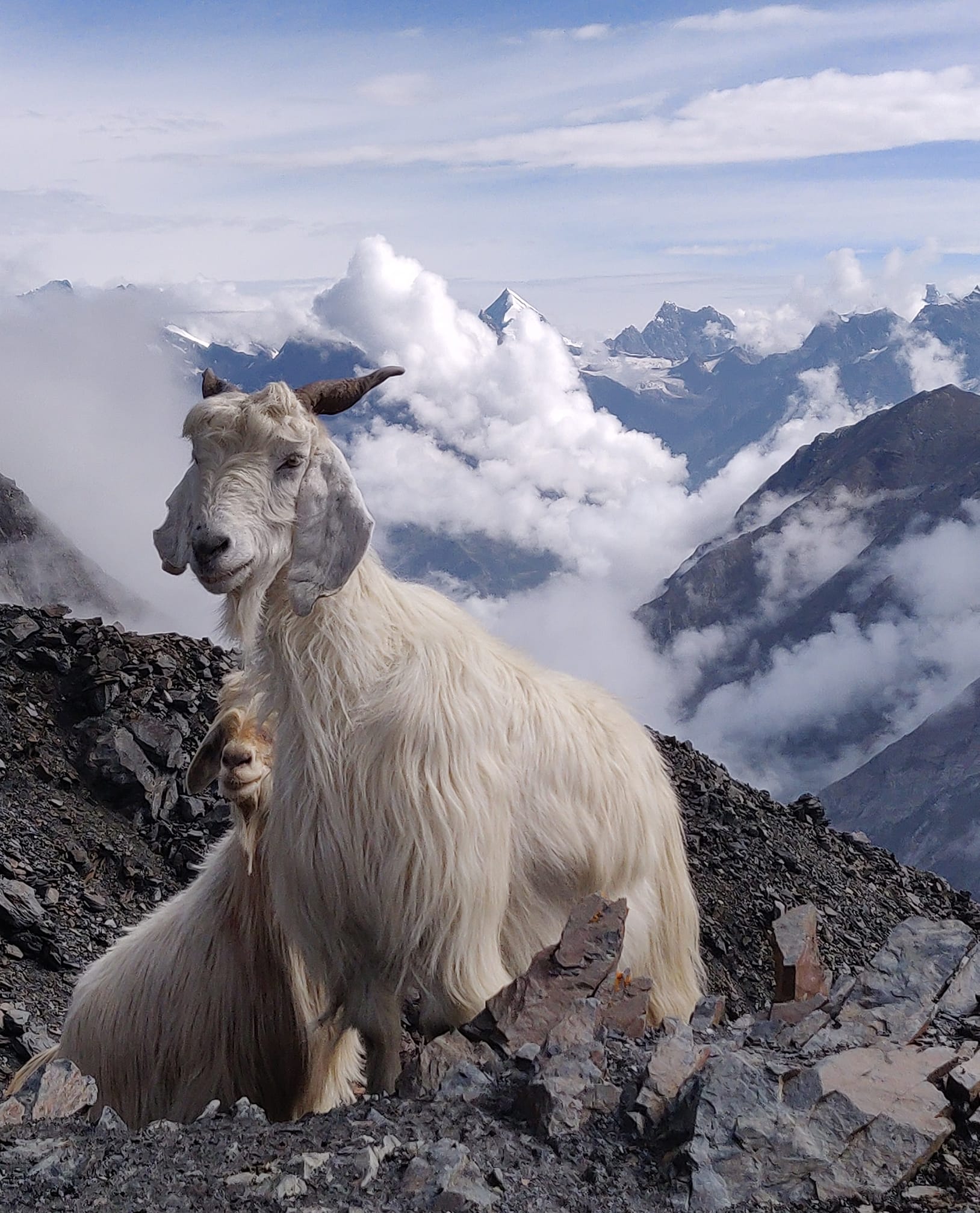 Lahaul to Chamba
Long haired mountain goat crossing the Kugti pass (5040m) from Rapay toKugti village. Behind the high ranges of Lahaul can be seen.
Into Green Chamba
Shepherd guiding his sheep down the Kugti pass (5040m) into the green alpine meadows of the Chamba valley at the end of the summer
Earth 3D View
Kugti is one of the passes across the Pir Panjal range connecting Lahaul and Chamba. The trail starts near Rapay and climbs up gradually to the base of the pass. There is a rest house on the way at the point were two valleys merge together where you proceed in the left (upstream) valley. Once you reach the moraines the trail fades away and you climb up towards the pass from the right slope of the valley.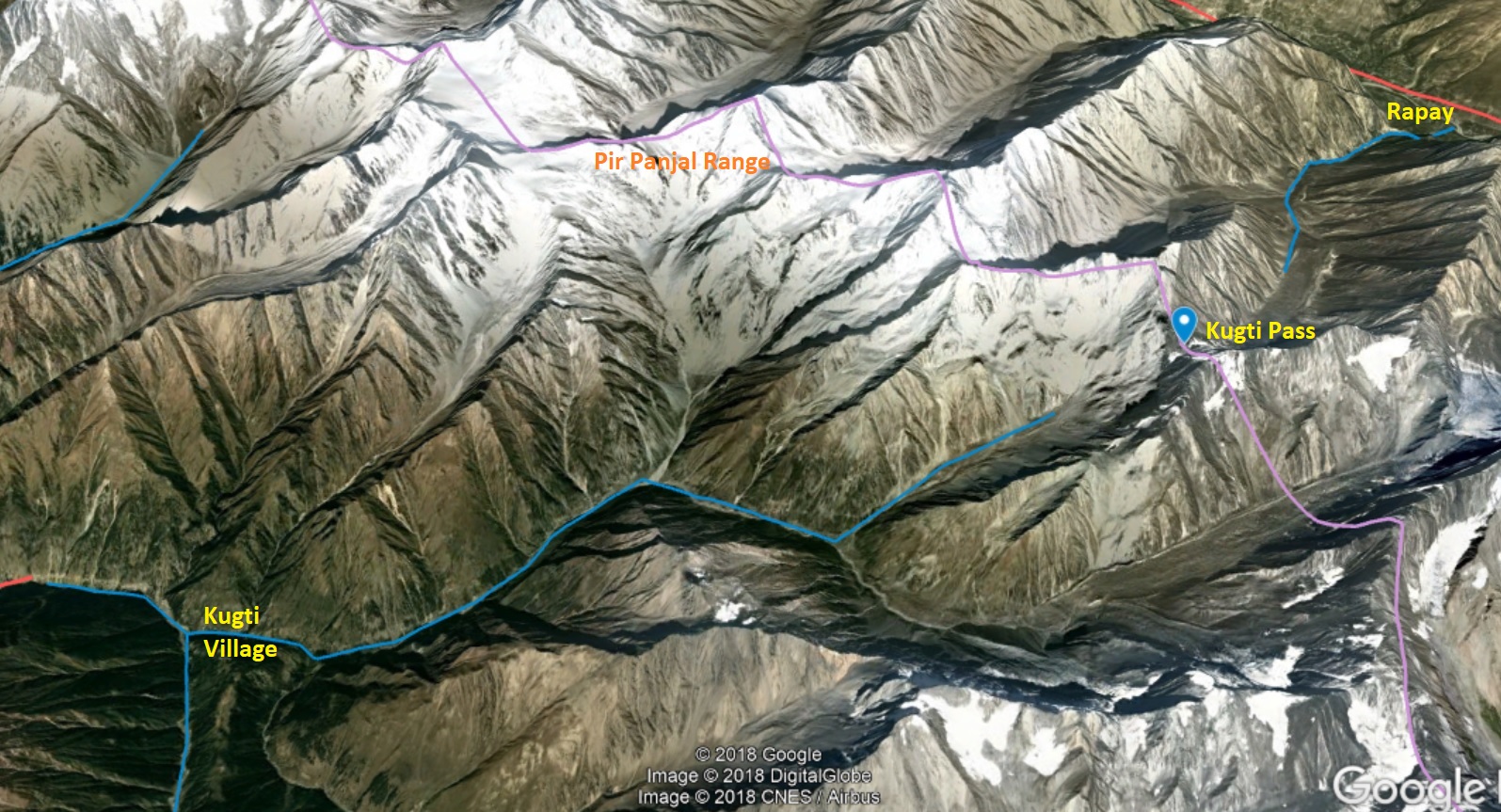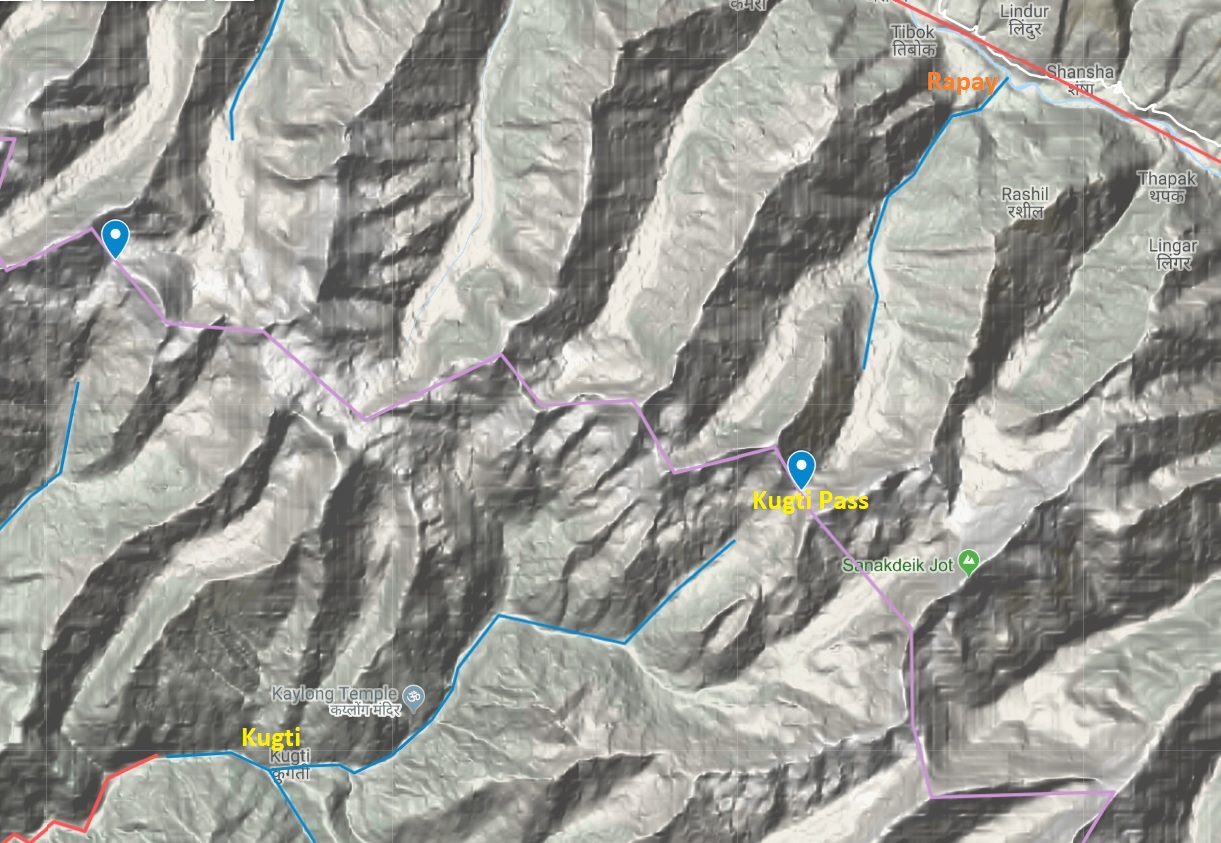 Topomap
On top of the Kugti pass there is a small temple and a huge vertical ice falls on the left side. The immediate descend from the pass is too steep so you first climb up on the right across the adjacent ridge from where you can descend gradually into the green meadows of Chamba.