We camped near a small forest next to the river just out of Teejam village. Teejam (1950m) has several shops and dhabas. We ate breakfast, packed chapattis for lunch and few maggie packets for 2 day crossing to Bona (2050m). Flight distance is 19K and three saddles of 3900, 3800, 3400m in between. Unsure the passes would be clear of snow this early in year.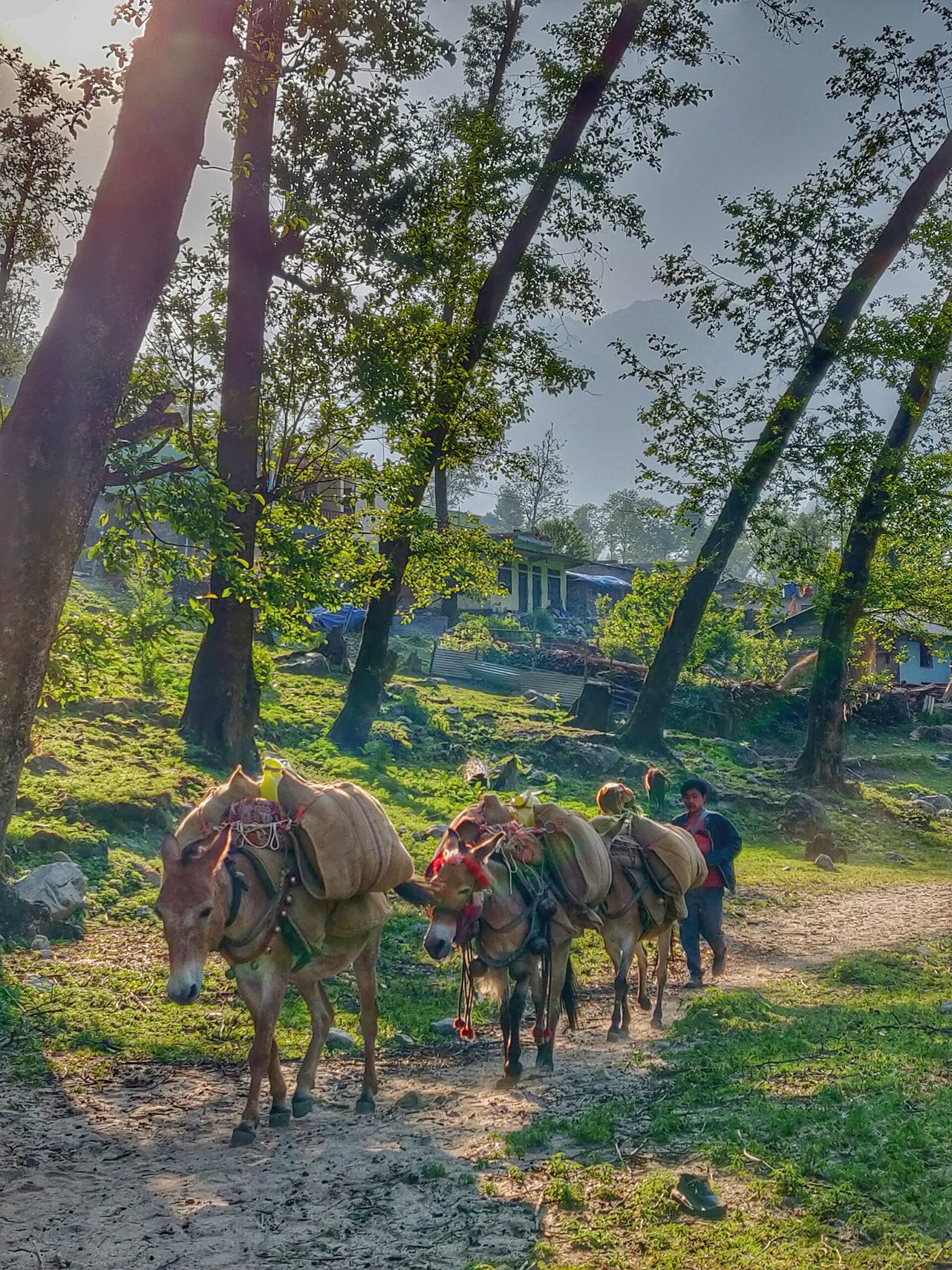 The trail starts from Teejam, initially right of the river but then crosses several times using small wooden bridges till Sungdom, the last hamlet in the valley. Melting snow and a gradient meant a strong water flow. A new road is under construction right above the valley.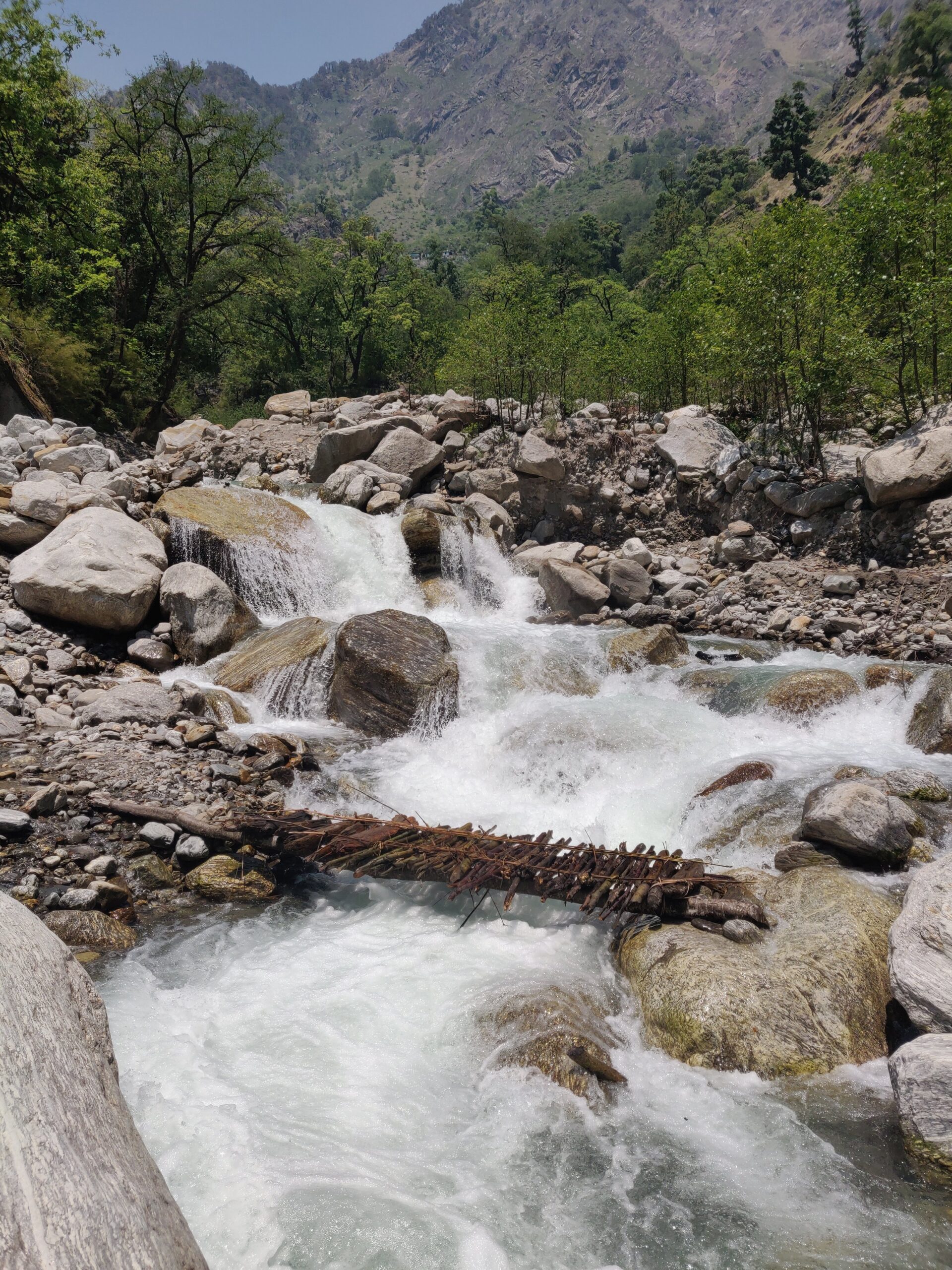 During a video shoot Neil's drone hit a tree and got stuck on a steep slope opposite side of the river. It took us 1.5 hour trying to climb from top and bottom to retrieve the drone which luckily did not get damaged. Sungdom at 5.6k flight distance from Teejam has beautiful farm fields and one small shop.Now there is a clear path that climbs up along the right side of the valley. The ruins of a house used as animal shelter at 2900m offers stunning views on the valley below. At 3040m there is a large beautiful flat pasture and a shepherd shelter. From there the trail climbs up through beautiful pink, red rododendroms.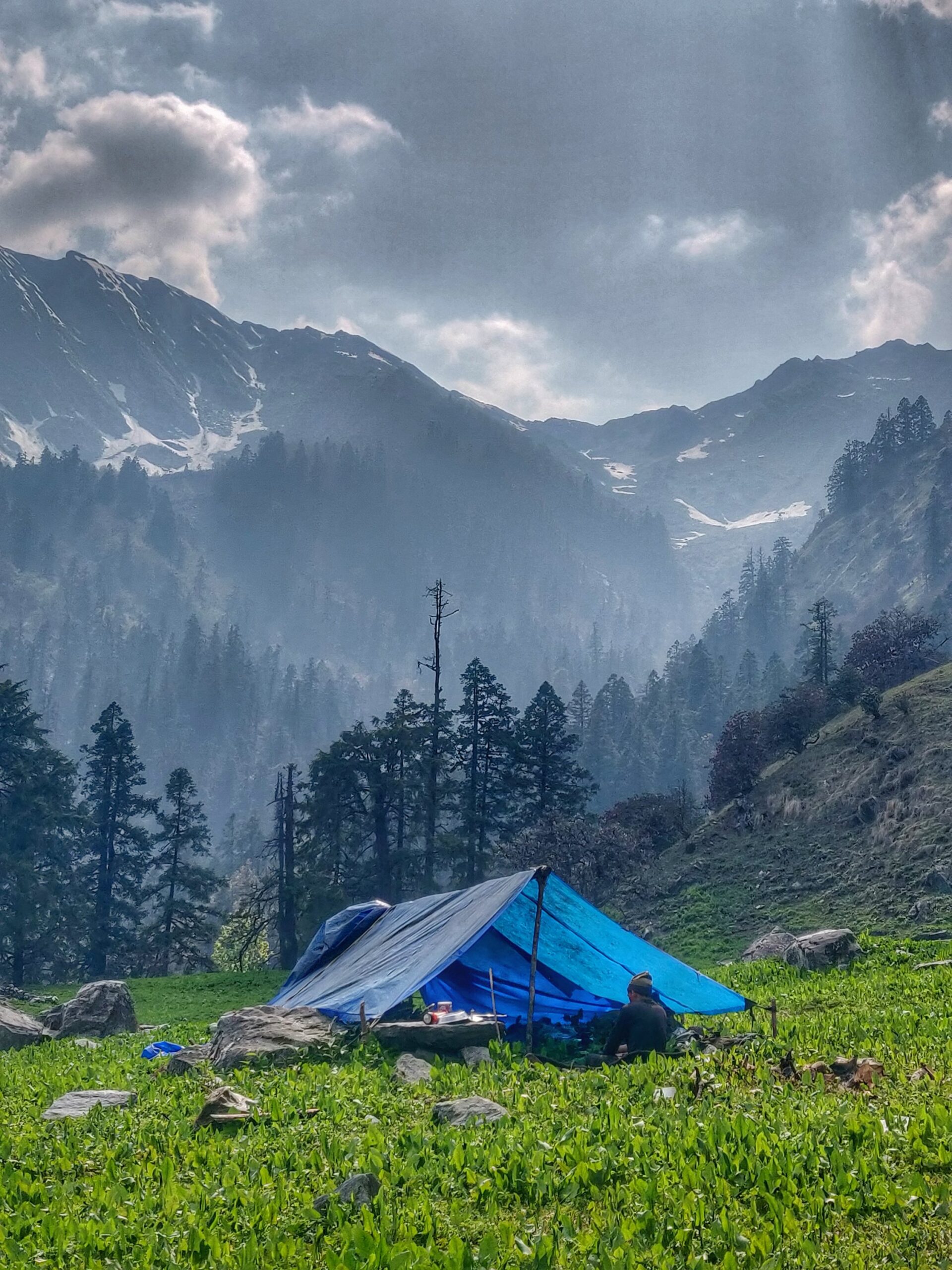 As 3330m we pitched up camp at the last flat space next to a large snow bridge before a steep 600m climb to Balsi Khal. At 5pm it was too late to attempt a crossing at our pace. Lot of dry wood and branches allowed us to make a campfire and cook some maggie noodles.Next morning we broke up camp by 6:40am and started climbing up 600m fairly steep to the Balsi Khal at 3900m. At 3600m we passed another nice campsite before the final ascent. The pass still had some snow on top next to a small temple. Most of the ridge and mountains on the left were still covered in snow.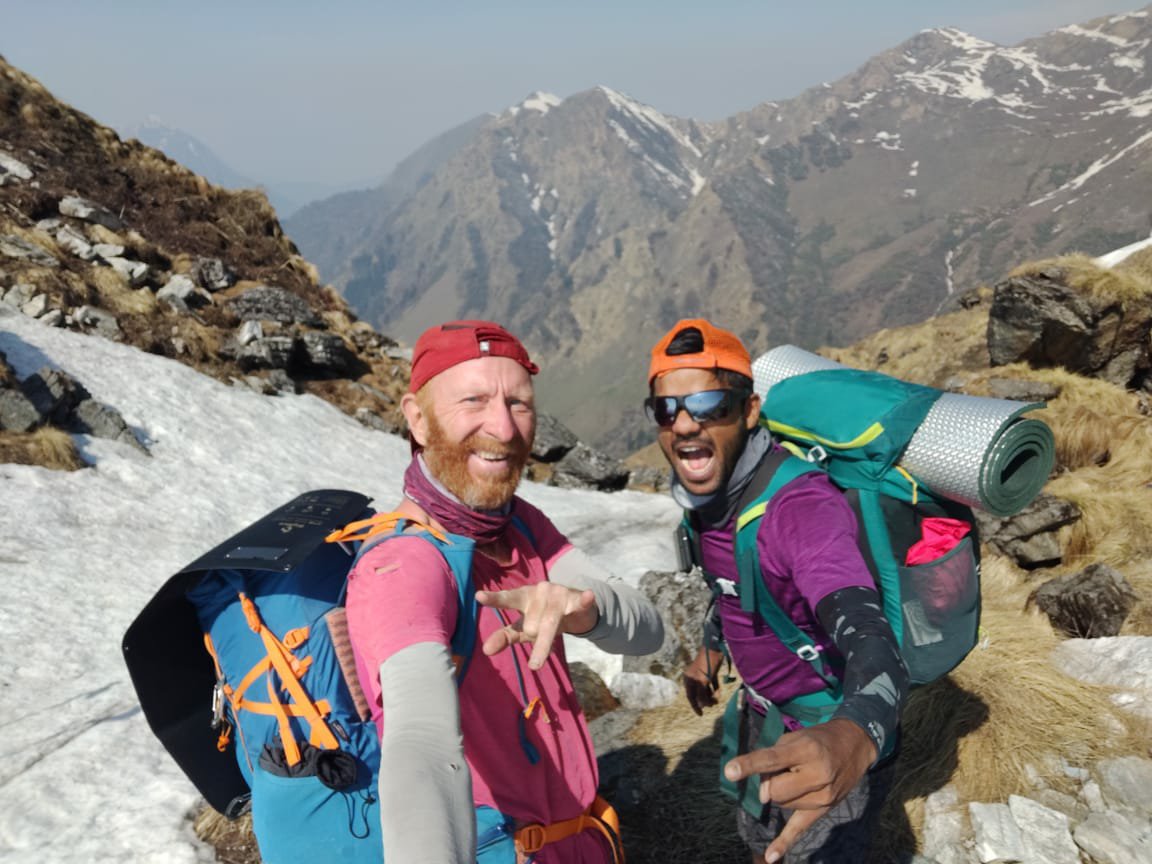 The trail down from the pass follows a ridge which was partly still covered with snow. The East facing slope to the pass was cleared of snow by the morning sun (except for a few snow bridges in streams) while the West facing slope still had good amounts of snow probably due to cloud formation in afternoons.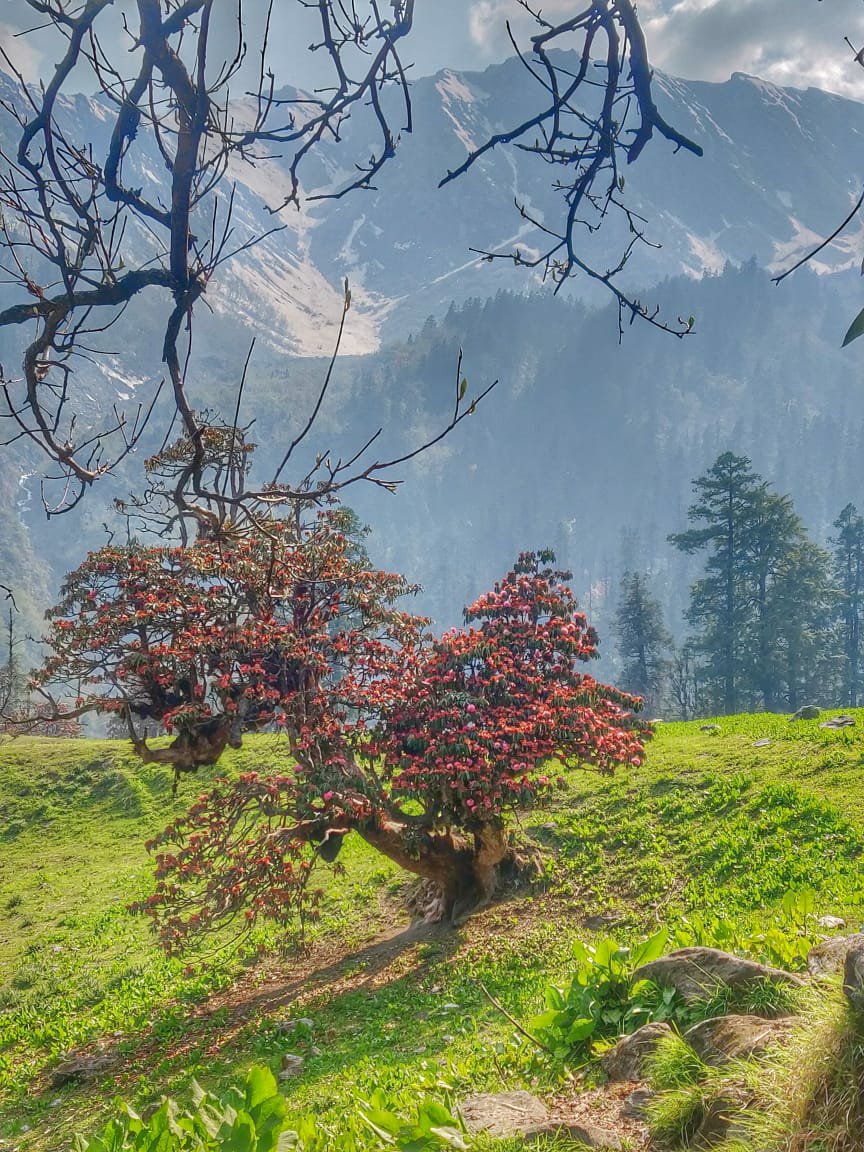 Lots of rodedendrom bushes on the way down which had faded from deep red to pink towards the end of blooming season. The ridge gradually descended into a beautiful, uninhabited valley where a small bridge (3400m) gave way to the trail on the opposite side. One trail follows the stream to exit the valley. Another trail climbs up steeper towards the pass (3800m).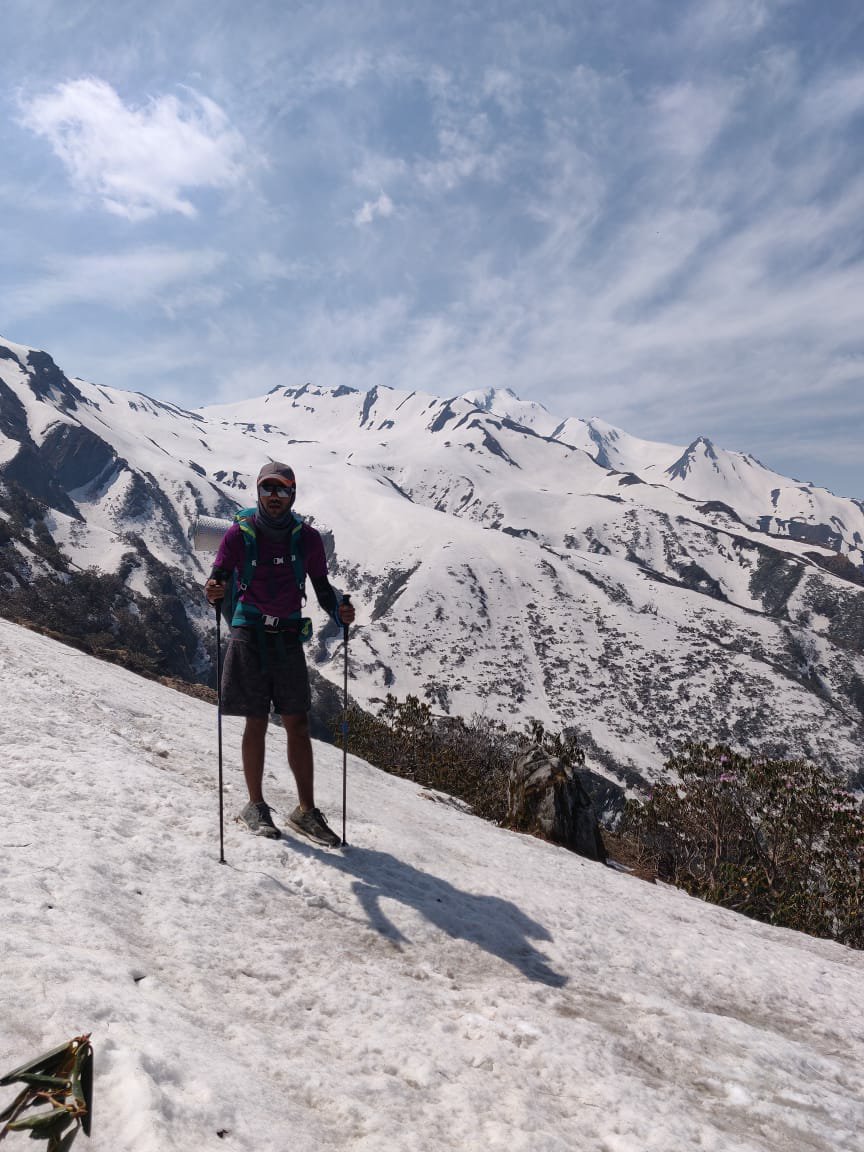 A clear trail gradually climbs up on the right side of valley through grass bushes and across a few snow bridge covered side streams. At 3800m one reaches the Dharti kharak pass. As usual the East facing ascent is mostly free of snow while the West facing descend still has good amount of snow cover at mid May.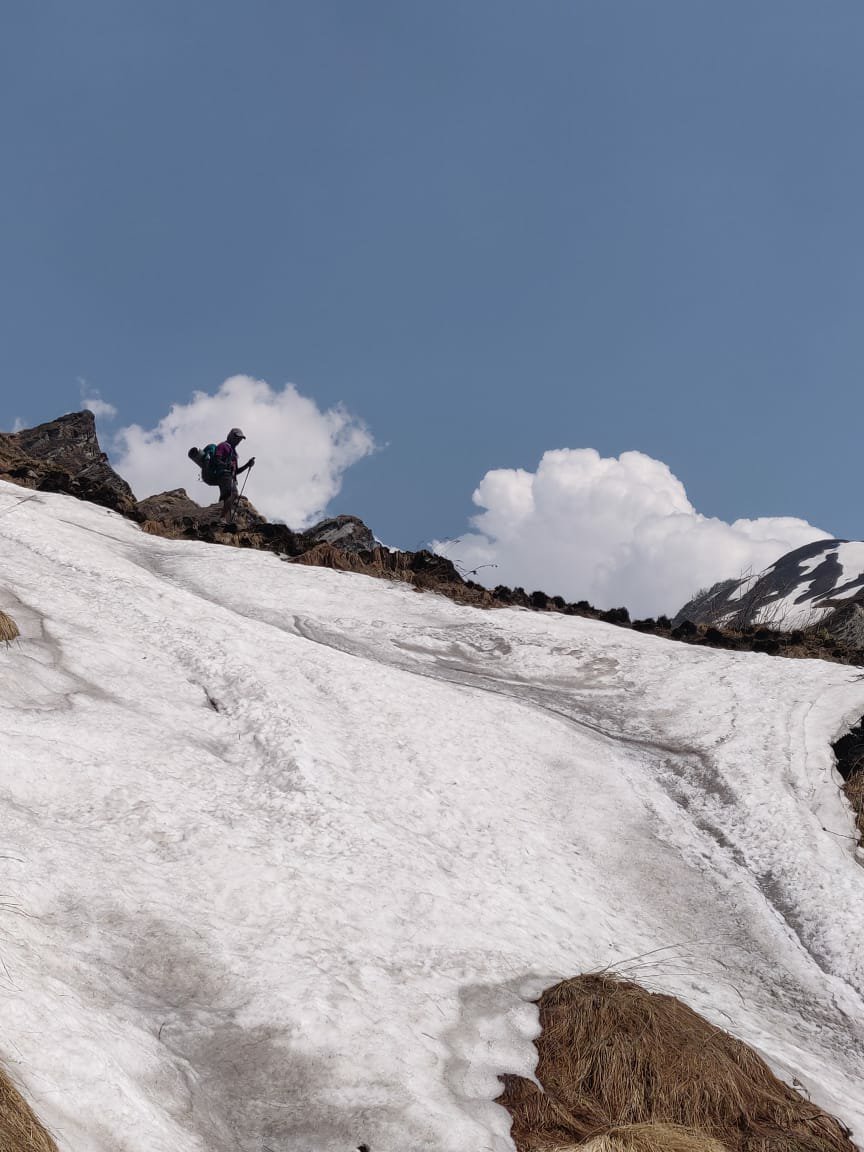 We had to cross a few steep snow patches before we hit solid ground. Cutting steps with shoes and using poles we were able to cross. After that the trail went down through grass land and forest dotted with beautiful rododendroms. Finally we crossed the river (3100m) of another uninhabited valley through a small bridge and the trail immediately gradually ascended on the right side of the valley (downstream) towards the Darti Khal pass (3430m).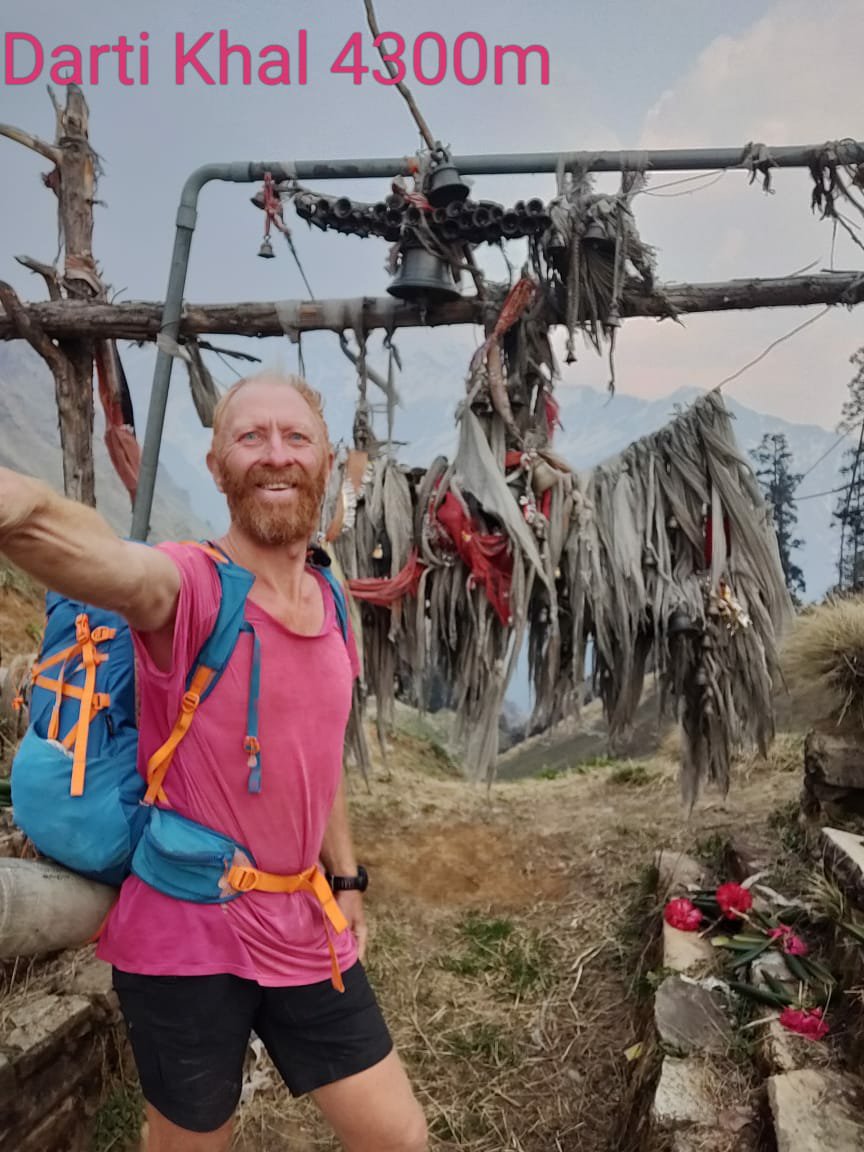 Nearto Darti Khal we met a few shepherds grazing their herds. Further down we encountered 50 Nepali workers rebuilding the path from Bona (2050m) to Sungdom across the three passes we crossed. As dusk was upon us we decided to camp near them and they offered us yummy rottis and dhal. After some socializing around a big campfire we pitched up our tent in a big weed field and slept off deeply while rain started lashing on our tent.