After a good night rest along with a few other homeless people in an empty compound in Chamunda town we took the bus to Fatehpur. From here we hitched a ride up to Khaniara from where we started hiking towards Naguni.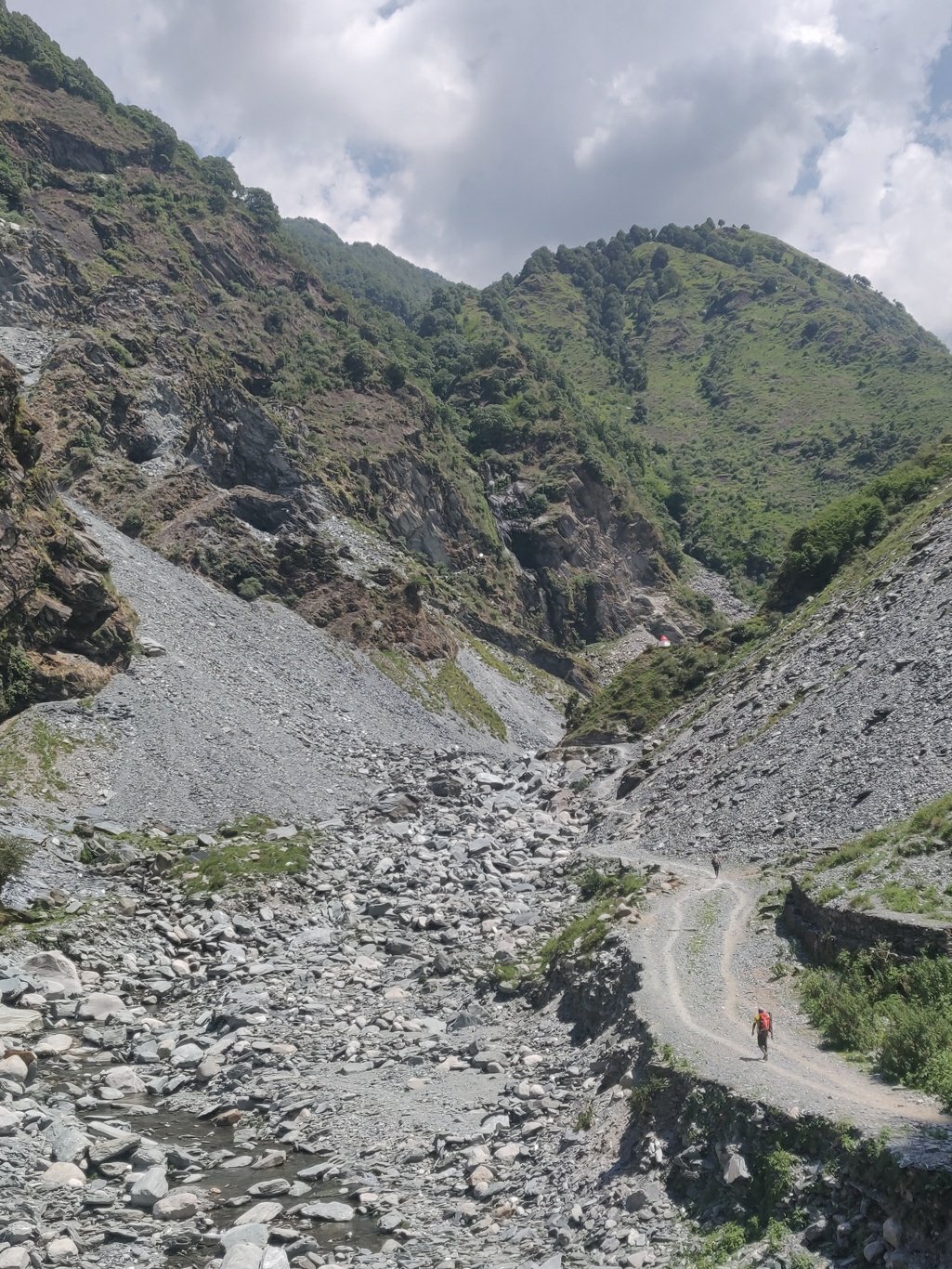 There is a small site here where they mine rock slates for building roof homes. From here a small trail climbs up the hill. Initially open and sunny, after 300m elevation gain the trails dips over the ridge into a lush green valley and gradually ascends further up.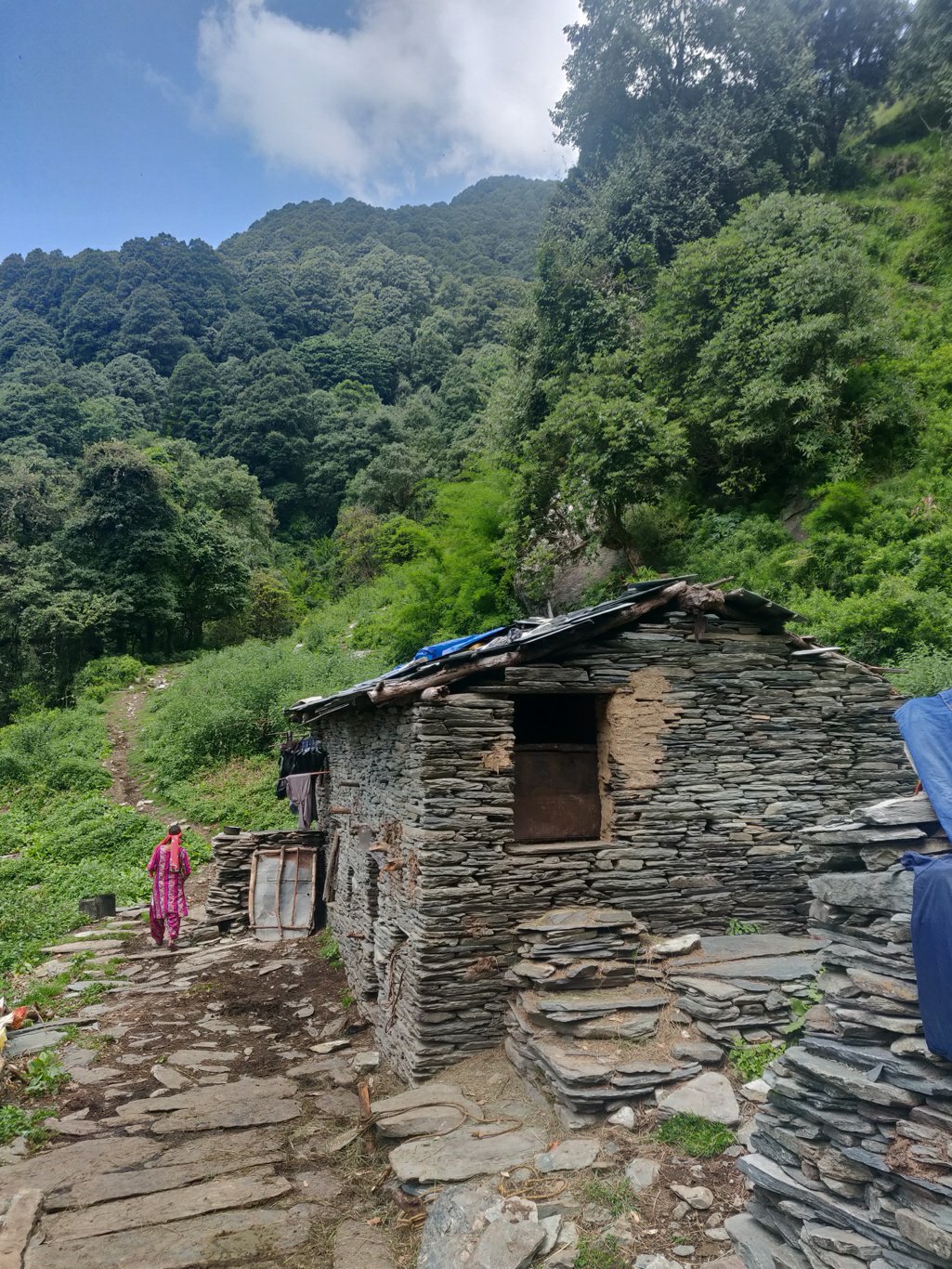 A bit further up we pass through a locality called Kembli and meet with a family staying in a beautiful two storey rock home. Buffaloes and sheep in ground floor, people reside on first floor. They migrate here annually from the plains between March to Diwali to graze their animals and cultivate veggies.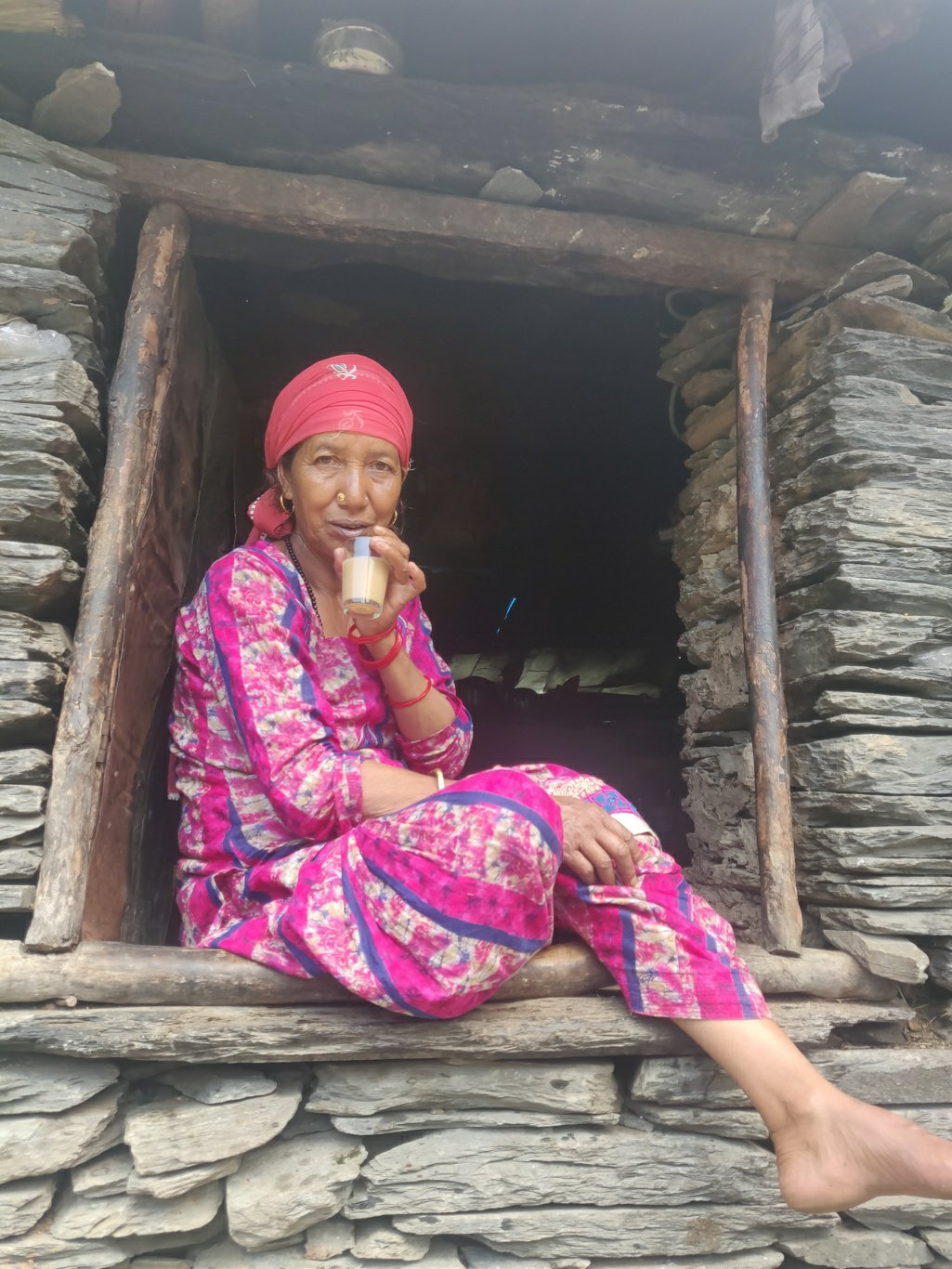 There is a clear water stream nearby and lush green forest around. There are bears roaming in the forest but people live in harmony with wildlife. Peaceful scenic summer resort away from the noisy, polluted cities. As usual they show warm hospitality inviting us in their home for a cup of tea.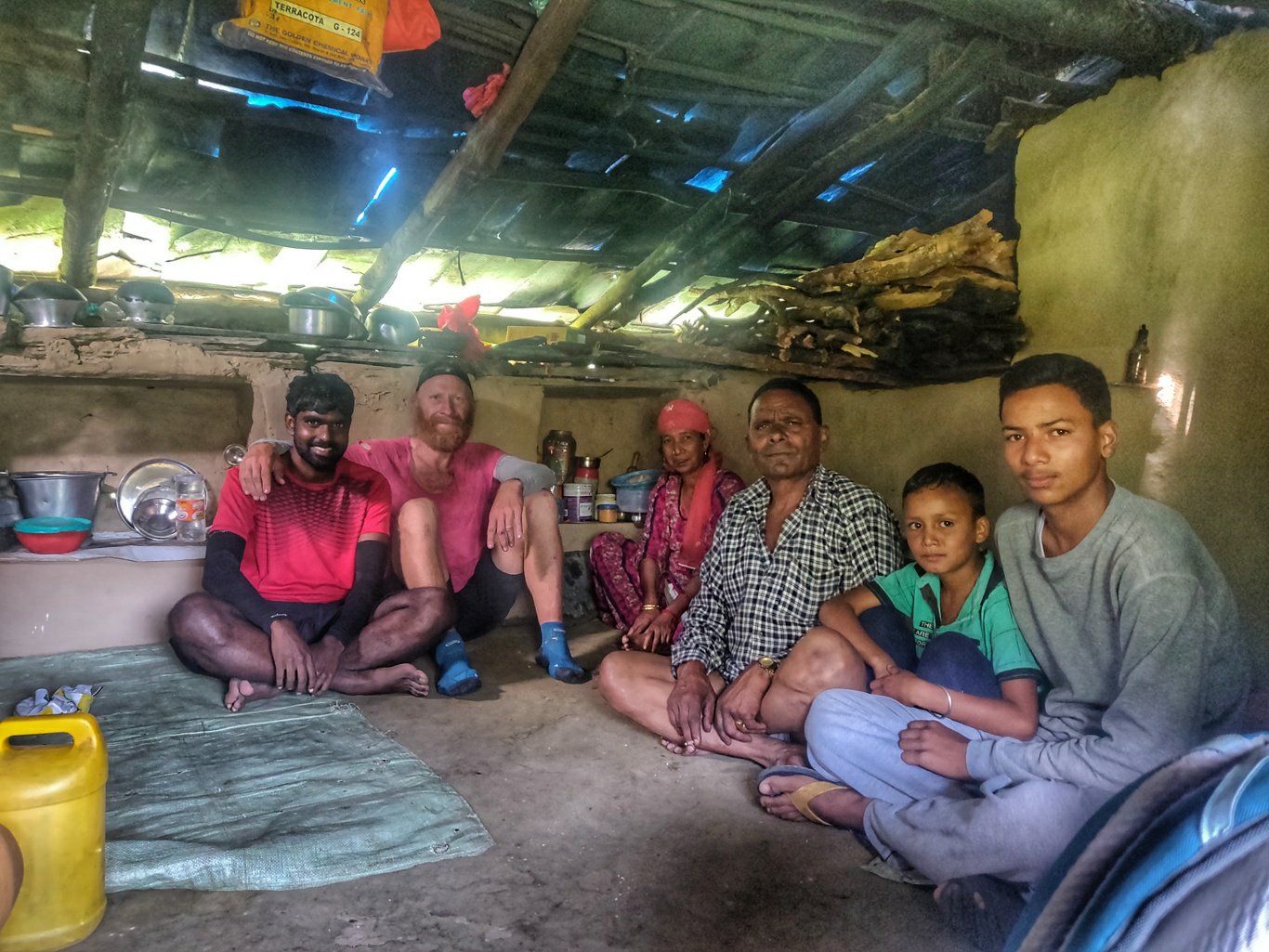 We resume our way up and come across another small settlement of two houses. No one is around. The trail contours right around the valley slope and finally climbs up steeply to a saddle on the ridge above named Haudi ki Goth 2800m.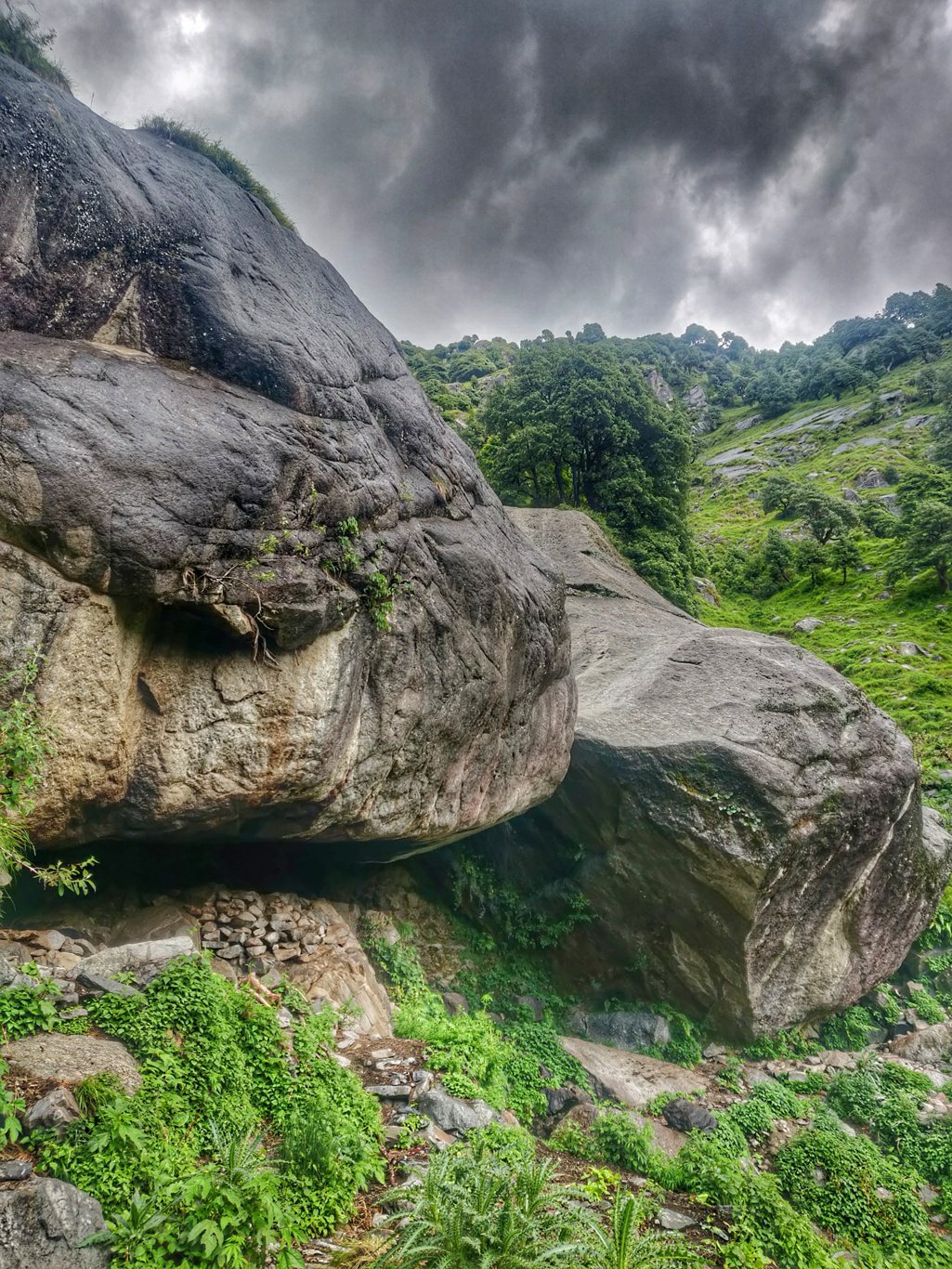 The time was already showing 4pm and the stomachs were asking for attention. We found an empty shepherd shelter and made some tea and Maggie along with the alloo parotta and curd we had packed up. A doggie was waiting for his master to return.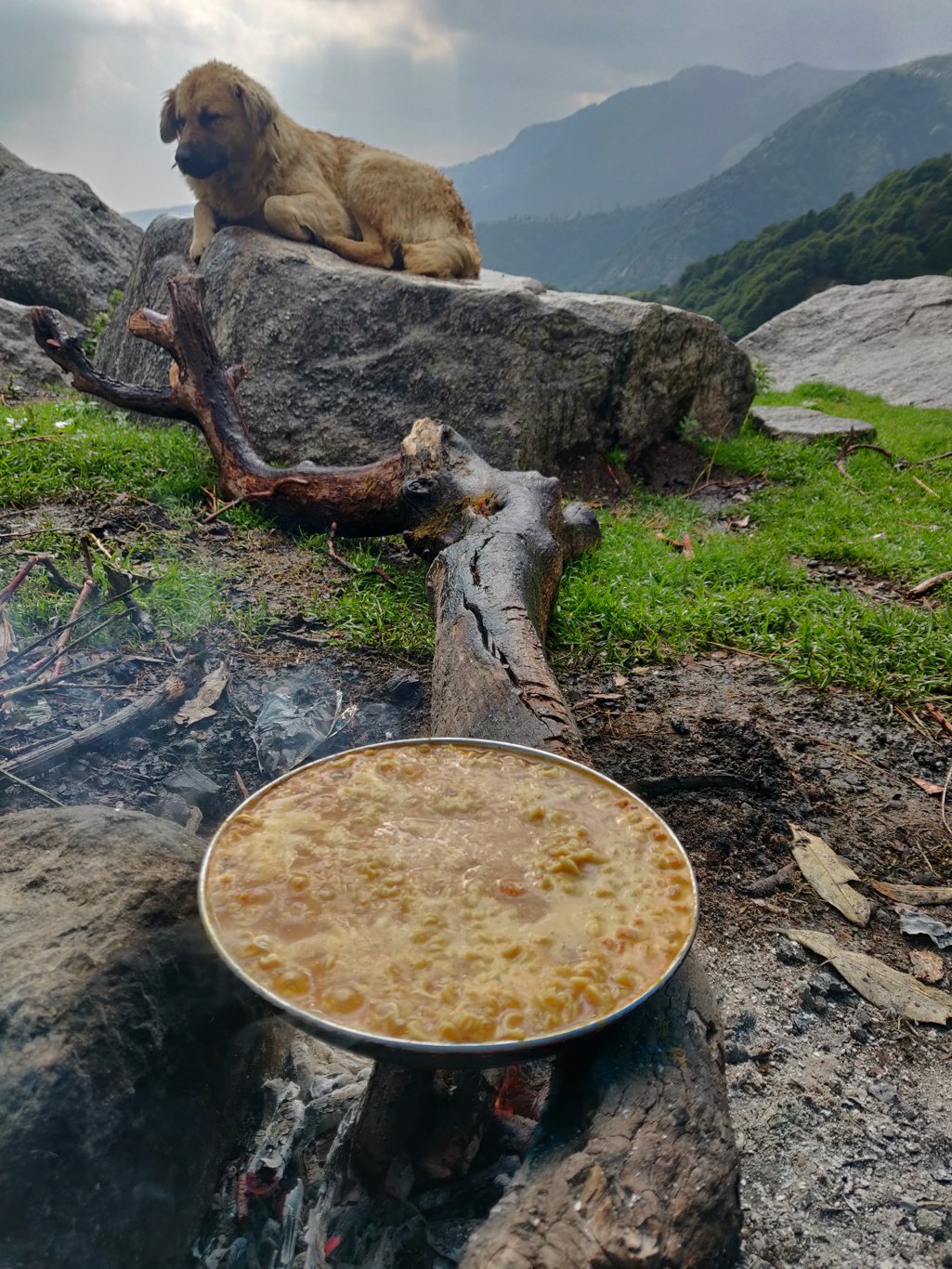 While cooking the rains were lashing down on the Dhauladhar. We started our gradual descend along the Southern ridge while the sun was slowly setting above Dharamsala turning the cloudy skies bright orange. A beautiful rainbow appeared on the opposite side.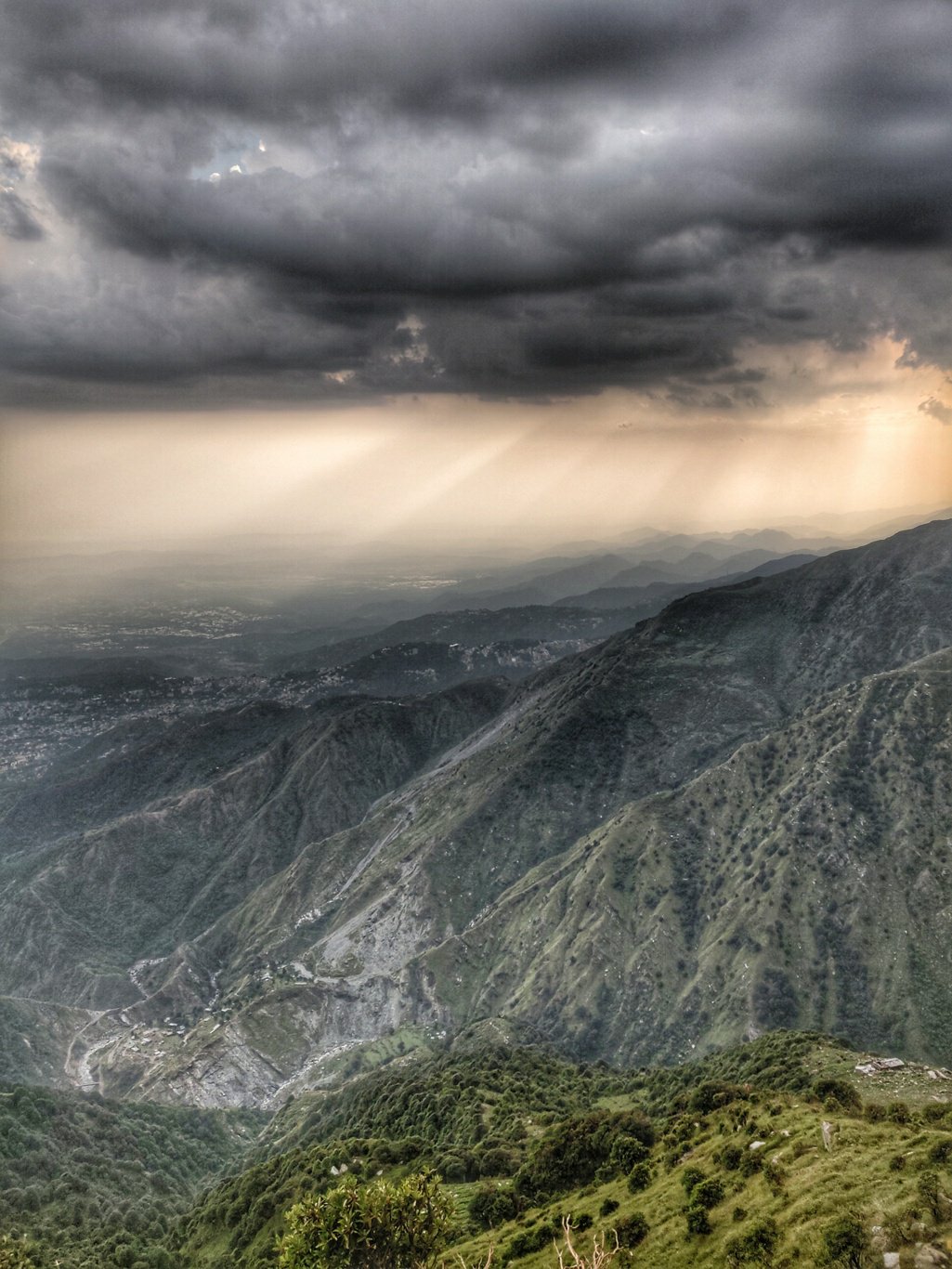 Towards the end of the ridge we came into found a beautiful meadow and scenic viewpoint on the Kangra plain below. The place called Thatharna has a house and a couple of tents with stunning views on the Dhauladhar above.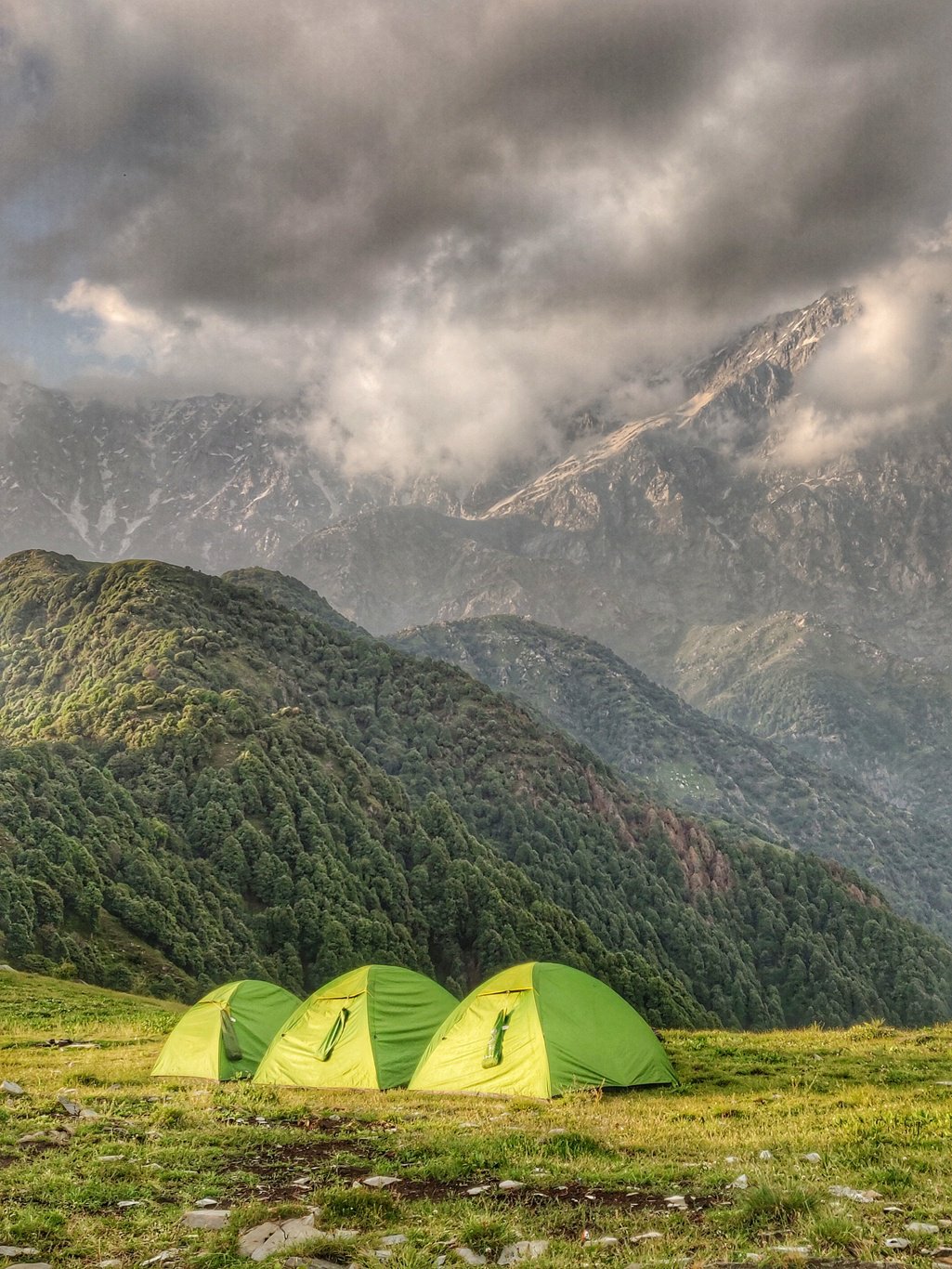 We checked for food available with the local shop owner but as he was overcharging we decided to skip dinner as we finished lunch by 5pm. We slept below the open skies which had cleared up completely. We soon got company from a few horses grazing nearby.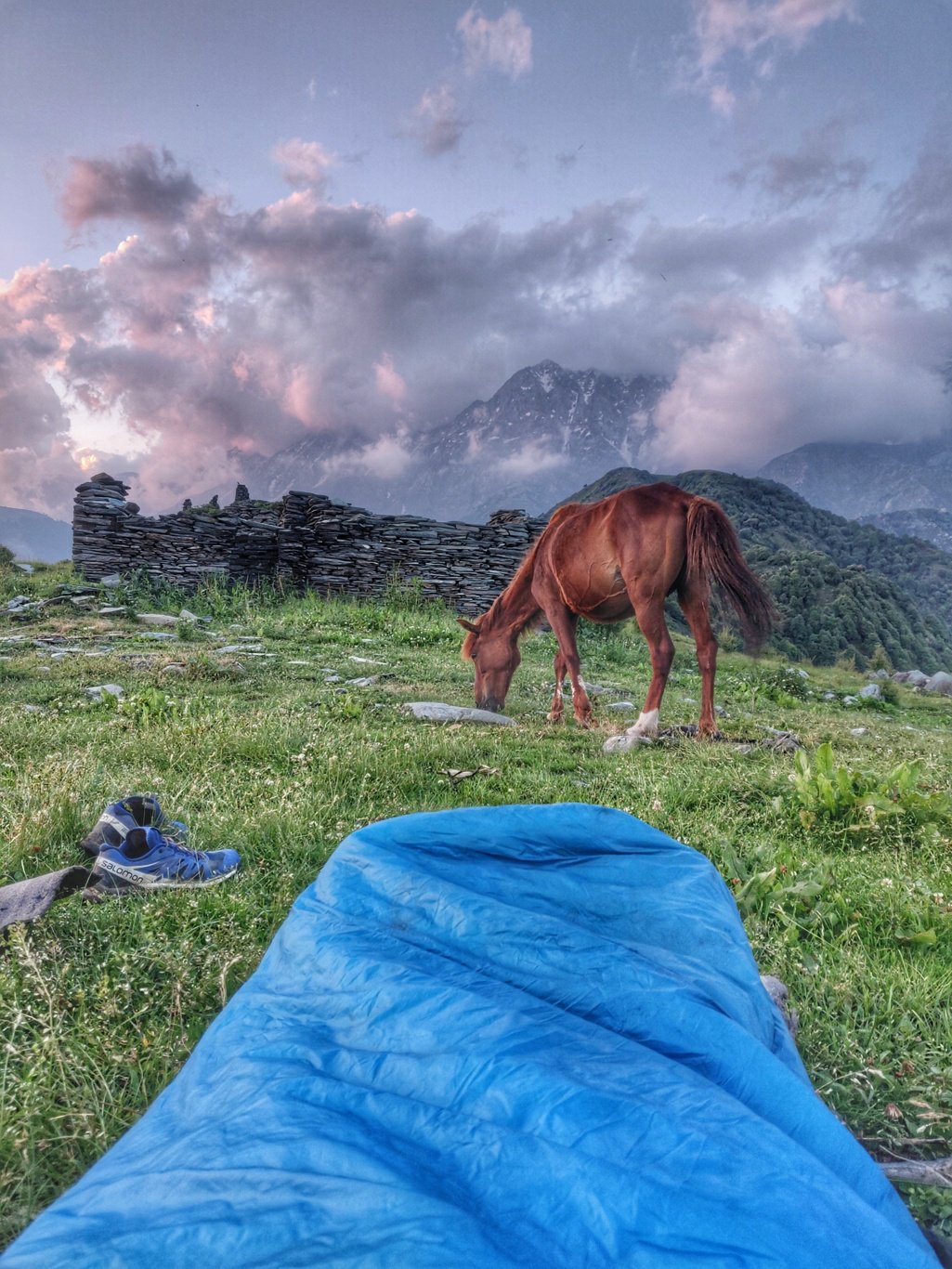 We settled down in the meadow while the sun was setting in the West. So close to the city below but not a single sound to be heard. Complete peacefulness with mesmerizing views on the mountains. Perfect camping spot.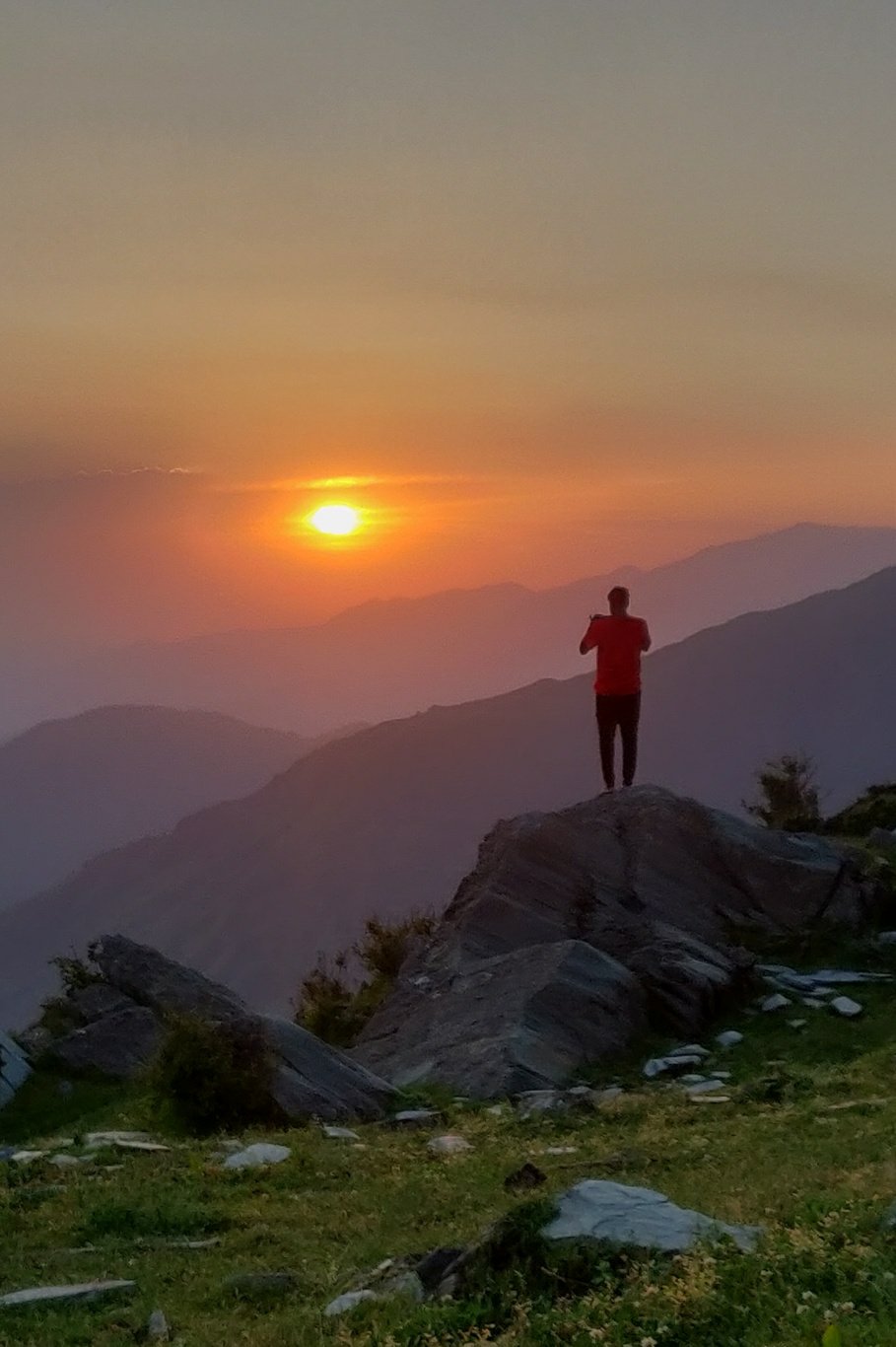 As darkness fell the city lights of Dharamsala sparkled in the valley below. Two horses seemed to enjoy our presence and were grazing around us. As the night got darker twinkling stars appeared above us. A sense of peacefulness set upon us as a gentle breeze blew across the meadow.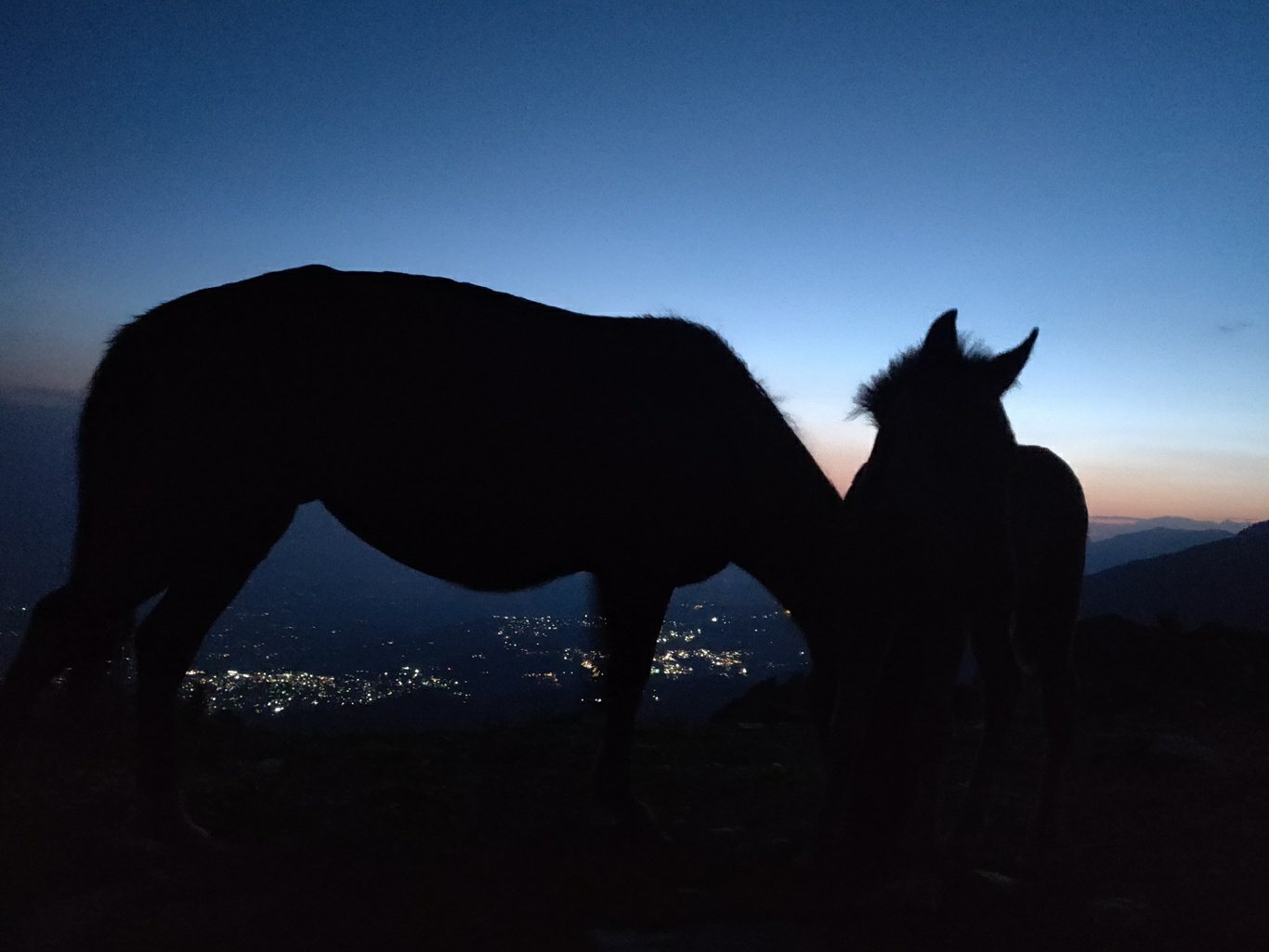 We woke up from a deep sleep as the sun was rising above the mighty Dhauladhar behind us. Blue skies offered clear views on the mountains. The local shop owner came over and offered us hot chai as we were packing up.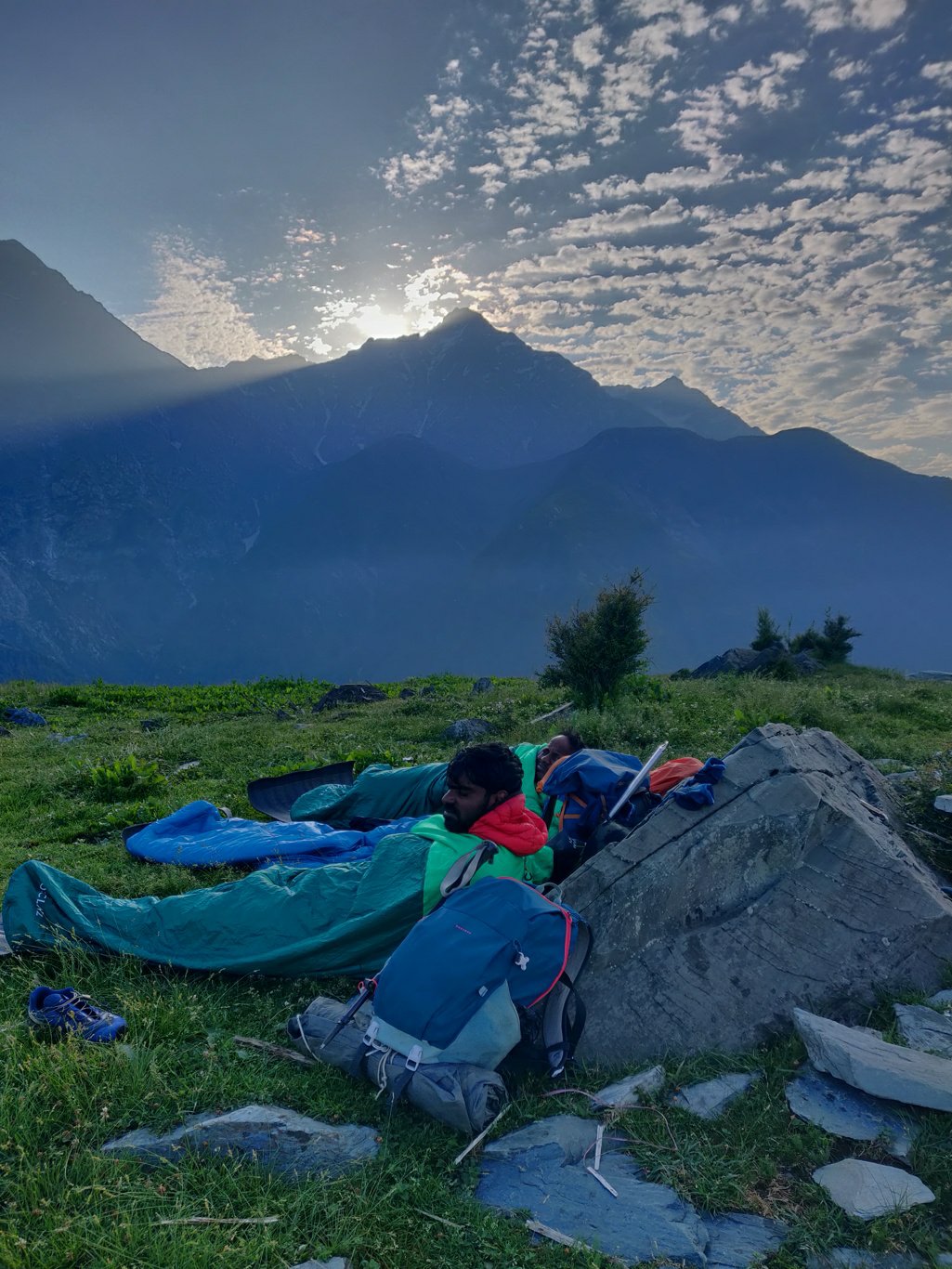 We enquiried for the price of breakfast. 200Rs per head for dinner came down overnight to 200Rs for 3 people for breakfast ;). Free market of demand and offer high up in the mountains wherever tourism makes inroads.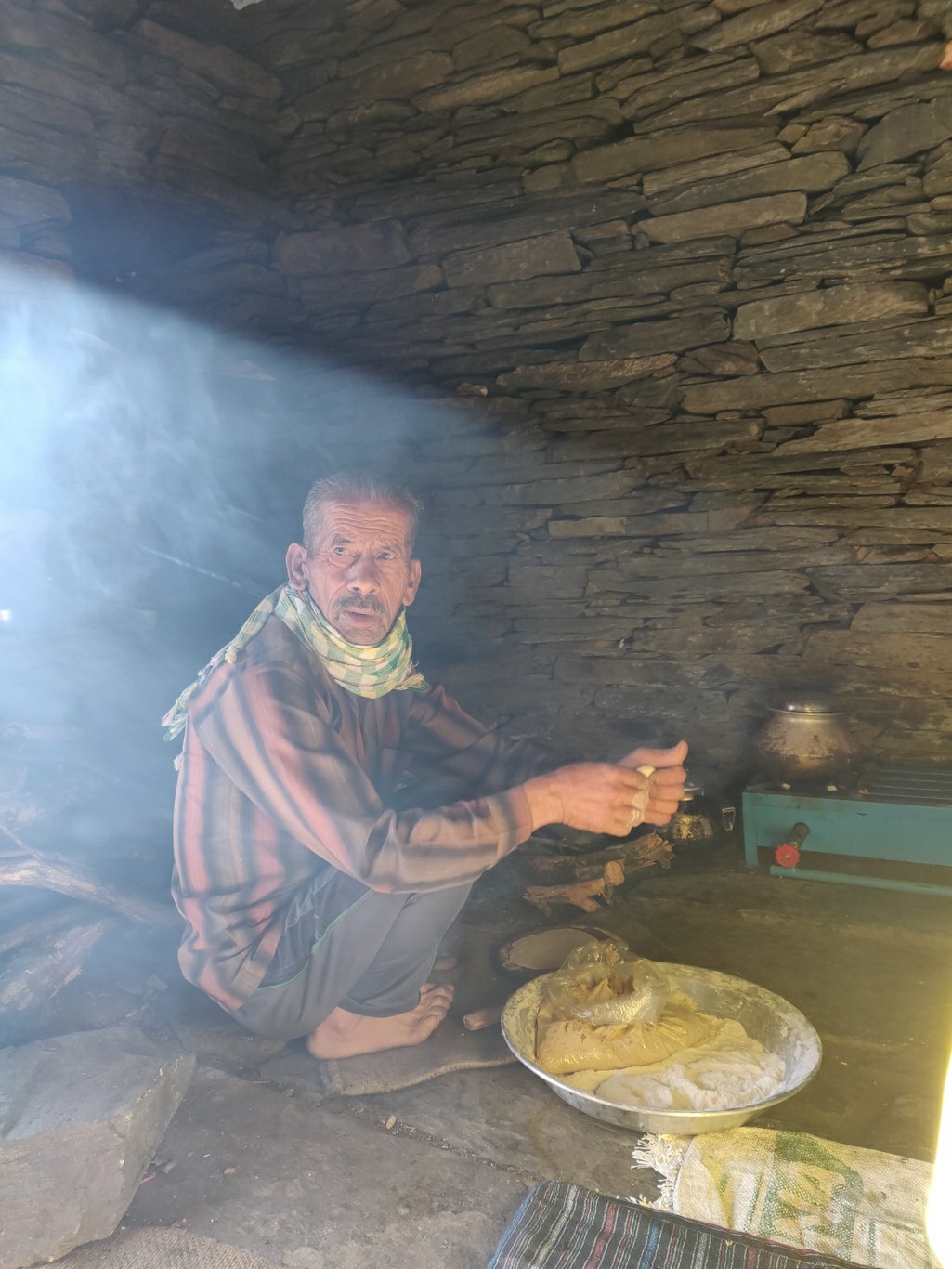 We started of from Thatharna trying to shortcut down a ridge into the valley. The slope soon became steeper and we were holding on to trees and bushes sliding down through the forest.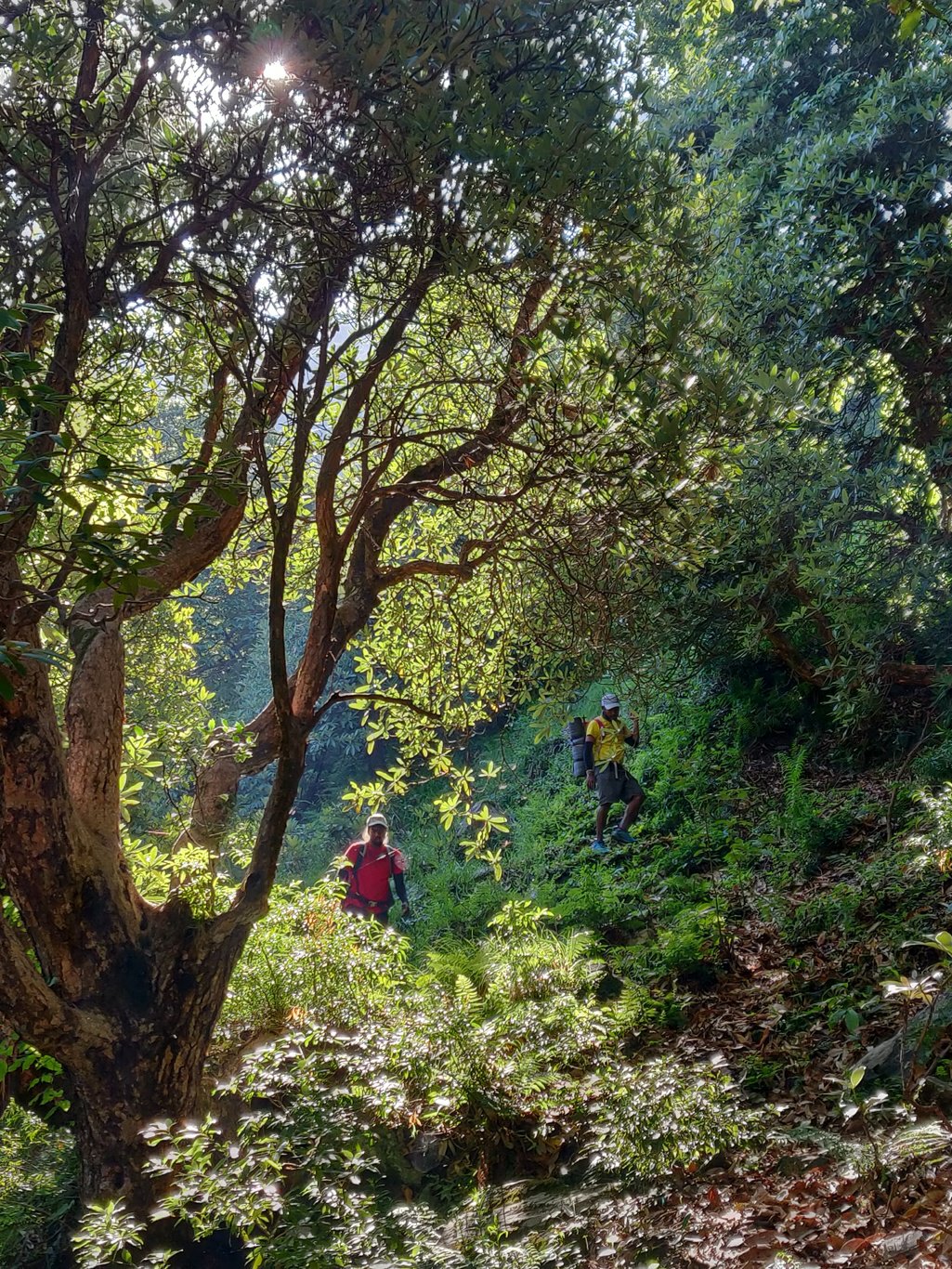 Mid way we hit a trail which got us to the pipeline feeding into a hydroelectric project below and got us back on track to the picturesque hamlet of Thathri below.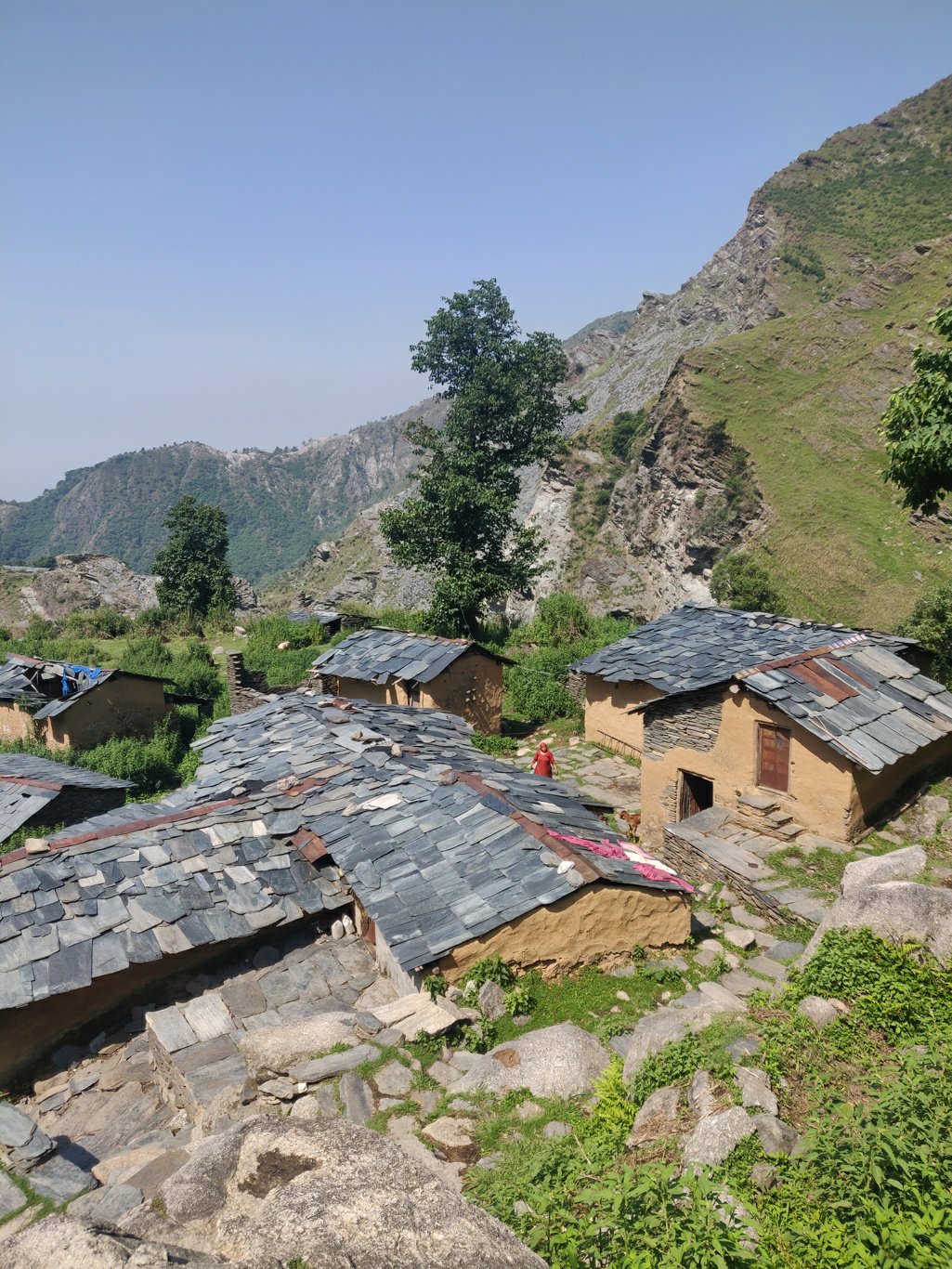 A nice gentleman was inviting us for tea as we enquiried for directions to our next destination. All houses in Thathri were uniform built with stones covered with mud and cow dung. Cattle were roaming freely through the village.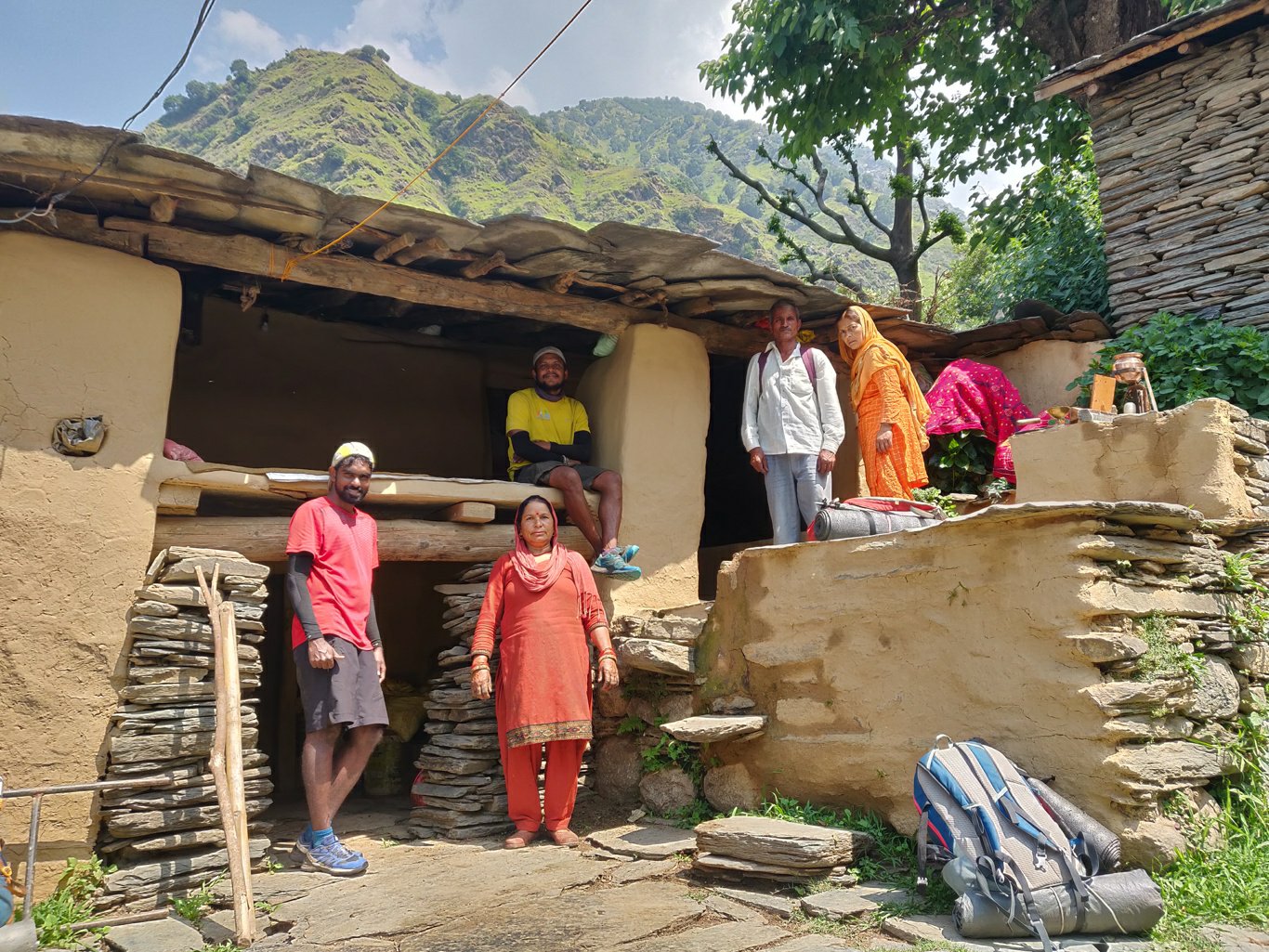 From Thathri 1740m we drop down to the stream where we find another slate mine. People excavate rocks from the mountain. Next they cut it in thin irregular slices which are finally cut into rectangular slates and transported with mules to the plains.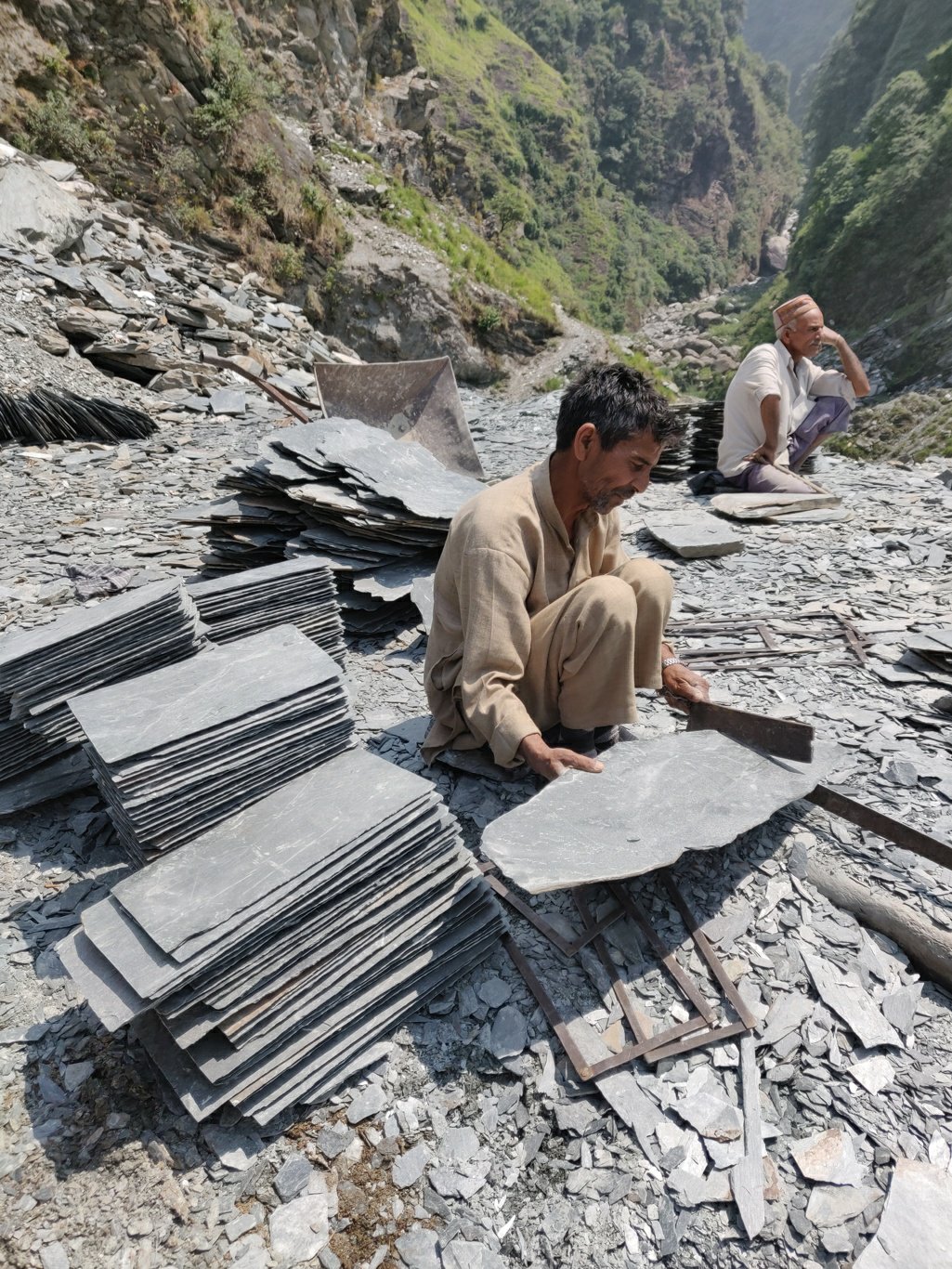 From here the trail climbs up to Manna 2200m, a small hamlet of three homes which gives a deserted look. A bit higher up we find a cafe where we have lunch. Triund being a touristic hiking spot the food rates were also higher. One other problem with touristic places is the use of disposable plates and cutlery.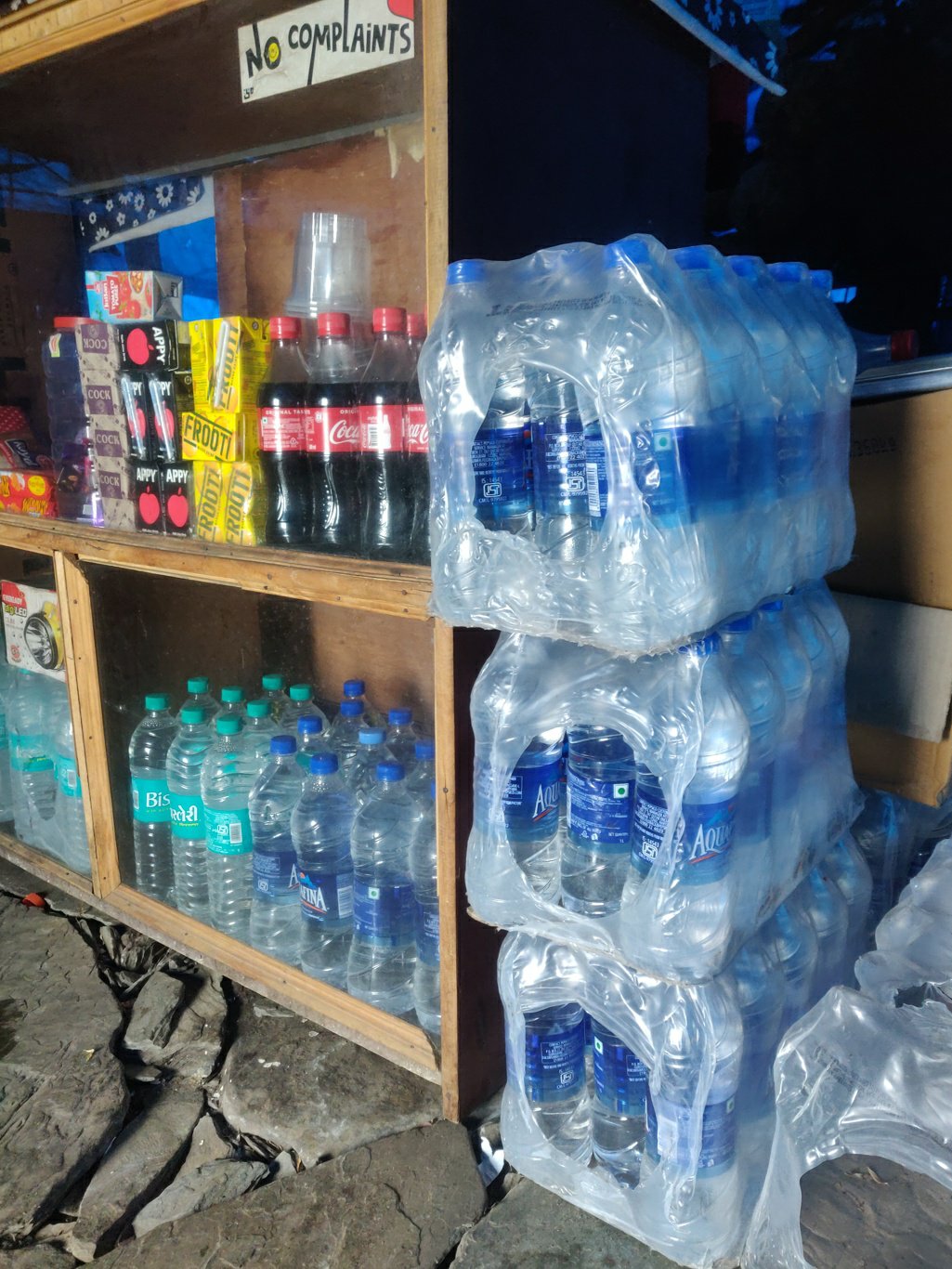 Business and laziness takes priority over environmental concerns. You can also find big stacks of packaged mineral water in these places hauled up the mountain by mules while there is fresh natural water flowing in the streams everywhere.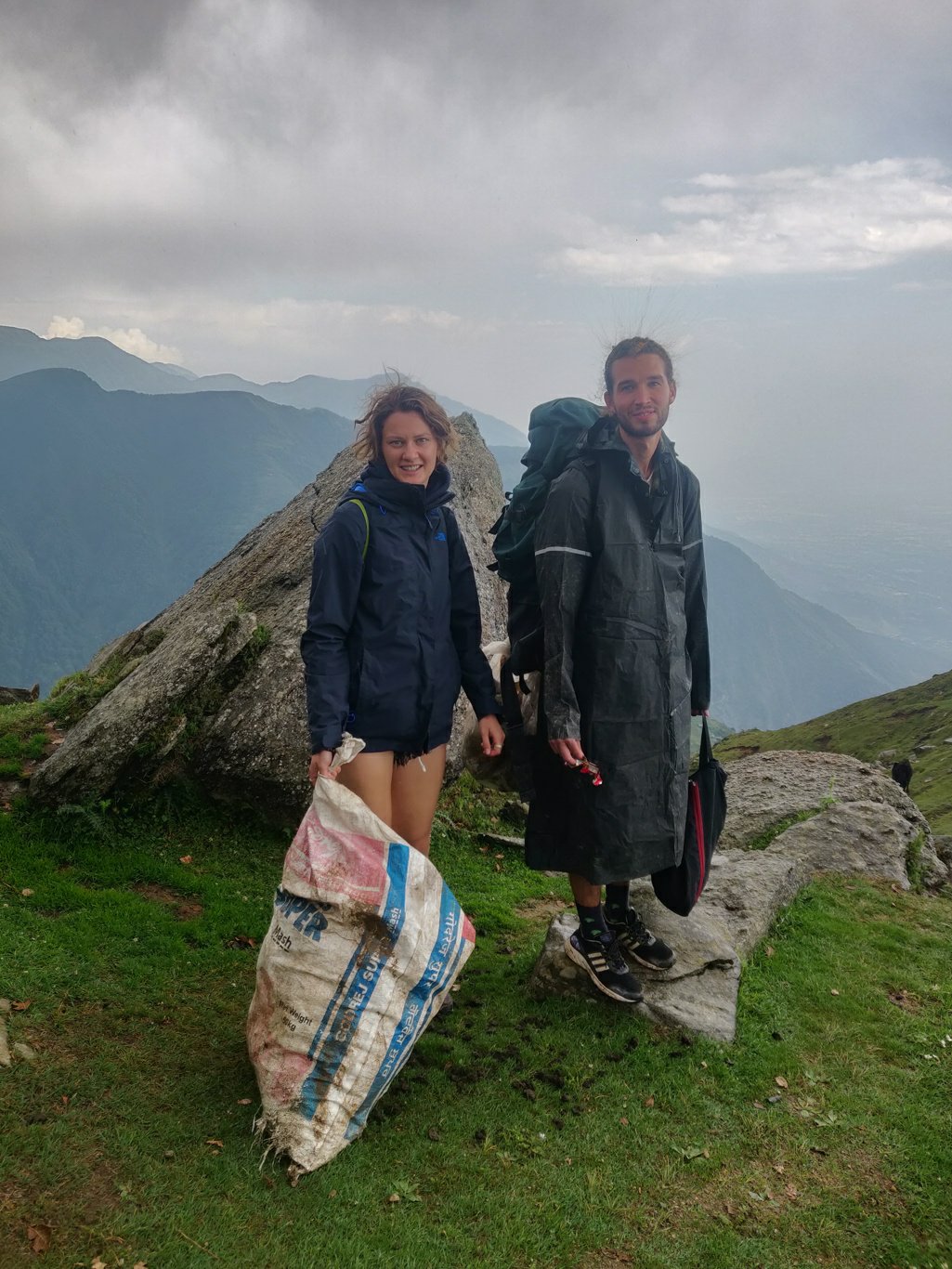 Heart warming to see a few foreign tourists collecting garbage from the Triund peak hiking route. Whole afternoon it was raining. Dhauladhar are the weather makers. Interaction between the atmosphere and high altitude peaks constantly generates changing weather patterns.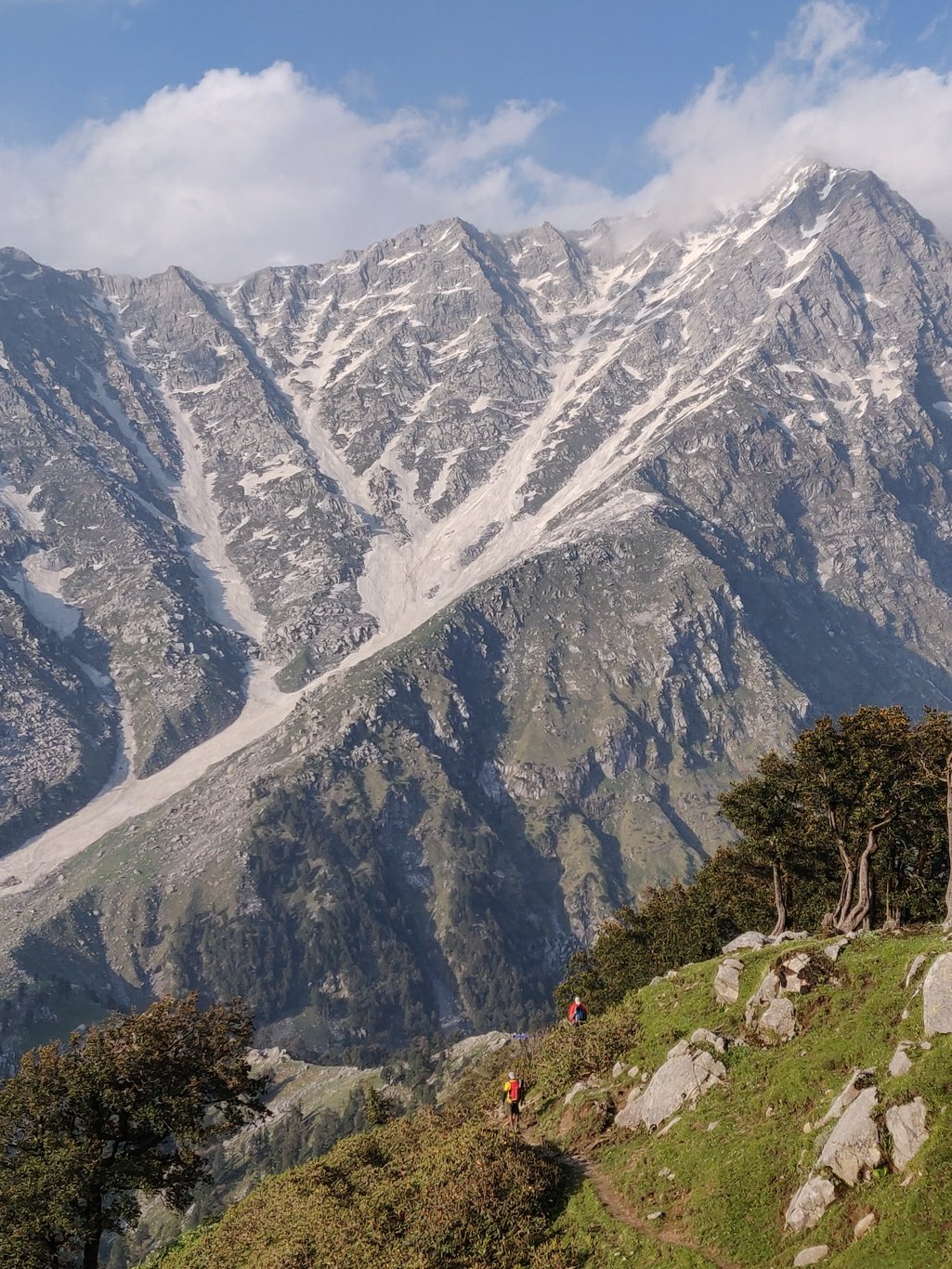 We had tea at a shop next to the forest rest house while taking shelter from the non stop rains. Finally in the evening the weather cleared out and we made our way to Triund peak 3240m offering stunning views on the sun lit Dhauladhar peaks.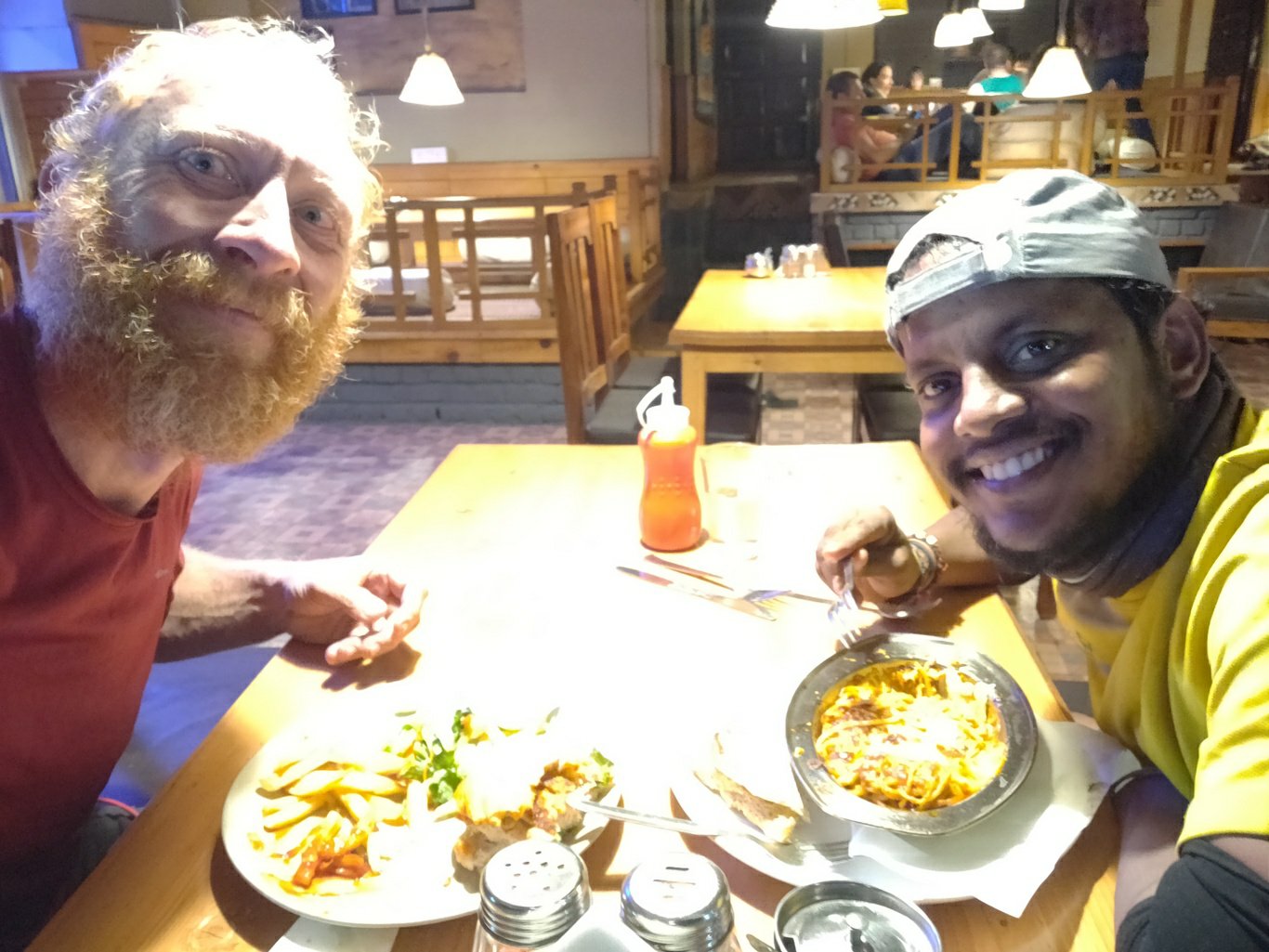 We enjoyed the sun and sights from the peak till 5:30pm when we finally started our descend towards Dharamkot. We reached only around 8pm and completely starved – we had only breakfast that day – we indulged in some lip smacking continental food in this cosy touristic town.