The night was pretty cold on the small flat camping spot along the steep ridgeline at 3100m altitude. Sleep was not steady on the inclined surface. While packing up the tent in the morning we could see quite some frost on the outer sheet. We got up early as it was Leo s last day and he had to catch his train in Delhi 2 days later.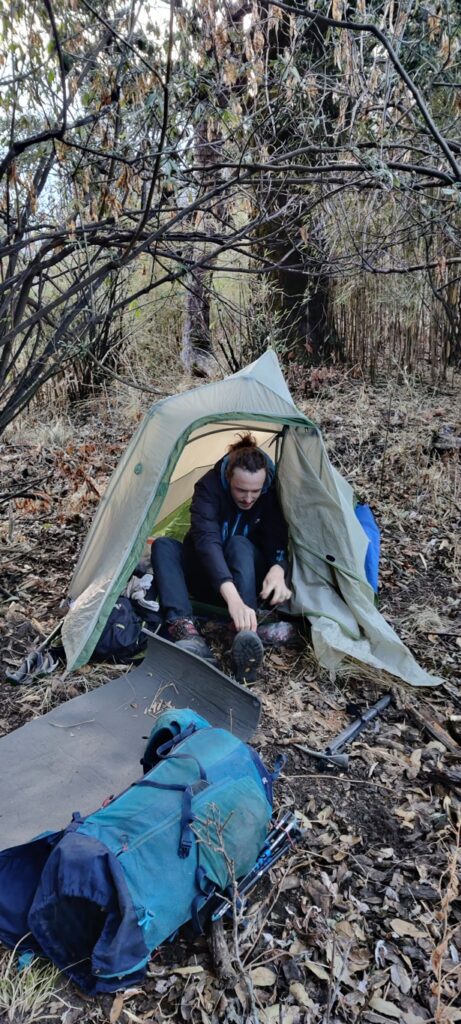 With little dinner (tiger biscuit) and no breakfast we immediately got into a steep climb along the ridge above our campsite. We followed a clear trail on top of the ridge which was covered with forest. It was a 600m climb into the bugyals above Rudranath. The Northern slope of the ridgeline was covered with snow so we stayed on top avoiding getting stuck in snow.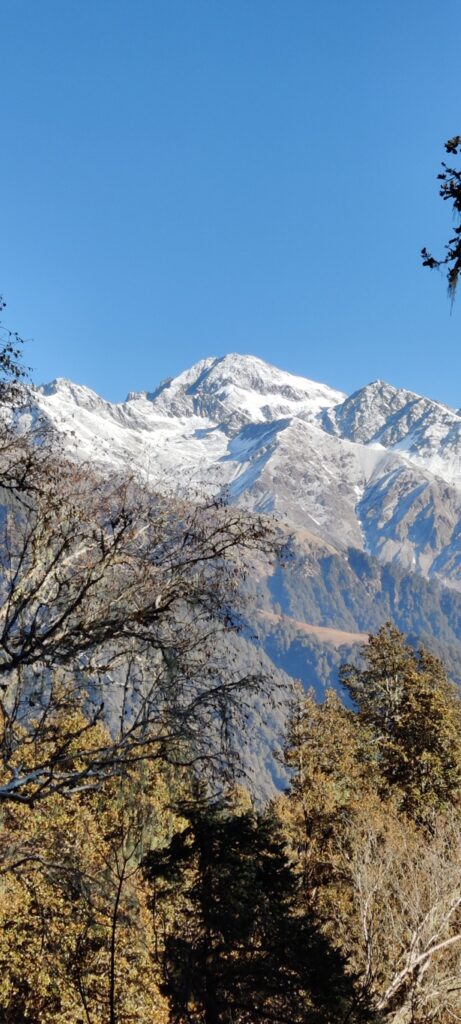 The views from the open bugyals above the forest were mesmerizing. We could see snow covered high ranges all around us. As per the Survey map there was a split in the trail at 3700m altitude, one side connecting to Rudranath. We looked around but no trail was visible in the vast expanse of meadows at the indicated location.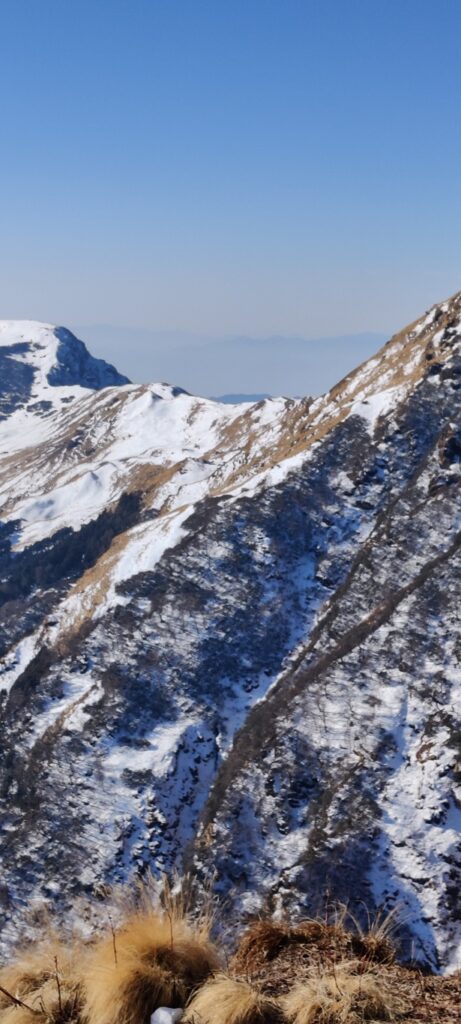 We were seperated by very steep snow covered cliffs making it very difficult to proceed without a clear trail. So we decided to descend back to Dumak village through the same path along the ridgeline. A bit disappointed as we were just 1.5km away from Rudranath and the Naola pass which we were targeting to proceed through. Anyway no hard feelings, the views from the bugyals at 3700m were simply amazing.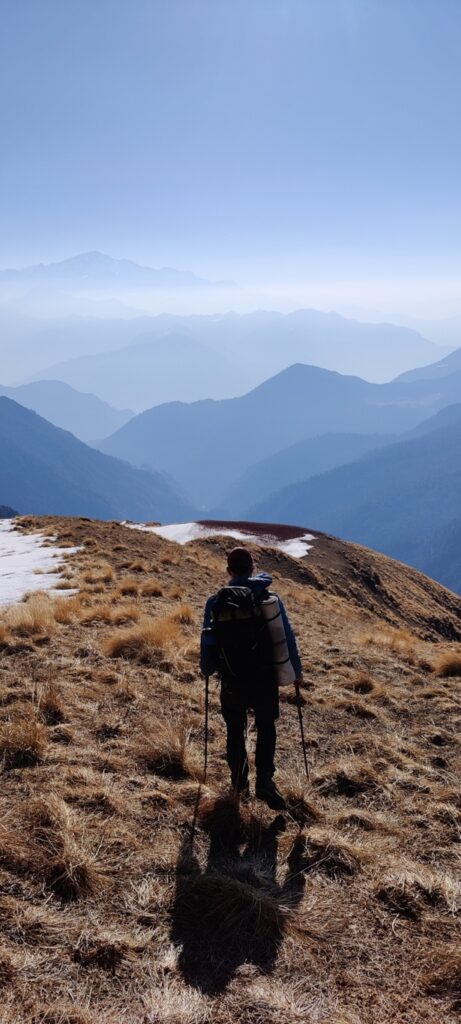 We descended through bugyals, open forest, dense bamboo forest at a record pace. Where we had trouble locating the trail yesterday to cross the stream, we could now find a proper way. The morning sun rays were beautiful lighting up the bamboo forest. Once across the stream we followed a clear path back to Dumak village. A thousand meter descend in 2.5 hours.

With no dhaba around we picked up Maggie and eggs from the shop in Dhumak and requested one kind elder lady to prepare the same at home. We were starved after an intense jungle exploration with no proper dinner and breakfast. After filling out tummies we were back in the game. A 400m drop into the valley below followed by a 700m ascent to the pass connecting to Kunjaun village.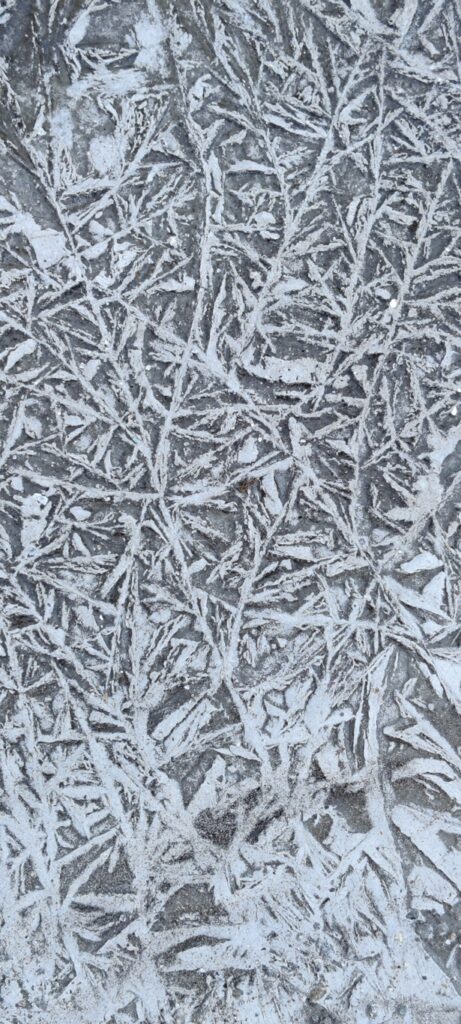 We were speed hiking along the hair pinning rock path which was mostly destroyed over the decades battered by the weather elements. Lose rocks strew across making it more challenging to walk upon. The path from Kunjaun is the shortest and quickest access route to the remote village of Dumak. A new road is being constructed from Urgam but yet to be completed.

Along the way we cross the scenic lake of Toli Tal at 2600m in an open bugyal clearing in the forest. From here it s just 200m up to the first pass from where we contour nearly horizontally above an uninhabited valley towards a second pass from where we drop down 900mto the road side village of Kunjaun at 1900m altitude. Lose rocks all along the way down, little remains of the original rock path.

We pick up some bananas and apes at a small shop and continue walking along the road hoping to hitch a ride to Gopeshwar which is around 10km away. It s late afternoon and Leo is worried whether he ll reach Delhi on time to catch his train. Lucky we get a ride in a small pick up van who gets us to Gopeshwar in half an hour.

It s goodbye after two weeks hiking together as Leo decides to hitch hike to Rishikesh overnight. I plan to stay over at Gopeshwar, a friendly town, and indulge in some yummy food after several intense days with limited food options. Chowmin, mommo s, cream rolls, cadburry chocolates, aloo burger… a culinary feast as I have it all!

As the night falls it gets cold even at 1500m altitude here. I warm myself at a public fire near the taxi stand before heading out of town in search for a suitable place to camp. I walk by the beautiful Gopeshwar temple, a similar design as the Kedarnath temple. In the outskirts I find a big empty terrace farm land where I pitch up my solo Bluebolt tent and huddle inside my warm quilt as the night gets colder.