We woke up on a hay straw bed on the wooden floor of an empty rock home in an unknown dwelling. Out of drinking water, we climbed up through step plantations to an isolated home where we saw a family going around their daily routine. A friendly man greeted us with hot chai, chapattis and a few oranges for the hike ahead. In return we gave a few cadburry chocolates to the little kid. A small baby bufallo was cherishing the warmth of the first sun rays.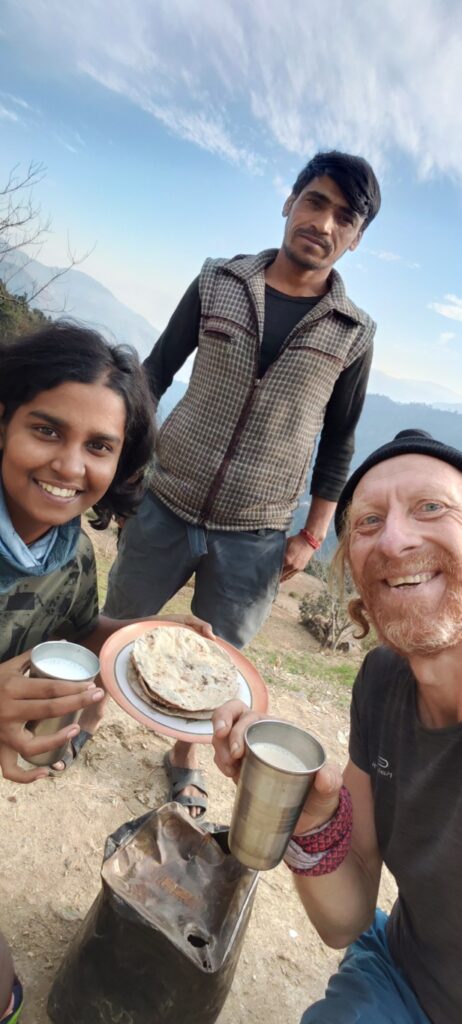 We resumed our way along a nice path which gradually contoured up towards the Manka Khal pass above. The actual route diverged from the Survey mapped route as we scaled up a small ridge towards the top. The trail hair pinned up through serene pine forest offering soothing views on the lush green forest below us. A few hundred meters below the ridgeline above the path diverged from the actual pass location so we jumped inside a smaller trail contouring towards the pass.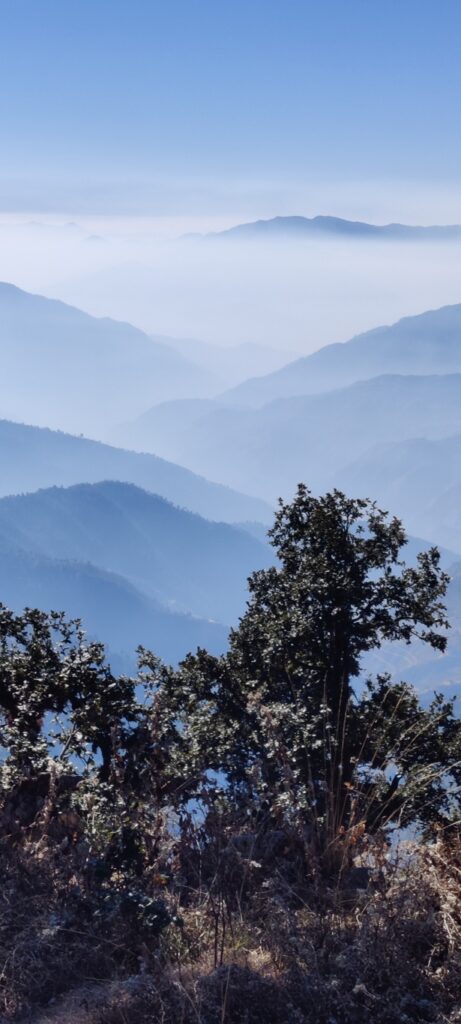 We finally hit the mapped pass at 2400m. Two trail candidates were dropping down on the other side. We instead decided to continue North along the ridgeline to penetrate more quickly to higher altitude regions. We climbed up further to the Chaundiar peak at 2800m taking in our first views on the snow covered high ranges of Northern Uttarkhand. We followed a vague trail on top of the main ridgeline which at times seemed to elude us.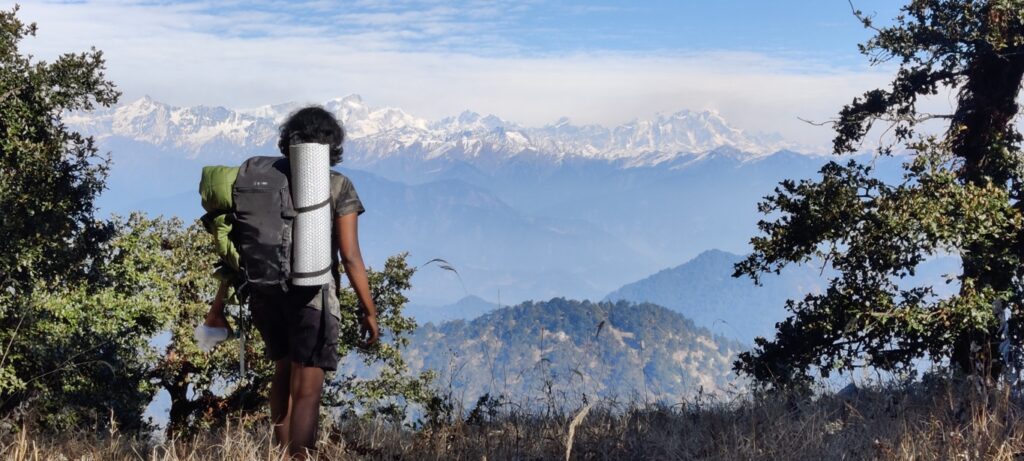 Before the peak we found another clear path crossing over the ridge connecting nearby villages below. We stopped for a small snack break when a group of village ladies collecting wood and leaves approached our location. They suddenly spotted both of us and seemed to be taken by surprise finding two human souls in this remote no man's land. After a few balanced moments of curiousity and fear they suddenly ran off…

We continued our way along the ridgeline traversing across several steep downhill sections aided by a vague hardly used trail. In one place we lost the trail and were scrambling down a steep, slippery slope trying to keep foothold on top of the narrow ridge. We finally got on track again and made it to the next saddle with two possible ways down. As it was late afternoon and we were running low of food ration we decided to head West towards the nearest village of Siri.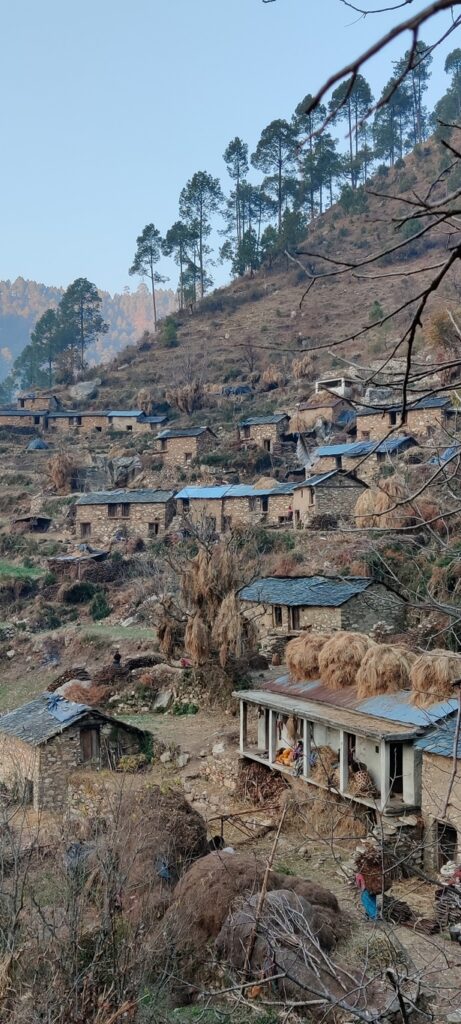 Finally on a proper path again after scrambling off trail we pushed to reach the village before darkness set in. Out of drinking water for several hours we finally heard the sound of a nearby stream to quench our thirst. The path lead us to the heritage dwelling of Tarachu where – as usual – the local people were taking by surprise seeing two outsiders in shorts coming down from an undocumented forest path.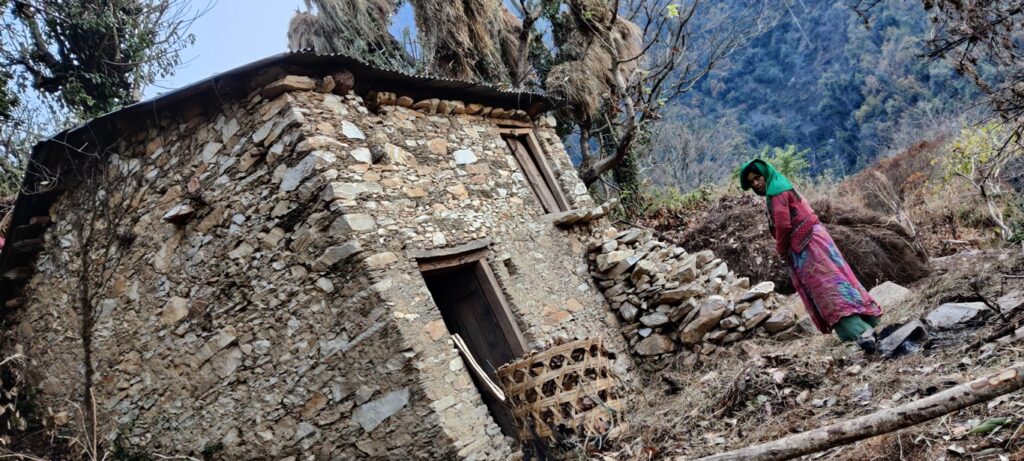 A short further descend got us to the road head at the village of Siri where we got into a small dhaba greeted by friendly villagers. Junk food but tasty after a hard day – we ordered two Maggie s with eggs to replenish the lost calories. One kind gentleman invited us to stay over in his nearby home. We followed him through the cold evening to be welcomed in a heated room with hot chai.

Soon a separate cosy room got prepared with warm bedsheets and yummy home cooked dinner was served on bed. Two small kids were playing on the bed while we were enjoying chapattis with fresh greens. A bucket of hot water was brought to clean our feet and hands. We plugged in our electronics for recharging and slept off with a furry dog holding watch in the cold night front of our door.