Today s plan was a supposed to be a short one day hike near Uttarakashi and drop into the mobile shop to get a replacement SIM to be reachable again. After gobbling up two yummy alloo paratha s near the main market we hitched a ride to Nakuri at the trail head of our next pass Juni Danda.

The original trail market on Survey maps was no more. We checked with locals who guided to an alternate route. We first crossed the beautiful Hamlet of Barsali, a handful of old homes built from rock and pine wood with big limestone roof tiles. One tall rising building with handcrafted woodwork and wooden balconies appeared to be the mandir.

To our surprise a new road had been built reaching till Barsali. We followed the road till a large ashram and from where we got back into the trail climbing up a ridge. We could see the picturesque hamlet of Kurisi below where colorful tents and music where indicating a marriage celebration. With little farm work during winter lot of marriages we're happening everywhere.

A nice ancient rock path hair pins up to the Juni Danda pass where we get treated on stunning views of the snow covered Bandarpunch rangee and the taste of our packed alloo paratha s. The isolated dwelling of Panchpatiya lies just below the pass at 2100m. Complete silence with no one around. We quickly identify the downhill path which brings us to the inhabited hamlet of Sartali 300m below.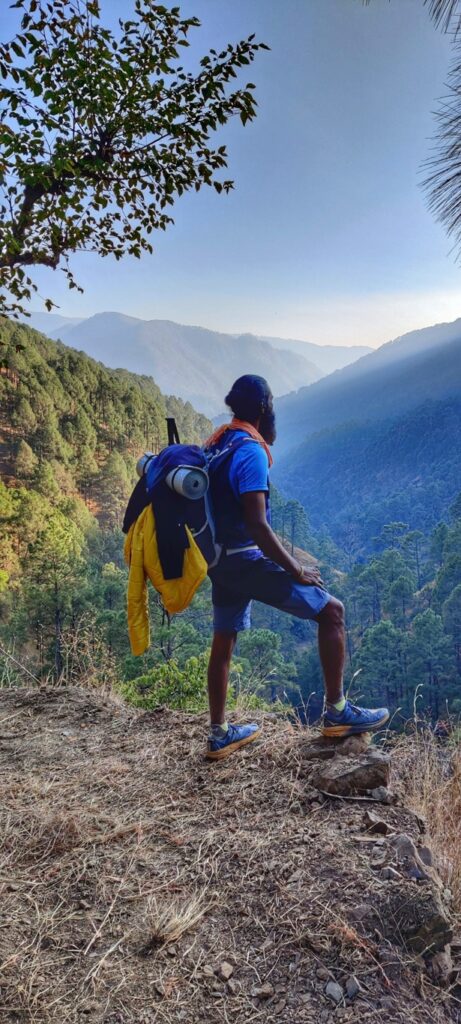 Once again to our displeasure we find a new road constructed which destroys the pleasure of hiking. We follow the road which contours high above the valley till the hamlet of Olya where we jump back into a nice path across the ridgeline towards Uttarakashi. We descend through beautiful, peaceful pine forest till the hamlet of Jakhari where a friendly lady offers us a cup of chai to reenergize ourselves in late afternoon.

From here we further descend to Kurah where we finally get back to the Bhagarathi river valley by nightfall. A short planned hike across one pass turned out long 10 hour loop around the mountain. We try hitching a ride to Uttarakashi but no one – including share taxis – seems to stop in the dark. Eventually a biker stops seeing that we are hikers gives us a ride.

Time running late I hurry to the mobile shop hoping still to be on time to get a replacement SIM. The owner tells me the internet is usually overloaded in the evening and the jio app won t respond. He asks me to come in morning 11am which would mean the loss of one full hiking day. I plead with him and after multiple tries we get lucky! Got my old number back and ready to go out again early morning.

Next is to fill up our growling tummies – we had out for fried chicken mommo s in a dhaba which is still open at 8:30pm. With short daylight and winter cold shops are closing up early. We settle down again in our flat spot above the town where the owner of a small plastic recycling unit takes pity on us and invites us to sleep in his shed.