Today my guest co trekker Palani was to join me at Uttarakashi so I got up late and spent some time over breakfast in a dhaba. Soon it became clear that travel from Dehradun would take considerable time and I decided to not waste the day and go for a small hike near Uttarakashi.

Near Gyansu there s a trail that contours up on the valley slope above Uttarakashi. It crossed an unknown pass at 2230m and drops back into the Bhagiraghi river valley near Chiwan. A clear path runs up through the scenic hamlet of Gyanja high above the valley. After a second week of speed hiking it was time again to wash my clothes in a small spring.

Above Gyanja the trail is less clear and I had to climb down once to get back on the right track. A small, lesser used trail contours through beautiful, silent pine forest high above the main valley. Finally I reach the pass where a more clear path emerges. Total silence, perfect spot for meditation and experiencing inner peacefulness while admiring snow capped views at the horizon.

On the other side a fairly obvious trail descends straight into the valley. After a 400m drop I discover an unmapped hamlet – some 5 wooden homes surrounded by small step plantations. The settlement appears inhabited but deserted during winter due to lack of water and snow cover later in December.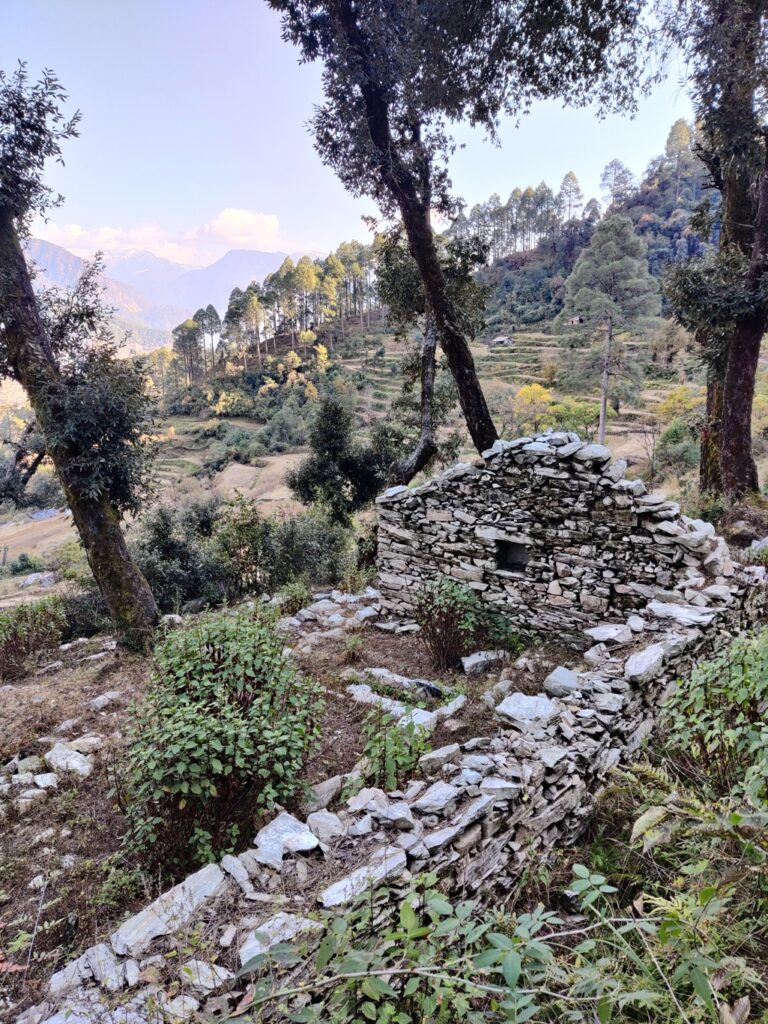 The path now becomes more clear as I head further down towards the first inhabited village above the Bhagirathi valley. People give me a curious look as no outsider usually traverses these lesser known trails. Colorful wooden homes, hay stacks on roofs, abuzz with people sitting on terraces going about their daily routine.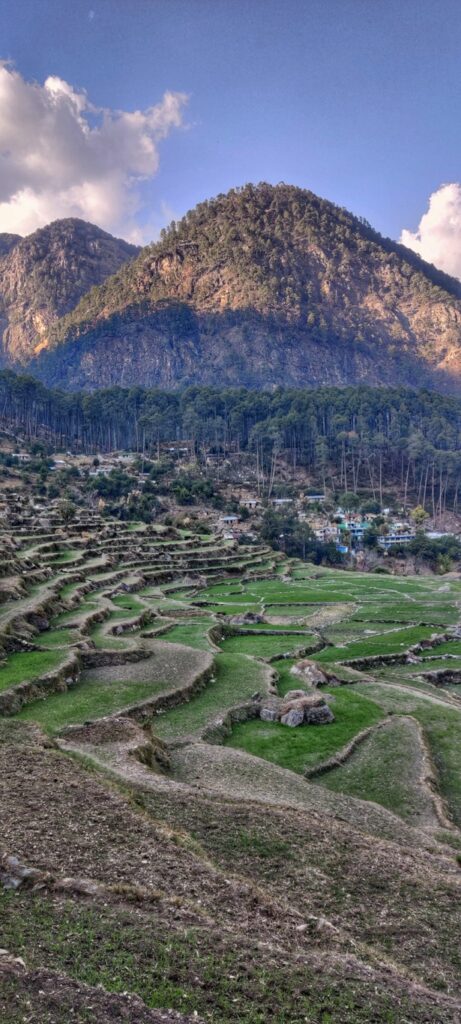 I finally got the road in the valley below and hitch a bike ride back to Uttarakashi where I meet up with Palani who just reached after a long day travel from Dehradun. Both hungry we go tasting different types of street food in small shops. We discover our favorite dish so far – deep fried potato bun in burger sandwich with yummy sweet and mint chutneys, with a slice of tomato and onion on top.

We settle down for the night on a flat empty forest space watching the city light below and stars above.