Spent a warm and cozy night in an empty rock home in a deserted hamlet on the way to the Anyar pass after the Survey trail eluded me the previous evening. I smoked myself out by burning wet wood and had to ventilate the home at night. Got up at dawn and quickly found a small trail contouring to a nearby ridge.

From there the trail descended to the road side village of Medh. Appears a new road recently built across the Anyar pass. I was able to hike up through the old path towards the pass skipping the hair pin bends of the hardly used road. After the pass the trail drops down through beautiful pine Forest towards the larger village of Kamand.

I had some Maggie and egg in a small dhaba to reenergize and recharge my phone. I was able to touch with home base after nearly 3 days of no Jio network. By 1am I started my attempt to cross over back to the Bhagiarati (Gangotri) valley through an unknown pass to Jamak. Initially a nice tock path leads up to the scenic hamlets of Jalang and Elaru tucked away in this remote side valley.

Higher up a less frequented trail climbs up steeply along a ridge to a 3000m high peak. One isolated dwelling of Pokhana lies in ruins. From the peak I drop down into the other side go Ratbadani, a handful of wooden homes partly covered in snow on the Northern slope. From here there is a steep 900m descend along a ridge into the valley.

A vague trail is present which eventually fades out in dense bamboo jungle near the valley base. The trail marked on the Survey map was no more and I started following contours sliding down the steep slope crawling through dense bamboo bushes hoping to reach the stream below. My hand touched my pocked to check my position and…shock! … My phone was missing!!!

It must have fallen down while sliding down the slope! I was completely blind now – no maps, no trail, deep inside the mountains on a steep slope with no visibility. I climbed back up to search for my phone but impossible to even know the exact path I followed. More then the loss of an expensive phone I had no idea now of how to proceed.

Three options dawned upon me. 1 climb back up the ridge. This was safest way out but would take hours. 2. Proceed along the planned route as per map imprinted in my mind. 3. Get into the valley and follow the river downstream until exit. Risk of course was that there would be steep drops along the river which would get me stuck.

I climbed down from the steep slope through dense forest and was able to reach the river. Quenched my thirst after 3 hours. I usually don t carry water preferring to climb up light. Having some backup food ration I decided to give the river a shot. In case I get stuck I would camp overnight and return the next day.

To my surprise the valley was fairly flat and with limited water flow during winter it was easy to traverse across the boulders. The stream was snaking it s way through the valley so I had to periodically cross it. My heart was skipping a beat whenever I saw a narrow gorge ahead expecting to get stuck on a vertical drop.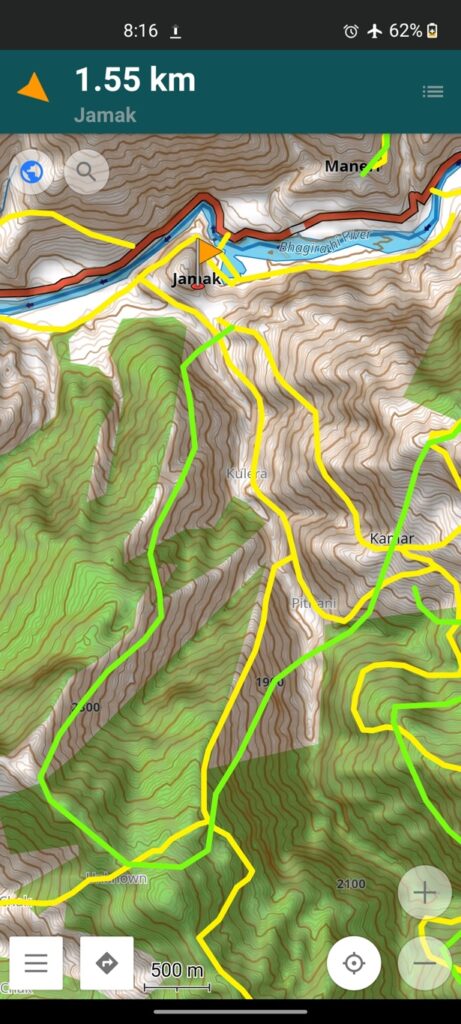 No trace of any trail along the stream. Once in a while fresh footmarks of wildlife. Surprisingly the river remained fairly gradual squeezed in near vertical valley slopes. After a few hours I finally saw an elder man collecting water near stream – a big sigh of relief as there was a way out! I had reached a still very remote dwelling but from here I could walk along a small trail above the river.

Another one hour and I finally reached the main village of Jamak on the banks of the Bhagiarati river closing from Gangotri. I hitched a ride with a biker to Uttarakashi where I reached by dusk. I quickly checked out a few mobile shops and found a OnePlus Nord phone to get back up and running. A replacement SIM with my existing number was not possible until Monday so the shop owner gave me temporary SIM.

I messaged a few important contacts from my new number and started downloading offline maps, digitized routes and contours on my new phone. Luckily I had posted my recorded gps routes, blogs and photos online so nothing got lost. My co trekker Palani had reached Dehradun and would join me by tomorrow.

Exhausted at the end of a long happening day I had a sumptuous dinner and settled down for the night on a flat ground above the city.