For the past two days while camping in higher up the the mountains I ve been awake on and off during the nights. Not sure why. A bit surprising after 10 hours of speed hiking through steep terrain. My alarm went off at 6:30am and while packing up I noticed ice formation on my tent. Camping out in the open with nightly wind can be very cold.

I followed a nice pathway from Bhont that contoured steadily up to the Ai Khal pass at 2500m. Had yummy fried mommo s for breakfast while basking in the morning sun. From here the path dropped down to Hathkuni a deserted pilgrim place with a temple. Further down I took a side path that contoured along the valley slope towards my destination Budha Kedar.

I hit the remote hamlet of Bamura and to my surprise the government was laying a new road and power lines to this deserted settlement. The cost vs benifit factor seemed out of proportion to me. I walked along this road for nearly one hour seeing nobody. Finally I hit Bheti the first inhabited hamlet.

From here the tar road starts to Kundriyali the first sizable village with shops and dhabas. I jumped into a scenic path descending through beautiful pine forest into the vast straight to Budha Kedar where I had food and charged my phone in the same dhaba I visited 2 days earlier. The friendly elder owner greeted me and I had the dhaba s special – alloo paratha with dhal and curd.

With just 2 days to go till my meet-up with co trekker Palani at Uttarakashi I decided to explore a new ridgeline above Budha Kedar. From the hamlet of Agar a nice path climbs up and passes through the abandoned dwelling of Kund Saur. Higher up the ridge I passed three lakes including Maniara Tal and noticed some ladies collecting grasses.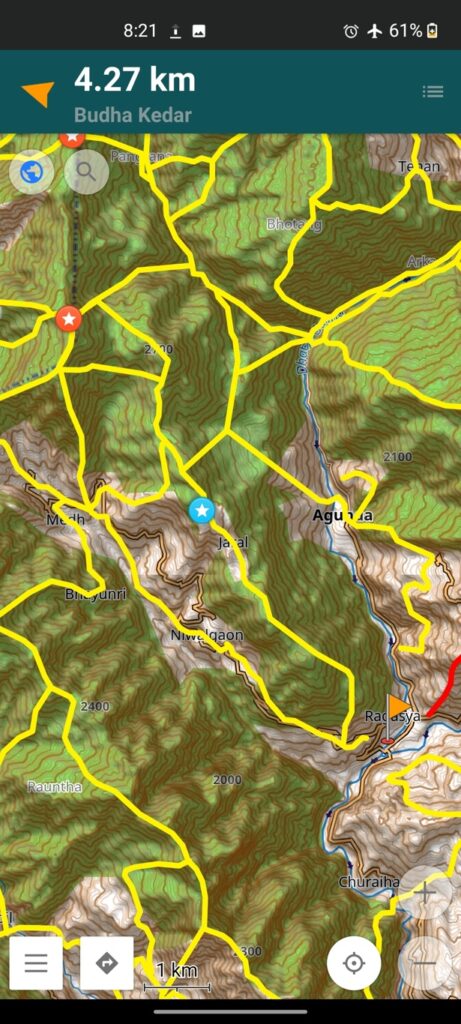 Higher up things got haywire for the explorer. Unable to locate two trails documented on my Survey map that would take me across the mountain. As daylight was running out I decided to reroute to an unknown dwelling I could spot on the valley slope below me. There once again it took me quite some time to figure out the way forward.

Finally I located a vague trail that took me down the valley to another deserted dwelling where I decided to halt for the night. I quickly picked one of the homes to settle down, collected some wood and started a fire to stay warm as the temperature dropped steeply. I captured the beautiful night sky full of stars with a long exposure on my camera.