My internal clock woke me up automatically at day break after a warm and comfy stay in an empty rock home in Pangrana, a semi nomadic settlement deserted in winter. Packed up my things and followed a beautiful rock pathway down the valley. I had to admire the talent of the previous generations in building broad pathways across steep mountain sections which had stood for decades if not centuries.

I touched down at the road near Jhala where workers were building a new bridge. Grabbed a cup of chai and biscuits in a small shop where the owner was smoking a hukka pipe. As I was out of food supplies I decided to head downstream to the village of Budha Kedar to restock. Otherwise I could have gone up to Pinswar and cross over the next pass.

Had yummy alloo paratha with dhal and curd feeling starved after a 3 hour morning walk. Filled up my bag with enough ration for a 2-3 day crossing towards Kedarnath side. I now got into the Bal Ganga river valley walking upstream towards Gainwali. To my surprise (and disappointment) they had built a new road all the way till this last village in the valley.

Grabbed an afternoon snack at a small dhaba in Gainwali where a marriage function was in progress. With just 2.5 hours daylight remaining I decided to push up another 800m to camp at Bagi Kharak, a deserted dwelling at 3000m just below the Munsri pass. A nice rock path runs up the ridge above Gainwali to the pass.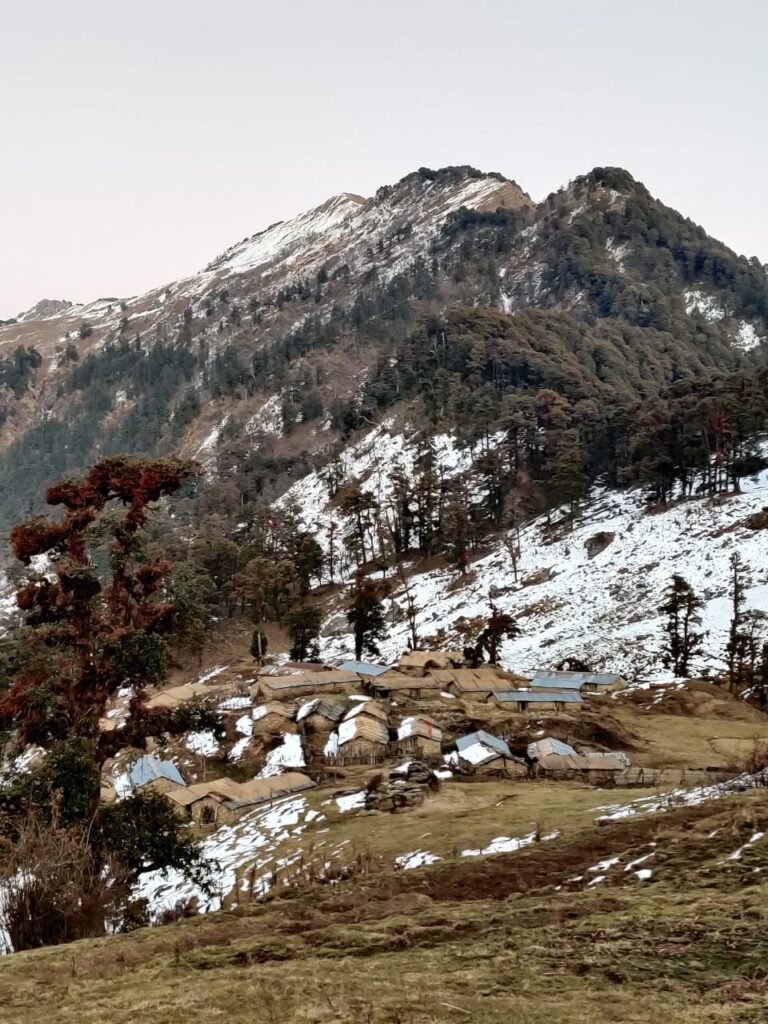 Around 2700m I encountered frozen fresh snow on the slopes with less exposure to the sun. At sunset I reached the beautiful settlement of Bagi Kharak, some 30 rock homes snugged together in a small depression of the valley slope with orange sunrise colored snow peaks rising above. The hamlet was partly covered by snow I quickly picked one of the homes, collected some firewood and blocked the door from the cold outside and wildlife