Pitched up my tent on the grounds of the primary school in Jamak above the Bhagarathi river flowing down from Gangotri. I woke up at day break in search for a dhaba open to serve breakfast. A short walk along the highway and I was eating my favourite cream rolls with hot chai and had Maggie with eggs to energize for the day ahead.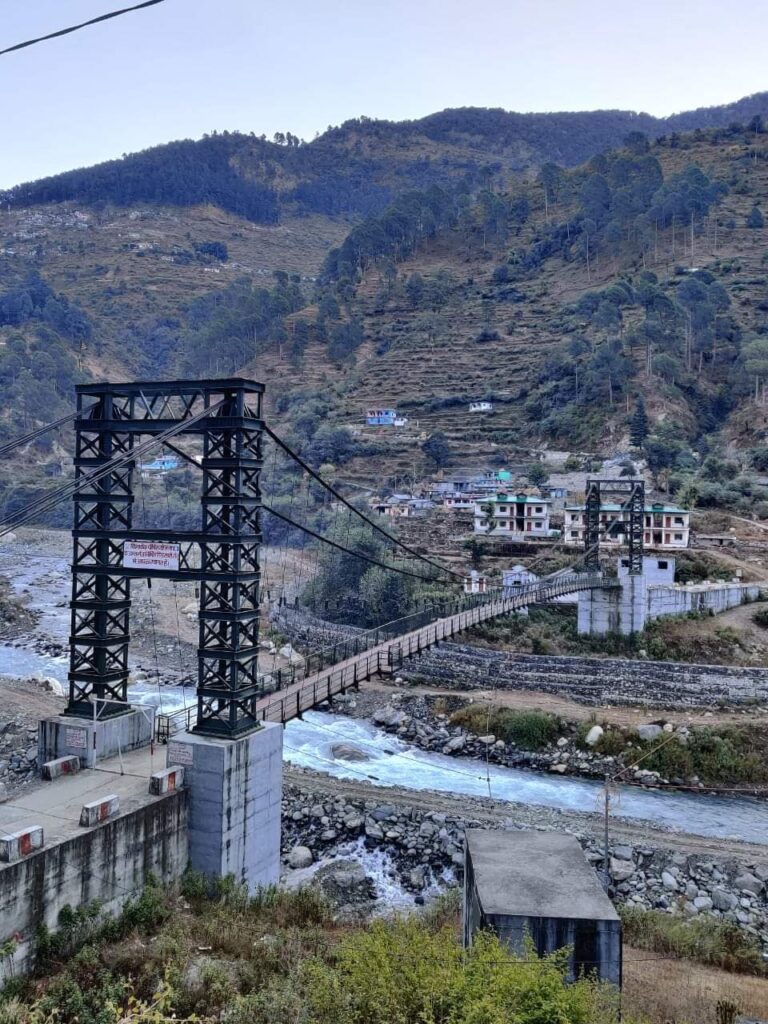 Crossed the river through a large hanging bridge and started climbing up to the last village of Syaba. Interesting to see how the government wants to connect every village by road which soon get destroyed through landslides in this treacherous terrain. Reached the village and asked the locals for the way up.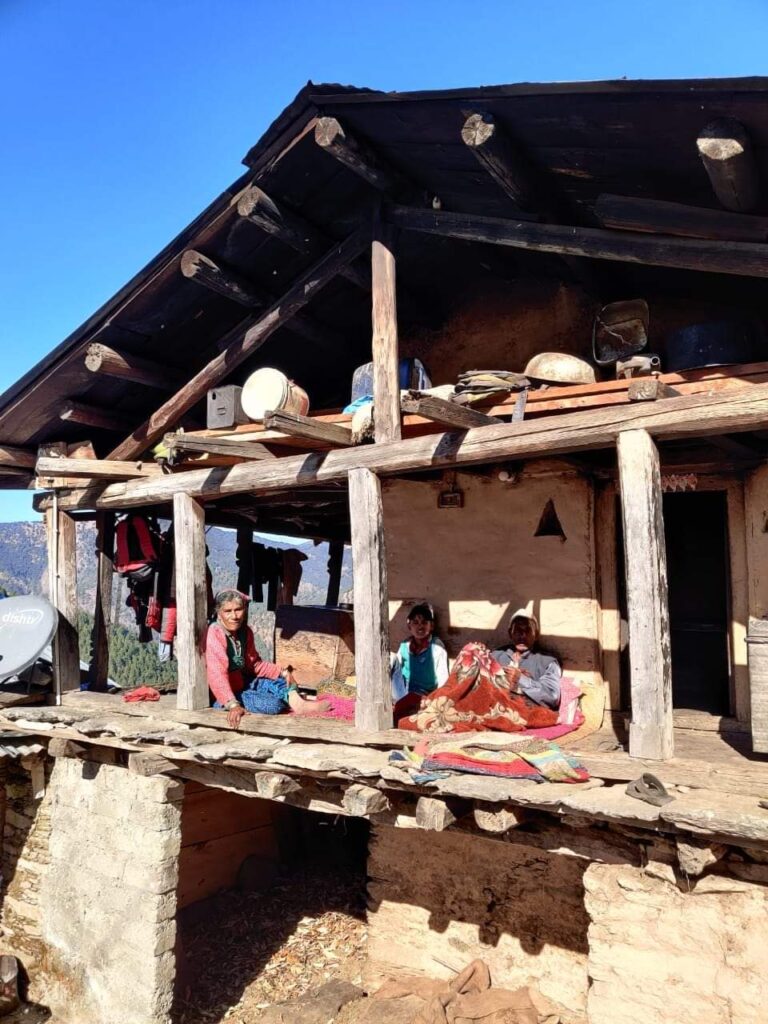 They mentioned the name of Belakhal, a hamlet and mountain pass at 3000m altitude probably partly covered in snow. I climbed up above Sabya till I hit the main ridge where I found a deserted semi nomadic settlement in a beautiful bugyal setting with mesmerizing views on the snow covered Bandarpunch range.

Now things got messy… As per the Survey maps the trail to the pass starts from this hamlet and descends below the ridge. So I started searching for any trails on the ground that proceeded as per the map. Soon enough I found a trail that initially looked promising but eventually faded out in the forest below. Damn!

I started climbing up and down along the slope in search for the trail that was completely eluding me. I found another promising trail and – yet again – disappeared into the forest. This went on for more then a hour till I decided to give up on the mapped trail and instead follow the ridge.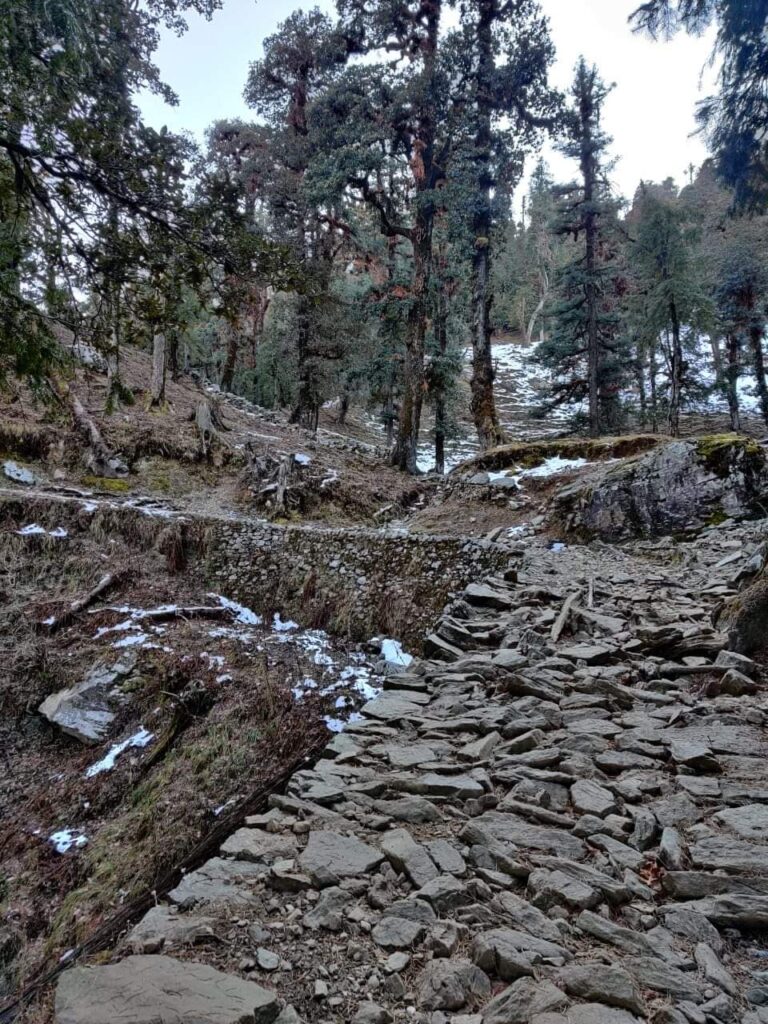 As I proceeded along the ridge to my surprise I discovered a beautiful wide path much above the location indicated on the map. After losing valuable daylight time I now felt confident to be on the right track. The path was constructed beautifully and I could only wonder what immense manual effort would have gone into building a such a route across a steep mountain range.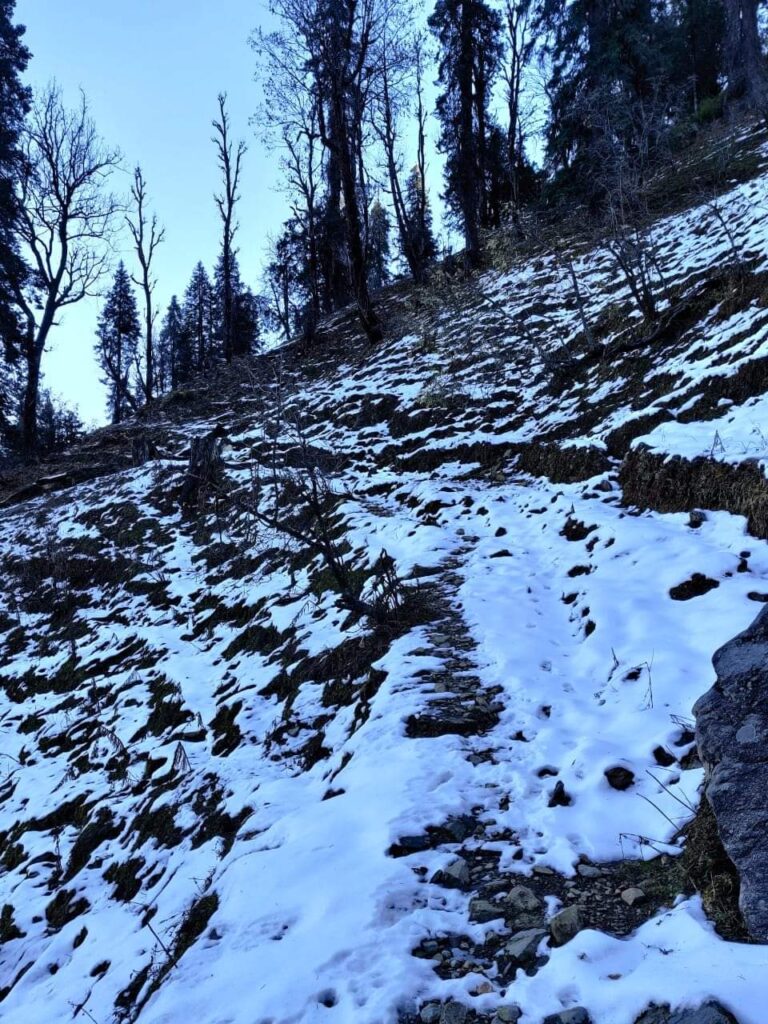 Wonderful heritage from previous generations now left unused to disappear as people migrate to cities. The path gently contoured up towards the Belakhal pass where I also found a semi nomadic hamlet in good condition. People had locked all doors and windows before leaving to return back again in summer.

On top the Survey maps once again sent me off in the wrong direction costing me yet again precious time. I decided to stick to ground reality and was soon following an equally nice downhill path. This side of the pass was a vast pine forest where it was easy to lose track. So people had used white paint on the trees to guide us.
Time was now running late at 4pm with just 2 hours of daylight left. I picked up the pace hoping to reach an inhabited settlement before darkness. I passed through a first deserted dwelling in a beautiful meadow setting inside the valley. I pushed through to another hamlet on my map called Pangrana by dusk. There were some 10 rock homes and I decided to halt here for the night.

Collecting water from the nearby stream and some firewood to cook dinner. Settle down in one of the larger homes and barricaded the door with a few wooden logs in case any leopards or wild bears decided to give me company. Inside the shelter it was surprisingly warm. Made a fire and started cooking Maggie and settled down after a long intense day of exploration in this beautiful wild, untouched part of Uttarakhand.