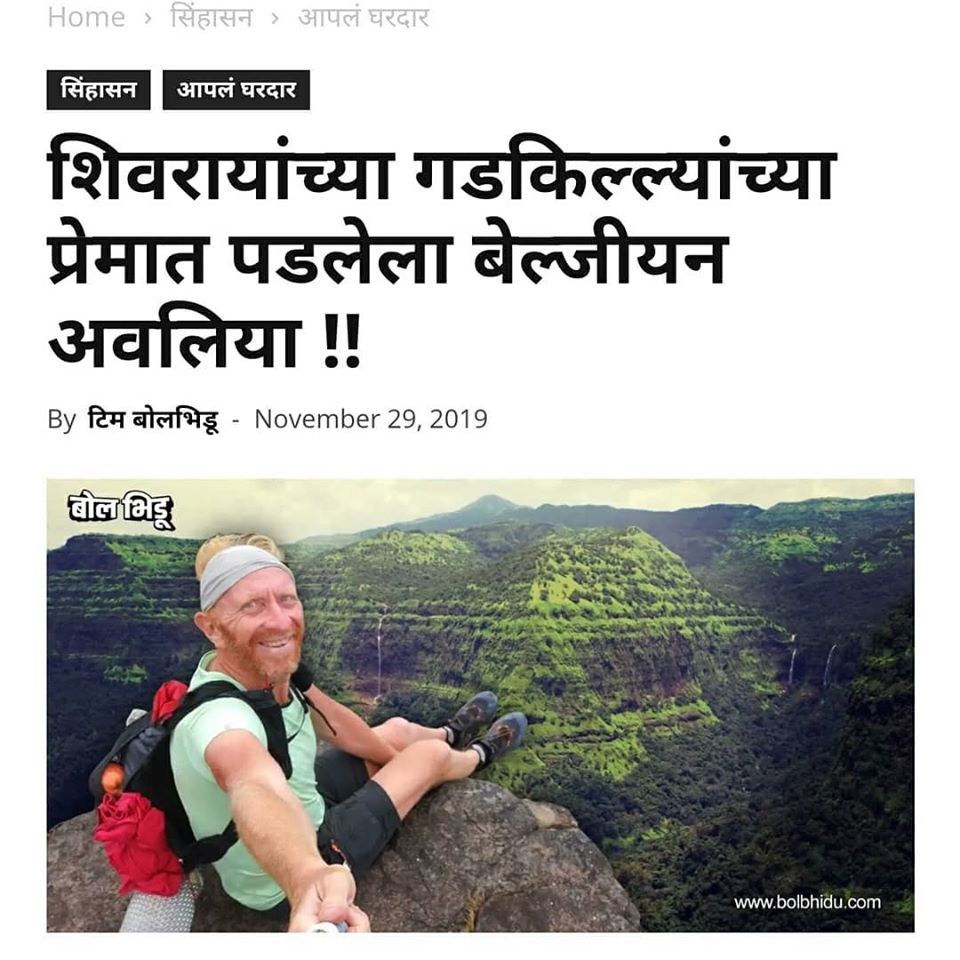 Translation of the article on bolbhidu.com by Dnyaneshwar Gunjal @pahadi_doc
A passionate Belgian trekker who fell in love with Sahyadri and forts of Chhatrapati Shivaji Maharaja
Living on the quote,"Life is too short to wake up at the same place everyday", a 45 years old Cisco company manager left his 'job with handsome salary'. Taking retirement money with him to spend on travel and left his house to 'live' his life !
He wanders solo studying GPS and map of the area. He believes in minimalistic life, thus carries least goods with him.He carries a small waterproof tent for a single person,sleeping mat, sleeping bag,a cap, a Tshirt-shorts, a pair of socks,shoes, a 10000 mAH Power bank and a cell phone (OnePlus7 Pro) for accessing maps and GPS and to click few photos for treasure of memories.
During his 'Trans Sahyadri' project, he is goint to climb 200 forts of Chatrapati Shivaji Maharaja in 2 months. We had a chance to meet him and walk with him on trails of Chaulher Fort located in my Tilwan village. He shared his experiences and gave us some important tips.He likes rural life,culture and food especially 'bajari chi bhakari' (bread made with Bajara') He hates artificial and luxurious life of city. I will say, he has a superpower not to climb but to run on mountains. We were amazed by his speed of climbing. He climbs 3-4 mountains in a day and rides on his bike in the night. He never drinks RO and bottled mineral water but drinks water from natural sources, tanks on the forts only.
After Chaulher trek I took his autographs on book 'Durgbhraman gatha' and 'Ranapati Shivaji Maharaj' written by famous marathi history authors GN Dandekar and Appa Parab respectively. We were so much impressed with his bravery, endurance,gracefulness and grounded nature. He believes its hidden in the soil of Sahyadri and teachings of Chhatrapati Shivaji Maharaha. One who finds it, is happy like me otherwise remains sad and busy in 9-5 job earning monthly salary. I kept him in the place of my 'Guru', If ever you will get a chance to meet Peter Sir,never miss it. I will say, he is a 'Grand Canon' filled with ammunition of inspiration !
He believes, "Die with memories,not dreams !"