Chobia Pass (4950m)
From: Arat, Pangi (2700m)
To: Seri Kao, Chamba (2800m)
Ascend: 2266m
Descend: 2166m
Gradient: moderate
Terrain: meadows, moraines, glacier, landslides
Difficulty: high
Danger: heavily crevassed glacier, landslides
Landslides
Most dangerous sections during the trans Himalayan journey were stream crossings and landslides. The latter involves walking across steep slopes of lose soil and rocks where one wrong step ends you up hundreds of meters below in the valley. Here walking up to the Chobia pass (4966m) from Pangi valley
Moraines
The Himalayan hiker encounters 4 types of terrain while climbing up to high altitude passes: 1. Evergreen forest 2. alpine meadows 3. morraines and 4. glaciers. Morraines, vast landscapes filled with piles of lose rocks, rubble and huge boulders in constant movement as the glacier beneath melts, form one of the more challenging terrains to get across. Join me for a short walk on the morraines below the Chobia glacier (4966m) in the Pangi valley…
Glacier
Join me for a short walk on the glacier beneath the Chobia pass (4966m), toughest out of 30 passes crossed so far. Gateway between Pangi and Chamba valleys for shepherds, 20 out of 500 sheep do not make it alive across this pass.
In trail of gaddi poop
Following the trail of the gaddis while traversing across the large glacier below the Chobia pass
Glacier
Huge glacier beneath the Chobia pass at the Lahaul side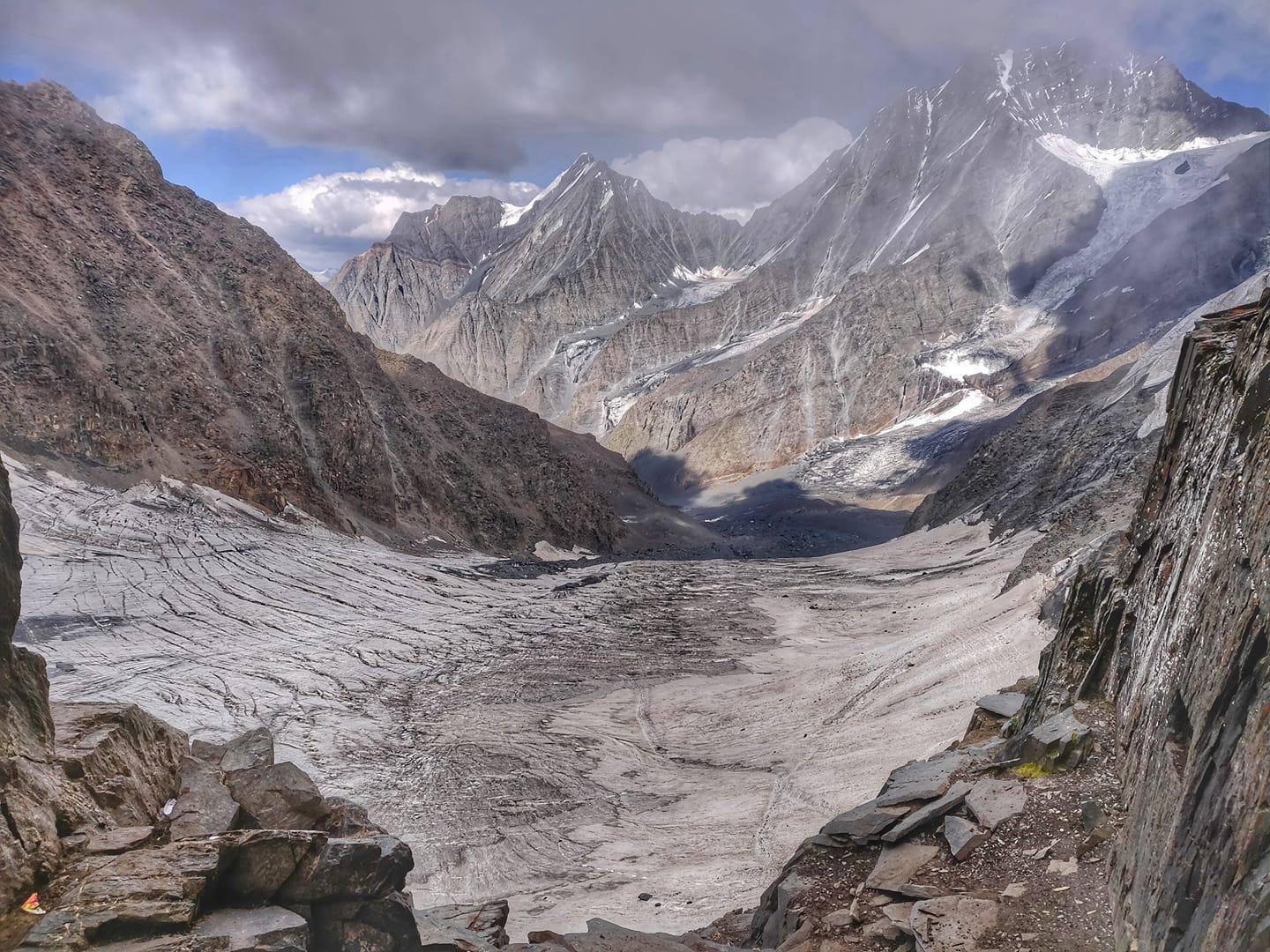 Gateway to Heaven
View on the high ranges of Lahaul from top of the Chobia pass (4966m), shepherd gateway to Chamba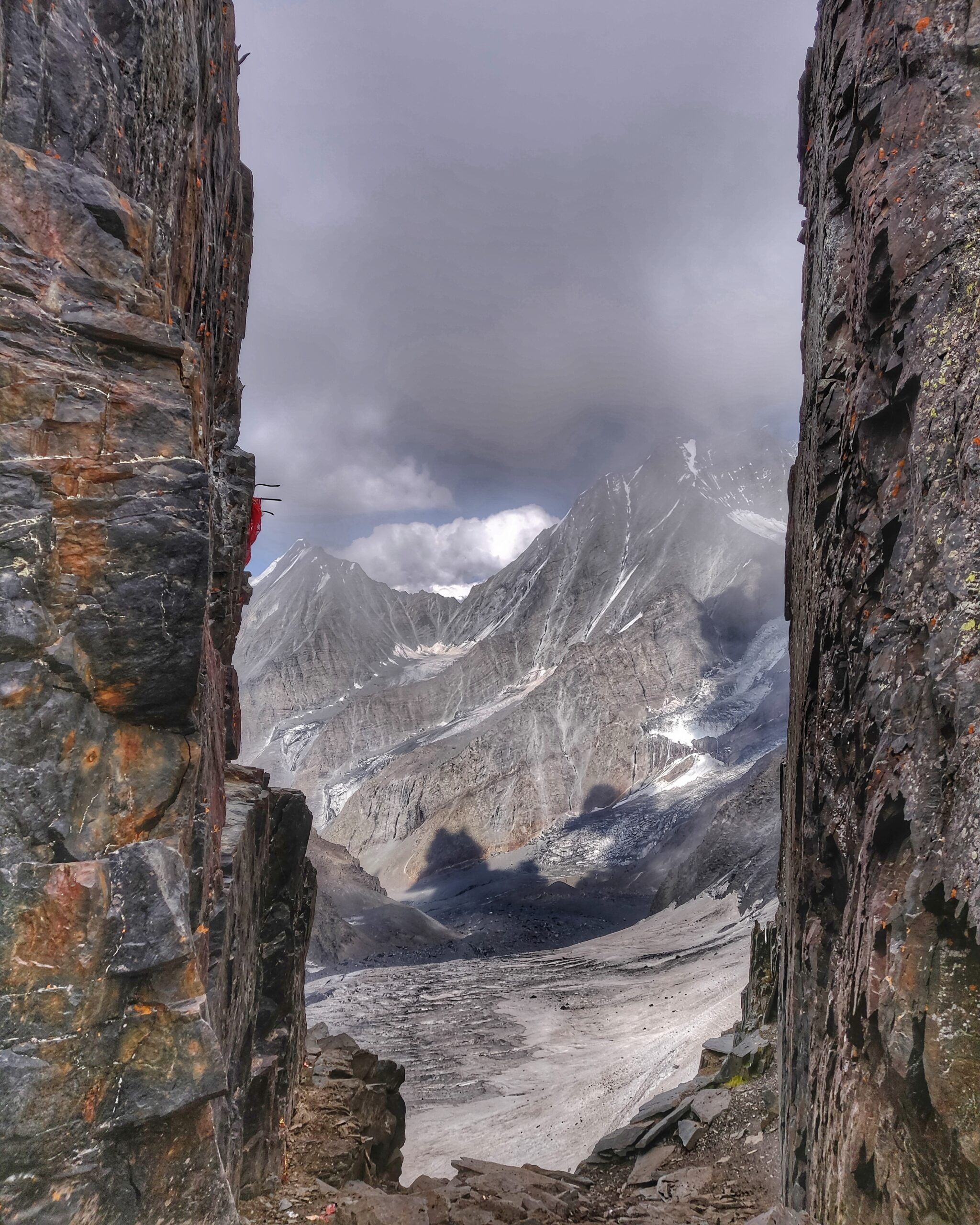 Cold Night
Memorable night braving the cold in the rain beneath a small tarp sheet sleeping at 4100m altitude below the Chobia pass (4966m) after getting stuck in dense fog the previous evening. Ultra runners prefer to minimize weight over comfort
Steep Cliffs
Glacial streams falling down steep cliffs into the green meadows of the valley below the Chobia pass (4966m). Shepherds climb up these cliffs through steep trails to graze the high altitude meadows of Pangi each year.
Off Trail Masters
Shepherds walking off trail along steep valley slopes on one side of the stream after flash floods destroyed all bridges across the stream below theChobia pass. First person is 72 years old and walks faster then a mountain goat on these slopes.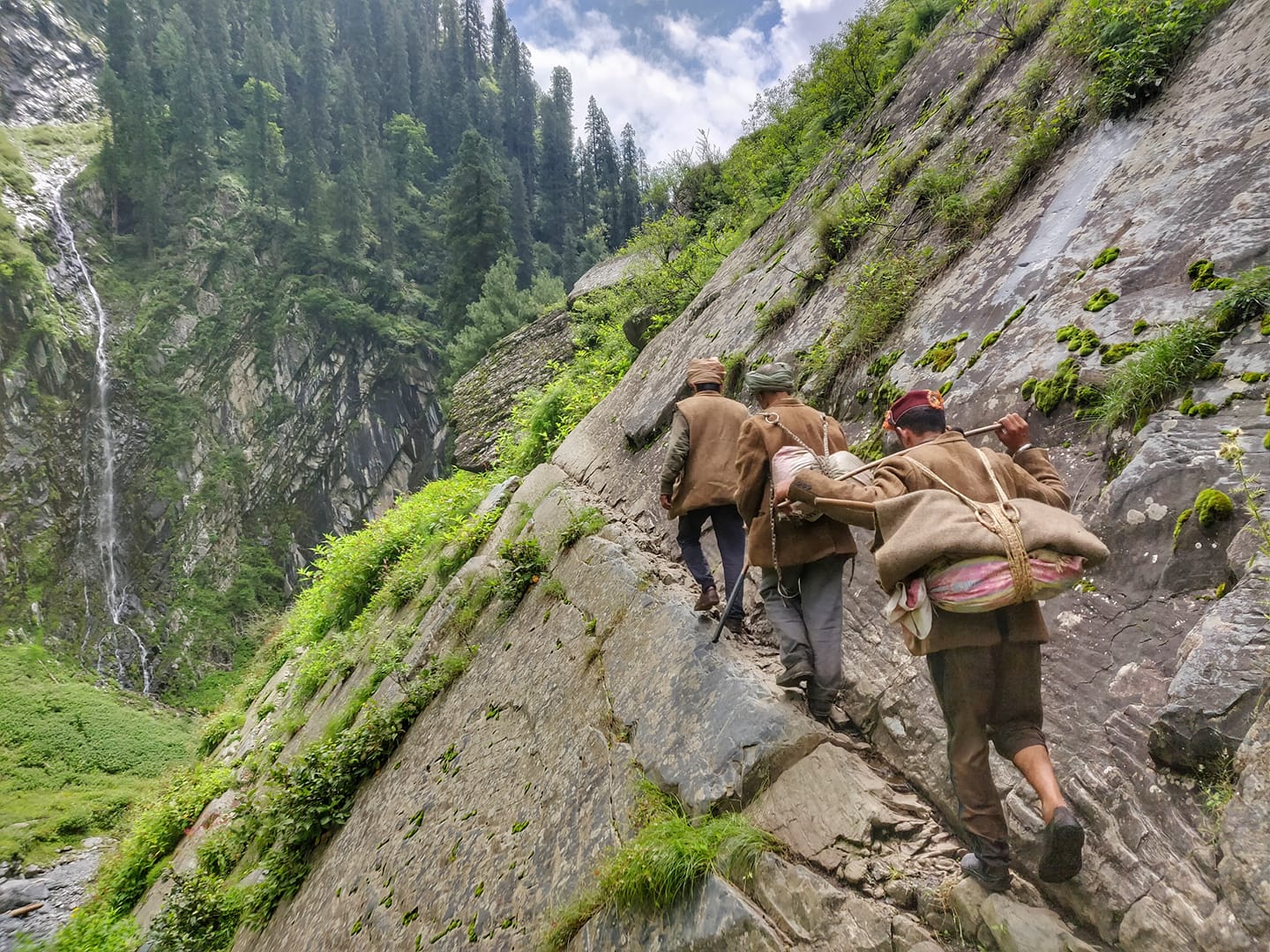 Wild Streams
Shepherds crossing a wild water stream using a self made improvised bridge made of trees and rocks after flash floods washed away a proper bridge in the Chobia valley in Chamba.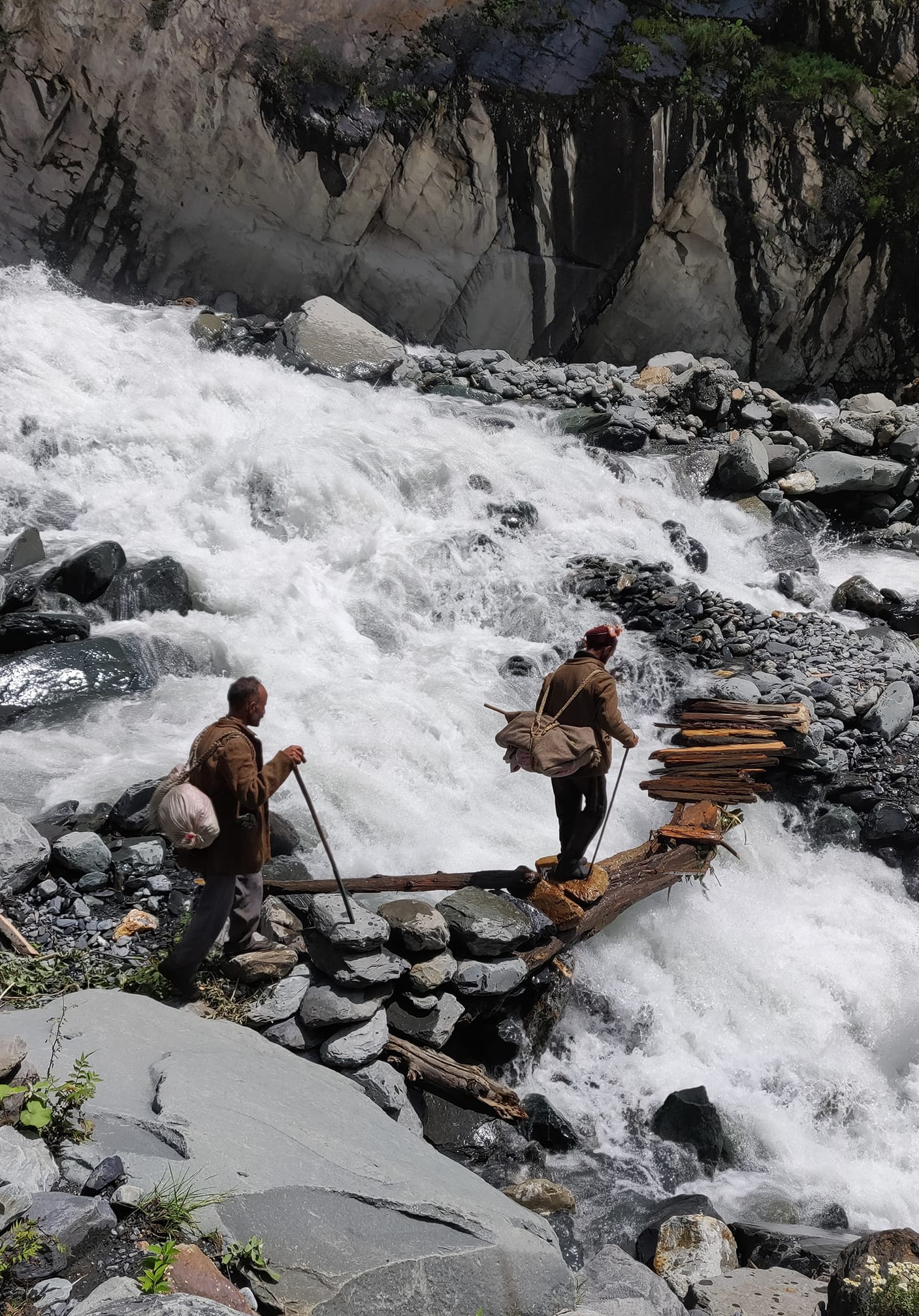 Inspiration
My 72 year young inspiration! This kind hearted guide from Chobia village safely guided myself and few other shepherds through the valley below theChobia pass (4966m) after all bridges were washed away in flash floods. Faster than a mountain goat he walks on steep trailless slopes of the valley and welcomed to stay and eat at his home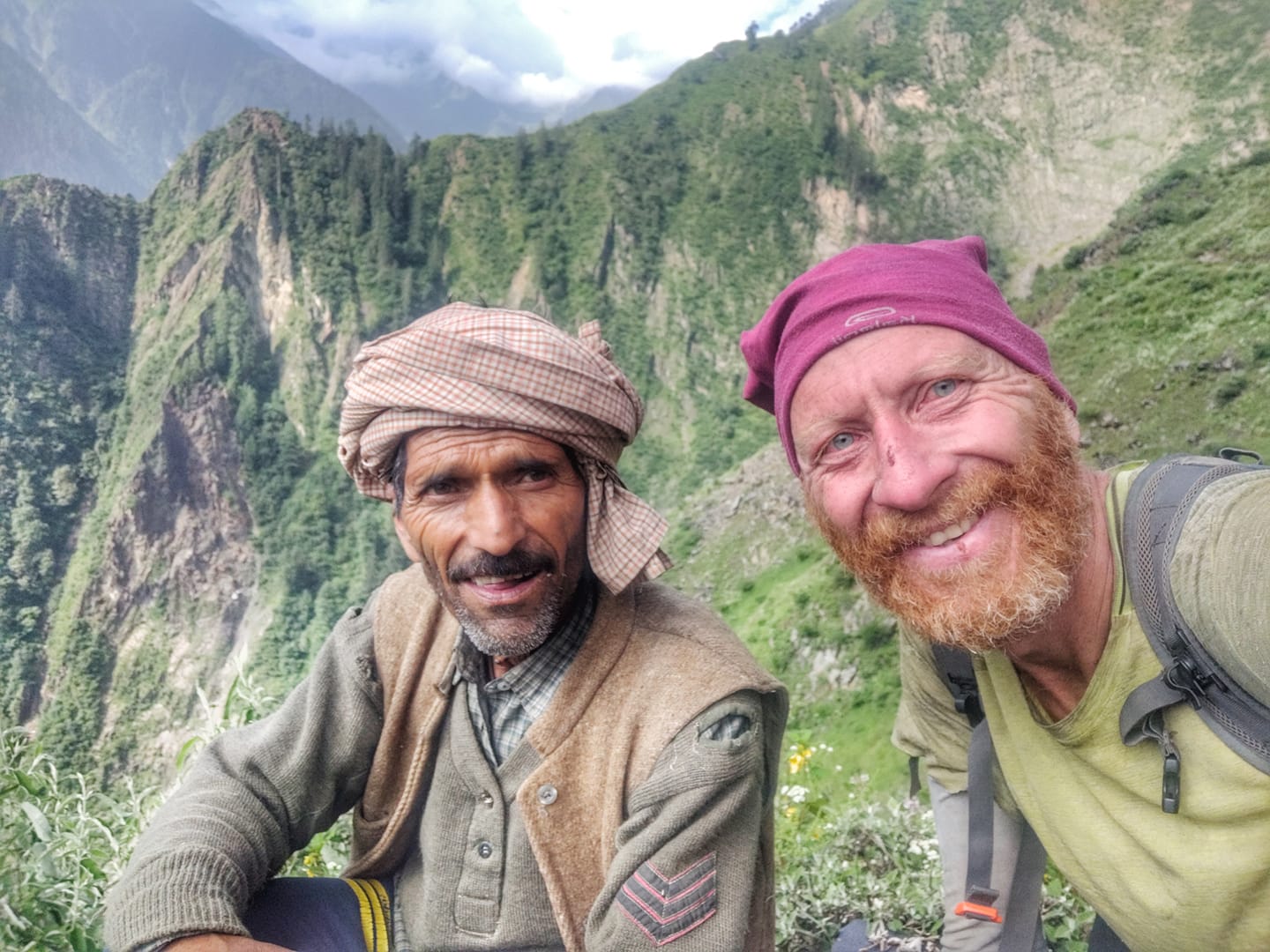 Earth 3D View
Cross the Chenab river from Arat village in Pangi and after the bridge take a left to a small settlement of houses from where the trail starts along the right side of the valley. At several places the valley slope is eroded by landslides and one needs to walk carefully not to slip down.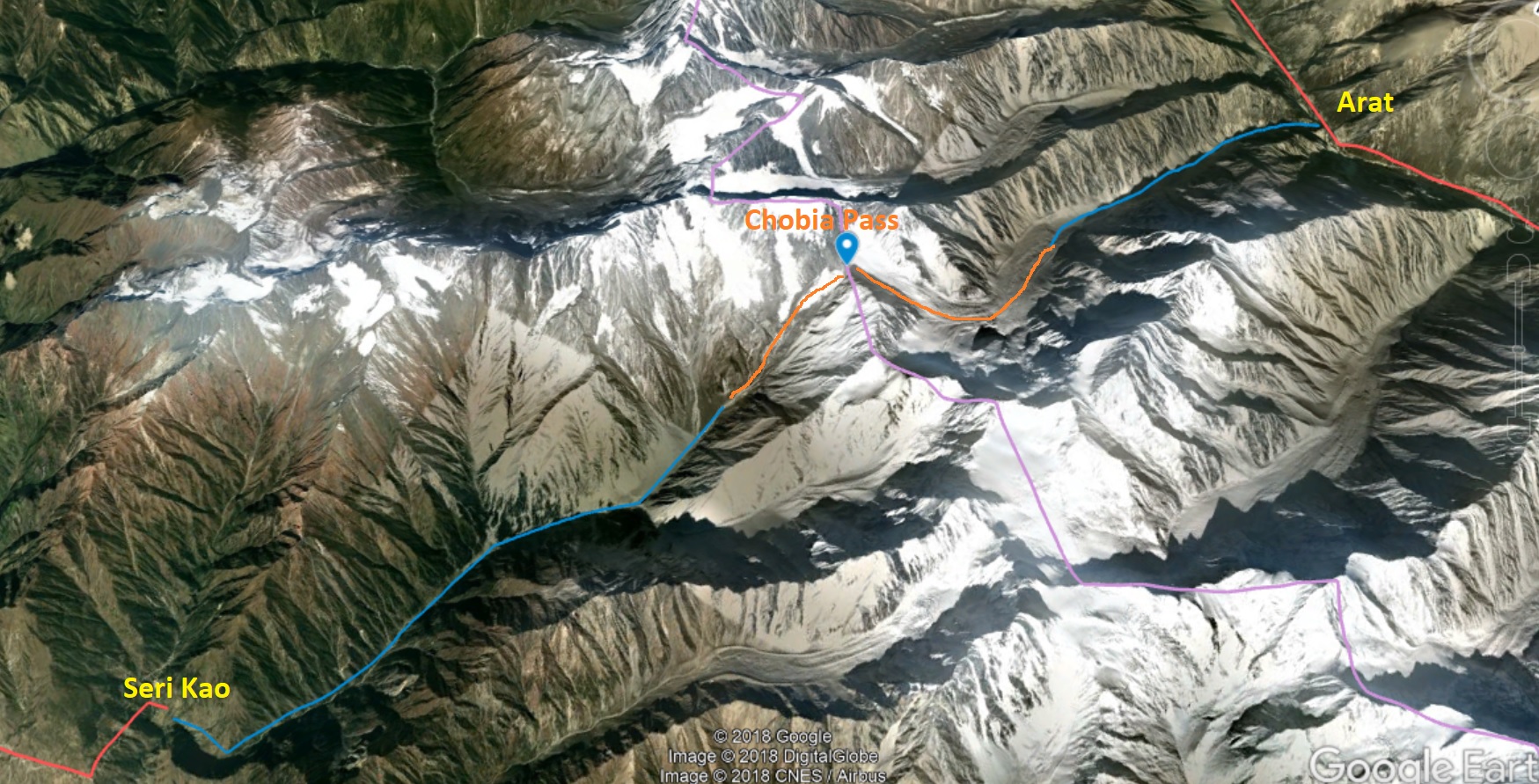 Topo Map
At about 50% of the valley one hits the tip of the glacier and needs to traverse to a huge moraine landscape. At some places there is a trail on the right side
After the valley turns right one steps onto a heavily crevasse-d glacier following sheep poop till the base of the pass where you finally climb up steeply.
The descend is easier following a clear trail on a snow covered glacier. Once across the trail drops down steeply along a narrow ridge till you reach the alpine meadows where the valley becomes gradual.
The final section is a clear path that proceeds right and left across the stream using improvised bridges till yo u hit the small hamlet of Seri Kao where you hop onto the bus to Barmour