Introduction
Yuvaraj who completed my Online Alpine Bootcamp was requesting for a nice 10 day circuit near Manali for the month of September. We looked at various possibilities and came up with a unique loop around the 3 National Parks (Pin, Khirganga and GHNP) through 4 districts (Kullu, Shimla, Kinnaur, Spiti) and 6 major valleys (Parvati, Jiwa Nala, Sainj, Tirthan, Sutlej, Pin):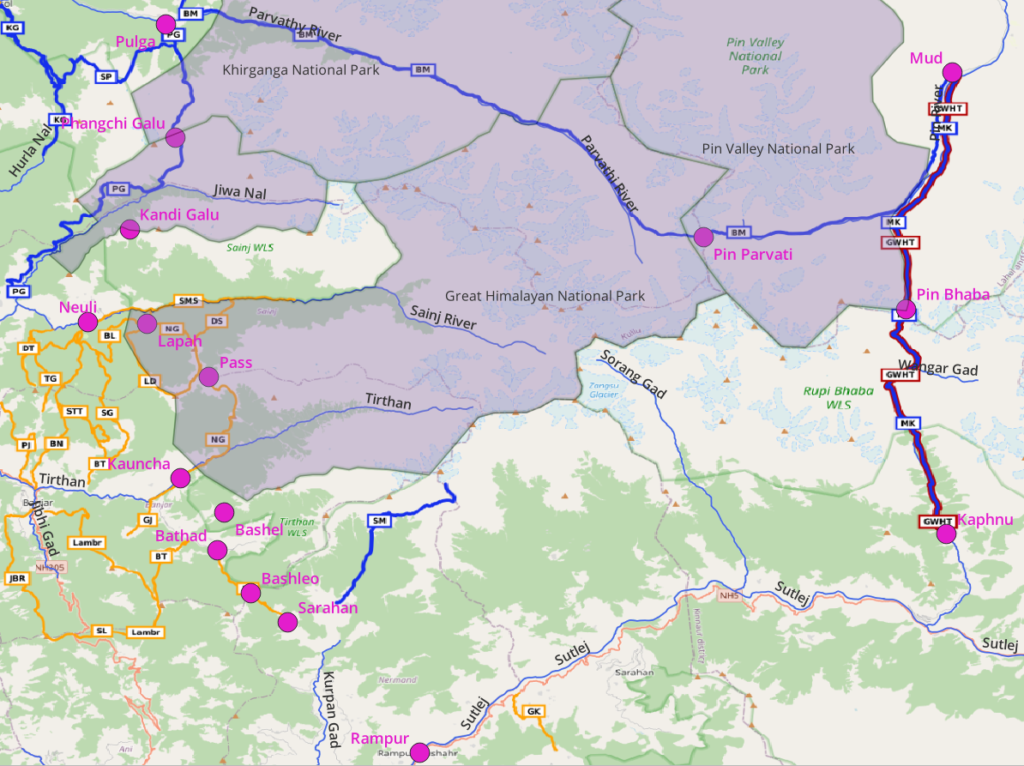 Villages (food points) are mentioned in between the passes allowing him to optimize food carried and go ultra light.
Kullu – Parvati Valley – Pulga (food) – Phangchi Galu – GHNP – Jiwa Nala – Kandi Galu – Neuli (food) – Lapah – Tirthan/Sainj Pass – Kauncha – Basshel Pass – Batnad (food) – Bashleo – Shimla – Sarahan (food) – Rampur (food) – Kinnaur – Kaphnu (food) – Pin Baba – Mud (food) – Spiti Pin Parvati – Kullu – Kheerganga (out of season) – Pulga (food)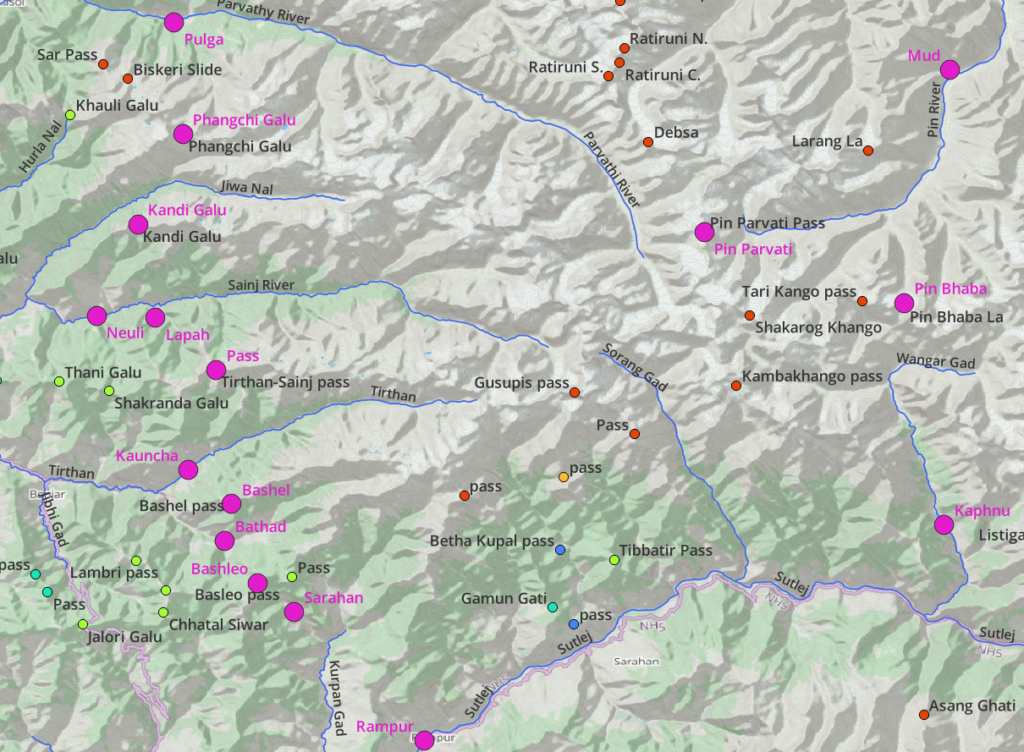 Yuvaraj came up with below day-wise breakup:
Day 1 – Phulgato Thakur kuan(23kms,3000m ups and 1777m down, EV gain 1250m)
Day 2 – Thakur kuan to mantalai lake(19km, 1000m ups, 300m down, EV gain 700m)
Day 3 – Mantalai to Pin parvati pass to spiti campsite.(22km, 1400+ uph, 1600+ dwh)
Day 4 – Spiti campsite to Pin bhaba base(karag)(24kms approx)
Day 5 – Reserved day(if can't cross the pass)
Day 6 – Putling to Kafnu and travel to Rampur(sarahan)
Day 7 – Sarahan to Basleo pass to Bathad
Day 8 – Bathad to Basel pass to kauncha
Day 9 – Kauncha to other side of Trithan pass
Day 10- Trithan-sainj to dhel to neuli
Day 11 – Neuli to kandi galu
Day 12 – Kandi galu to Panchu galu base(shepherd camp)
Day 13 – Panchu galu to phulga
Actual Plan
Due to unfavorable weather conditions Yuvaraj could not complete / start the above traverse. Bad weather prevented the initial attempt of Pangchi Galu. A second attempt to cross over from Neuli / Sainj to Tirthan again got preempted by bad weather.
He will attempt the same circuit again in Sep 2023