Introduction
Gentaro Tsuzuki (Japan). Basically I"ll be attempting a traverse from Kasol to Leh starting early next month and hopefully finishing by the 31st. The route I'm planning is as follows: Kasol > Pin Parvati pass > Kaza (resupply) > Parang La > Karzok (resupply) > Gama la > Pang (resupply) > Yabuk Yogma (via Zara Chu) > Yar la > Zalung Karpo la > Markha valley (resupply) > Kanda la > Leh.
What I'm still trying to figure out is food logistics. I'm basically a ultralighter like yourself (though maybe not to your standards!) and I'm trying to minimize food weight. A question would be what kind of lightweight non-perishable food can I expect to find in Kaza, Karzok and Pang other than the usual Maggi and biscuits / bars? And are there any other guaranteed resupply points than the above three until I hit the Markha valley? Another question would be what kind temps could I experience going over Pin Pavarti pass / base camp at night (Mid August)? I realize trying to forecast mountain weather is a fools errand but on average? My sleep setup is good to about -5c.
Planning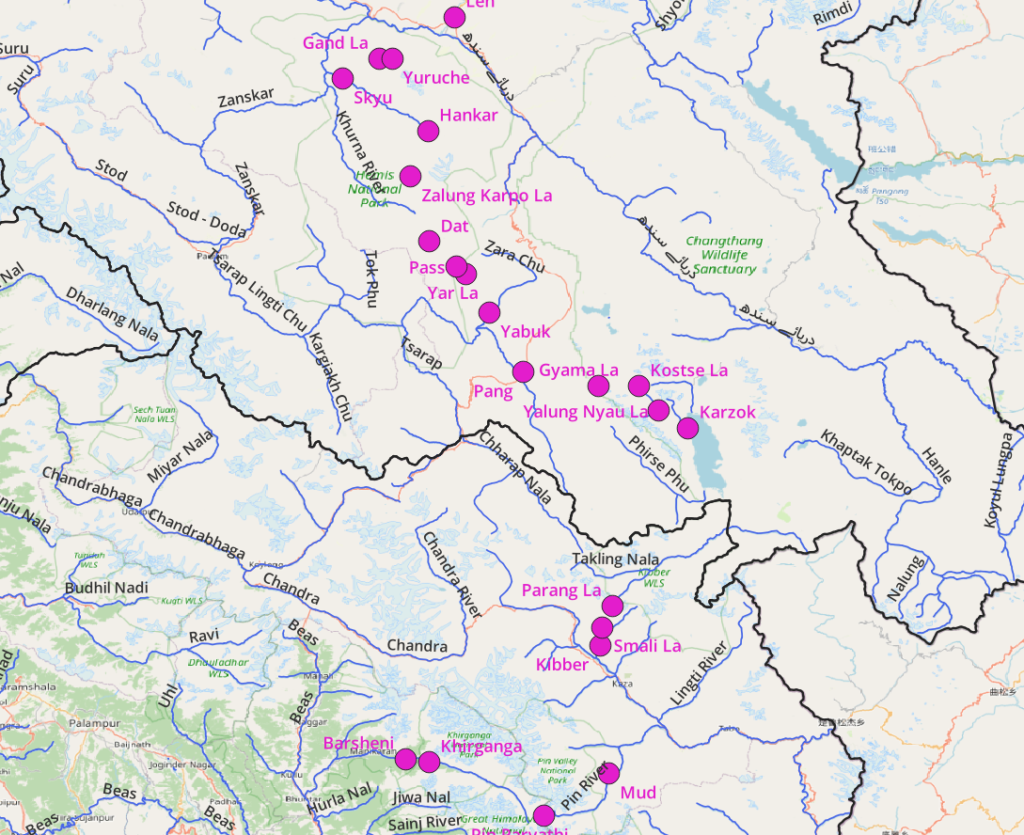 That's a beautiful traverse you suggest below. Most of it is mapped in Open Street Maps. Glad to hear you are an ultra lightweight hiker. There are few of us around. Going light is so much more efficient – we reach our destination sooner and therefore have to carry less food / water which is usually heavy.
With respect to food: I usually pack up freshly cooked food (aloo paratha, chapattis, mommo's…) in dhabas which easily stays good for 2 days in the Himalayan climate (pack it nicely away from sunlight / wetness). Only on day 3 and beyond I start cooking (maggie, white oats…). You can use dry horse / yak dung and a little camphor or kerosene to lighten up a cooking fire.
Be careful with Parvathi in August – the monsoon is raging in the lower Himalayas and there have been serious floods recently including Paravthi. Check the weather forecast before you head out. Skip the Parvathi valley if the weather is not fine. Once you are in Spiti/Lahaul/Ladakh you are safe behind the Great Himalayan Range.
August is summer in the Himalayas so temperatures are comfortable. You can camp at 4100m before hitting Pin Parvathi 5300m. During the daytime if the weather is clear temperatures will be comfortable even at higher altitudes. I did some 50 passes in Ladakh in 2019 with a 0C sleeping bag and simply bivy.
Food points along your route where you can pack up fresh food in habas: Barshaini -> (Kheerganga hot spring is more costly) -> Pin Parvathi -> Mud village -> bus to Kaza or you could do the Dhankar to Tashigang traverse -> Kibber -> Parang La -> Karzok -> Gama La -> Pang -> Yabuk Yogma -> Yar La -> (Dat village no food here) -> Zalung Karpo La -> Hankar (first food point in Marka) -> Markha valley -> Skiu –> Ganda La -> Rumbak -> Leh. I usually eat two meals per day (say 2×2 aloo parathas) and carry peanuts / chocolates … for in-between snacks.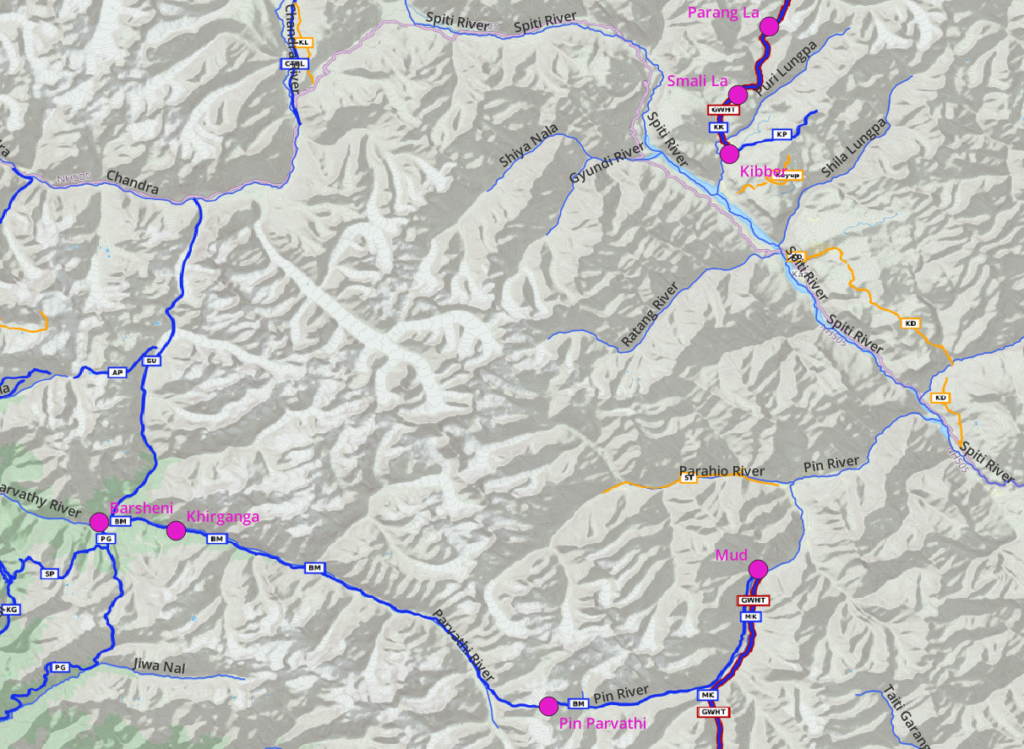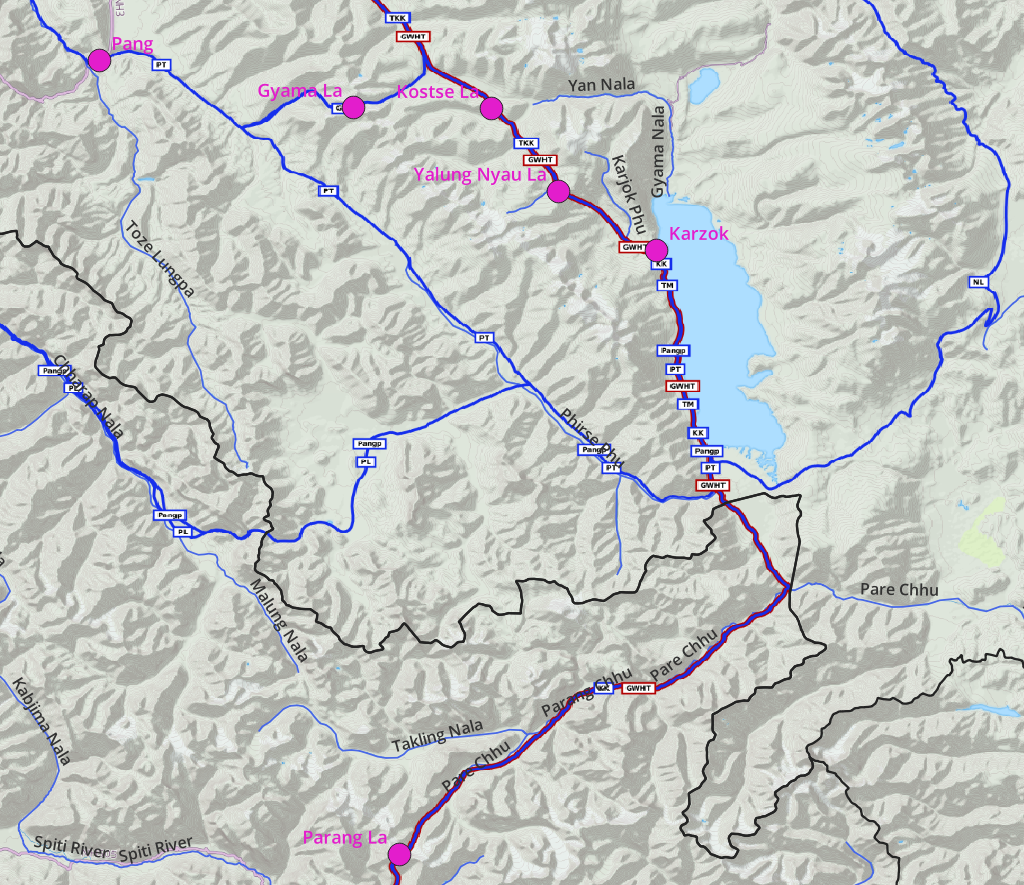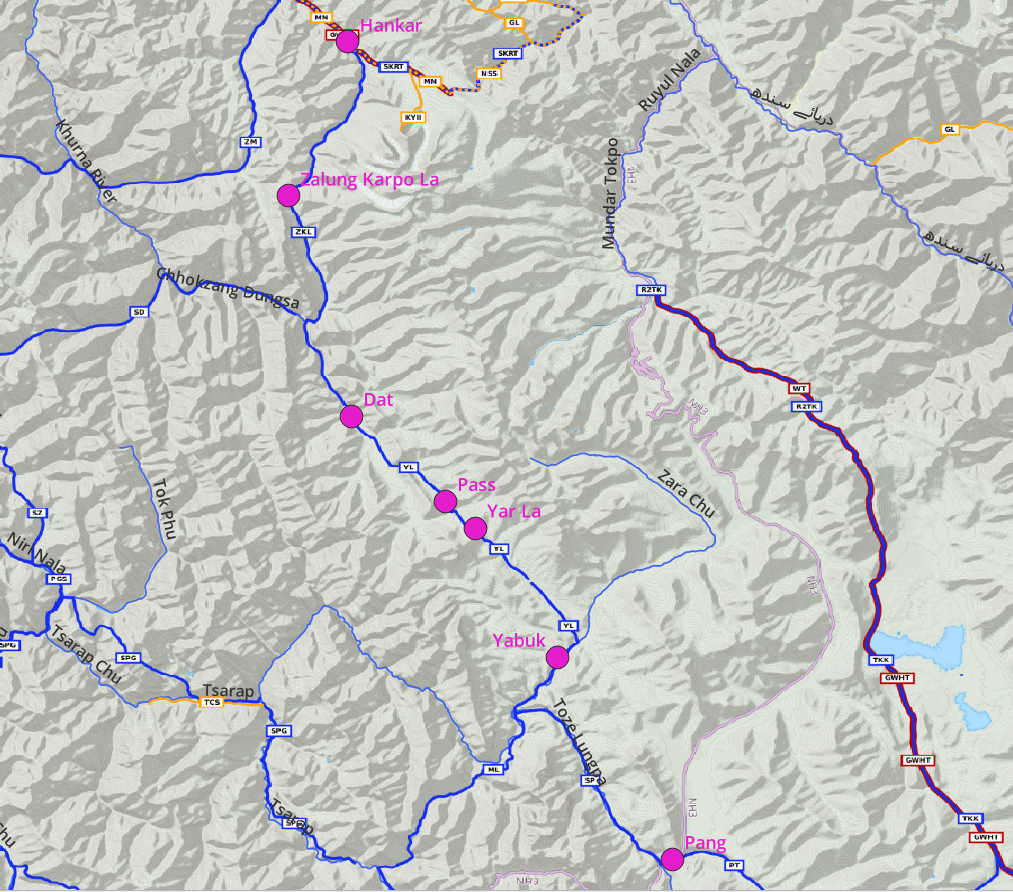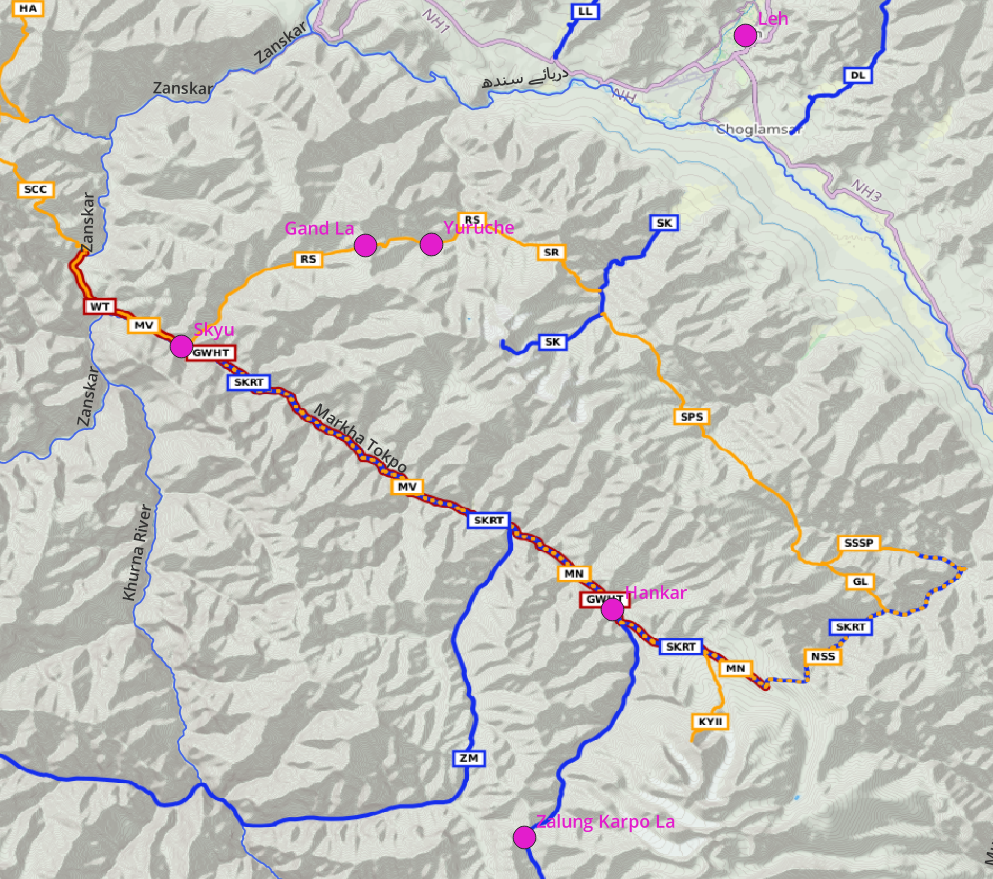 I ve traversed most of the passes and food was never an issue. As an ultra light hiker and in the gradual landscape of Ladakh you can easily do 20-30km per day, some days even 40km so you can usually reach your next supply point within 2 days, aside a few exceptions where oats / maggie and a lightweight aluminum vessel is a good option for day 3 and beyond.
I personally use OSMAnd as my main planning/navigation mobile app. It supports downloadable OSM base-maps + contours + I overlay offline Survey of India maps (states HP and LD). I switch my phone in flight mode and carry a 10K mhA power-bank which gets me 5-6 days of power till the next village where I recharge.
Might be good to get a JIO SIM which has good network coverage (Kaza, Pang, …) to stay connected.
Actual Plan
Due to the ongoing monsoon condition in the lower Himalayas (Kullu region) we decided to do the above traverse in reverse, starting from Leh and ending up in Paravathi hoping that the rains / floods would subside by end of August
Gand La – 32km / 2000m+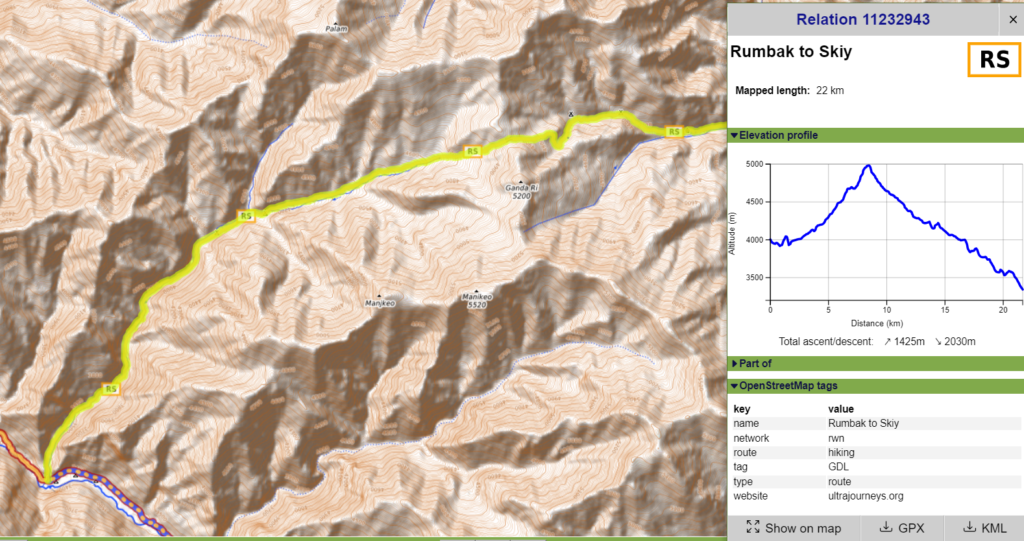 Markha valley – 20km / 1500m+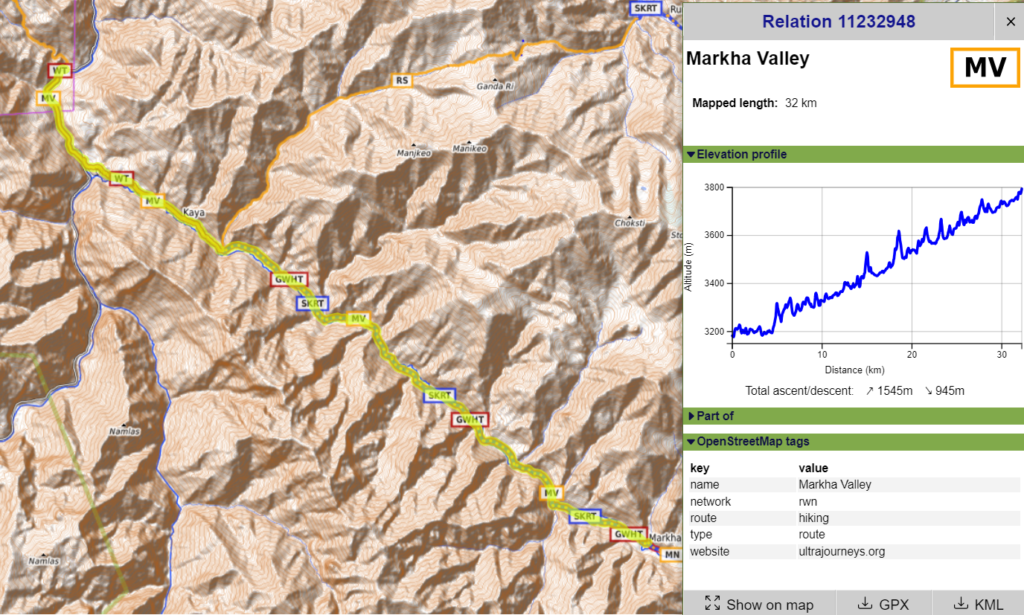 Zalung Karpo La – 43km / 1350m+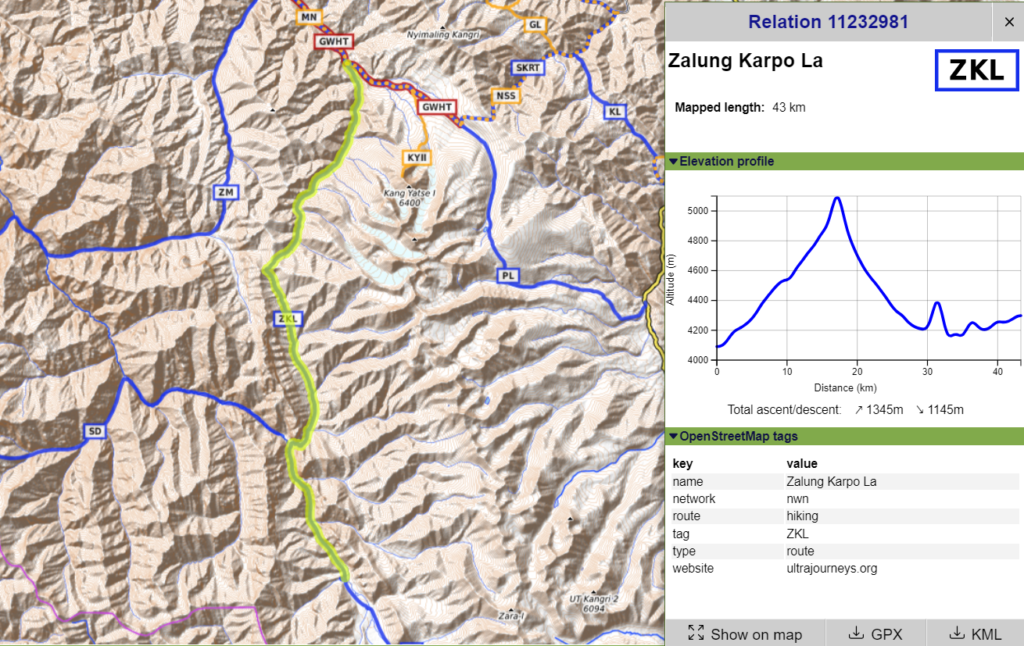 Yar La – 30km / 850m+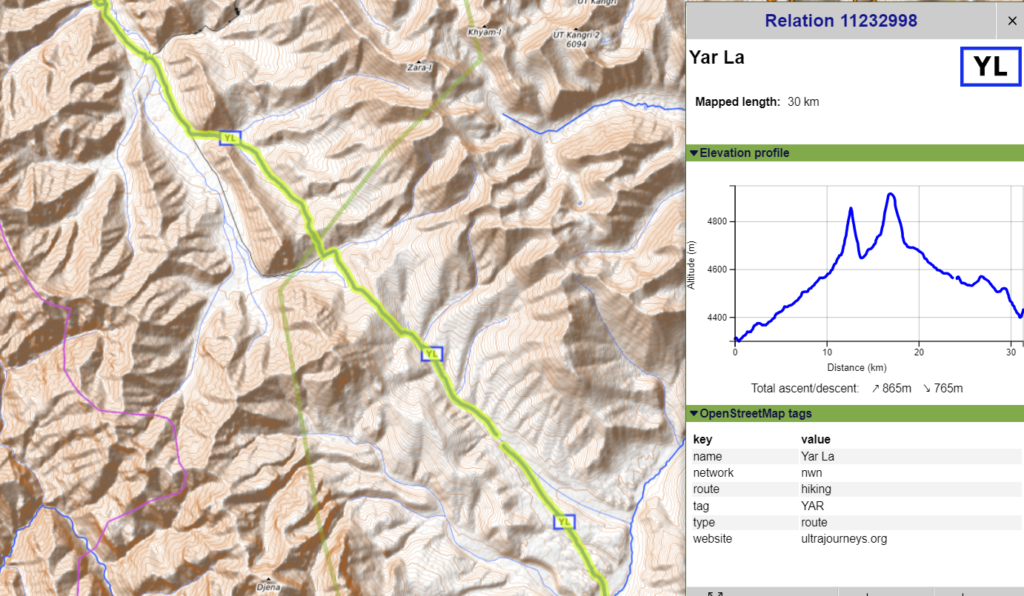 Toze Chu – 20km / 300m+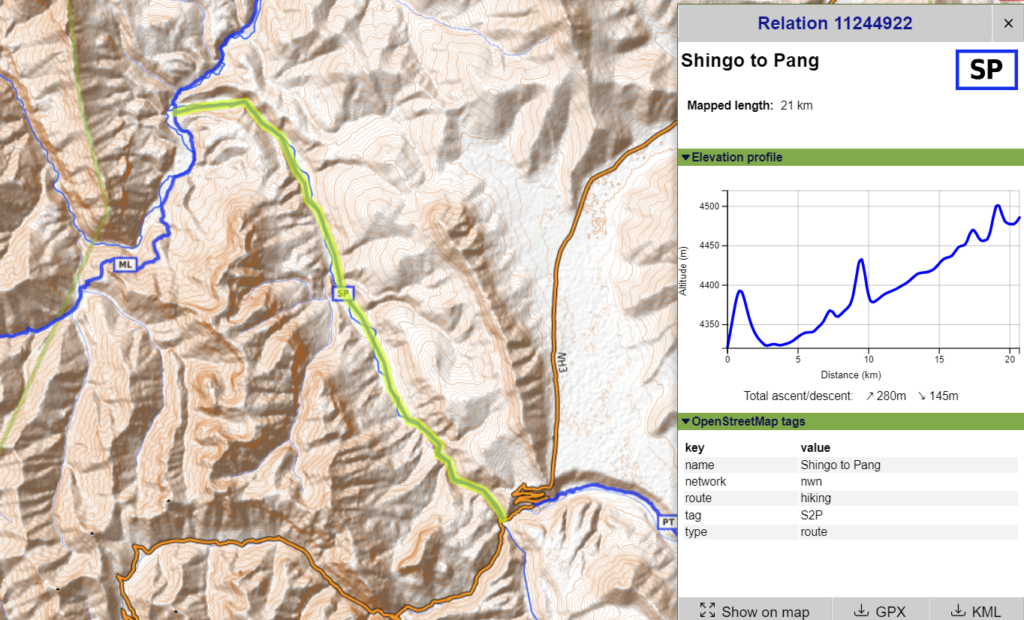 Gyama La – 30km / 1500m+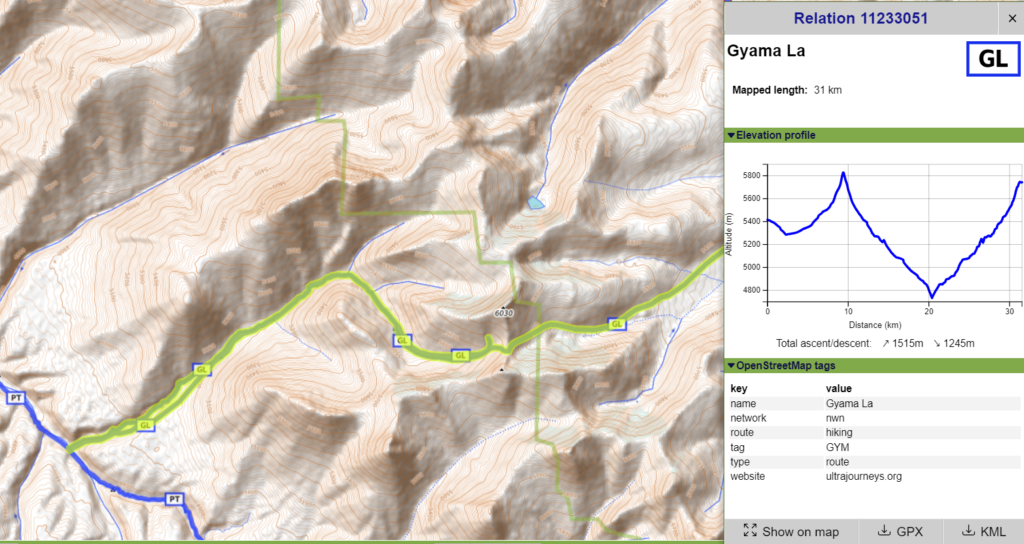 Tso Kar to Karzok – 40km / 1000m+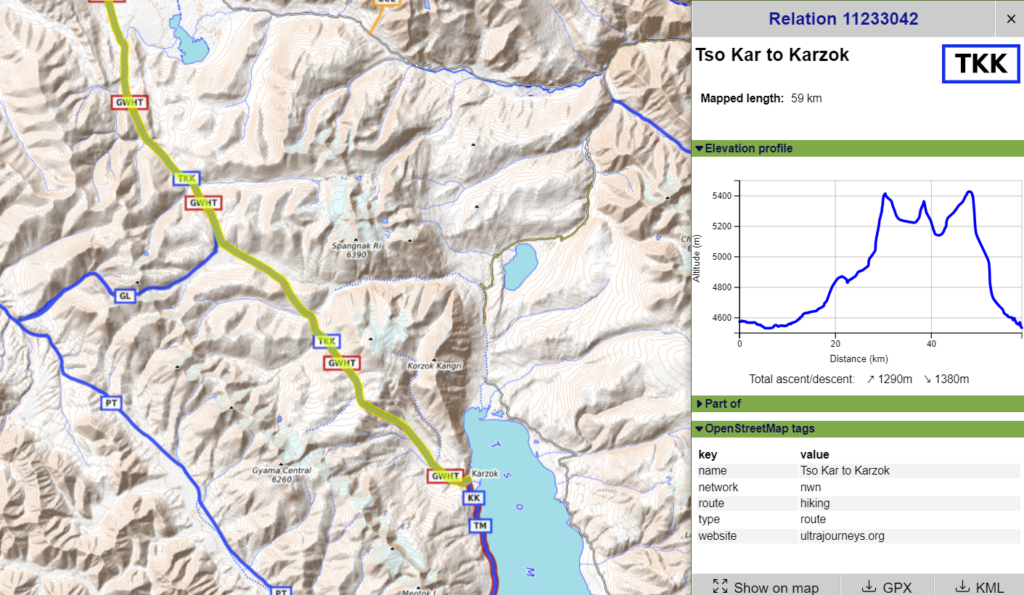 Karzok to Kibber – 100km / 2700m+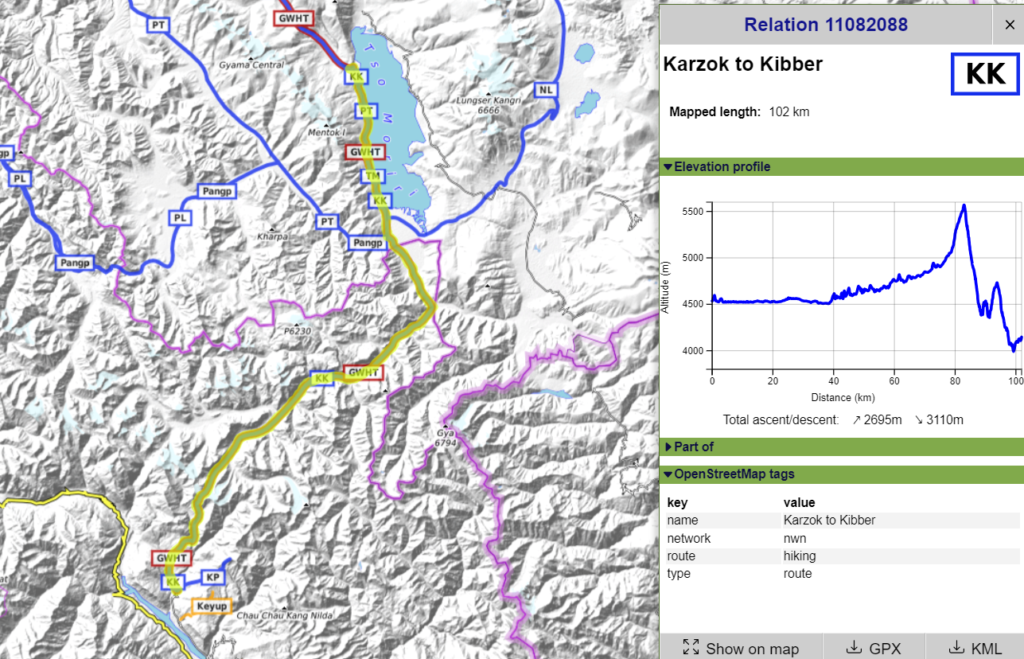 Pin Parvathi – 80km / 3500m+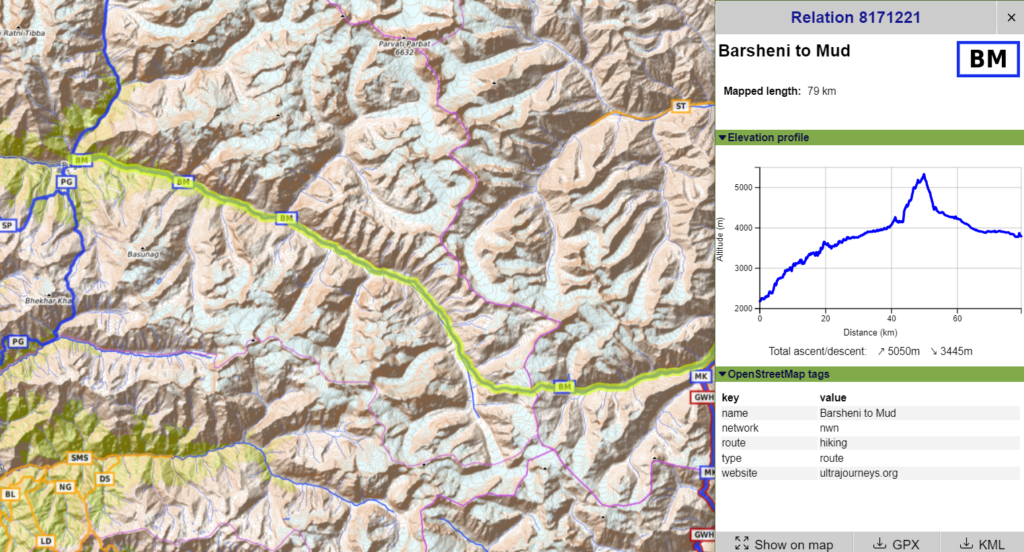 [Gentaro] Peter thanks for all the effort you put into the last email. A ton of great info from someone who's actually done the route. Food for thought. (No pun intended). Yes I'm expecting rain in the Parvathi valley but hopefully it's manageable. From what I've read most groups do the Pin Pavarti in around 10 day. But from what I gather from your blog, you did it in 3. Is that right? We're you acclimatized before you started? I know it's a popular trek but does it live up to the hype? Is it just another Chadar? And no I don't maintain a blog. Bit of a Luddite I'm afraid
[Peter] 10 days is overkill I would say. I did it in 3 days. Total distance is 80K and initial Parvathi valley stretch + final jeep track stretch to Mud are pretty easy / flat so can be covered quite zippy. Maximum 4 days I would say. 10 days are probably commercial / organized group hikes which usually cover small distances each day so they can charge their customers on a per day basis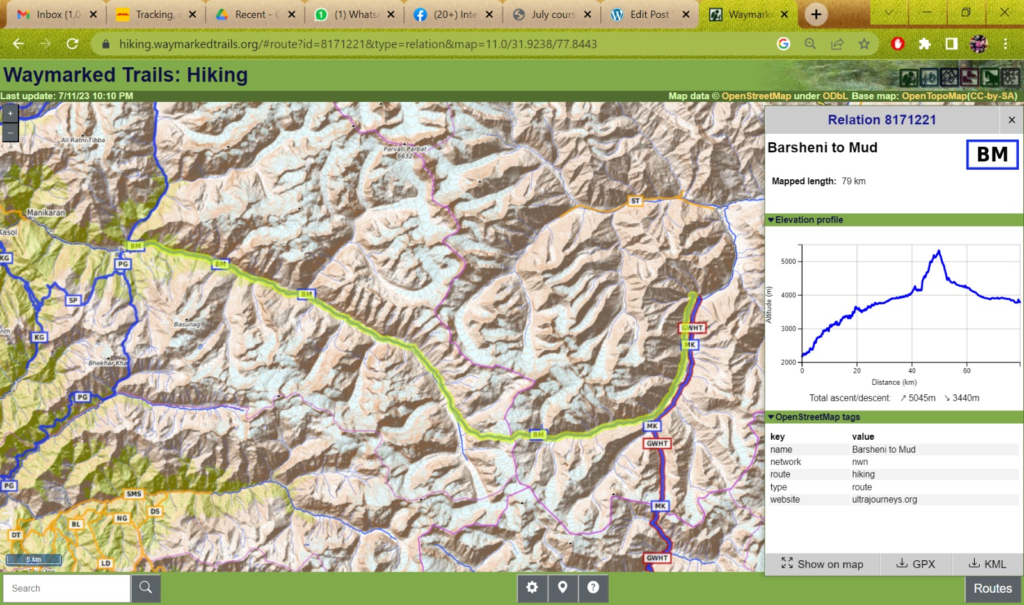 I did it as part of my 2018 trans Himachal traverse across 43 passes so I was pretty much acclimatized yes. Even if this is your first pass you can sleep once at 3000m (Pulga/Kasol), 3500m Kheerganga hot spring, 4000m base, climb over pass and camp again at 4000m at the other side. Mantalai lake – Pin Parvathi – Base on other side is just 15km with 1200m elevation gain should can be easily done in a day
Pin Parvathi is popular as it takes you from lush green Kullu to alpine desert of Spiti – it's like a gateway between two different worlds. I do not think the commercial groups go there anymore due to some fatalities (improper acclimatization, few crevasses on glacier…) No worries – you will see little crowd over there. It's NOT another Chadar
The route is pretty nice – although it's a pretty long / monotonous walk through the Parvathi valley to Mantalai and another long monotonous walk along a barren jeep track to Mud. 90% of the Himalayan passes I do are done in a 1 day where I see much more variety within a single day climbing up from valley to pass and descend back to next valley
Waymarked hiking trails is a nice web site on top of OSM which shows the entire hiking network allowing one to plan a continuous traverse. For each route it shows details including distance and elevation profile. So you can estimate how many days it ll take for a given pass based on your usual daily average milage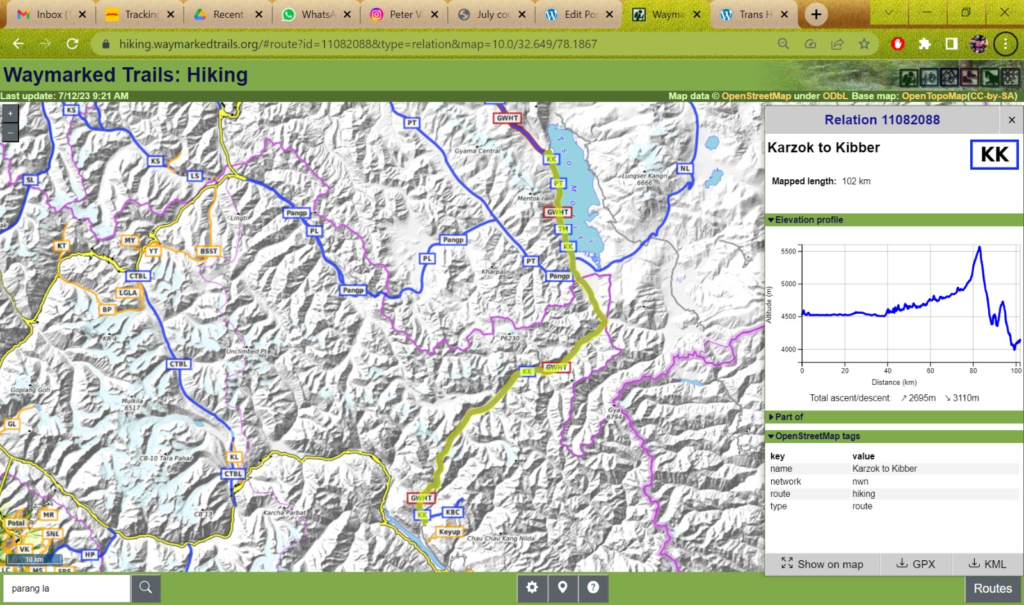 Parang La (102km), Pin Parvathi (80km), Pang to Markha (100km) are longer ones which might take 4-5 days so on these you ll have to carry more food and can possibly cook something
Do check the weather forecast before you head out to Manali / Parvathi first week of August. Monsoon will still be active in the foothills so Pin Parvathi could be tricky
[Gentaro] aw some of the washed out sections of highway along the Beas River. Starting to wonder if it"ll be fixed in time. Maybe drive to Kaza then start from there. But the SNOW! Wonder how much accumulated on Parang la?
[Peter] Snow depth on Parang La looks ok (left). Most snow is caught by the pin high ranges West. Spiti has less. Pin Parvati (right) has lots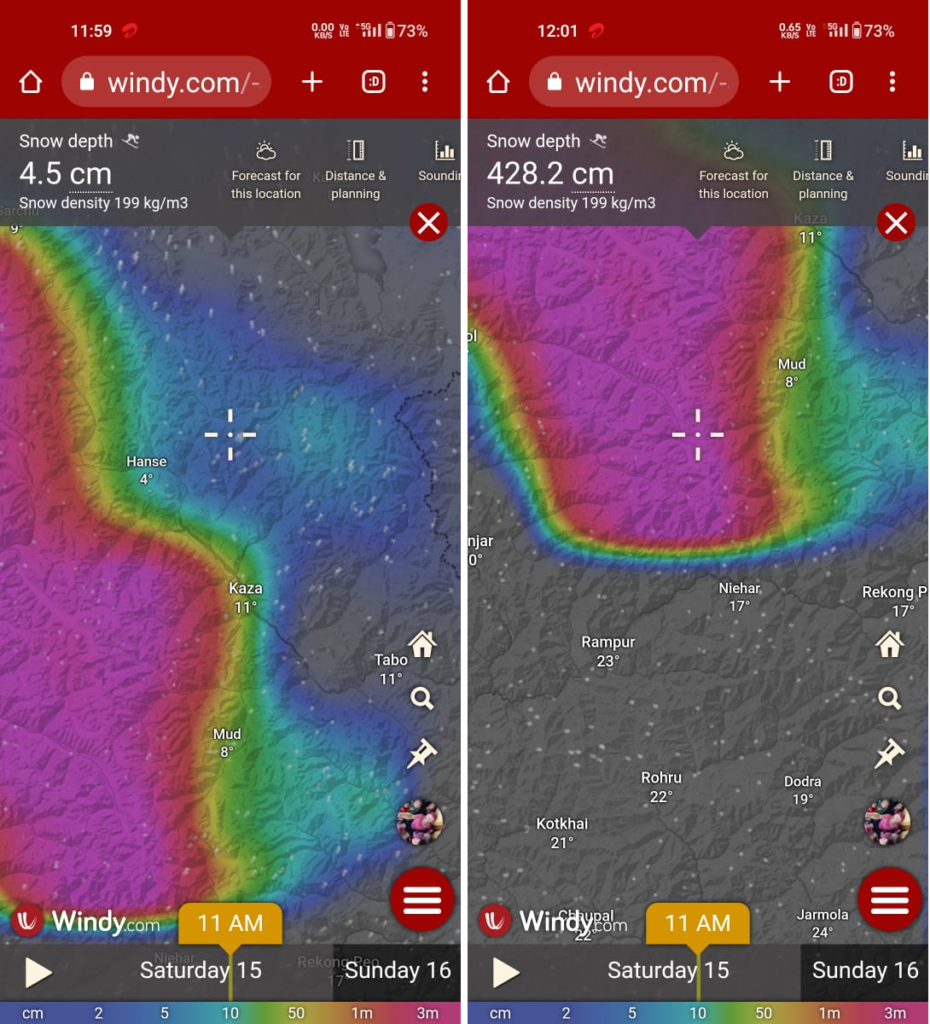 Updates
[19 Aug 2023]
Hey Peter. Hope things are well with you. Greetings from Kaza. Arrived in Kibber yesterday and am having a R&W (resupply & wash) day in Kaza then off to Mudh and the Pin Pavarthi. All local reports say it's doable just wet on the Parvathi side. Amazing journey so far and looking forward to the final transition to the lush Parvathi valley. No serious issues only some fresh snow on Parang La which slowed me down a day.
As a side note, I'm sure you've heard about Davide Macella (R.I.P) the Italian trekker who lost his life near Chachar la a few weeks ago. While I was in upper Hankar I ran into the UTDRF S&R team which was looking for him. We trekked together until Zarlung Karpo la at which time they descended down toward Ruburang. While in their company they mentioned that the local government had issued a ban on all independent (solo?) trekkers. Now I don't know the details or if this is the final word but certainly a cause for concern for independent trekking in the area….
[26 Aug 2023]
Peter hope this finds you well. I finally made it to Kasol. The weather in the Parvathi valley wasn't all that cooperative. Fog over the pass made seeing anything beyond 50 meters impossible. Basically did it blind with the help of GPS. The rains have damaged multiple sections from Tunda Buji down. All still crossable but one section (Petragard [sic]?) was too treacherous alone. Had to turn back. But did get to spend a night with some Shepards who the next day helped me across (the kindness of strangers never ceases to amaze me in this part of the world!) The weather thankfully cleared up as I neared Keerganga. What a sight! The waterfalls in their full glory and the lush greenery. Wow! Have to visit again sometime. All in all a wonderful 20 day journey through some truly sublime parts of northern India. I"ll send a batch of photos when I have time. Right now trying to find a ATM that actually works!
Photo Album