After a good night rest on a rooftop at Brahmkhal village I got down to have some tea and my favourite cream rolls. After trying in vain to hitch a ride in passing by share taxis, I finally got into the 7:30am public bus on the way to Barkot. A medium sized bus navigating a single lane ghat road with lots of opposite Yatra taxis and busses is quite an experience.The government is building a tunnel and 2 lane road to ease the pilgrim traffic between Yamunotri and Uttarkashi. I finally got down at the junction towards Rajgarhi and started walking. No luck in hitching a ride. Climbed up a direct path short cutting the hair pin road and reached around 11am.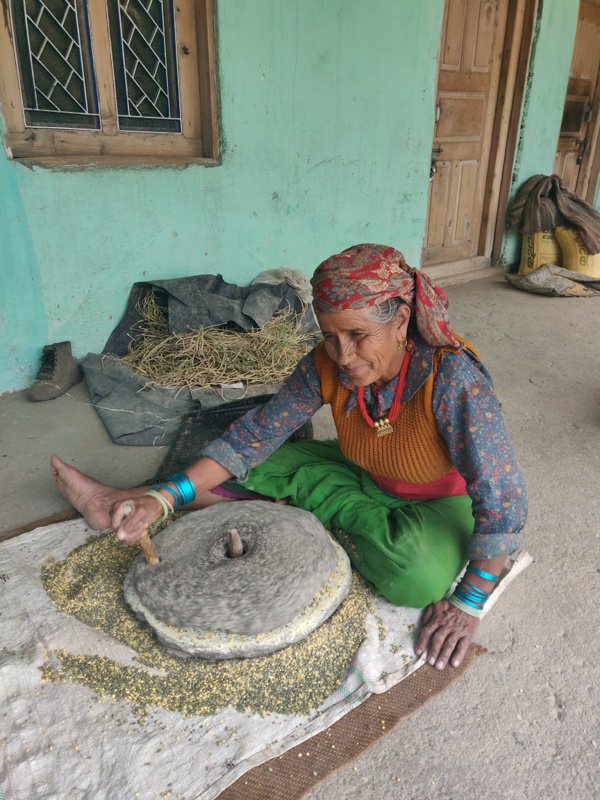 With the stomach making itself heard I got into the first dhaba and ate 2 Maggie's and 2 andha's, my favourite combo. Recharged I continued my hike from Rajgarhi 1800m across the ridge and started a 5km descend towards Phari village at 1500m. There is a beautiful wooden temple.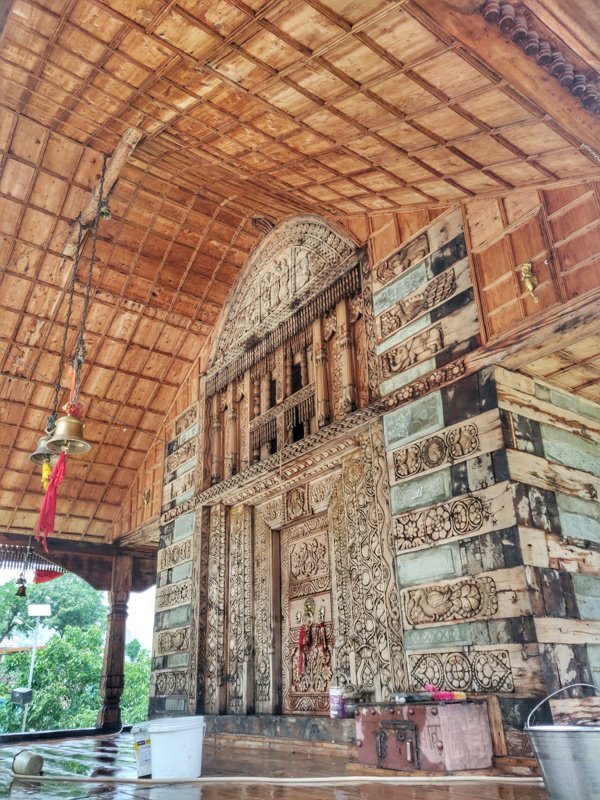 Next village along the road is Koti. Overwhelmed by it's beauty I took a stroll through this picturesque hamlet. Each wooden house is unique and a jewel on its own. One friendly family invited me for chai which I happily agreed.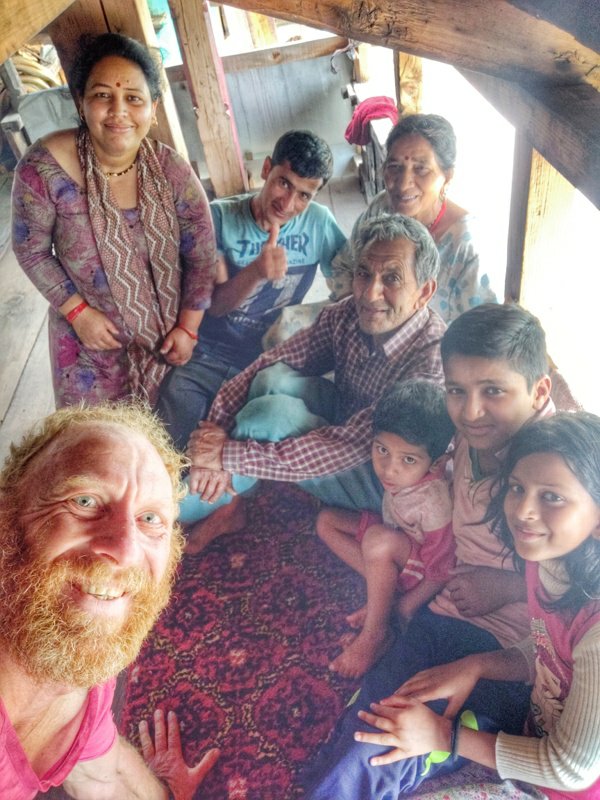 After Koti there is an old hot spring and public bathing pool which seems not maintained anymore. I jumped onto the bus who passed by only to be dropped one kilometre further near a small dhaba. From here the road hairpins up on the left of the valley while a shortcut trail crosses the river and climbs up to the village of Bachangawn 1750m.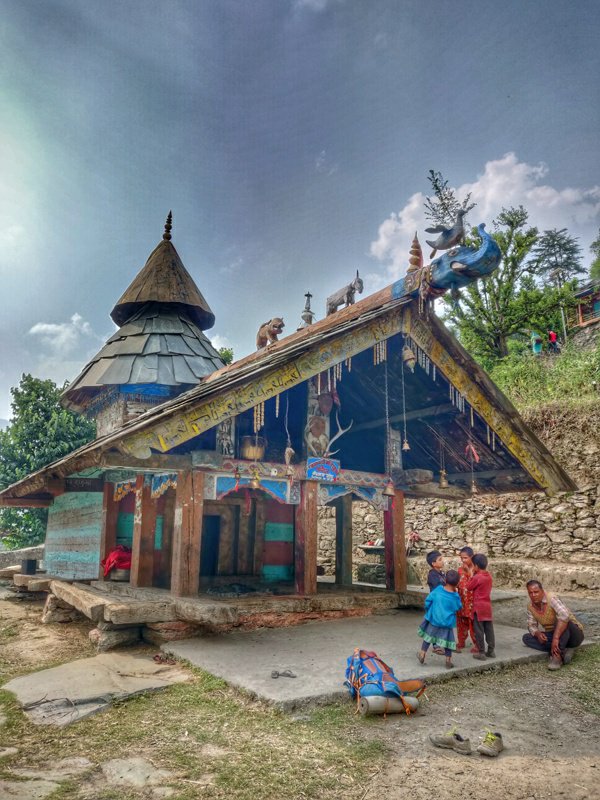 There s a very old and beautiful wooden temple here Renukamata. From here the trail contours towards the next village of Chapthari 1850m. I could here the drums being played from afar. Locals told me an annual temple festival was planned tonight and tomorrow so I planned to stay and soak in some local culture.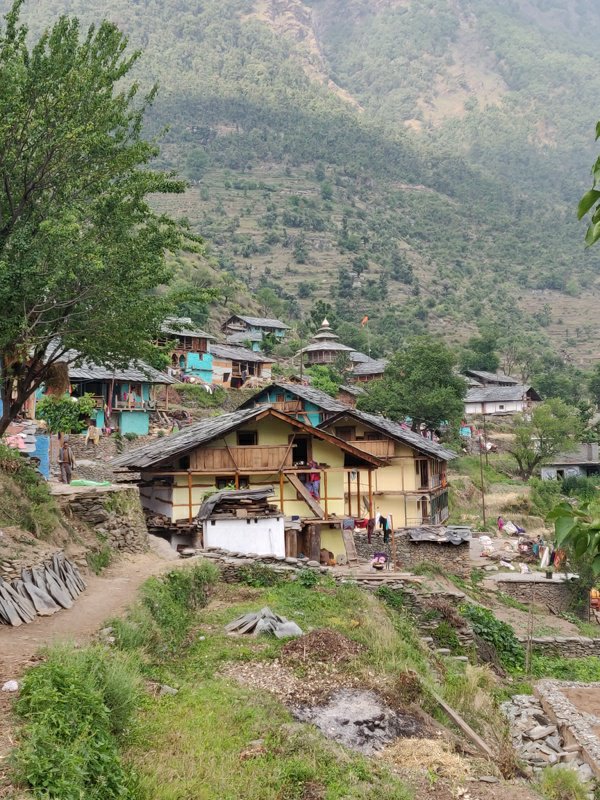 I met the village head, the main temple baba and a film maker from Mumbai who was planning to cover the festival in a documentary for Doordarshan. The latter invited me to stay over at his friends home. I finally enjoyed a hot water bath after neat one month and wonderful hospitality.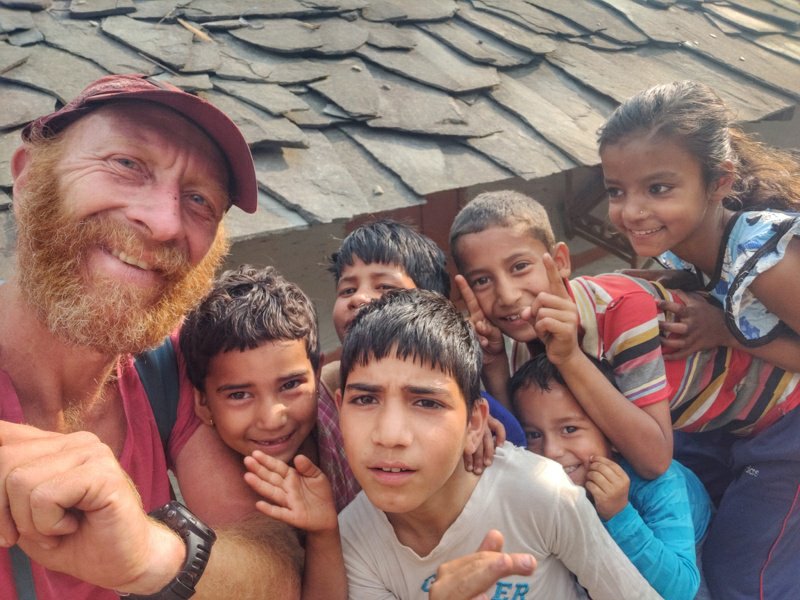 Got served yummy rottis with ladies finger and watched Independence Day II with his son. The rain God's opened the gates in the early evening. At 10pm we went to the temple but no one was to be seen even tough stage and audio system were all set up. We decided to hit the bed after a tiring day of travel and hiking.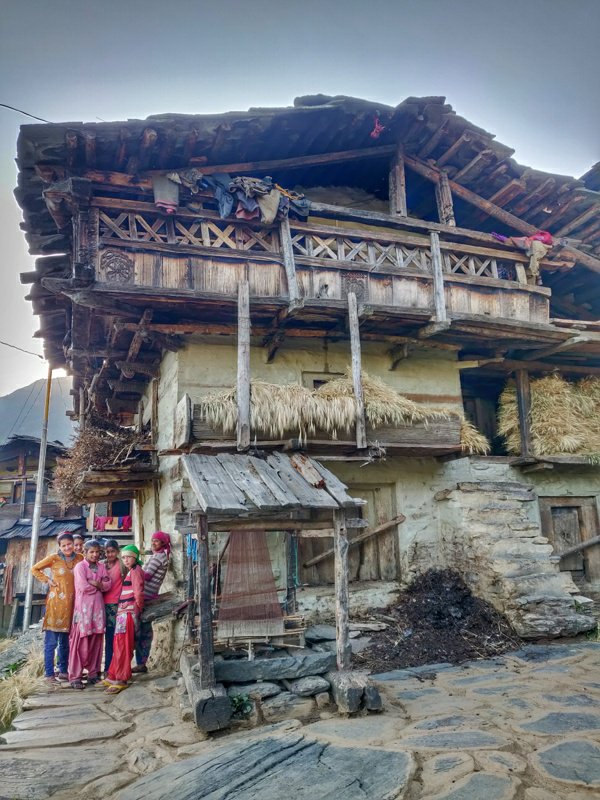 Next morning woke up looking forward to see the festivities. Got served yummy pooris, chapattis, curd, tea and sabji while enjoying 4G JIO to finish some pending online work. At 9am still nothing was happening in town so I decided to move on.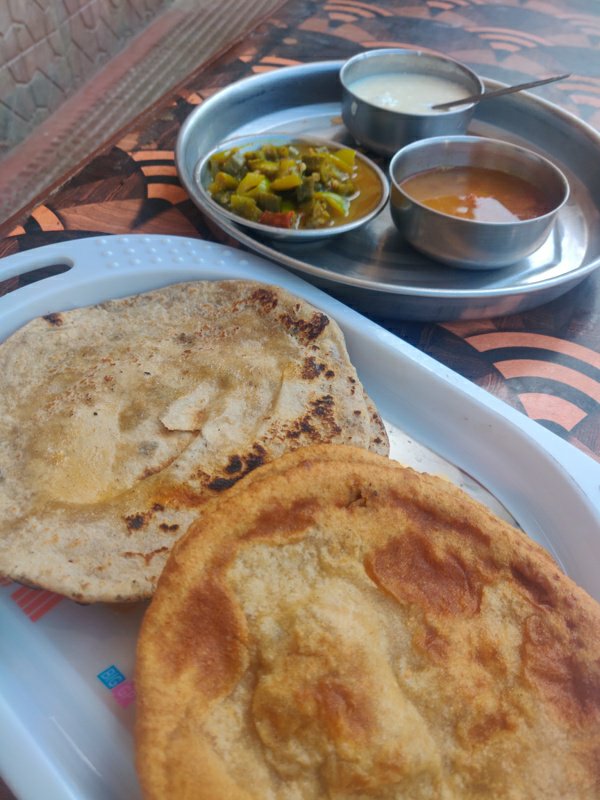 Bidding adieu to my host I left the village and got back to the road which ended at the next village of Surnol 2100m. Shortcut a few hairpins climbing up a trail and walked around the village taking photos of beautiful houses and temple.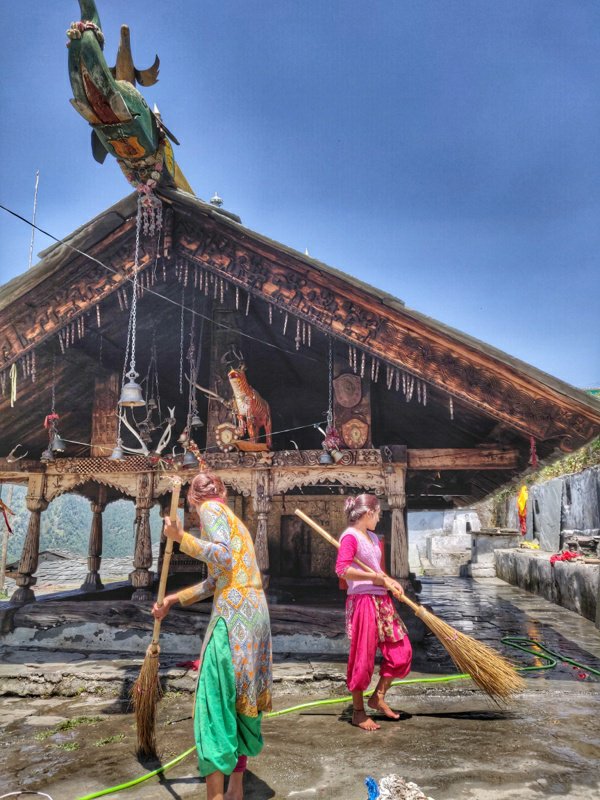 From Surnol the path enters the forest and slowly climbs up along the valley slope. I was hoping it would take me to the next village but it kept ascending towards the bugyals above the forest. After while I took a U turn and climbed down steeply along a stream towards the village below in the valley.
I ended up in Chanikaba Badiar 2200m where a nice family invited me over for tea and lunch. Forest mushrooms and rottis went down quickly. Within a stone throw I passed through two other villages of Pauti 2150m and Gaul 2100m. The trail now descends into the valley to cross the river and climbs up to Kimdhar 2100m another small hamlet embraced by the forest.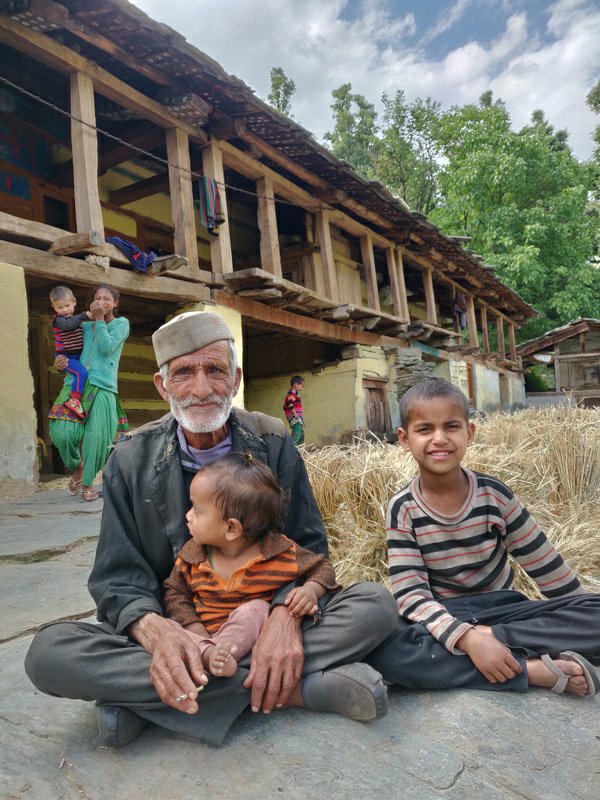 From here I followed a trail that climbed across the ridge to the last hamlet of Sur Badiar 2300m where I reached by 6pm and decided to settle down before attempting to scale Kedarkanta the next day. Lot of enthu kids surrounded me near the beautiful village temple.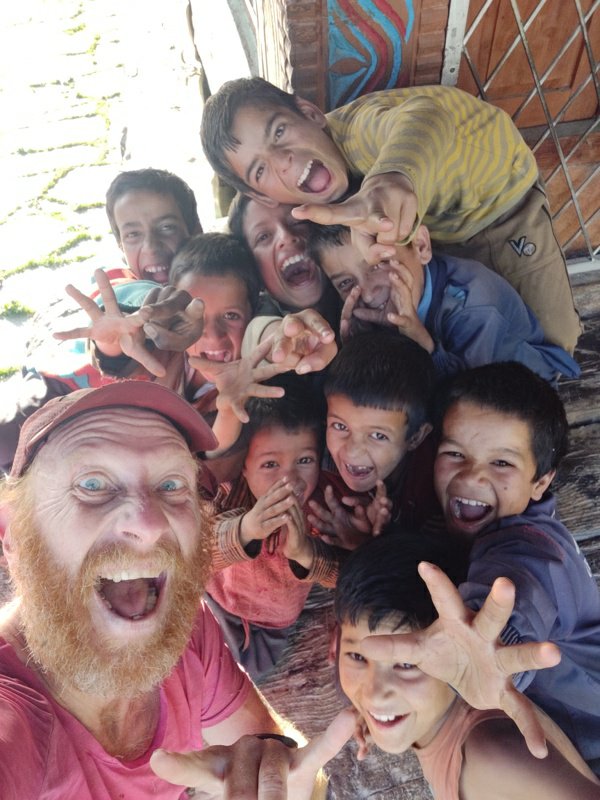 While walking around the beautiful hamlet soon enough one kind family invite me to stay over at their home. Luckily the youngsters could manage some basic English to converse. All hamlets I passed in this valley where fully engaged with harvest of rice and wheat which where dried on stone platforms and rooftops.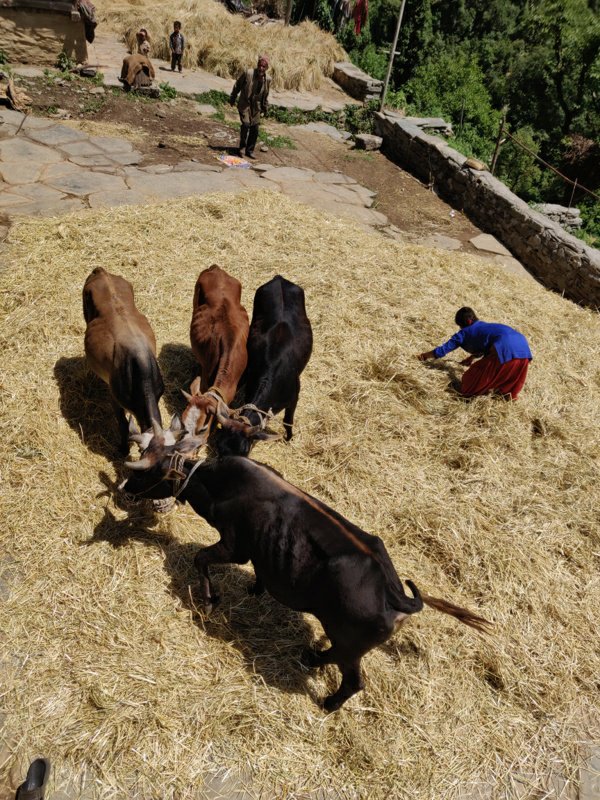 All across these farming communities in Uttarakhand the women seemed to be doing the hard work in the field, harvesting, carrying big baskets on their back, cooking for a big family, etc. while the men are chilling out at home. That night my host family served me thick rottis, chaval, dhal and lassi. Stomach full after another long day of walking I slept off deeply on the wooden balcony.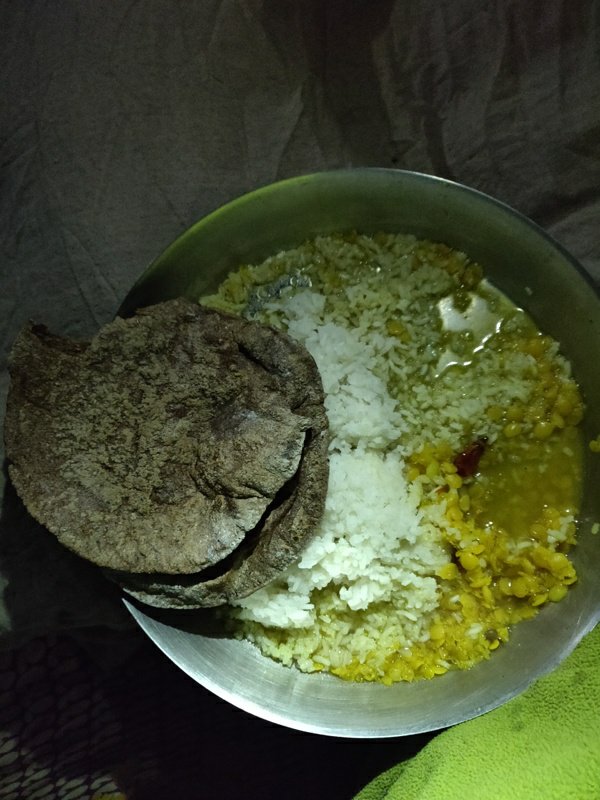 Morning 5:30am the host family was up and about. I packed my things and was on the go. From Sur Badiar 2300m I descended towards the stream 1920m along the main village path. Getting conflicting inputs from different villagers on how to cross over to the next valley, I decided to go by my own map.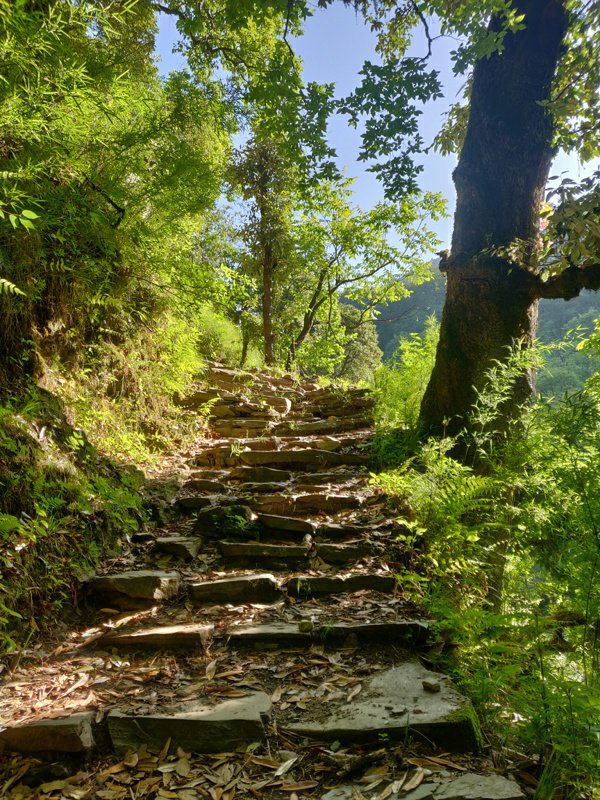 I crossed the stream and found a nice path leading up Northwest along the ridge leading towards Kedarkanta. After a 30min walk a hidden settlement of Darsaun 2400m revealed itself. Here I lost the path and asking the locals for directions did not help either. At the last home I met an old friendly lady who invited me over for some hot "dude" (milk).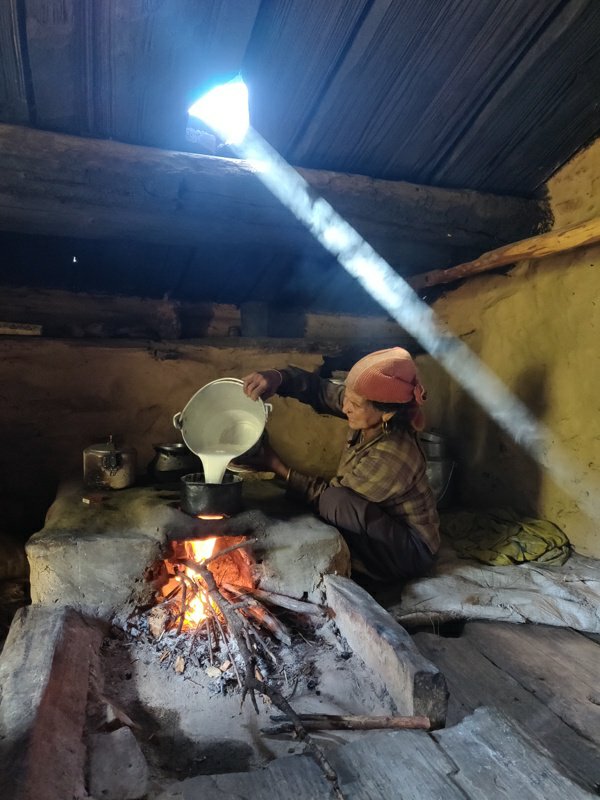 Soon after that a sumptuous breakfast followed with thick rottis, curd, cheese, spinach. Best home made food I had in my entire journey. Completely recharged I was ready to continue my way. An elder man finally showed me where the path continued into the forest after the hamlet.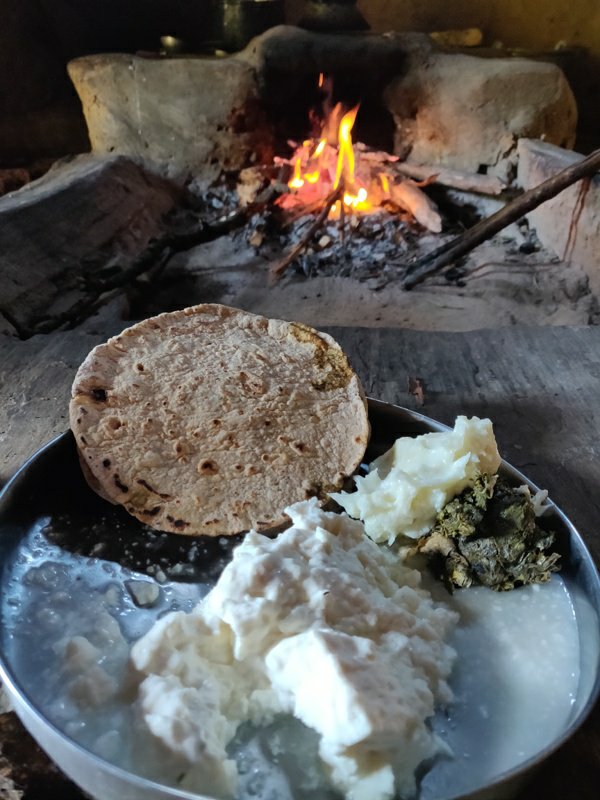 Happy to being back on track I resumed my way. After a steady 30min ascent I reached on top of a ridge where a small temple marked a pass to cross over to Jewanu village on the other side. I decided to try my luck and continue climbing North up the ridge hoping it would lead me to Kedarkanta peak.
A pretty nice path continued along the ridge covered by forest, now and then offering a bird's eye view on the hamlets inside the valleys below on either side. Further up the ridge I came across some nice open bugyals which were picture perfect beautiful campsites.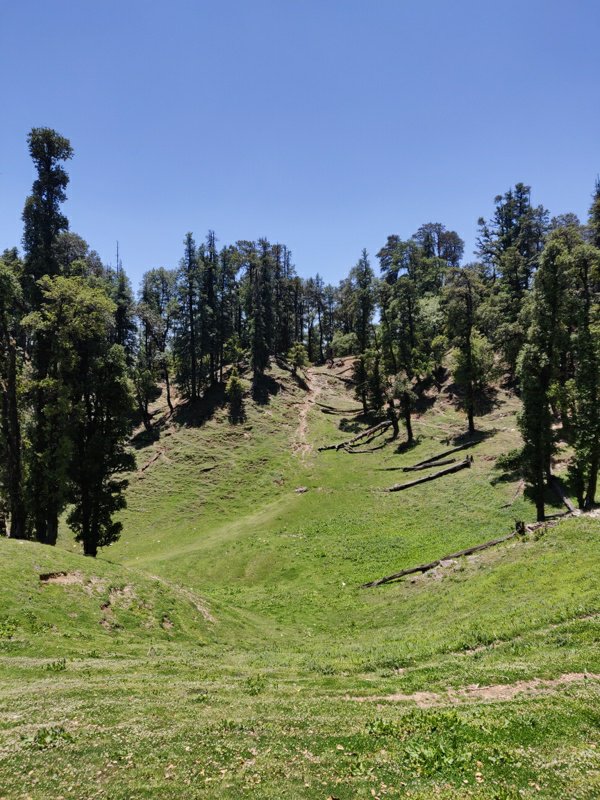 The never ending climb finally reached the open meadows near the base of the Kedarkanta peak. I got a visual confirmation that it was possible to reach the peak without any steep dead-end in between. Relieved I started the final section where I met two nice shepherds overlooking the Sankri valley below.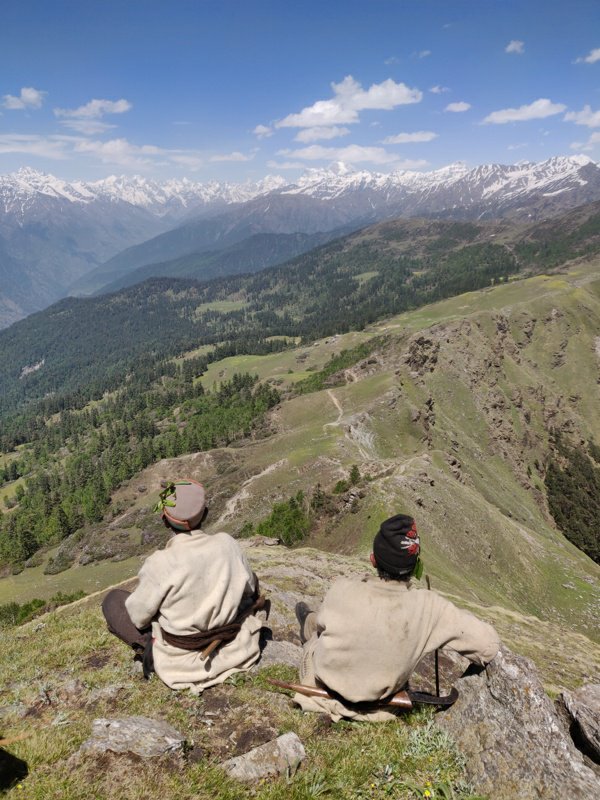 Snow clad peaks were spanning the horizon above the valley. Several big piles of stones and flags marked the top of the Kedarkanta peak. From here I could follow an OSM trail to take me down to Sankri. Initially descending through meadows the trail then entered beautiful pine forest. In just 2 hours I reached Sankri which appeared to be quite touristic.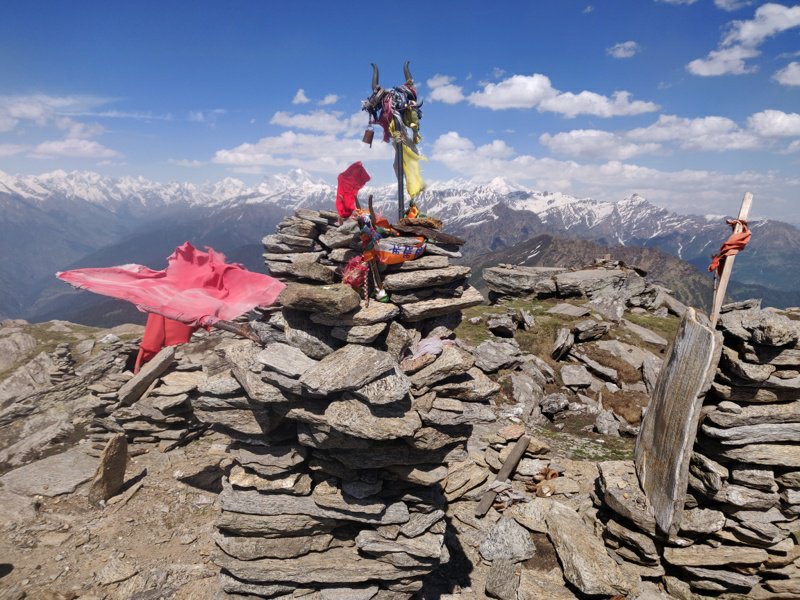 I decided to move on and walked along an empty road towards Natwad 12km further downstream, a small village on the intersection of the Rupin and Tons rivers. At Natwad I could find many shops to resupply for the next 1-2 days and after having dinner settled for the night on an empty rooftop beneath the starlit open skies.