We woke up from one of our comfiest night stays in a wooden platform in the garden of a dhaba in Kareri. We rose late as we were expecting a new team member to join from Dharamsala. The sunrise hit us from above the Dhauladhar range above.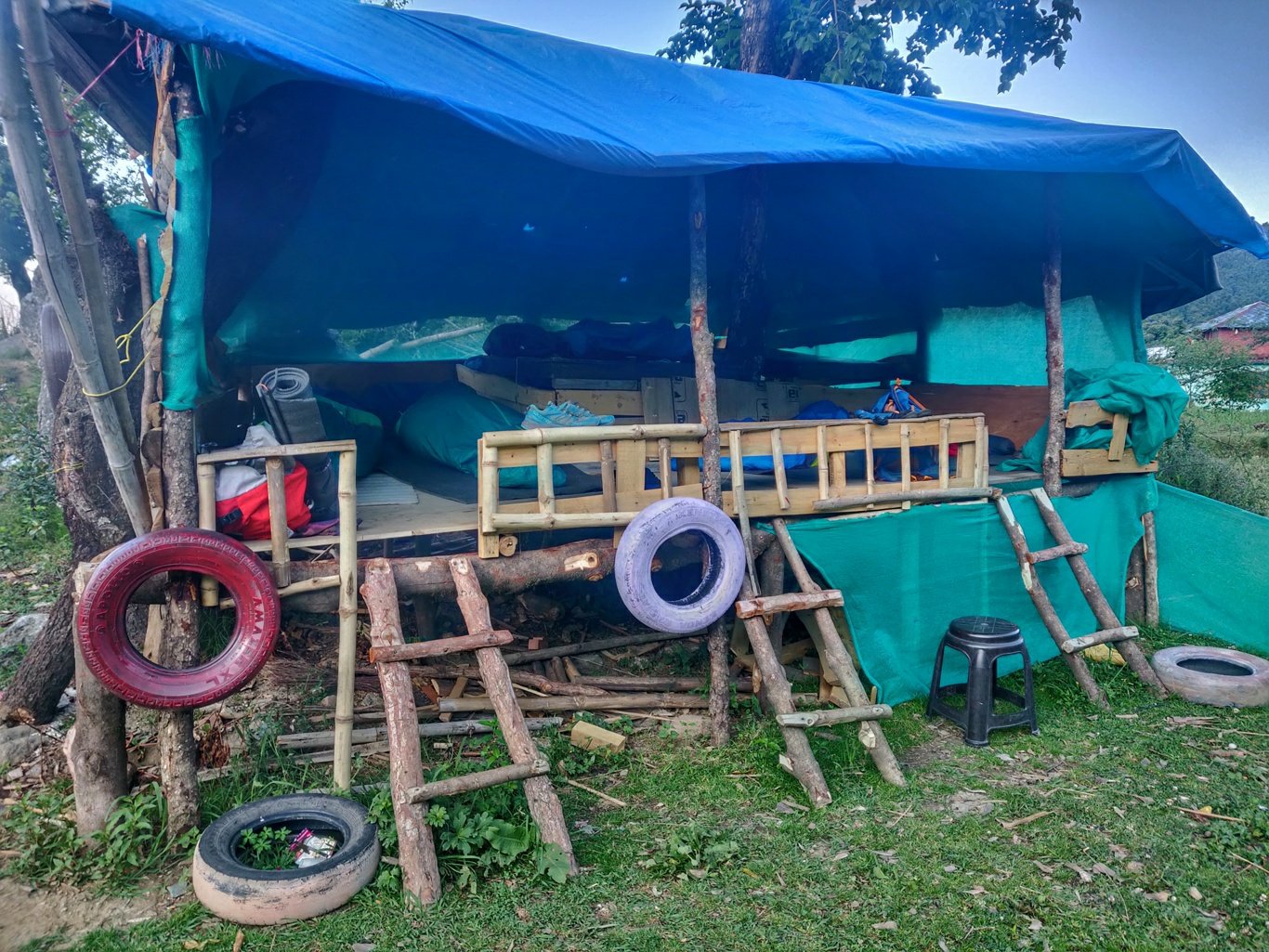 Ashwini arrived earlier then expected with a taxi shared with another hiker she met on the bus. We packed up food rations for 3 days and indulged in yummy aloo parotta and chai for breakfast. We also washed some of our clothes and packed up half a liter of kerosine for our stove.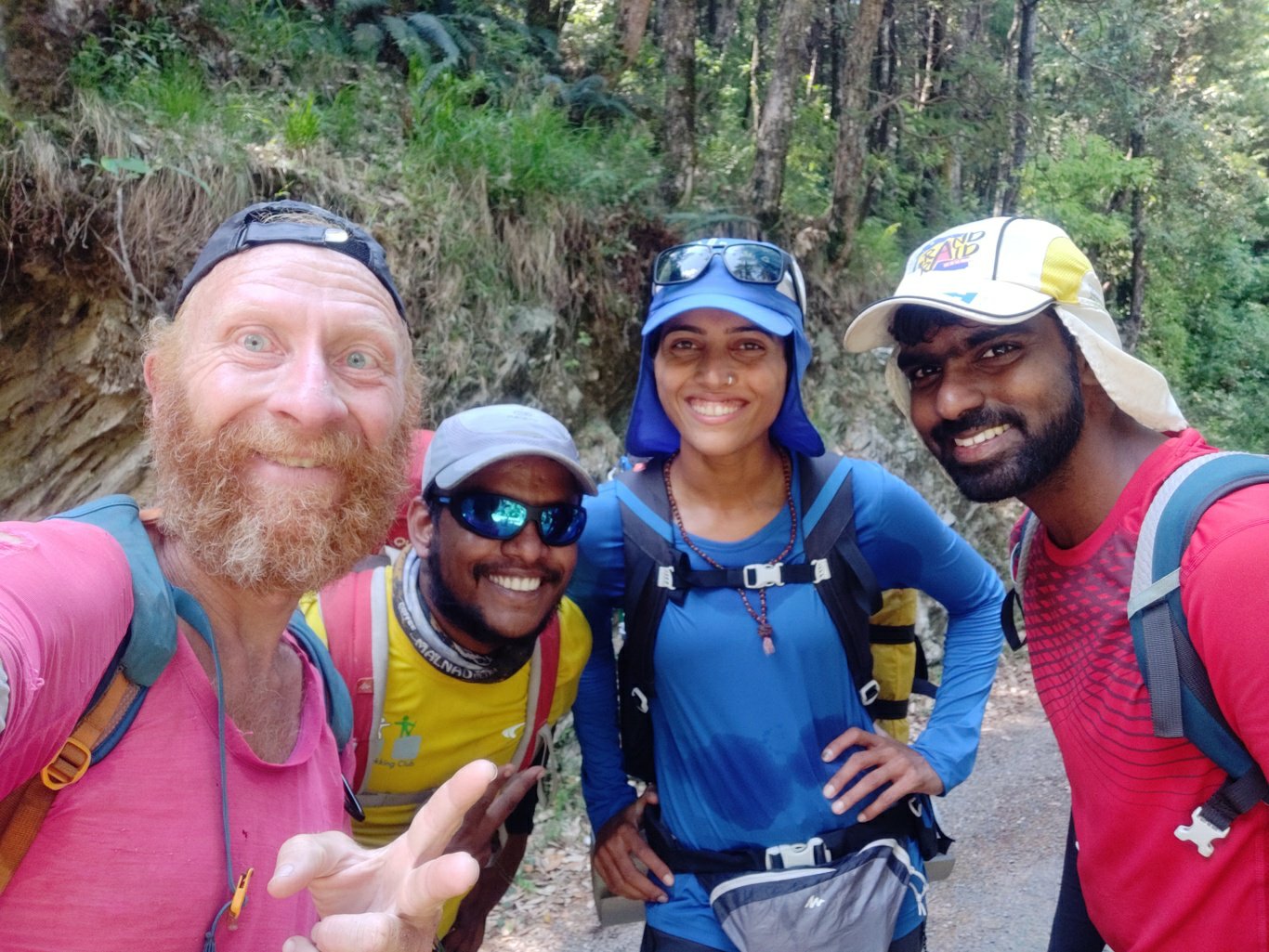 From Kareri we followed a trail which contoured up to the road above towards a small saddle North after which the trail dropped down 300m to the village of Salli 1650m. After a 2 hour walk we took an early lunch at a local dhaba before disappearing into the wild for 3 days.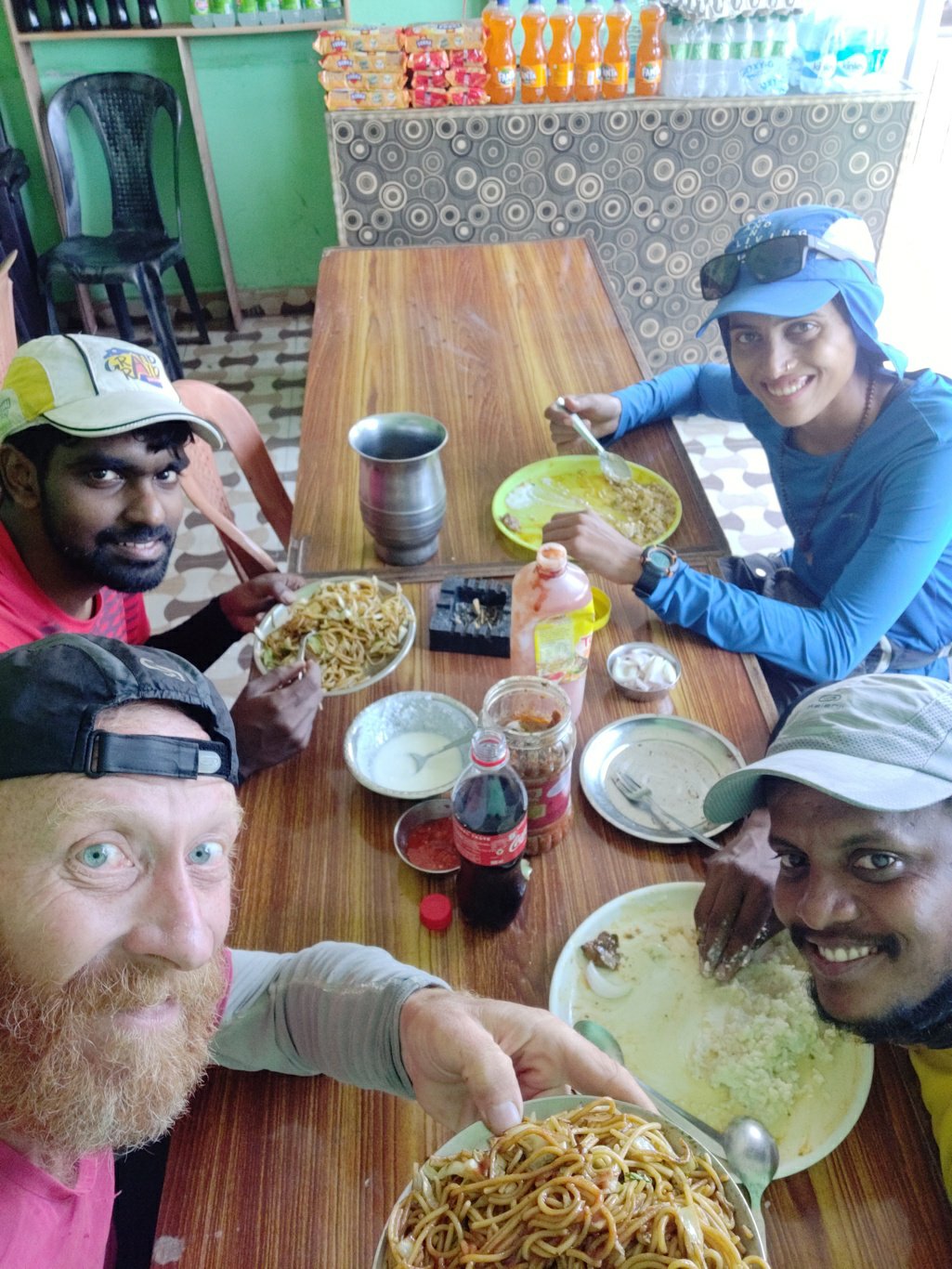 From Salli a jeep track runs up to a hydro project after which a nice rock path gradually ascends on the left side of the stream. At regular distances we pass through small settlements built with rocks and mud. In one home a lady is applying fresh soil mixed with cow dung to the walls of her rock shelter.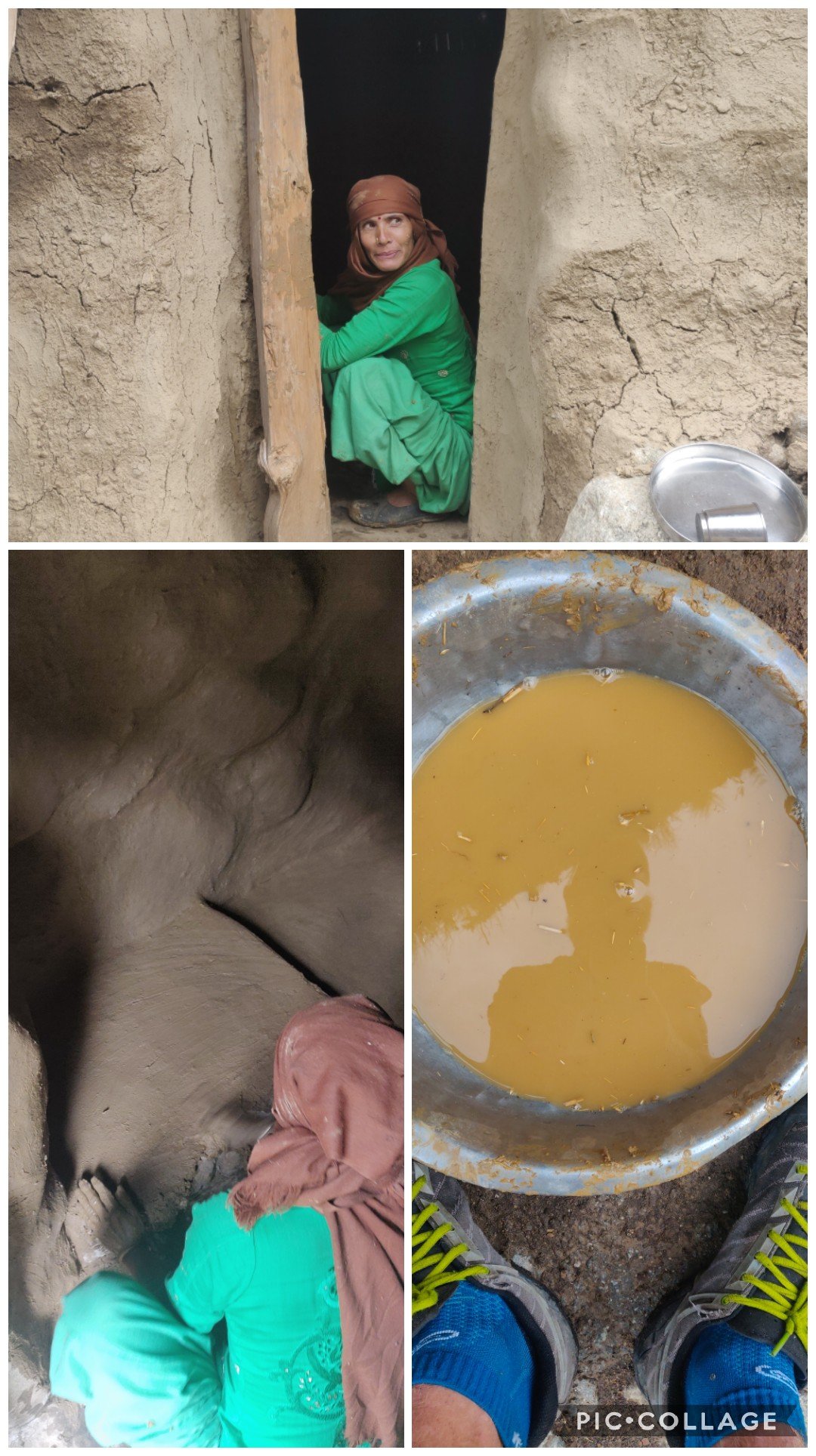 A bit further up the pass a small dhaba where we stop for a chai break. 10Rs for a tea was cheaper then what we paid in Salli. We resume our ascent targetting the Charkhotu 2680m as our campsite for the night at the base of the Baleni pass 3800m.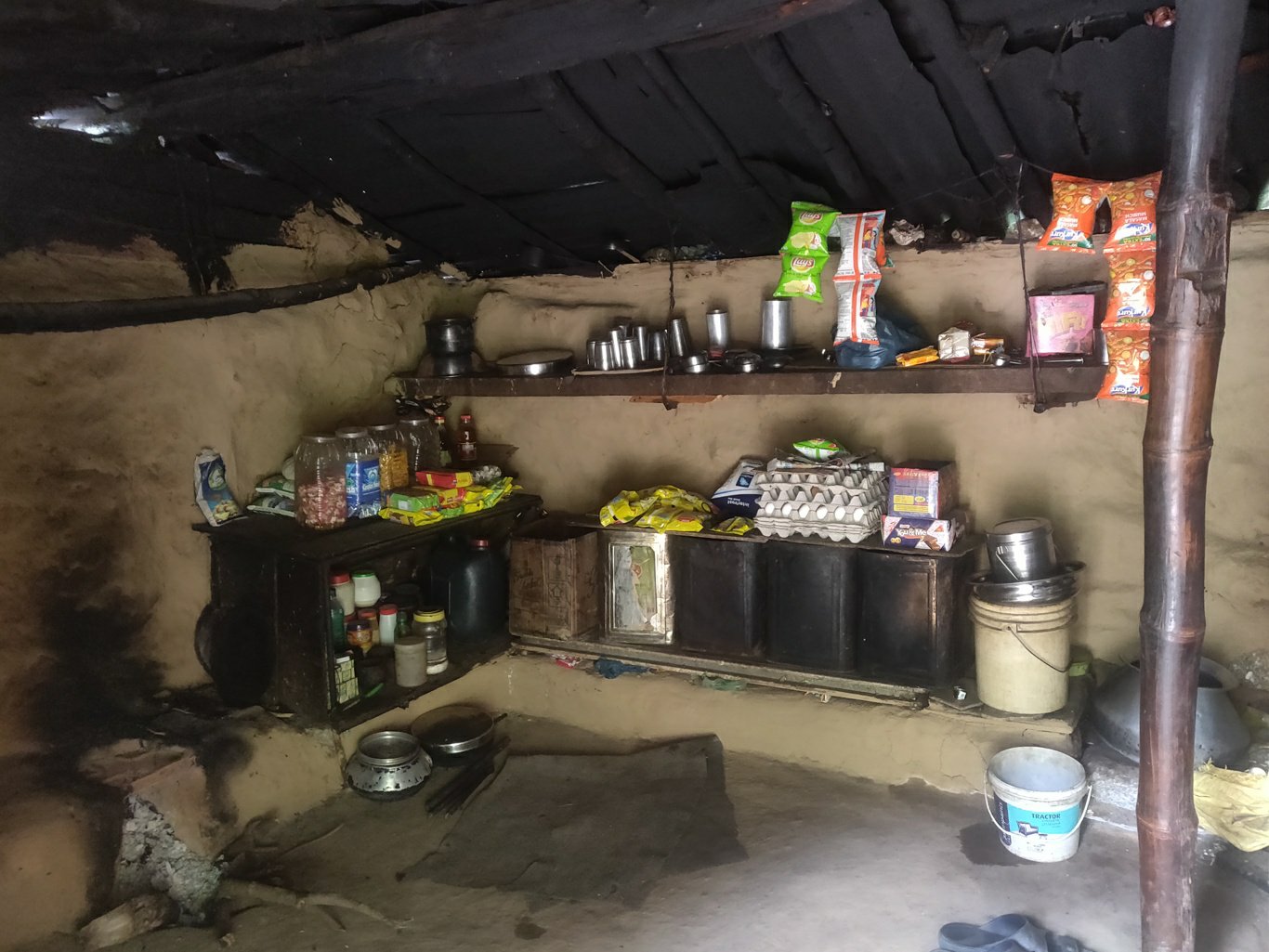 Further up we find a small settlement where two gentlemen and a lady invite us inside for chai. They were from Salli and grazing 100 sheep in these higher meadows for the summer. They ll return by October before the winter. One was smoking a large hula pipe. Their buffaloes were staying with them in the house.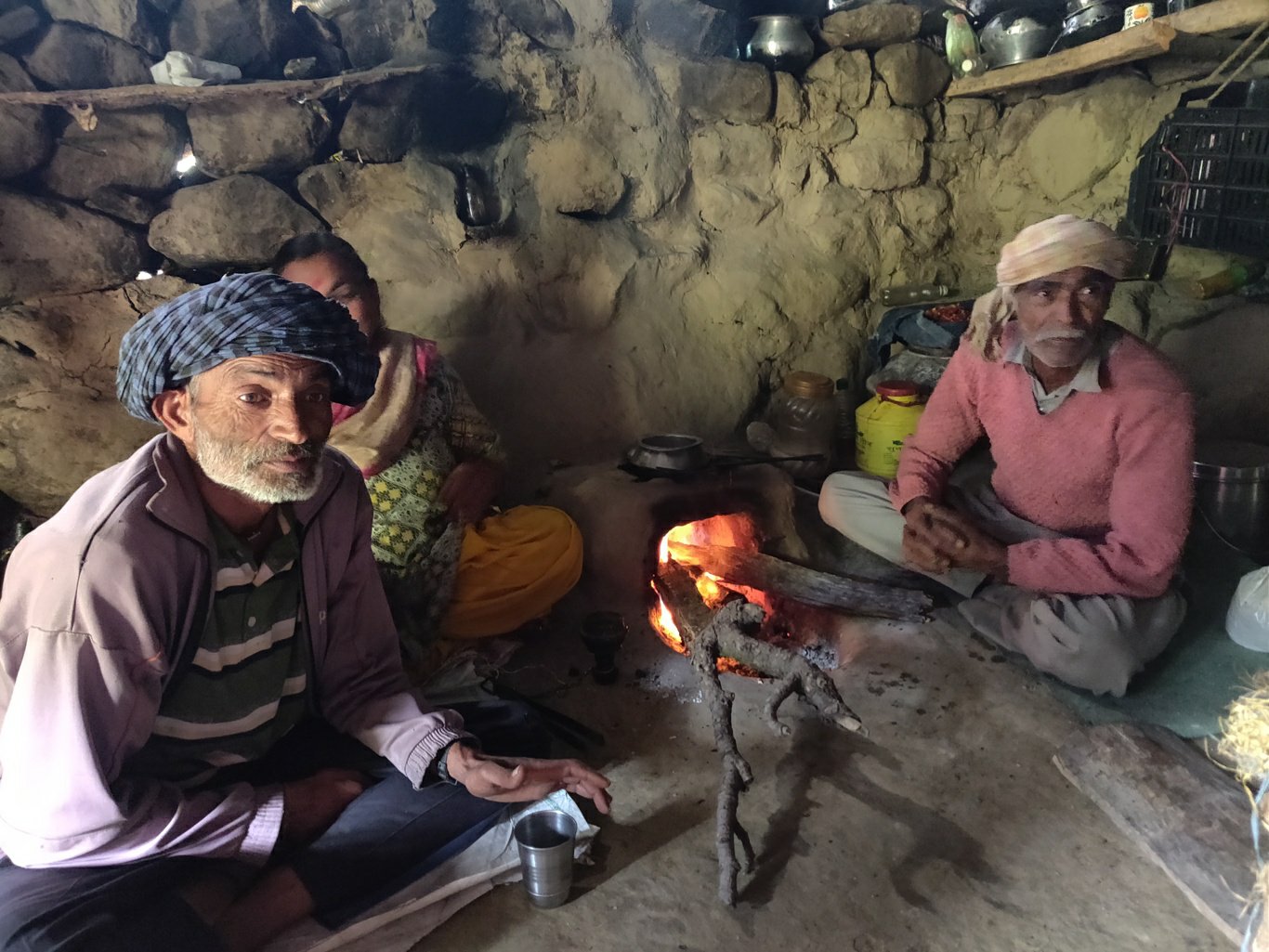 500m before Charkhotu we met an elderly couple in their cosy little mud home. He was 80 years milking a buffalo, she was 60 years cooking in her small kitchen. They insisted we have some fresh hot milk which we gladly accepted.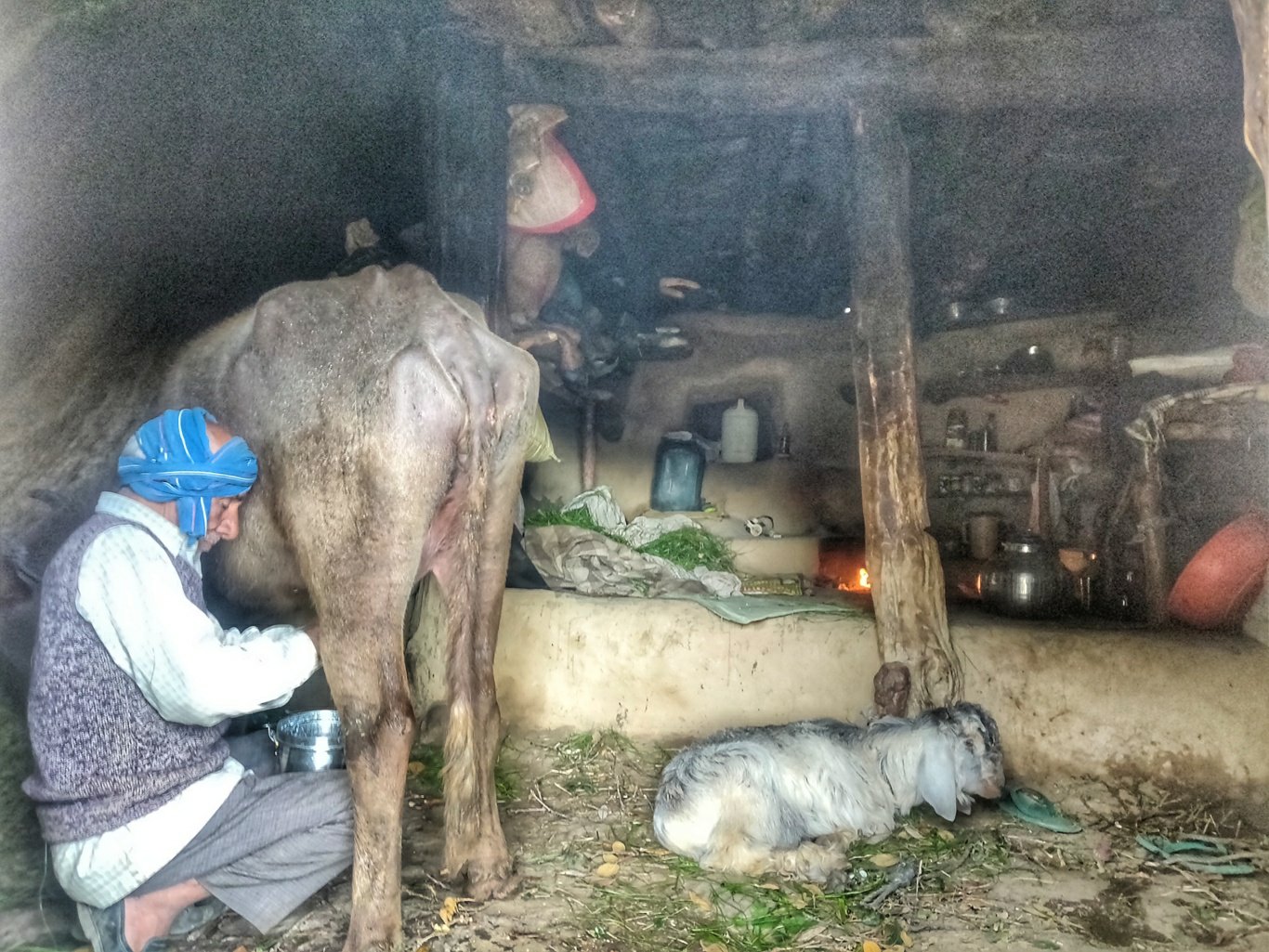 She got married at the age of 10 and never went to school. They were coming here 3 months every year to "time pass" away from the city in a peaceful natural environment. No clock in the house, daily routine driven by their bio clock. They were milking 3 buffaloes and 6 cows which their cousin sells in the village below to cover their basic food requirements, no profit in mind.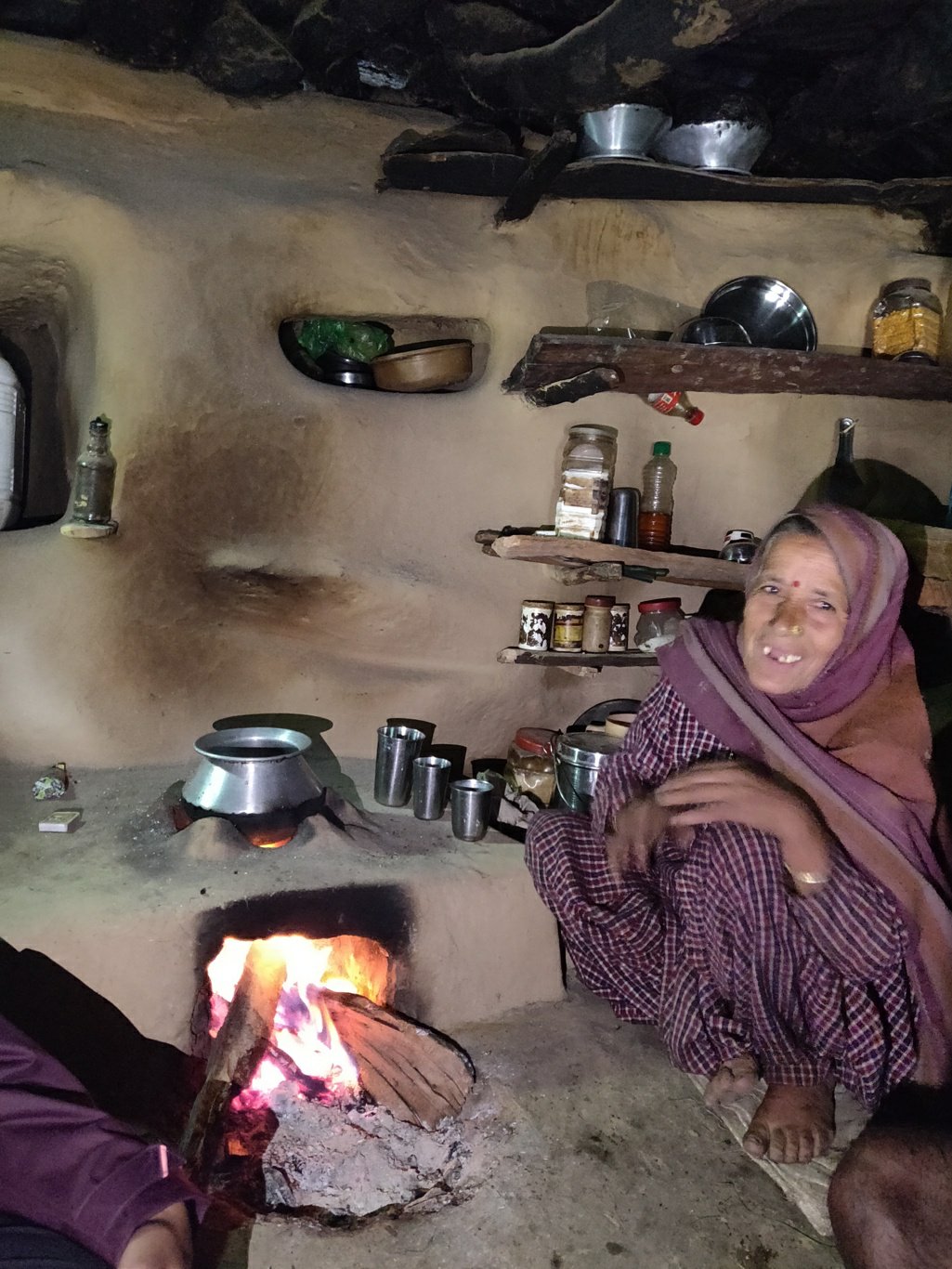 They were treating Ashwini as their own daughter. We requested to use their cooking fire to prepare our Maggie dinner expecting not to find any firewood further ahead. We were impressed by their simple way of life and appreciated their health and physical activeness at their age.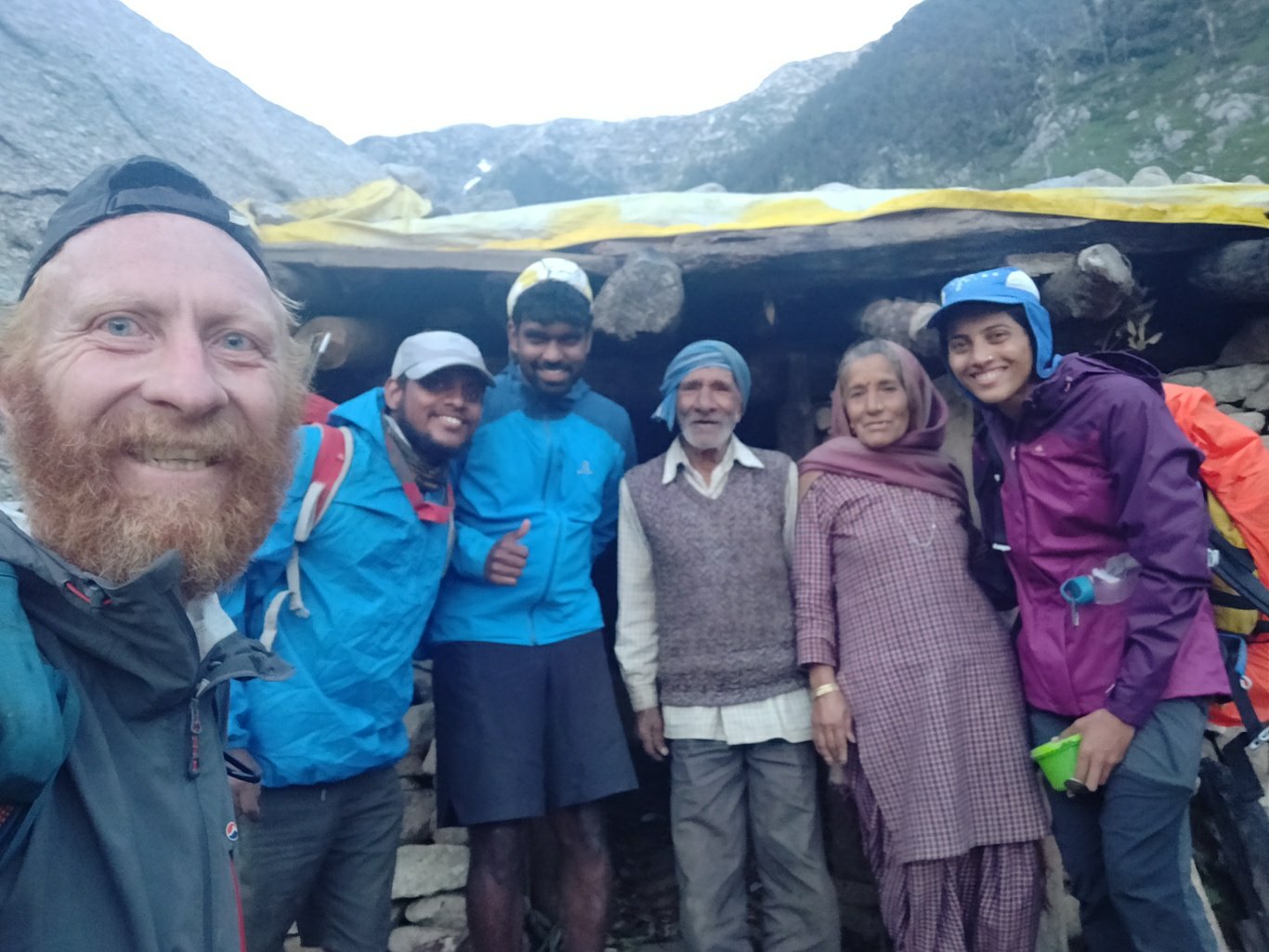 After dinner around 8pm we bid adieu and continued a final 30min hike upstream to the Shiva temple and empty guest house at the base of the Baleni pass. We settled down in the cosy guest house and planned an early morning start for the final 1000m ascent to the pass.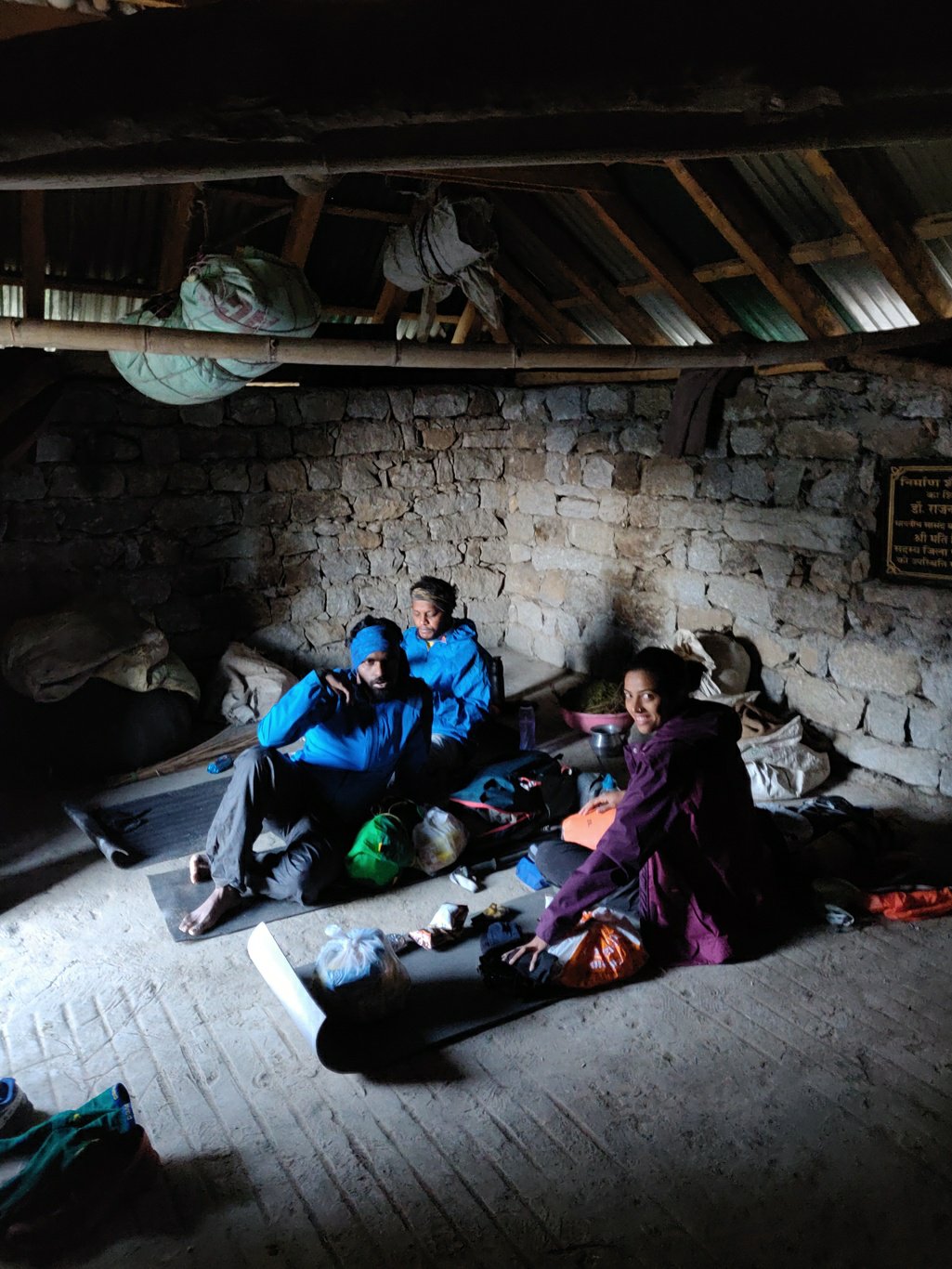 The alarm woke us up by 6am. It was surprisingly comfy out side, not as cold as the previous night. We packed up and were moving by 6:30am. The trail climbs up more steeply now through the meadows on the right side of the valley towards the pass. In between the meadows we cross one snow gully, easy to cross being pretty flat.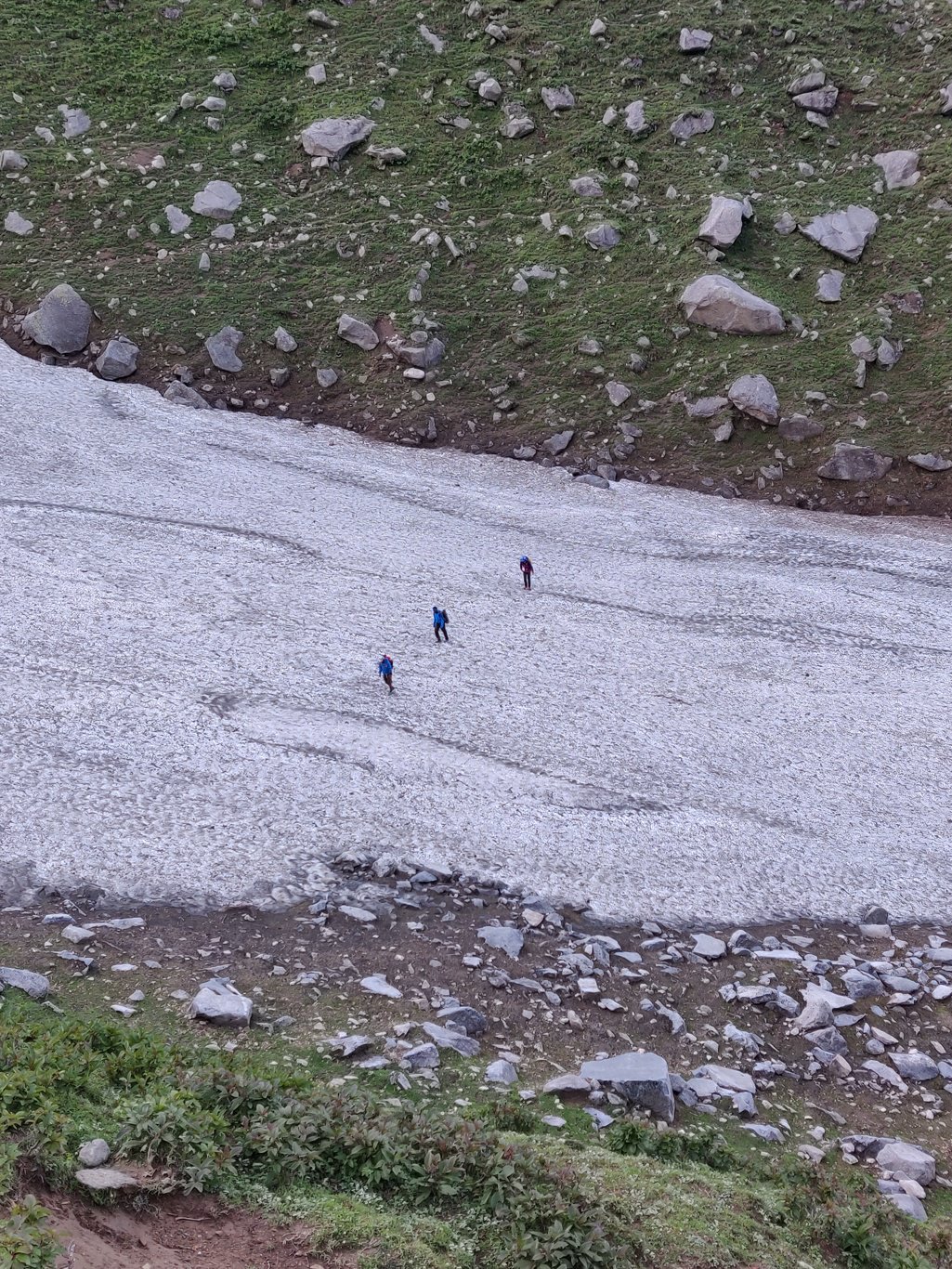 After a 250m ascent there is a small temple guiding hikers along the Baleni pass trail. Here there is a clear path climbing more steeply through a boulder strewn side gulley. At 3400m the trail turns right and approaches the pass in Eastern direction.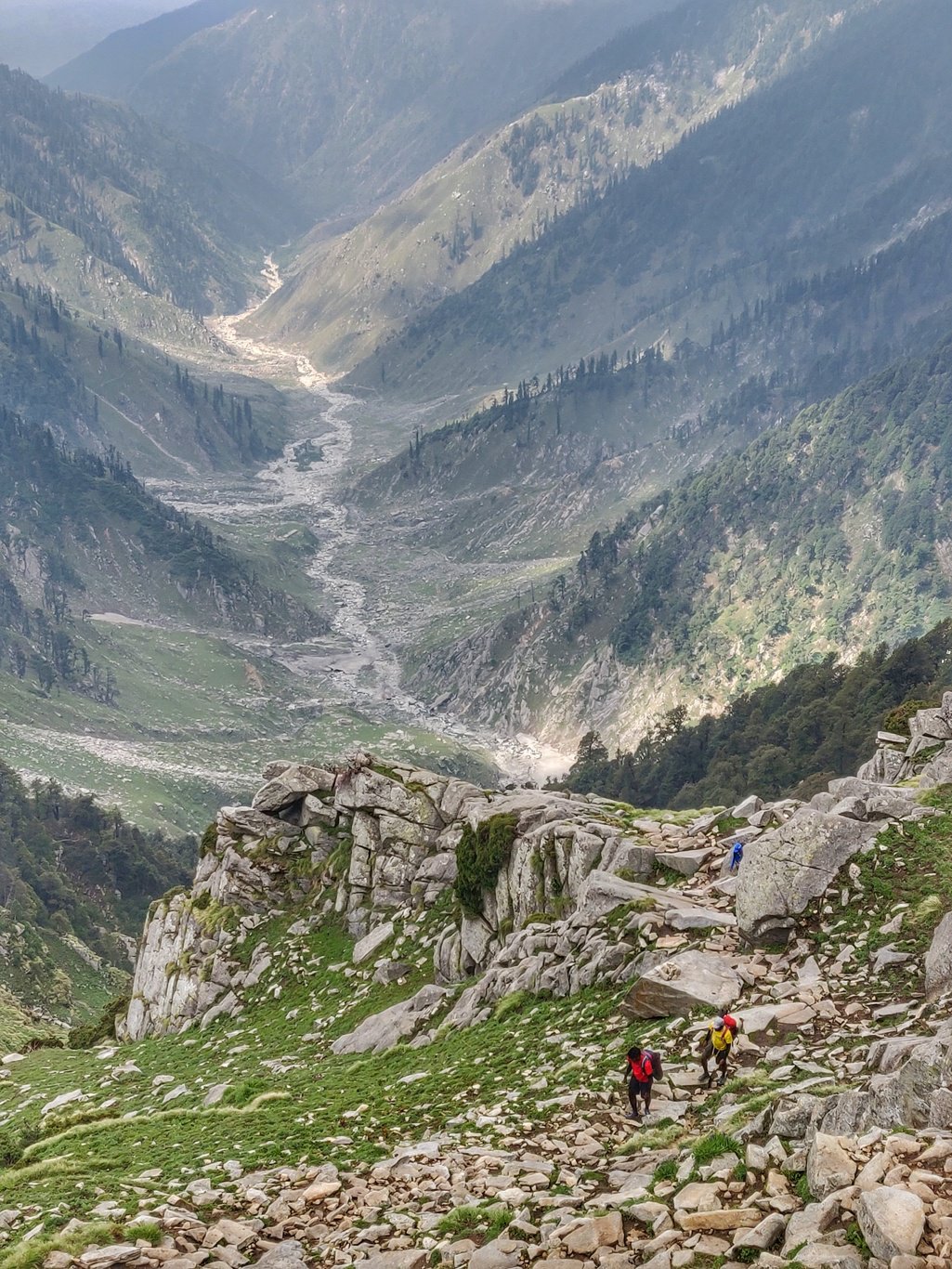 For navigation we use OSMAnd, a mobile OSM (Open Street Maps) viewer. OSM has quite a few popular trails marked. And you can overlay your own trails. We download OSM base maps and contours for offline navigation. OSMAnd can show trail level directions giving accurate distance, shows an elevation profile and steepness of the various trail sections.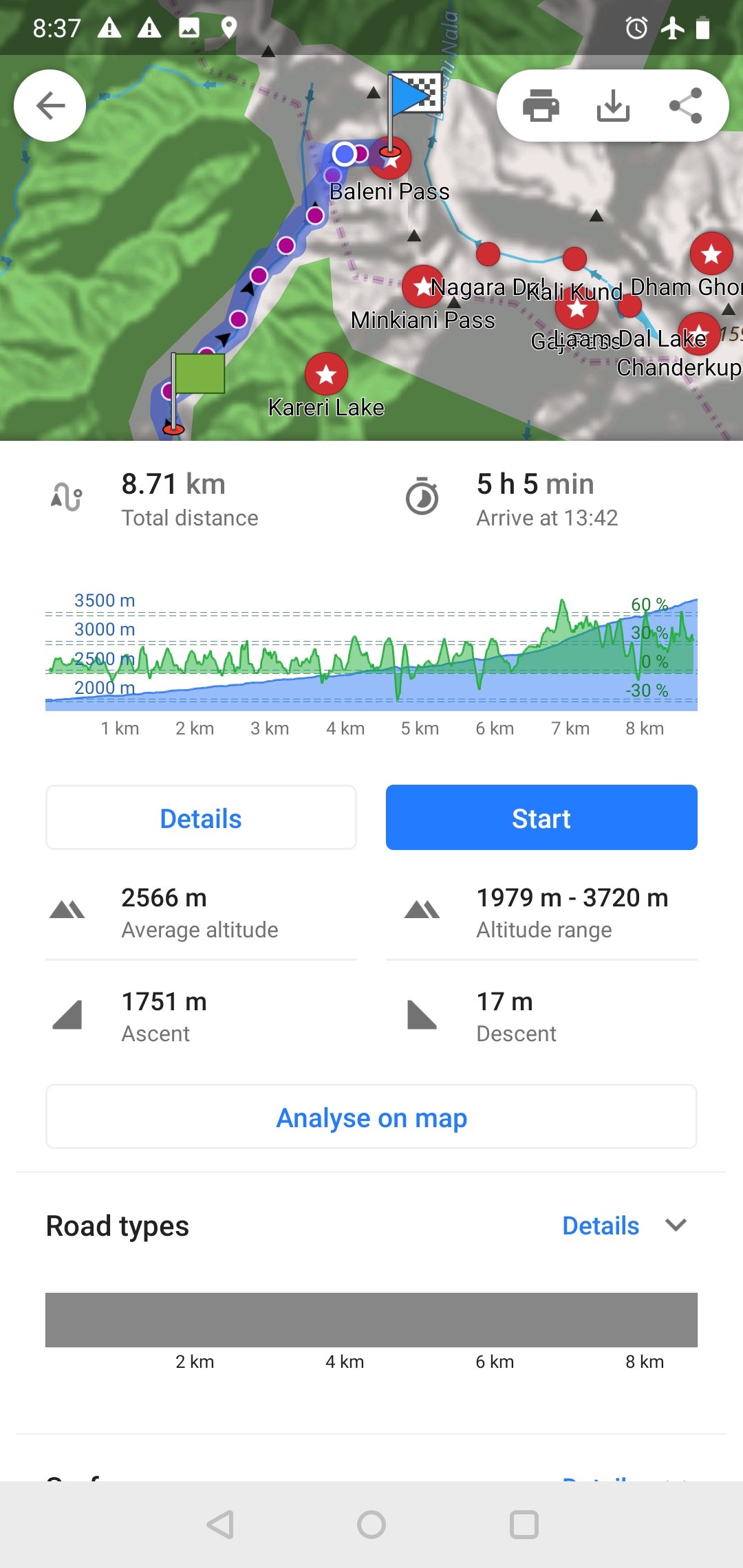 Another useful feature of OSMAnd is the ability to put markers along your planned route. The main screen will show (flight) distance and bearing towards the next marker to give you a sense of progress and direction. These are two useful references while hiking.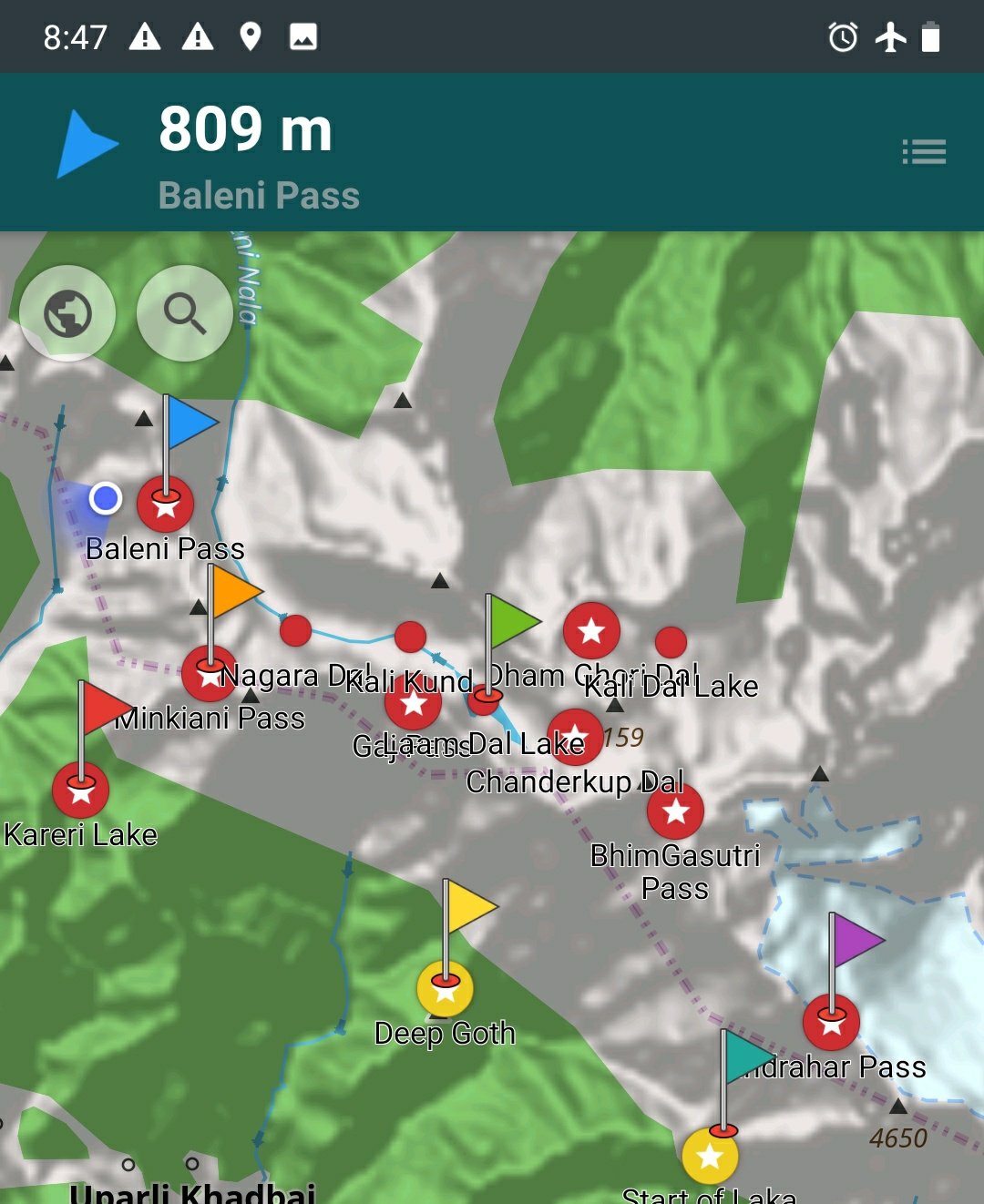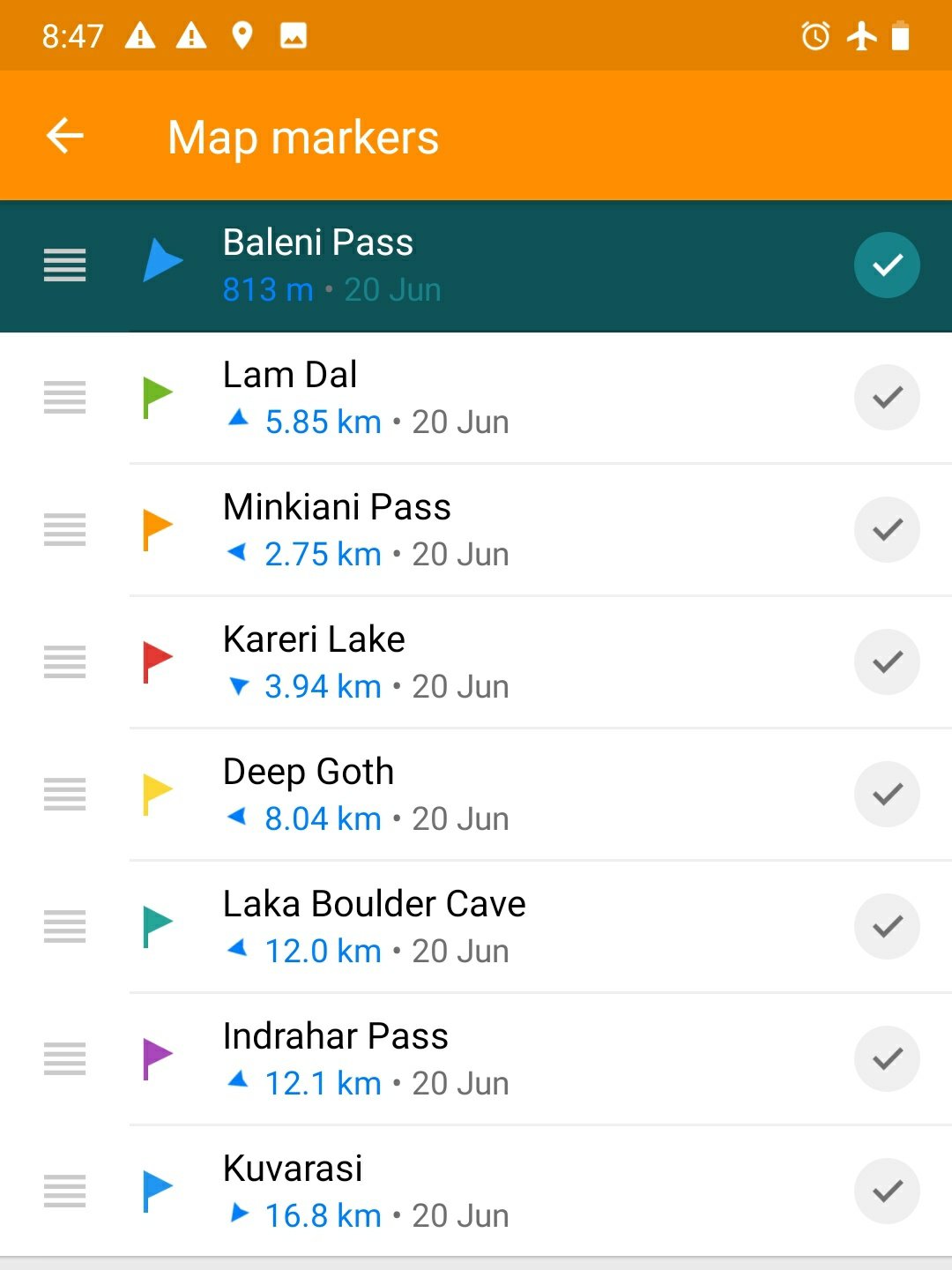 Standard maps, contours and hill shades can be downloaded and viewed offline without mobile network connectivity. A must for any alpine style hiker to navigate his way through mountainous terrain.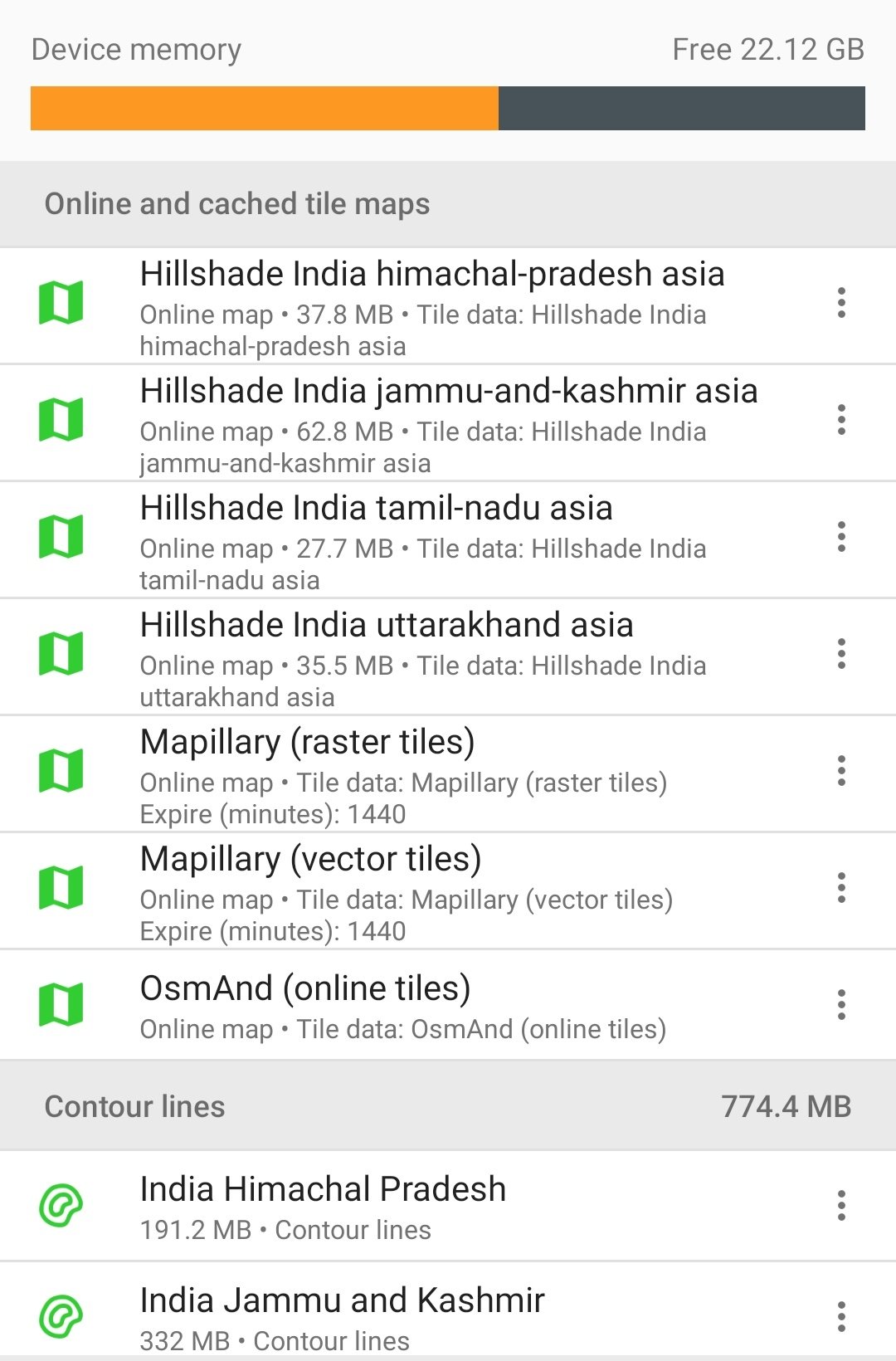 A frequently used rock path climbs up steadily towards the pass. We see a fresh trail of shepherds who recently crossed over to Chamba. We find plastic wrappers pointing to usage by pilgrims and hikers. Most up the upper valley around the Laam Dal lake is still covered by snow.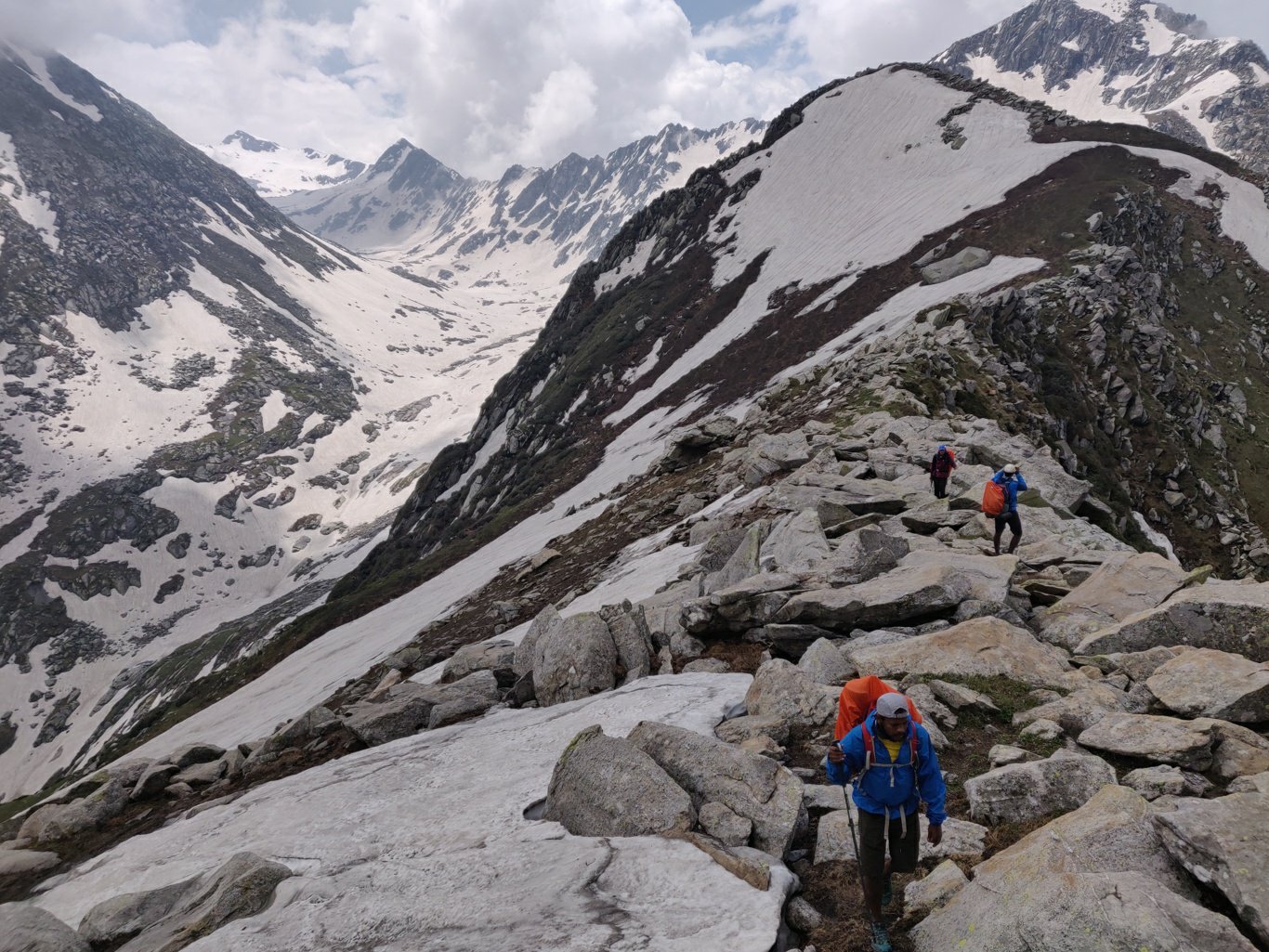 From Baleni we initially tried following the ridge leading to Minkani pass 2.5 km South to bypass the snow covered valley below. The ridge however was covered by big boulders and also partly covered by snow. On second thought we instead descended 400m into the valley and tried to follow the path leading to Lam Dhal lake and base of Minkani pass.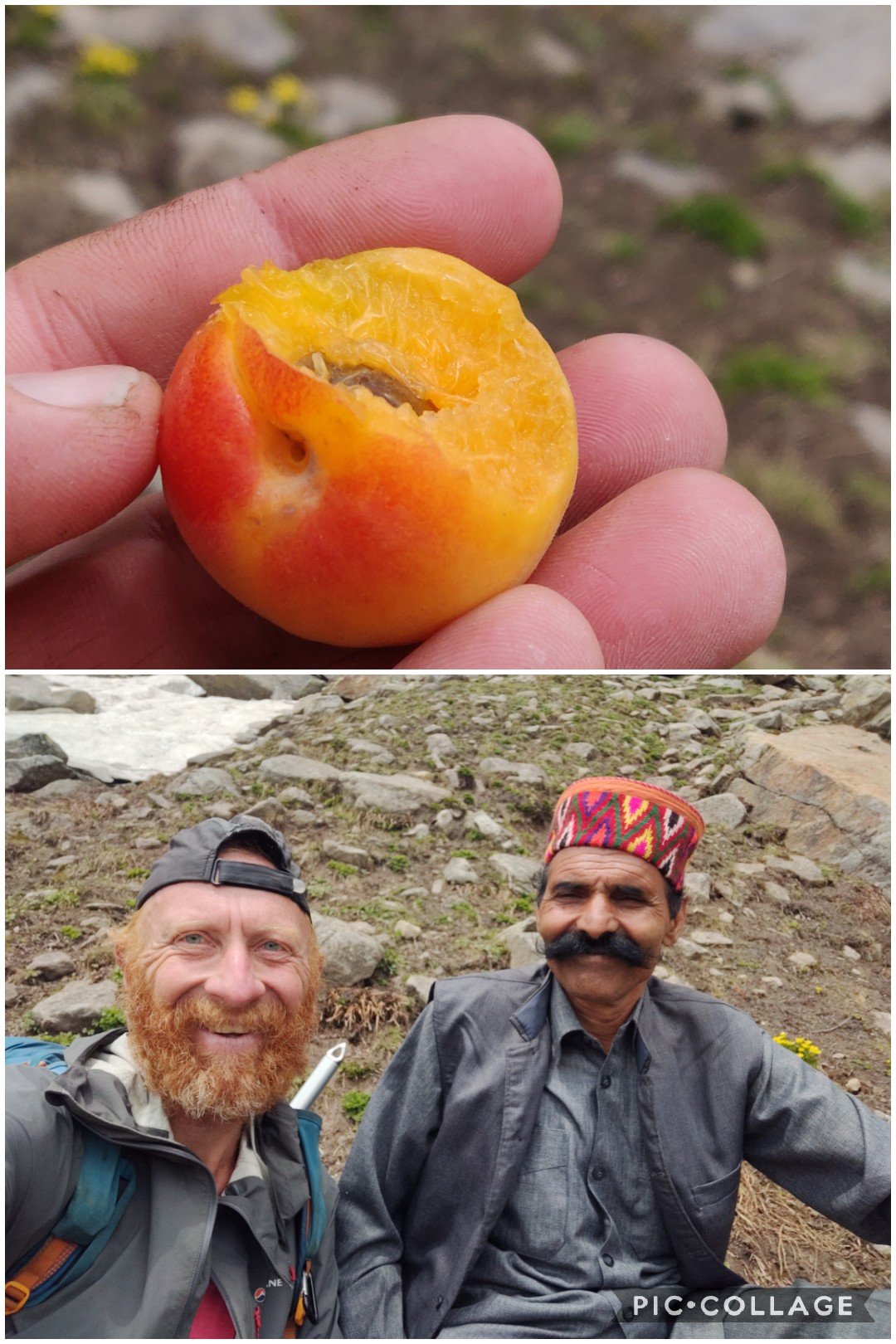 Along the way an elderly couple was climbing up the pass from Darkund in Chamba valley to Dharamsala. They gave us a handful of small juicy apricots. Nothing beats fresh nutrition to power oneself in the outdoors. We continued our descend into the snow clad valley.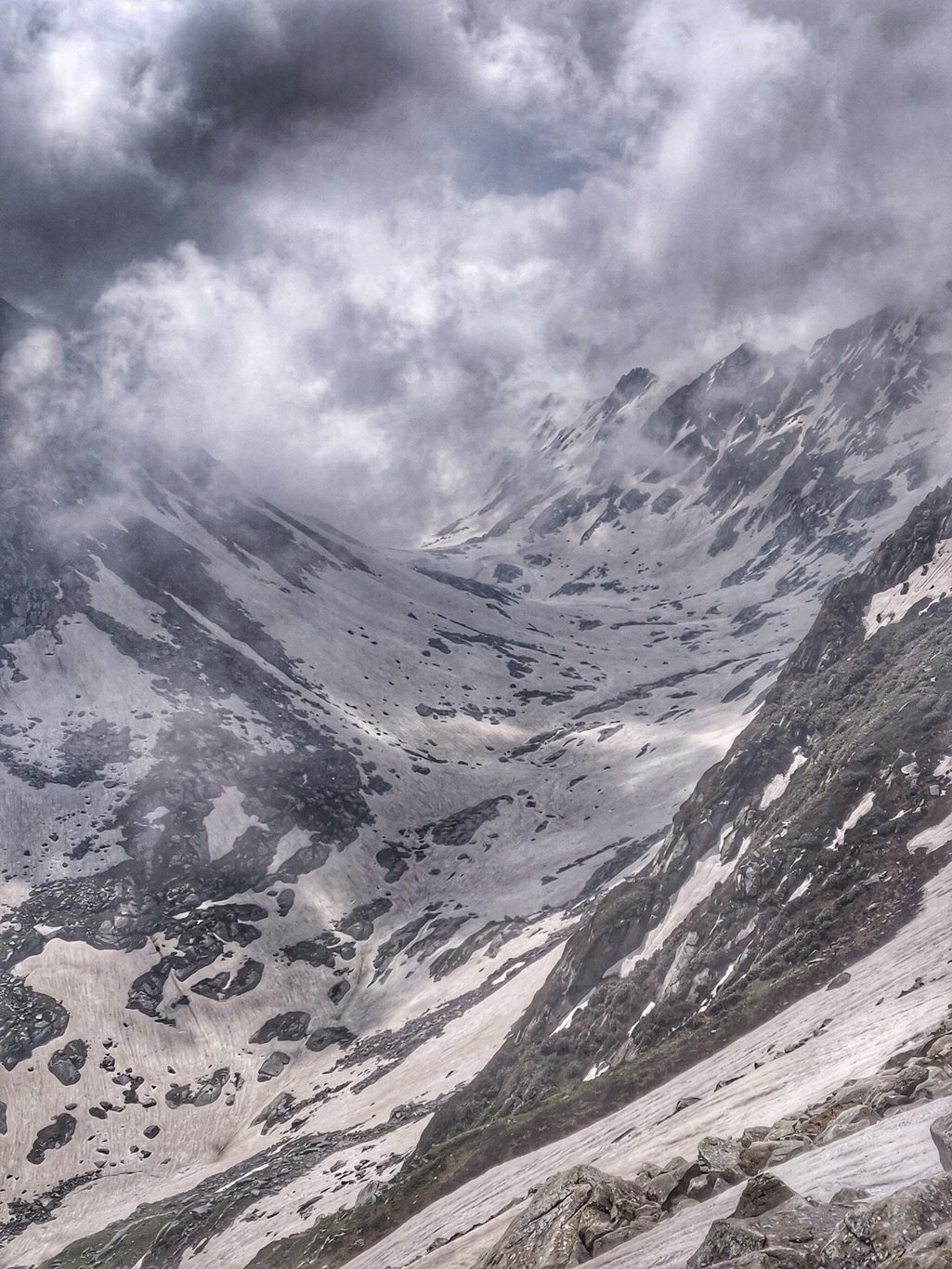 Ashwini was clearly struggling to keep up and decided to exit via the Chamba valley taking a few days to acclimitize first. Mani and Anbu followed suit concerned about the snow condition. I was determined to proceed and see how far I could reach. After an initial climb it was surprisingly easy to walk on the snow in the gradual ascending valley.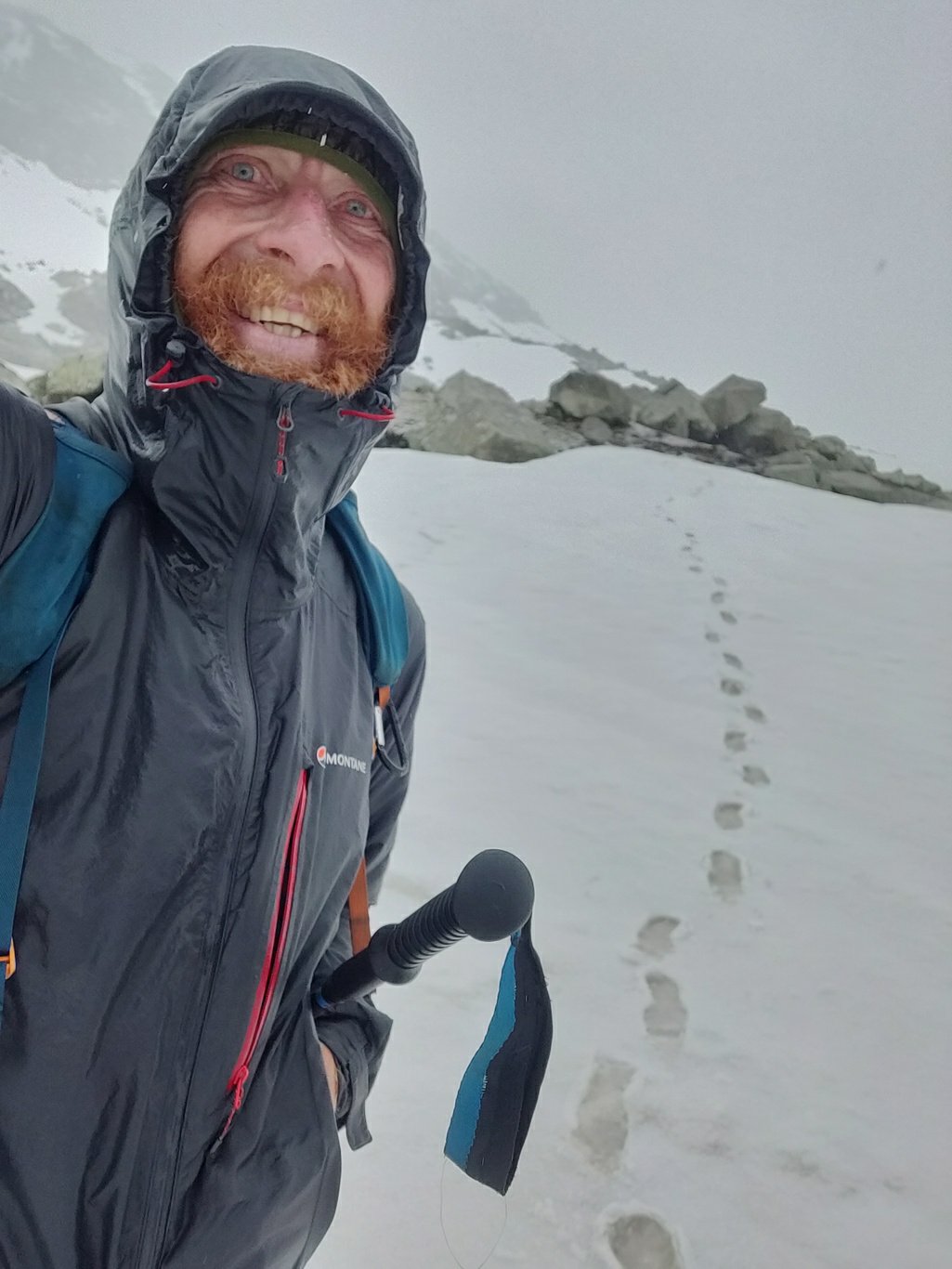 It was thundering and started to hazel. Rain at lower altitudes usually means snow and hazel high up in the mountains. Nice thing about hazel and snow is that you don't get wet (cold) like rain. I continued ascending in the valley approaching a few steeper sections sideways to reduce the incline while making my way through the snow.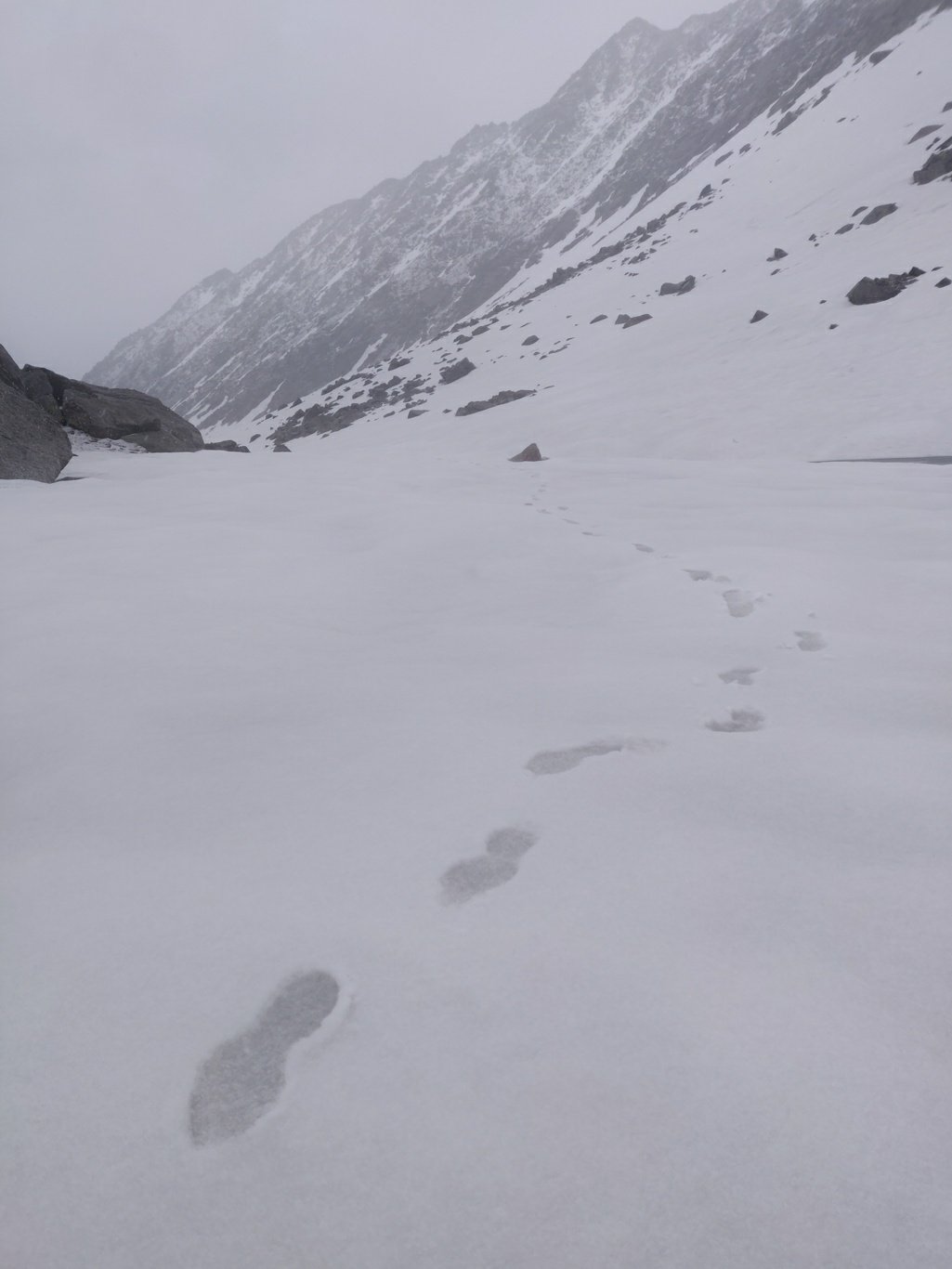 A little while later the weather turned bad and I got into a blizzard of snow and rain. Lucky I had layered up with my puff hoodie and rain jacket. Hands and legs were feeling cold. Had to keep moving to stay warm. After some 5km I finally reached the Laam Dal lake at 3980m fully covered by snow. A small temple marked the start of the lake.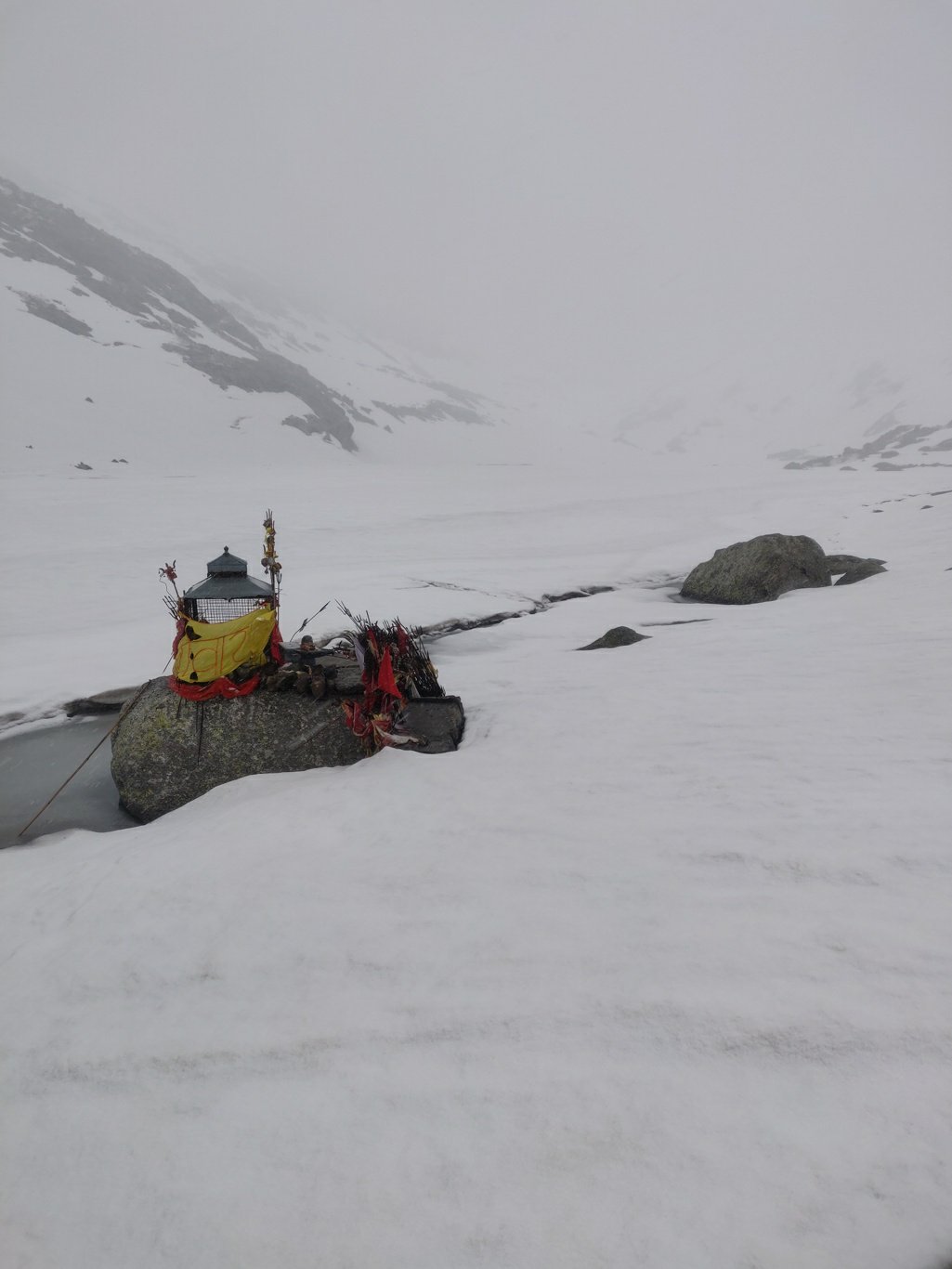 It was getting wetter and colder and with no shelter around I decided to take a U turn and returned 3.5km back to the base trail of the Minkani pass 4020m, gateway to the Kareri lake 3000m. The ascent of the completely snow covered North facing side of the Dhauladhar ridge was pretty straightforward. The view from the pass on the snow covered Laam Dal valley was mesmerizing.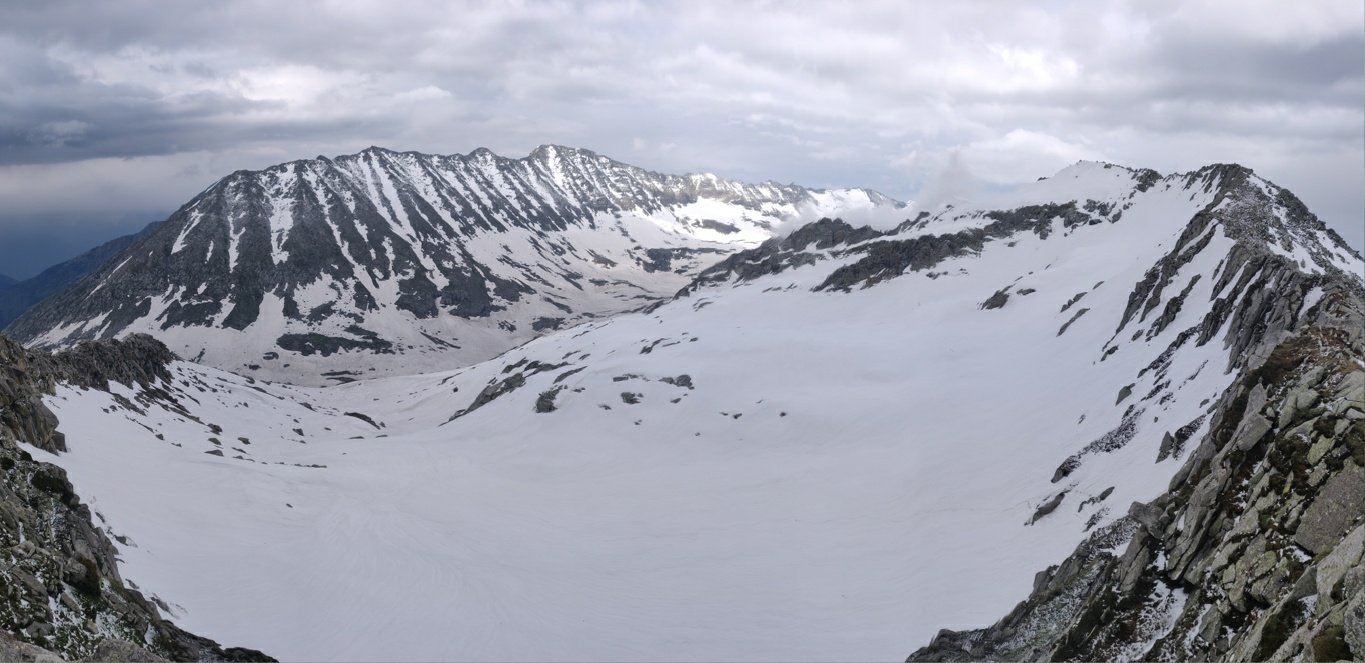 The 1000m descent on the South side of Dhauladhar was much more challenging. Even tough much less snow was present at this side, the trail descended through a steep snow covered gully with steep rock faces on both sides. It was a tricky climb down on steep rocks and snow. The hiking poles and ice axe came in handy.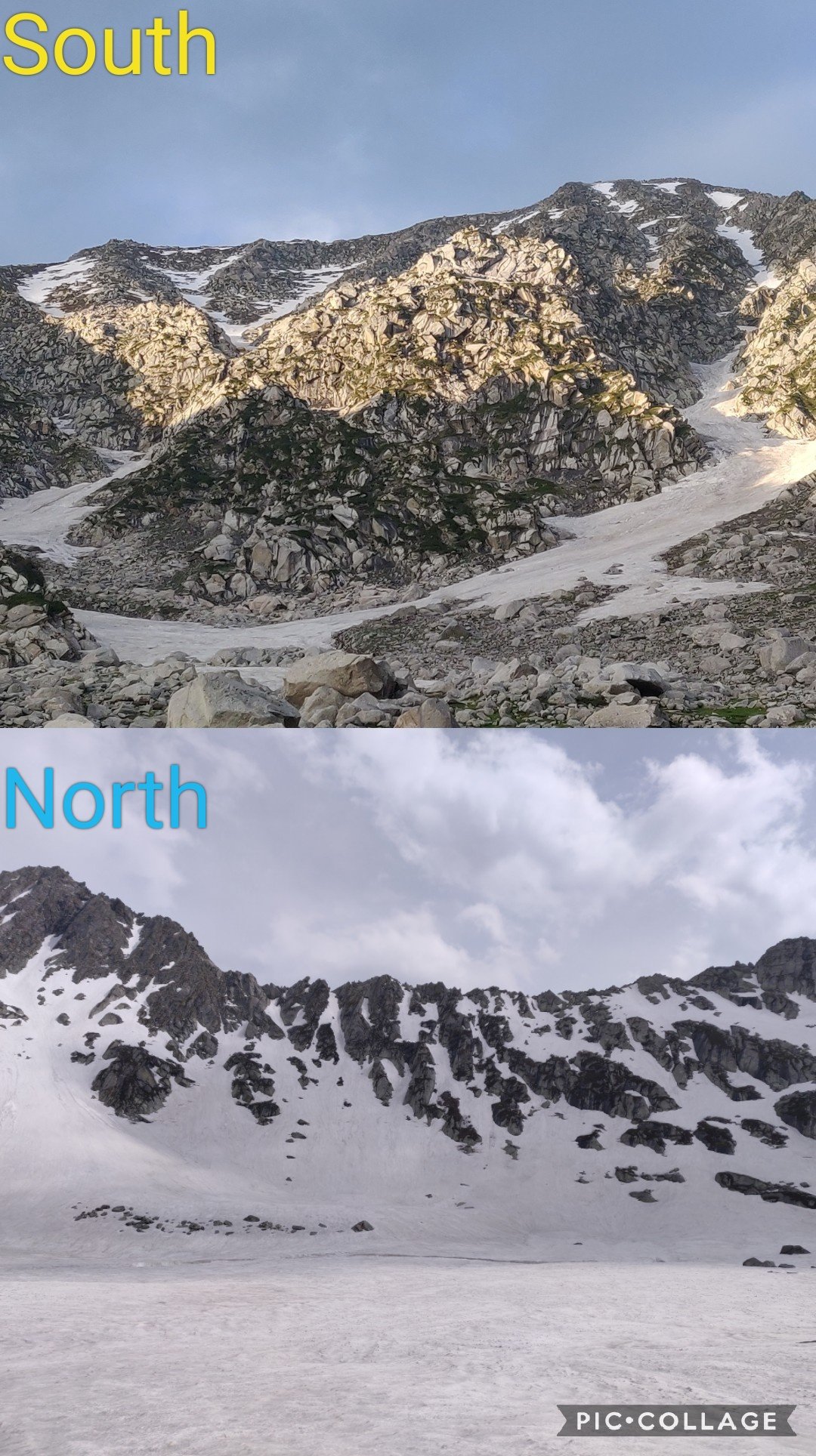 I reached down at the Kareri lake when the sun was beautifully setting in the West. A friendly local buffalo herder lady offered hot chai after a long and challenging day. I requested her to cook three Maggie packets and on top she offered me rottis and sabji. The burned calories were being replenished.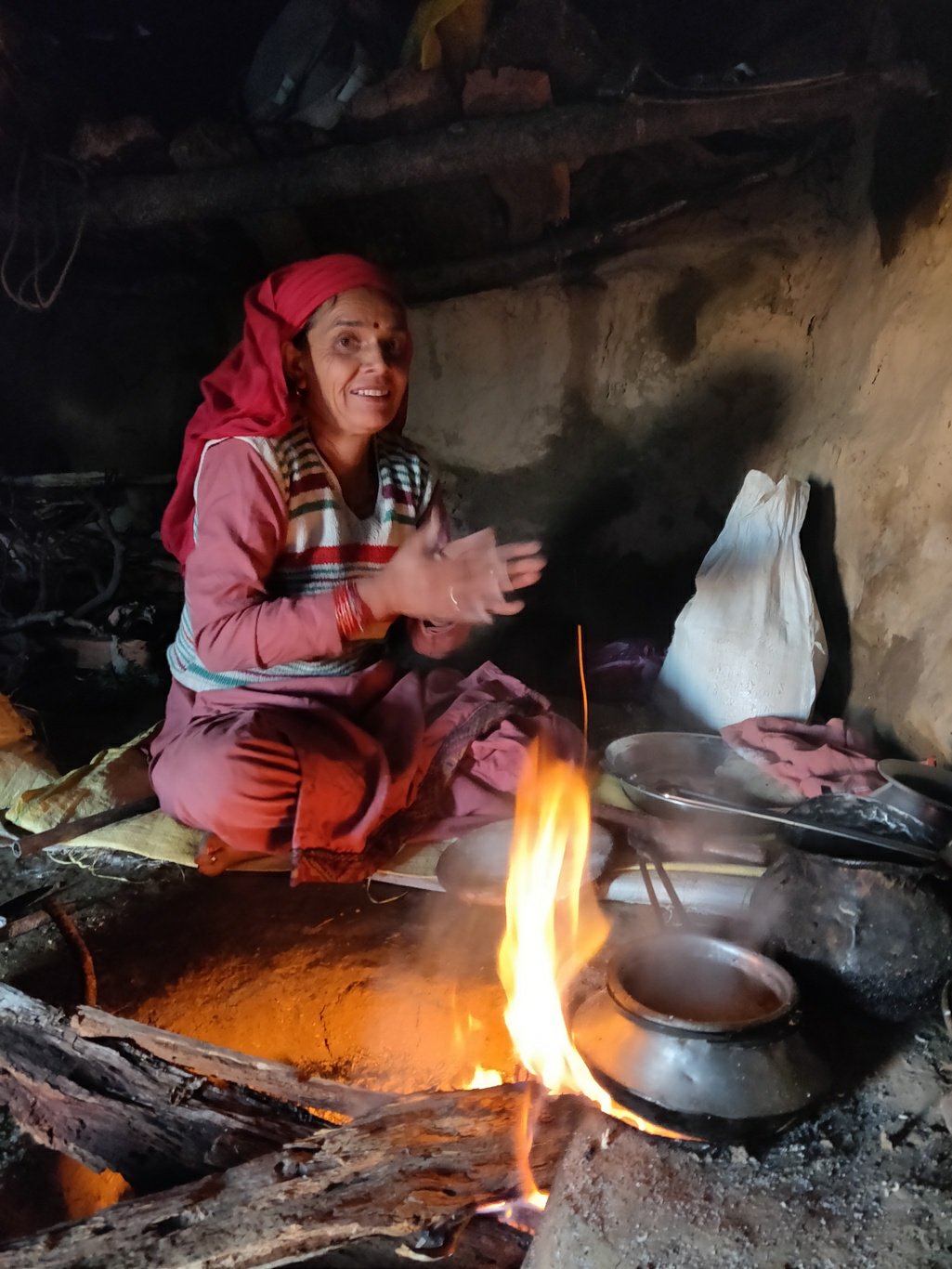 I bid adieu to my friendly host and walked across the Kareri lake looking for a night shelter. Quite a few tourists were camping near the temple so I decided to settle down a bit away below the open skies on a flat grassland. The sky was filled with stars.