A 75 days / 1500 km alpine-style journey across 40 high altitude passes in Spiti, Pangi, Chamba, Kinnaur, Shimla and Kangra districts of Himachal and Zanskar during summer 2018. Minimalist, self-supported, partly running and mostly solo exploration of many lesser known passes, many only used by shepherds including Chobia, Chaini, Kugti, Pratap Jot, Thamsar, Kaliheni, Lar La, Padang La and Buran to name a few. Jumping districts and valleys across the Pir Panjal, Dauladhar and Baspa ranges traversing 1500km through picturesque valleys of Pangi, Saichu, Sural, Miyar, Hudan, Chandra, Tsarap, Zanskar, Lingthi, Lugnak, Lug, Barot, Ravi, Pin, Parbati, Baspa, Chenab, Buddhil Nai, Pabbar, Chamba and Spiti.

Several weeks went into planning the route, analyzing maps including OSM (Open Street Maps), SOI (Survey of India), Google Earth, Olizane and various reference blogs. Credit goes to Sathya Narayanan who inspired me through his solo trekking explorations and wonderful blog before he went missing last August and my close friend Maniraj who identified many trails. Navigation (and photography) was done with my OnePlus 6 mobile and offline OpenTopoMaps. A total elevation gain of 2+ lakh meters with 7 passes above 5000 meters, 21 passes above 4000 meters. Being an ultra runner and minimalist (carried only 6kg luggage) most of the pass crossings were done in just 1-2 days after initial acclimatization, covering 30-40 km every day, remaining time in traveling on HPRTC buses in between sections. The journey went across colorful alpine meadows, high altitude desert, vast glaciers, wild stream crossings, huge moraines, steep landslide-prone valley slopes, a few technical climbs and wilderness navigation near a few unused trails.

Overnight camping in tent but many times stayed in shelters with shepherds and mountain tribes, and in may welcoming homes at remote, hospitable villages. Food was kept basic / minimal with no cooking to reduce weight. No technical gears were carried except for a pair of hiking poles to assist in crossing streams, ice slopes and landslides. The journey was one of stunning natural beauty, hospitality beyond words and overwhelming vastness of remote out-of-this-world landscapes. Indulged in lip smacking local cuisine, encountered hikers and wildlife in the remotest corners of the Himalayas, listened to beautiful music on local instruments. More details on passes, route, preparation, photos and videos of my journey can be found at ultrajourneys.org
Photo Feature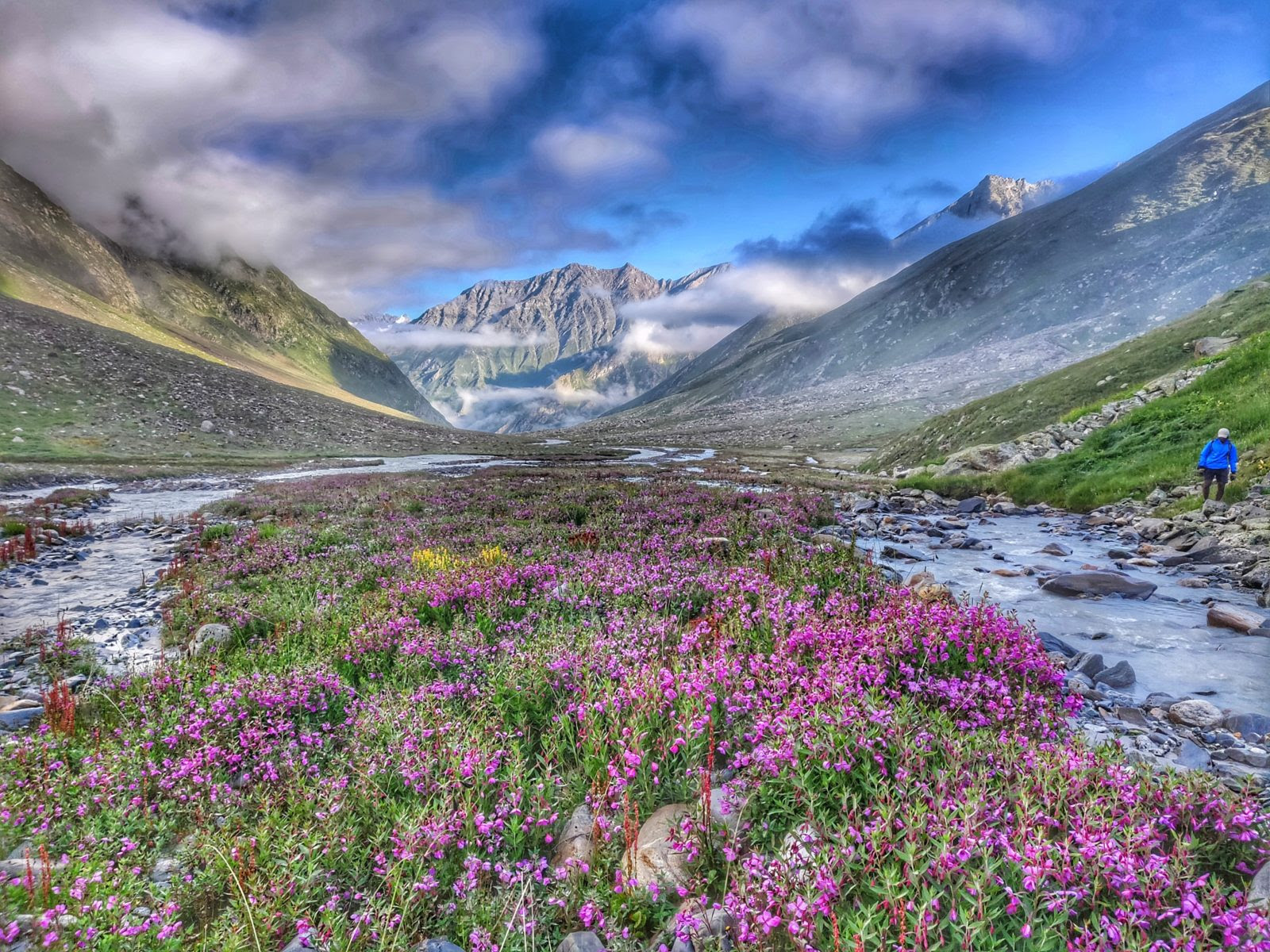 Traversing beautiful alpine meadows dotted with pink and yellow flowers in the remote Saichu Valley in Pangi beyond the last village of Tuan. These higher altitude meadows of Saichu are grazed by many herds of the shepherds who migrate each summer from Chamba valley through one of the many passes across the Pir Panjal range. Here on the way to explore an unknown jot (5260m) trying to cross over from Saichu to Miyar valley.

Descending from the Kugti pass (5040m) with a shepherd guiding his 500 sheep into the beautiful cloud indulged Chamba valley below. Kugti is one of the several passes across the Pir Panjal range used by shepherds for their annual migration to graze the high altitude meadows. Here we are crossing over from Rapay village along the Chenab river in Lahaul to the picturesque Kugti village in Bharmour, Chamba. The Kugti pass requires traversing of moraines and landslide prone slopes on either side of the pass.

Bright red alpine flowers in the high altitude meadows (4200m) of the Miyar valley while descending the Pratap Jot (5100m) pass onto the moraines of the Kang La glacier. Pratap Jot is one of the several passes across the Pir Panjal range separating the Miyar and Saichu valleys. Around 10 shepherds and their 3000+ sheep graze the beautiful meadows of Saichu valley every year crossing one of these passes. The 25km long Kang La glacier seen here connects Lahual/Pangi with Zanskar, Ladakh – walking across this vast moraines landscape of huge boulders and rocks on top of melting ice is quite challenging.
Your best friends in the mountains – the gaddi's! Here preparing hot chai, fluffy rotti's and yummy aaloo gravy for two starved (and half frozen ? travelers after an icy crossing of the Rupin pass with heavy snowfall and hazel during mid Sep 2018. The shepherds leave home at the start of summer in May and cross several high altitude passes to graze their large herds of 300-600 sheep and goats in the remotest corners of the Himalayas returning only 6 months later in Sep-Oct. Every few weeks they descend to the nearest village to resupply rice, atta and other food items. They use home woven blankets and clothing to stay warm in their temporary shelters in the alpine meadows between 3000 to 4000 meters altitude. The warmest hospitality can be found in the most remote corners of our planet.

A heavily crevassed glacier as seen from the top of the Chobia pass (4966m), shepherd gateway across the Pir Panjal range separating the valleys of Lahaul/Pangi and Chamba. As per shepherds, the Chobia pass is the 2nd most treacherous pass (after Kalicho) to cross the Pir Panjal range leaving around 20 out of 500 sheep death during the annual crossing of this pass. From the Pangi side at Arat village along the Chenab river, one has to traverse steep landslide prone valley slopes, a vast section of moraines and negotiate deep crevasses in the glacier (following a trail of sheep poop) before ascending a final steep rock to reach the narrow pass. On the Chamba side on the way to Seri Kao village all bridges were washed away during flash floods in Aug 2018 requiring scaling steep trail-less slopes on one side of the valley unable to cross the forceful stream currents.

Fresh snow on top of the glacier near the Pin Parbati pass (5300m) in September 2018. The pass was first crossed in 1884 by Sir Louis Dane in search for an alternate route to the Spiti valley. The pass connects the fertile and lush green Parbati valley on the Kullu side with the barren high altitude desert of Spiti near Mud village. At the Parbati valley side, one encounters many shepherds and hikers on the way to the Mantalai lake and one can indulge in the scenic hot springs of Keerghanga. On the Pin valley side the eye gets treated by the mesmerizing color shades of the valley slopes of the Spiti rock desert.

Tso Mesik, one of the many ghost towns one encounters along the remote Tsarap river valley while hiking from the Gata loops (Manali-Leh highway) in Lahaul towards Phuktal gompa in Zanskar, Ladakh. What appears to be once thriving settlements with beautifully constructed homes, surrounded by fertile farming fields have been abandoned for many years. Residents seem to have left in a hurry leaving everything behind. Was survival of the harsh life in this barren high altitude desert too tough, did a natural calamity (2014 floods?) force them to leave, did the comforts of the city life tempt them to migrate or did their life lines (water streams) dry up due to global warning and melting glaciers?

An Ibex skull on the Lar La pass (4670m) deep inside the Zanskarian mountains in Ladakh on the way from Phuktal to Zangla. The entire journey involves crossing two other passes including Rotang La (4900m) and Padang La (5170m). On the way one passes through Shade village, one of the most remote settlements in Zanskar, being 2 days away from the nearest road head. Between Lar La and Padang La I encountered yak herders grazing remote alpine meadows in this barren desert, producing 100 liters of milk from as many domesticated yaks every day, producing butter and cheese. The same is transported using donkeys, horses and yaks to Shade village to survive 6 months total isolation during winter. All animals are carefully kept in enclosures at night safe from nocturnal attacks by the illusive snow leopard.

Dreaming beneath the milky way at the base of the Phirtse La pass (5560m). Highest of the 40 passes crossed in this trans-Himalayan journey, the Phirtse La connects Tangze village in Zanskar with Sarchu in Lahaul. The starlit skies were captured on my OnePlus6 phone with 30 seconds exposure trying hard not to freeze off my butt in that very cold night at 4700m. The pass connects the Southern most section of the Zanskar valley which is dotted with many beautiful small settlements like Testa, Kuru, Tangze, Kargyak, small fertile patches in the barren desert of Ladakh. On the other side one descends into the beautiful Lingthi valley encountering shepherds and wild yaks on the way to Sarchu were it joins the Tsarap river.

Menthosa peak, at 6443m, the 2nd highest peak in Lahaul and Spiti, as seen from an unknown pass (5300m) while crossing over the Pir Panjal range from Saichu to Miyar valley in Pangi. Menthosa is situated in the Urgos Nallah a tributary of the exceptionally beautiful Miyar Nallah. Here climbing up steeply from the beautiful alpine meadows of the Saichu Nallah beyond the last settlement of Tuan across vast stretches of moraines towards Great Himalayan Range to enter Miyar valley.

One of the most intense experiences during my journey. While descending from the Chobia pass, the most dangerous in the 40 crossed, I got trapped in a sudden dense fog whiteout in the late afternoon at 4100 meters and lost the trail used by shepherds. Further descend was impossible being blocked by steep rock faces on all sides. Having lost my tent the previous day in the beautiful Miyar valley, I spend that night wrapped up beneath a small tarpaulin sheet braving the cold rains, while trying not to slide down from the inclined slope. Next morning the sunrise cleared up the fog and I was treated on a stunning view of the green Chamba valley below. 1 hour later and 500 meters lower I was enjoying a hot cup of chai and alloo rotti's in the first shepherd shelter on my way out