Today's plan was to cross over from the Bhilangna valley to the Bal Ganga valley across a 2170m high pass, a thousand meter ascent from the river. We had a peaceful sleep in the guest room of our host in Pokhar where we attended a local marriage last night. We got up by 7am while the lady of the house brought us a cup of lipton tea.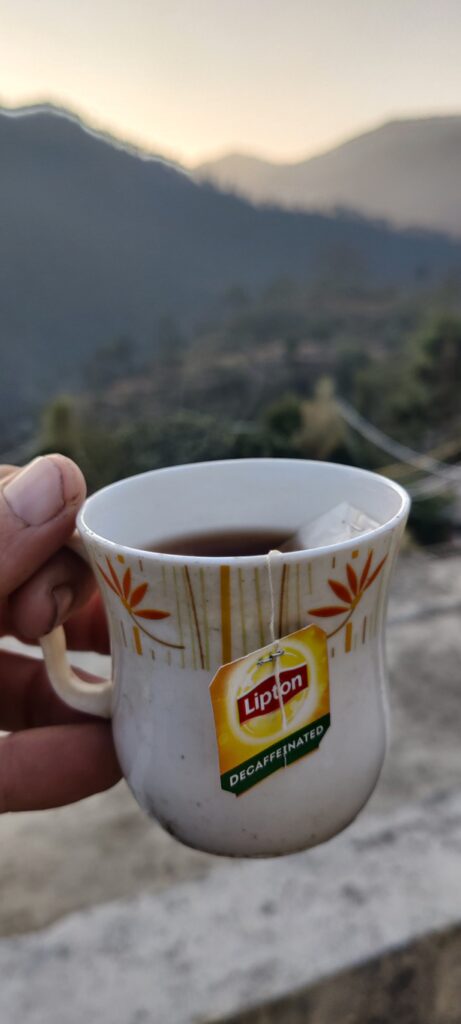 We bid goodbye and started off on a nice rock path climbing up into the pine Forest above Pokhar. The path hair pinned up on the valley slope to the upper hamlets of Kumalthsera and Paijgaon. We welcomed the warmth of the sun rays in the cold morning. From Paijgaon the path contoured gradually up along the valley slope to the deserted dwelling of Kaintwangaon.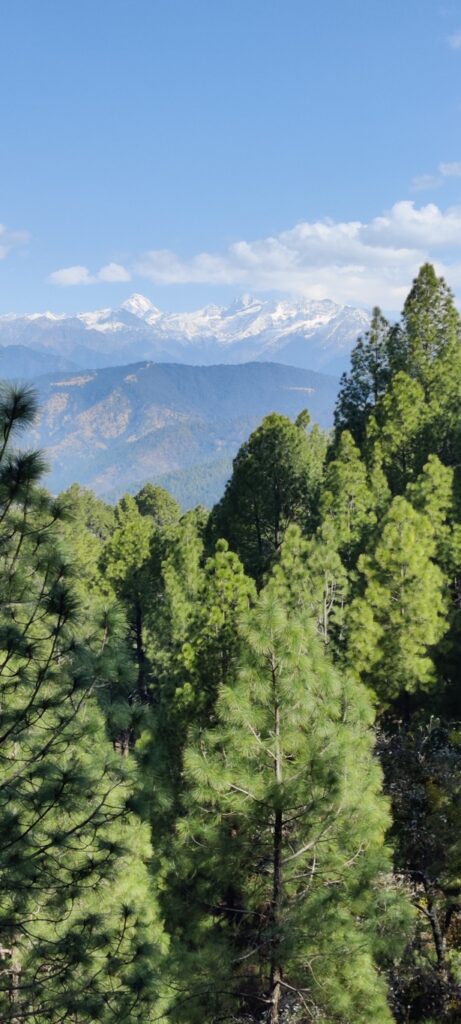 From here we got open views on the snow clad high ranges above Gangotri. We took a short chikki break soaking up the sun on the empty terrace farms. Yesterday's sumptuous buffet at the marriage allowed us to skip breakfast. The path now contoured up to a small saddle across the ridgeline into the Bal Ganga river valley.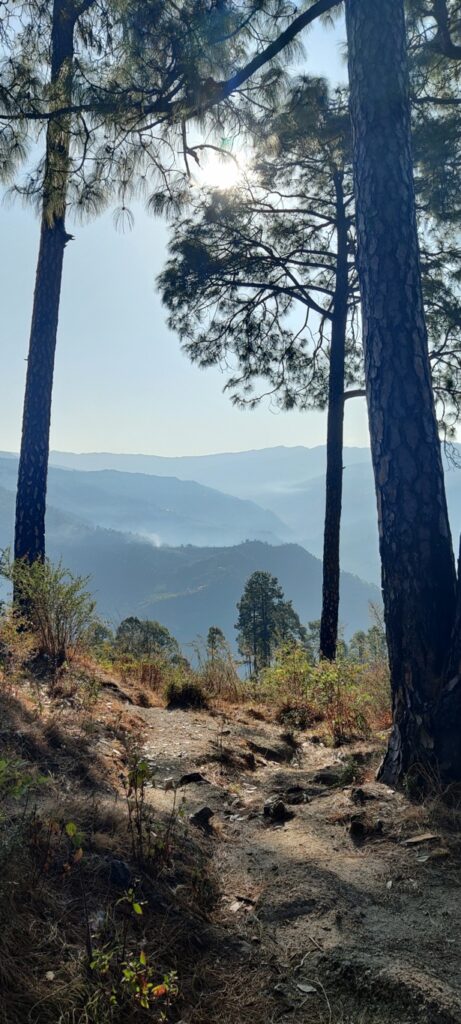 We passed through the farmlands of the deserted hamlet of Gharsaur. The path contoured high above the valley around a ridge from where we started our descent into the Bal Ganga valley. We jumped various trails zig zagging through the pine forest looking for a quick way down. We passed by a mandir built like a fortress on top of a steep rock face overlooking the valley.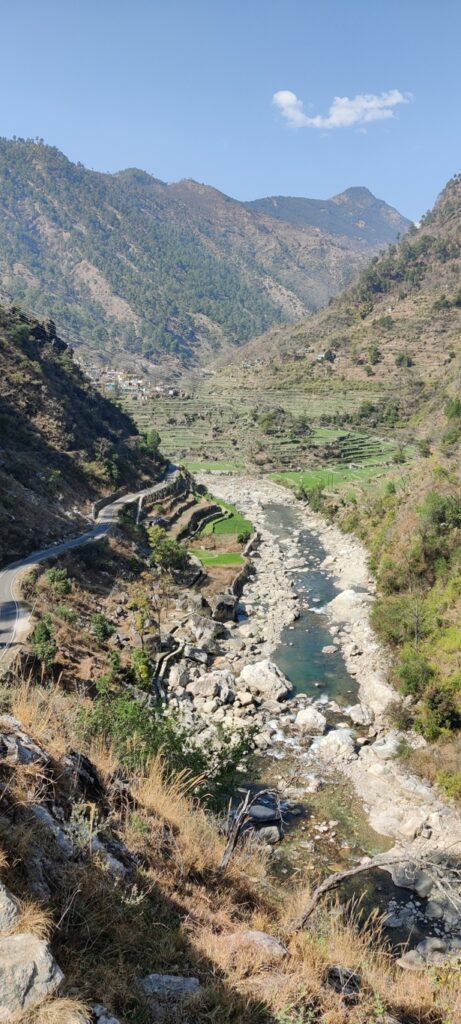 We finally got to the road near the village of Karngaon from where we further descended to Sirakot along a path short cutting the hair pins of the road. We found a small road side tea shop starved after a 5 hour traverse. The owner gave us tea and biscuits but was unwilling to cook food or even Maggie for two hungry stomachs.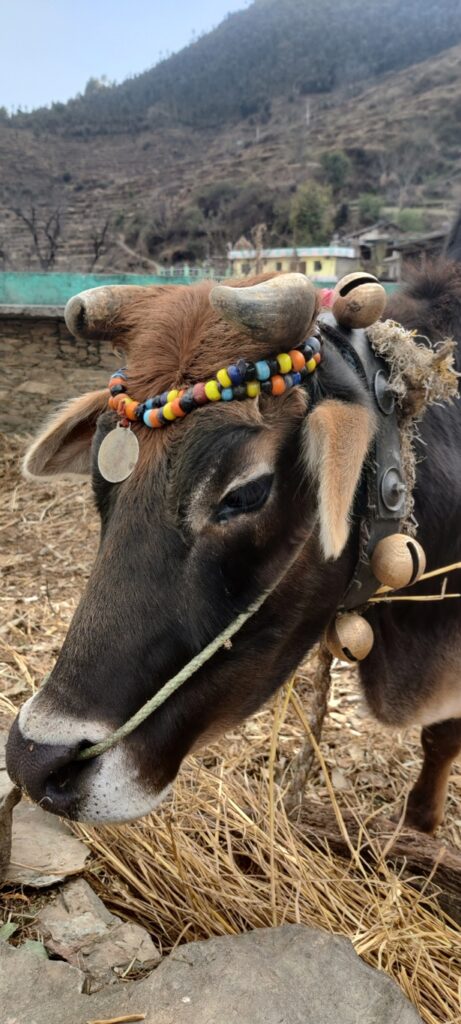 After insisting for a while he finally told us about a dhaba 1km ahead.
We walked along the road till a bridge across the Bal Ganga river where we found a proper dhaba. We ordered kadai paneer and lachcha paratha. A delicious feast after an intense 15 km morning hike on empty stomachs. We packed up a couple of samosa's unsure about further shops up ahead.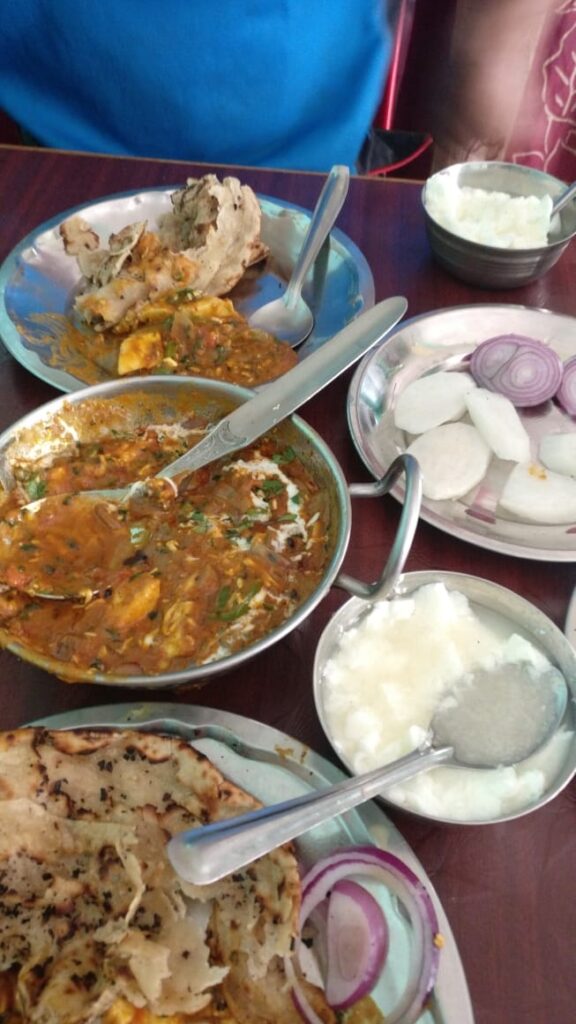 We now entered into the Gongad Gad side valley, initially following the road to Sirakot. A while further we entered a wide path that gradually contoured up into the valley as the road below took a U turn. It took us through pristine pine forest until the upper valley opened up into many hamlets surrounded by terrace farms.
We touched the upper valley loop road by the village of Bona where we stopped for a short tea and cream roll break enjoying the peacefulness of the location and the scenic valley views below. Late afternoon we strolled along the flat contouring road till the last village in the valley – Banoli.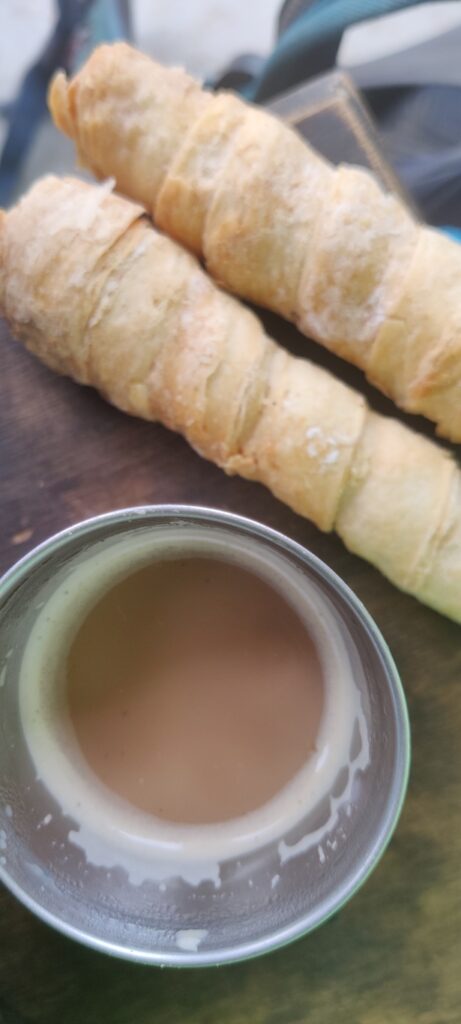 Here the road took a U turn and we would proceed along a path towards the pass in the morning. We found a small dhaba near the river where a kind elder gentleman cooked dinner. Another friendly local invited us to sleep in his under construction house out of the cold wind. A bit tired after a long day I blogged the happenings of the day and snuggled beneath my warm Bluebolt quilt