It was a peaceful night on the farmlands of the small hamlet of Gharkuti. Plan today was to cross over a pass into the Pindari river valley at the town of Simli. A wide rock path took us up through pristine pine forest to Silangi, a village with many shops and dhabas connected by road to surrounding villages. We had breakfast – black tea and chowmin packed up the previous day.

From here the rock path climbs up in the lush green valley to the farming Hamlet of Rointha. We climb up through beautiful terrace farms below the heritage homes of the hamlet with views of Chaukhamba behind us. From here the path enters the forest above and crosses a small saddle into an isolated valley with the deserted dwelling of Gain. From here the path contours across an unknown pass at 2100m into the Pindari valley.

After an initial steep drop through forest the path contours right along the valley slope to the hamlet of Kimoli. The path continues to contour to the hamlets of Pholota, Suktoli and Sumalta crossing the hair pins of dirt road. The mid day sun is intense and pretty hot during winter. We are able to descend to the Pindari river along a small path avoiding the road to the highway town of Simli.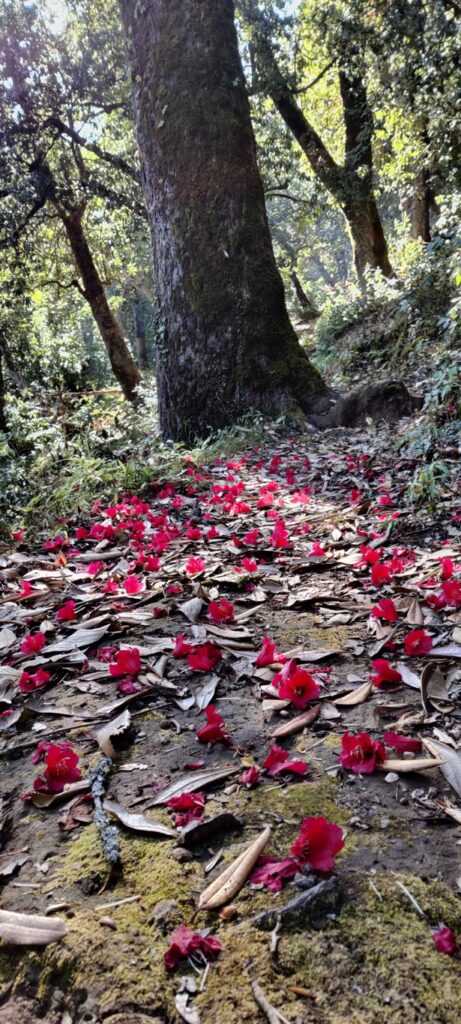 We take a break from the heat and drop into a small road side dhaba. Two plates of fried mommo's with cold Mountain Dew form a delicious lunch combo. We hitch a share jeep ride 8km upstream the valley where we cross the Pindari river and climb up the valley along a small ridgeline to our next pass. A forest trail hairs pin up through shady pine forest, a welcome break from the intense sun.

It s a thousand meter ascent to our target of the day – the last village of Chaurasain. On the way we pass through a few of smaller settlements. At one home a few local ladies treat us on freshly plucked grapefruit and sweet oranges. The path crosses a hair pinning road umpteen times. Behind us the snow covered high ranges of the Northern subsection of Nanda Devi reveal themselves.

We got treated on mesmerizing sights of Nanda Ghunti, Ronti, Nanda Devi and Trishul. We reached the village of Chaurasain as the sun was setting behind the horizon. A cold wind was blowing at 2000m altitude. We got inside a small shop cum dhaba where we had tasty steamed mommo's with home made chilli chutney and lemon tea.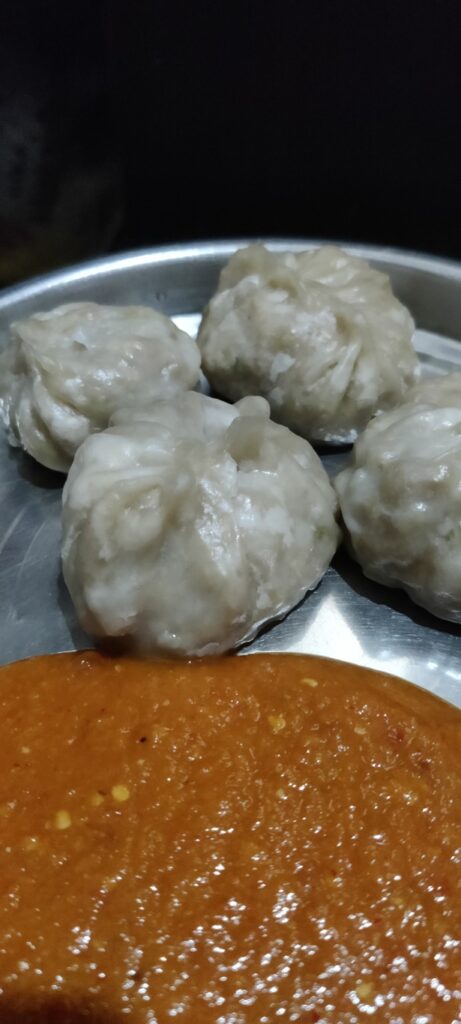 We pitched up our tents on the school grounds. Temperature was dropping fast at night. A friendly neighbor brought us some hot buffalo milk near our tents and said he would bring us hot chai in the morning. The peaceful night sky was filled with bright stars above.
.gpx" file_color_list="blue" ]