We camped on a flat farm land above the river below Bursol village. The tent sheet was frosty in the morning revealing a freezing night in the valley at 1700m altitude. We climbed up a nice cobbled rock path to the road side village of Kunga in search for breakfast having missed proper dinner the previous day.

We located one small shop which was serving tea. We had some bakery biscuits and fruits as no proper food was available. From Kunga an old rock path climbs up along the ridgeline to the Binayak Khal pass at 2600m, a 900m climb from the valley below. It s a pretty steep climb as the path hair pins up to the last dwelling of Change Kharak, mostly uninhabited. From here the path gently contours up to the pass. We pass a first rododendrom tree in bloom in January!

We take a biscuit and orange break at the pass while enjoying the warm morning sun.after the pass there is a small drop in an in-between valley followed by a short climb to another saddle where we pass the Sup Tal. A sizable lake completely dried up in winter. From here a wide rock path drops down into the Nandakini river valley. Initially beautiful native forest which slowly opens up into meadows and farmlands below and distributed settlements. Chaukhamba is clearly seen at the horizon.

We hit the river at Kungurcha but don t find any dhabas yet after our last meal the previous day late morning at Lohajang. We continue walking along the road in the shady, chill valley until we get a ride in the car of a lady physics teacher on her way back from school. We get a drop 5km further at Ghat, the main market town for many surrounding villages. Starved we drop into a happening dhaba at 2:30pm but end up waiting 30min to get served.

Unlimited tandori rottis and sabji at 60Rs go in fast after 28 hours since our last meal. What a feast! With Republic day tomorrow we take precautions and pack up fried mommo's for the day ahead. Late afternoon we continue our way downstream till we climb up a small rock path which hair pins up a ridgeline leading towards the Agichaura Khal into the Birahi Ganga river valley. After a 600m climb we walk through beautiful green farmlands of Luntra during sunset.

A peaceful village, we decide to halt here for the night. We order tea in a small dhaba where soon a sizable gathering of locals surrounds us curious on our journey. We try out Google translator to speak Hindi to French which seems to work very well. A kind gentleman invites us to stay over at his home near the Shiv Mandir, a nice replica of the Kedarnath temple under an a large, old tree above the village.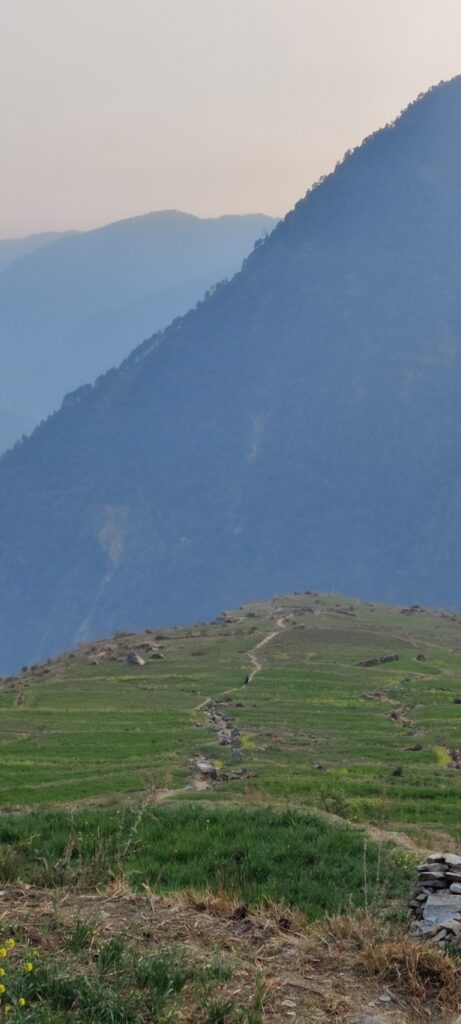 We get invited in a nice cosy room where we meet the entire family. Tea gets served and warm water to wash our feet. A sumptuous dinner of fluffy rottis, palak, dhal and home made butter gets served by a friendly lady of the house. 4 kids in the house are eager to learn about our journey through Uttarkhand. We sleep of in comfy warm beds as the outside temperature drops sharply at the open valley slope at 1800m altitude.