We camped on the school grounds of Budha Kedar next to the heritage temple. The night was cold, condensation on the quilt inside the warm tent. We packed up, jumped over the compound wall and head towards the dhaba for breakfast. We pack up 2 days of ration for our next target – Masar Tal, a 1600m climb out of the valley.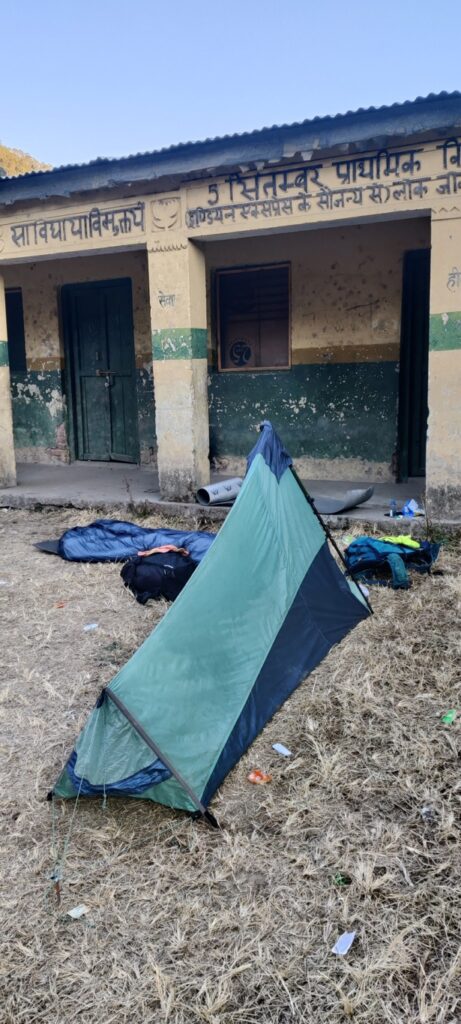 We climb up on the ridge above the town following a nice, wide path. From above we get treated on bird's eye views of Budha Kedar at the confluence of Dharm Ganga and Bhilangna rivers. The path ascends through pine forest and then contours on the left valley slope towards the village of Titurana. We see a gathering of villagers commemorate the first year death anniversary of three locals.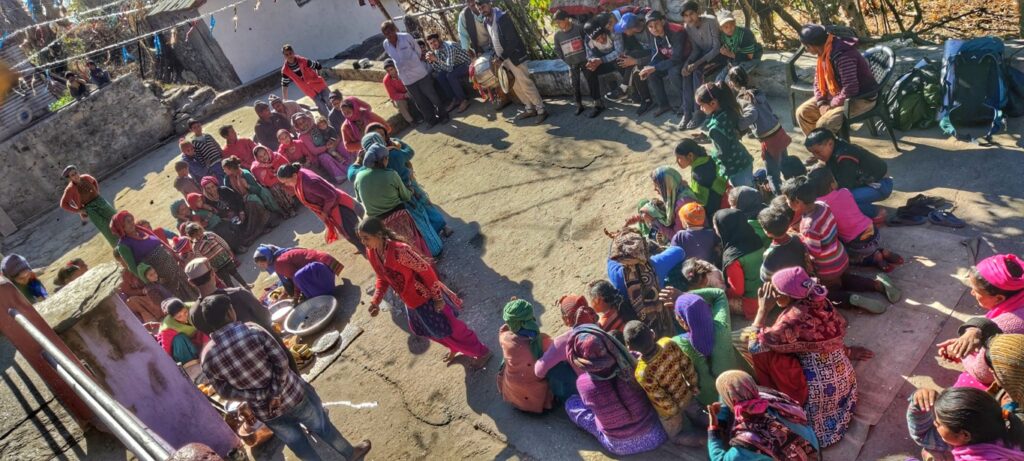 Ladies are dancing to the tune of local instruments performing ancient rituals as they try to communicate with the deceased in the afterlife. Friendly locals invite us for tea and lunch and we resume our way uphill. We climb back up towards the ridgeline where we find a nice rock path leading up. The path gently ascends along the Eastern valley slope, hair pinning up to reduce the steepness and bypassing the peak on top.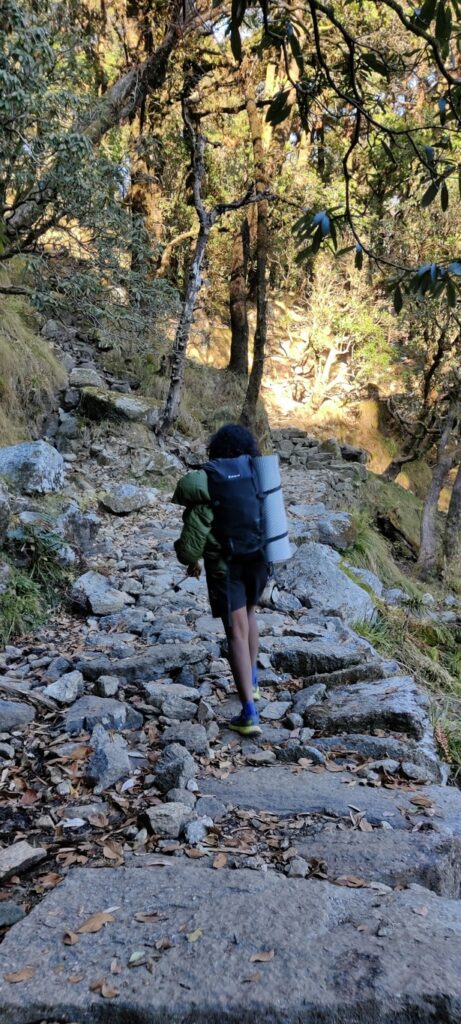 There are shelters along the way for pilgrims who make the annual journey to Masar Tal. The weathered rock path looks ancient, intelligently built for easy traverse across the steep terrain. We cross over the ridge to the Western slope to no longer existing dwelling of Paliyanga Saur where we hit first snow at 2900m.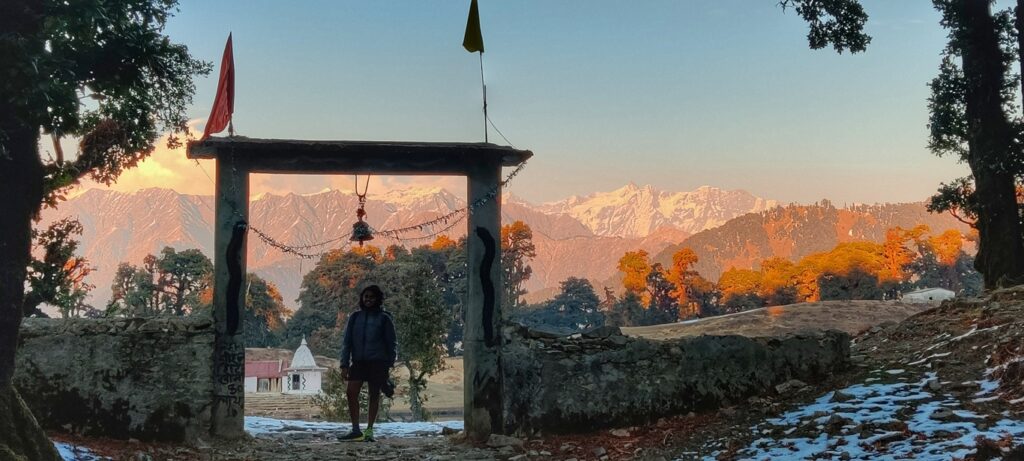 The path now contours up gradually along the Western slope periodically covered by snow towards the Masar Tal lake. We reach the lake around 5pm and get treated on mesmerizing view from the entrance. The setting sun covers the snow covered peaks and forest in an orange glow. The lake is half covered by ice, thick enough to walk across. The still waters of the other half beautifully reflect the open surroundings of the lake.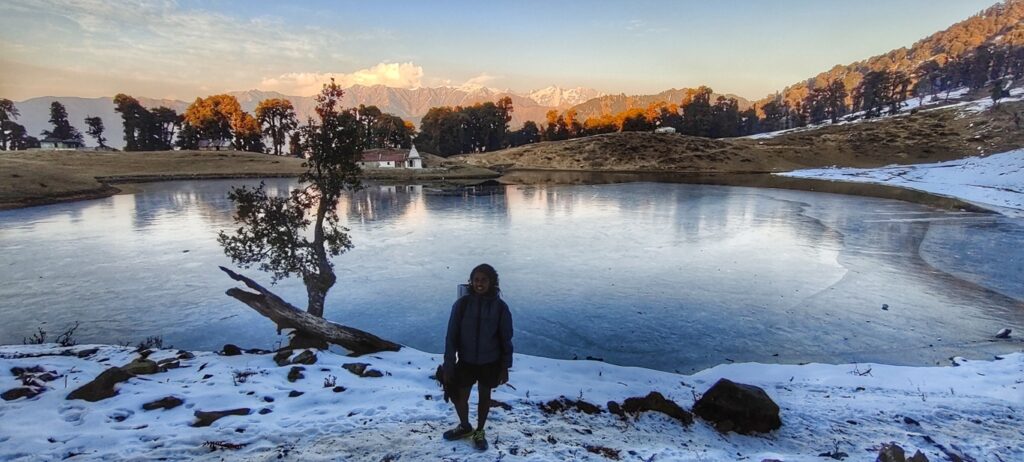 A small mandir sits on top of a hillock next to the lake. The upper valley slope that drains into the lake is covered by snow. Clear open meadows on the opposite, sun exposed side. We stroll around the sizable lake taking in the unique, changing views from different angles. Temperatures are dropping fast and we check out the various shelters near the lake to halt for the night.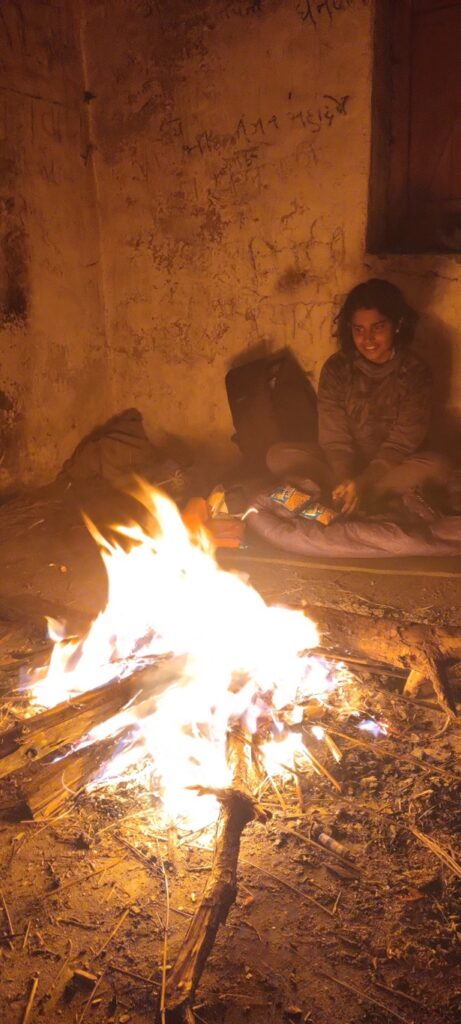 We settle down in a room of one shelter, collecting firewood to light up a warm fire. Closing the window shutters the room feels warm and cosy from the freezing wind outside the frozen lake. We warm up the packed up chowmin from Budha Kedar and get underneath the warm Bluebolt quilt. During the night we hear the sound of animals roaming near our shelter.