The night was pretty warm inside a little cosy home in the deserted dwelling of Kingadiya. A few nice were running around the room all night in search – I guess – for food, rambling kitchen utensils and waking me up. I rose 7am to my daily alarm. It always takes a mental push to get out of that warm comfy quilt into the cold morning.

I packed up and was on my way descending along a trail into the valley towards the hamlet of Liswalte at the road head. I usually put on my BlueBolt puff jacket in morning till sun comes out warm. Hands are usually very cold, meadows are all frozen. I hit the road and – lucky me – a Mahindra van is just passing by. I hitch a ride along with a few school kids midway to the base of next pass.

The rest of the stretch I walk on the road till Dharkuri where I drop into a small dhaba to have breakfast and charge my phone. The dhaba owners are usually curious to know where this solo hiker is coming from and his next destination. I have Maggie and pack up chowmein for the next traverse. I climb up to Bedam and follow the road that heads towards a saddle where I plan to cross into the next valley.

A Jeep crosses me full of forest officials and ask me whether I have permission to enter the forest. After a friendly conversation they invite me to join them on a small hike to a nearby bugyal. A 72 year young forest officer leads the way into the forest. After a 30min hike we reach an open grass land with splendid views on the snow covered Gangotri range above Kedarnath.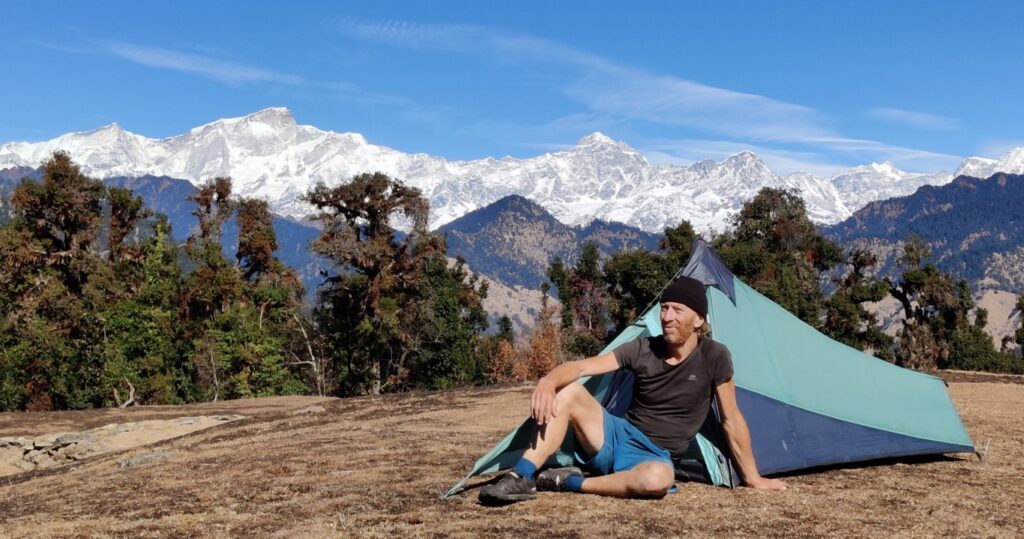 The official are inspecting the construction of a few check dams along a small river above a village below to conserve snow melt water. They invite me to stay over for the night but I kindly deny to resume with my original plan to cross over to Kedarnath through Mankha Khal pass. I continue my way along the trail marked on the Survey map.

Unfortunately the trail dies out in the forest and appears no longer in use… Disappointed I take a U turn and head to the first inhabited hamlet of Dang. People there tell me that there are tigers and bears roaming in the forest. I hit a road head and start walking down an endless road which hair pins along the many side valleys.
After about 1 hour a friendly elder person picks me up on his bike and invites me to his home stay in Dewar near Guptakashi. Delighted to be heading towards Kedarnath side I jump on and a llooooonnnnggg ride follows I to the cold evening. When nearing Guptakashi we get treated on stunning views of the Kedarnath range including the prominent Chaukhamba peak. Color changes from white to orange (sunset) to white (evening) again.

We finally reach the home stay where I get treated on home made food, hot shower (after 25 days!) and a comfy bed with warm blankets. I m in the perfect spot now for several beautiful hikes to nearby scenic locations with awesome views on the snow peaks above Kedarnath.