It was a freezing cold night in a shelter of the deserted dwelling of Gotu at 3300m some 3km from the Kalaipir pass. My Blue Bolt -12C solo quilt was pushed to its limits but kept me comfortably warm. Effective lightweight winter gear at just 950gr. My co trekker Palani was audibly suffering from the cold unable to sleep in his 6 layer gear set – thermals / shirt / fleece / puff jacket / woolen blanket / Quecha S15 sleeping bag.

The daily 7am alarm woke us up and 20min later we were walking towards the pass. A clear path was partly covered in snow but easy to follow. We met a group of locals who were staying near the pass and building small check dams along a stream to manage the water level during snow melt in summer. They were surprised to see two hikers this time of year.

Beautiful sunrise views on the snow covered Southwestern Gangotri range. After crossing the pass there was much less snow on the Southeast facing slope. As per the Survey map we had a few different route options to descend into the Dharm Ganga valley. I picked the one that took us through the summer hamlets of Hariapu, Nilar Chhani, Legarwadi, Naga. Beautiful isolated hamlets all deserted in winter. Doors locked, hay stacks on the roof, clothes hanging outside below the roof.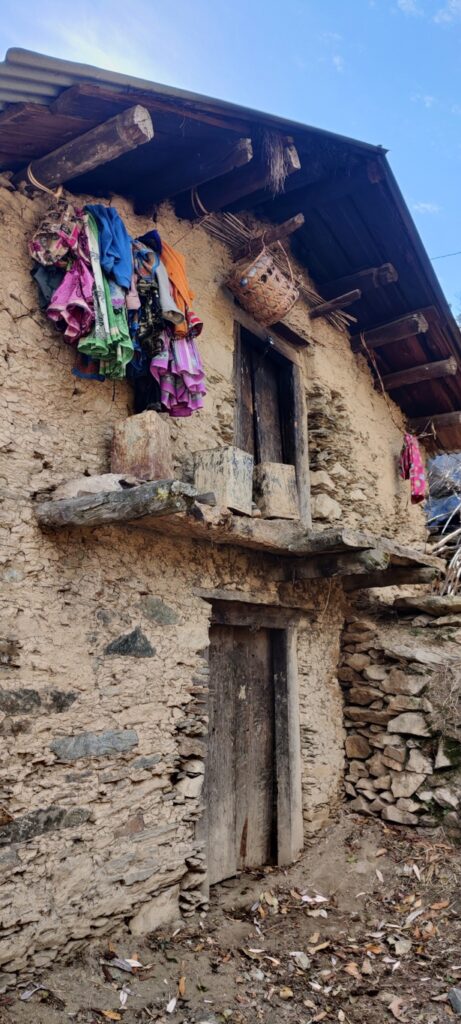 The route was scenic, contouring through serene pine forests. We reached the road head at Pinswari where marriage preparations were going on and we got invited to lunch. Many guests were arriving in share taxis to attend the morning event. We packed up new food supplies in a small dhaba while recharging our electronics. 4 omelettes in 4 burger buns should do for dinner and breakfast while crossing over the next pass in our Kedarnath traverse.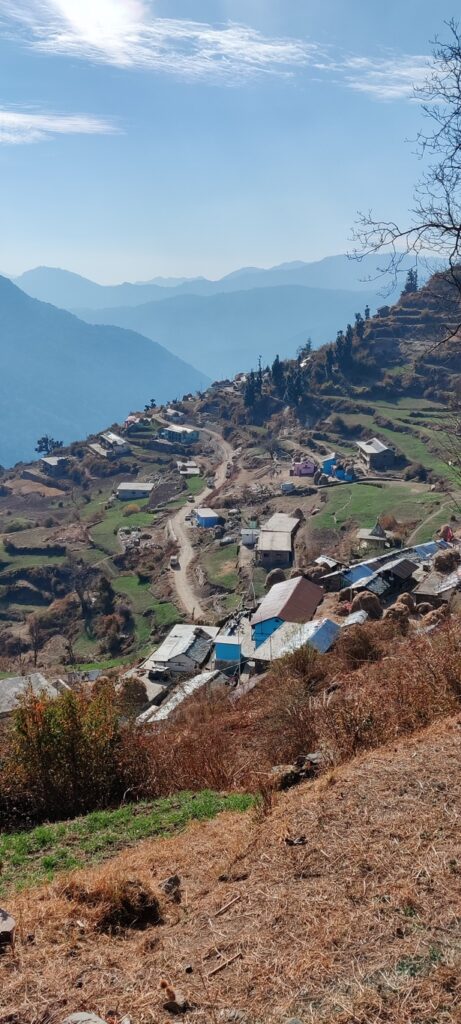 Palani felt exhausted after a sleepless night and decided to hitch a ride to Gainwali where I would meet him in the morning. I was planning to climb up to the Masar Tal lake and cross over there in the morning. I descended into the Dharm Ganga river valley searching for the trail head to the lake. Unable to locate I went upstream searching for another route marked on the Survey map.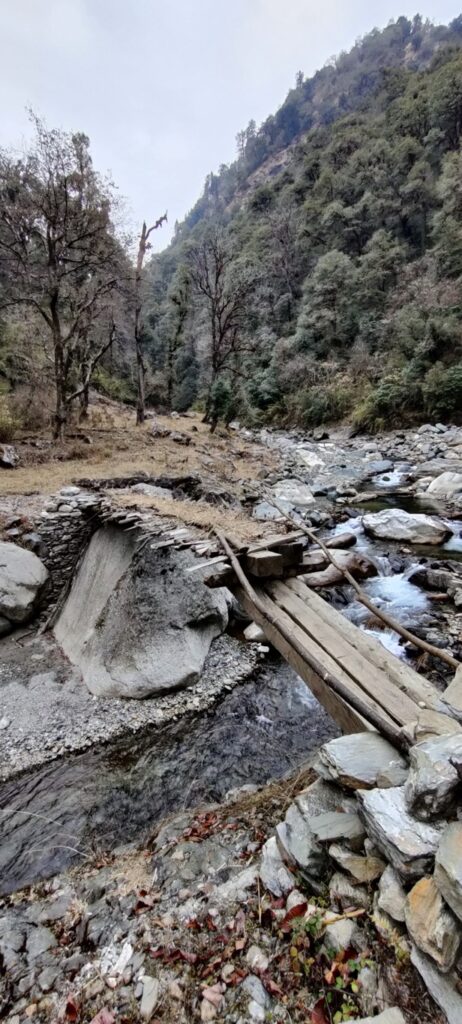 To my luck I found a hand crafted bridge built across the river marking the start of the trail to an unknown pass into the neighboring Bal Ganga valley. The bridge was ingeniously constructed with natural materials – stones and wooden logs spanning a considerable length without use of cement or modern materials. I had seem similar designs deep inside Zanskar across the Tsarap river.

With just 2 hours of daylight remaining I pushed up a steep ridge ascending 1100m towards the pass. With a lightweight backpack and legs in full shape after 3 weeks of speed hiking in this steep terrain I was flying up solo again. Along the way I met a shepherd with some 100 sheep who was descending. Usual response I get from locals seeing me in shorts, tee and minimalist gear set is to not go up there – lots of snow and cold! How do you even find the way??

I picked up the pace to reach aghedeserted dwelling of Manal marked on the map at 3200m altitude before darkness. Meanwhile I got treated on a mesmerizing sunset painting the skies deep orange. The ridge I was climbing was covered with snow on the Northern slope and free on the South facing slope making it easy to ascent.

I reached Manal by dusk and found 5 shelters of which three in ruins. I took in a last soothing view of the sunset while the cold was biting my arms and hands. I quickly checked into one of the shelters in good condition, baricaded the door for cold and wildlife. Had a sumptuous dinner of 4 egg burgers after another eventful day of exploration in the Himalayas.