After a long train journey from Chennai to Dehradun I got a first taste of the cold as I got out of station. Arun, a doctor from Pondy stationed at the army base in Dehradun picked me up and made me two crispy ghee dosas. I dropped my extra backup gears at his place and I bid goodbye after he dropped me halfway the ghat road to Mussoorie.
From there I hitched a ride on a bullet till the historical hill station of Mussoorie. I enjoyed walking through this picturesque town with Scenic views on the valleys below. After a few kilometres walk on the road up to Lal Tibba I got into a downhill trail into the the Aglad river valley. First sight of snow capped peaks as I head my way North in this traverse of Uttarakhand
I descended along a ridge till a small hamlet from where I contoured East towards the hamlets of Kothli and Mathauli. I passed the temple of Jakha Devi where a small gathering of kids were attending school in an open field. From here I started descending again through beautiful pine forest. The trail on the Survey of India map eventually eluded me and I was descending trial and error along random trails into the steep valley.

I finally made it down and crossed the Aglad stream over a small bridge. Once again the SOI map trail climbing up to Kyarsi was not to be found on the ground. I ended up climbing steep uphill through vegetation which took valuable daylight time. I finally hit Kyarsi by sunset where I continued along a road.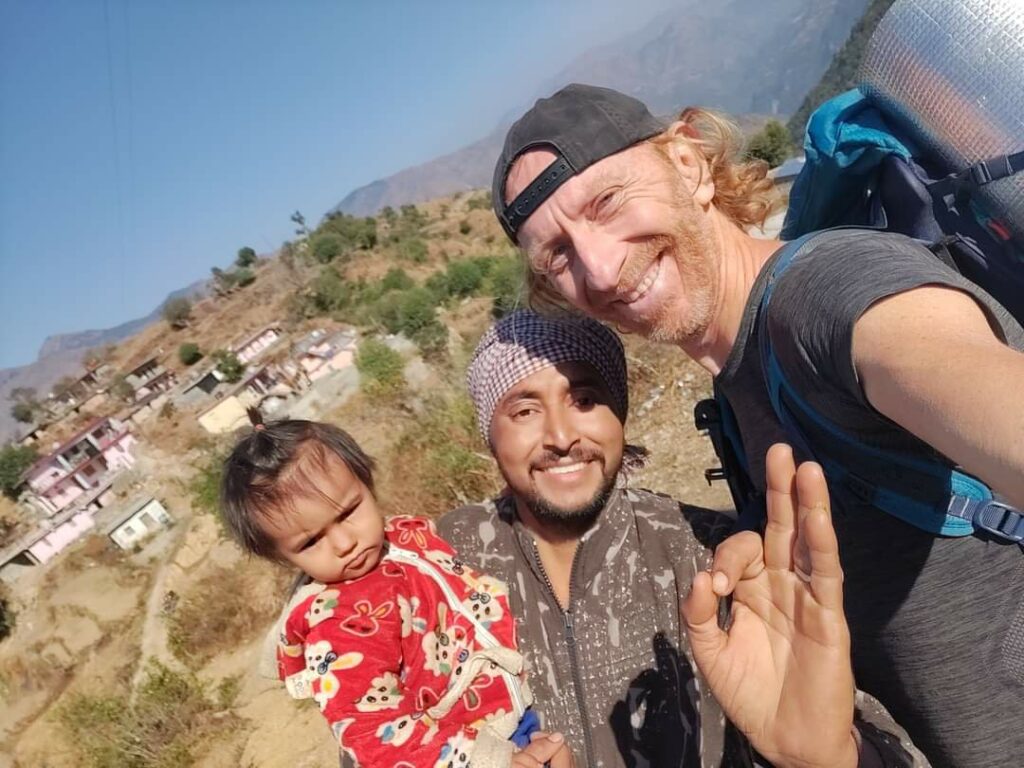 I walked 3km in darkness to the next village where also no food / dhaba was available. Locals told me to continue to the next hamlet of Kyari where after a long day with no food after Dehradun I barged into a small dhaba and indulged in my first plate of yummy mommo's before settling down for the night in the brightly lit village temple.