Kugti Pass (5050 m) falls under the Kugti Wildlife Sanctuary in Chamba district of Himachal. It is a part of the Pir Panjal range of the mighty Indian Himalayas. This pass connects Lahaul with Chamba. Every year shepherds from the Chamba region cross the pass in early July with huge flocks of sheep and goat so that they can get access to the nutritious grasslands of Lahaul. Further, since Lahaul is relatively dry, they are safe from the recurrent monsoon rains.
The trail is already marked on the offline navigation application called OsmAnd (Open Street map for Android). . We started our hike towards the pass from the base village called Rashil (2900 m) at 02:00 pm on 10th July 2021. We (Manav and Peter) were carrying shelter and food (8 aloo paranthas in total) for two people. We camped at 4200 m after crossing Marhi, Alias Got and Kuddi Got covering a distance of 11 km and 1400 meter of elevation gain. We were camping 900 meter below the Kugti pass (5050 meter) on day 01 so that we can have a good head start the very next day.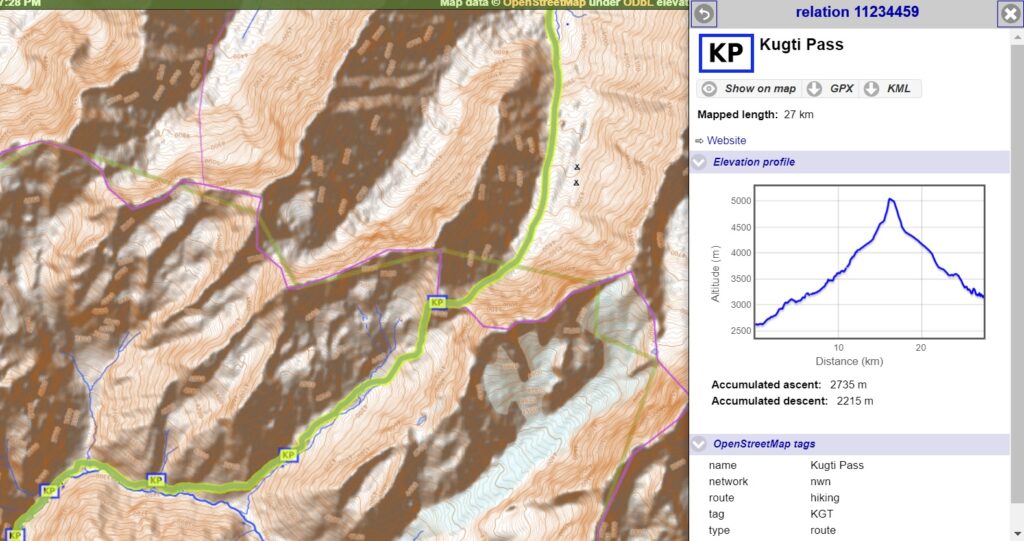 We started at 06:30 am on 11th July 2021 and reached the Kugti pass (5050 m) by 10:15 am. The weather was not clear and we searched for a well-defined trail for another hour. The trail route marked on OSM was still covered with loads of snow which meant that the shepherds had used another route to cross the pass from the Chamba side. However, due to cloudy weather we were not able to spot that specific trail that could take us down on the Chamba side.
We decided to get down to the Lahaul side as the weather was not clearing up. We descended within an hour to Kuddi Got and made our move all the way to the starting point of the trek i.e., Rashil village (2900 m). . Learnings: a) The snow on 5000+ meter need not to be hard. If the slope is south facing then the snow cover can be soft and thus easy to negotiate. b) The route through these higher passes keeps on changing every year and since shepherds cross the pass every year they have a very good grip over the landscapes and crossings. c) Kugti pass is a nice trek to practice edging on steep snow slopes if you go there in June – July. d) It is a beautiful trek in Himachal to getting introduce to the mighty Pin Panjal range.