Peaceful night on an empty farmland above the town of Gairsain. Nothing like some soft soil to dream on below the stars. Today Sampath, ultra running buddy from Bangalore, would be joining me from Karnaprayag. My Bluebolt tent sheet was covered with frost again. Cold night, sub zero temperatures and condensation due to clear skies.

It took me one hour to descend into the Ata Gad river valley and climb up to the taxi stand of Gairsain where I met up with Sampath around 8am. We both had breakfast together in a small road side dhaba. 3 aloo paratha s with sweet curd. One of my favorites. We packed up two samosa's for lunch and we're on our way.

It was a good thousand meter climb to the ridgeline at 2800m from where we would get into the Pindari river valley near the village of Gadhera. We looked for the trail head to get us to the Survey mapped trail leading up to the pass. We got into a path that was heading towards the ridgeline we were supposed to climb.

We passed through an isolated farm where a family invited us for a photo. They treated us on hot bufallo milk and plucked some oranges from the tree. Energized we resumed our way hair pinning up the ridge above. We met a group of ladies going up to fetch firewood.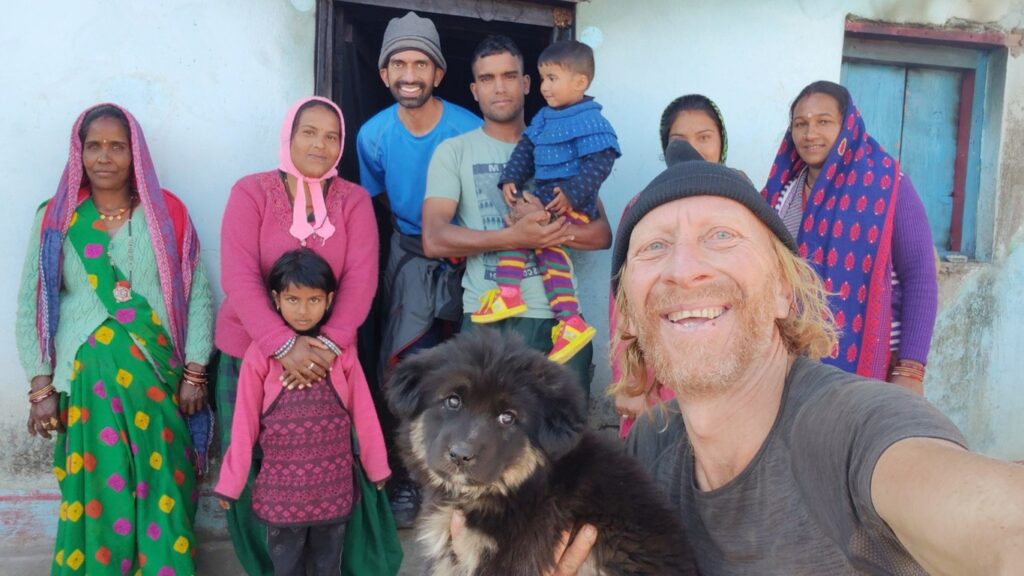 Still further up we crossed another small settlement where an elder gentleman was putting new straw on his rooftop. He showed us the way up to the mandir above. A frequented trail ran on top of the ridgeline and got us to a nice mandir decorated by red and yellow cloth ribbons. A massive bell hang on the entrance, big enough to fit in a clock tower.

Soon after we encountered snow but it was easy to stay on track as the trail remained on top of the ridgeline. We stopped for a short orange break, soaking up the warm mid day sun. As we climbed higher mesmerizing views revealed itself on the Northeastern Gangotri section including Chaukhamba.

As we reached the top ridgeline at 2800m the Southern Nanda Devi subsection appeared in all it's grandeur in the East. To the North we could see the Kamet group further away. We sat down for a samosa lunch taking in the spectacle in front of us under a warm 1pm sun. The skies were very clear revealing the Nanda Devi range in all it s stunning beauty.

We now started our descend into the Pindari river valley. This side had more snow and soon we lost track of the trail below the uniform white snow blanket. Following the directions of the Survey map we now scrambled down the steep slope through fairly dense jungle and snow. Our pace reduced significantly as we were going off track.

It took a while before we got back on a proper used trail which dropped into the valley taking us to the first village of Khainoli. It took us through beautiful, serene, lush green forest. As we approached the hamlet spectacular views opened up – bright yellow mustard fields, heritage homes of the picturesque hamlet topped by the snow capped ranges of Southern Nanda Devi.

We walked through the village admiring beautiful traditional homes. Rock walls, hand carved wooden doors and large limestone tile rooftops. Friendly villagers curious to know where these two lone travelers suddenly appeared from. Admiration as we told them we crossed over from the other side.

A new road was under construction which hair pinned down to the Pindari river below at 1000m altitude, a 1800m drop from the ridgeline above. We got into a trail short cutting the hair pins of the road leading to Gadhera along the highway. A share taxi took us to Narayan Bagar some 10km downstream at the base of our next traverse.

As we switched on the phones we heard the news of the floods near Tapoban where 300 people died at a power project I passed 2 weeks ago. Sad news, global warming is showing its ugly side. We dropped into a small road side dhaba which I visited a week back. The owner was happy to see me again.

We indulged in hot black chai, yummy cream rolls and Maggie with eggs after a 25km trek across my 85th pass of this winter season. Shortlisting photos, sharing GPS recording, posting on social media and blogging the day while the phone battery was recharging. We settled down for the night in a nearby farm land.