Trans Himalaya 2019 – Hamlets.
On my 3000 km long trans Himalayan journey across 120 high altitude passes and as many valleys I passed through 341 remote hamlets in the mountains, some taken straight out of a fairy tale book, most of them showing heart warming hospitality and living sustainable with nature, places where humanity still exists.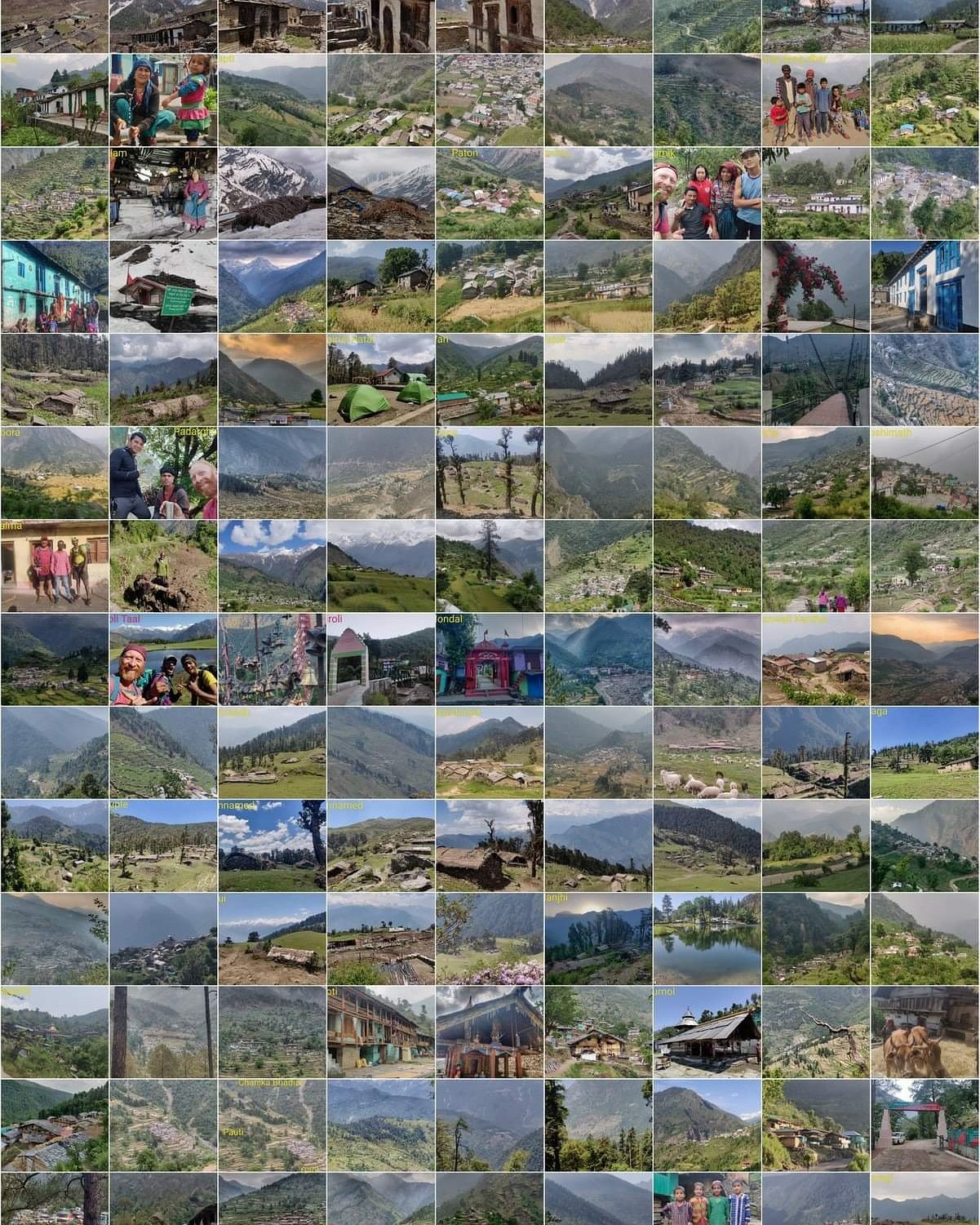 Album link: https://www.facebook.com/PeterVanGeit/posts/10218355155532907
V1. Dharma valley
Shobla, Dar, Sela, Nagling, Baling
Datu 3200m – camp May 6+7
Dakar, ITBP – 3300m
P1. Dharma top 3300m
Goe, Philam, Baun
Shobla 1700m
Teejam 1970m – camp May 8
Sungdom
Meadow 3300m – camp May 9
P2. Balsi Khal 3900m
V2. Uninhabited valley 3400m
P3. Dharti kharak 3800m
V3.  valley 3100m
P4. Dharti Khal 3400m
Nepal workers – camp May 10
Bona
V4. Valley 1800m
Tomik
P5. Tomik-Rapti pass 2800m
Rapti
Ropar
V5. Mathkot 1220m
P6. Bothi pass 2220m
Veskhal
Dang dang dhar 2200m – camp May 11
Unnamed pass back to Rapti valley 2800m
Dilam
Lang
Buin
Lilam 1750m
V6. Ralam valley
Paton
Temple 2650m
Guesthouse 2300m – camp May 12
P7. Ralam 3500m – camp May 13
Buinee 1800m – camp May 14
Quirry 2050m
P8. Rur Khan pass 3480m
V7. Jakla Nala 2600m
P9. Sur Sungri Khal 3240m
Namik 2100m – camp May 15
V8. Valley 1820m
Kimmu 2220m
P10. Madhari pass 3020m
Nin Nagoli 2300m
Kalpata 2070m – camp May 16
V9. Valley 1900m
Khal Juni 2250m
P11. Kati Khal pass 2920m
Pakawa bugyal 3950m – failed, deadend
V10. Pindari valley
Kathi 2200m  – camp May 17
Dwali 2600m
Phurkia 3200m
P12. Pindari glacier  3600m – camp May 18
Kathi
Jaikuni
Karkhiya – camp May 19
Pindari river 1970m
Sorag 2250m
Pitaag 2280m
Badiyakot 2100m
Garkuti 2370m
P13. Badiyakot-Barkandi pass 2780m
Malla Bora 2380m
Talla Bora 2040m
V11. Valley 2050m
Balara 2350m – camp May 20
Barkandi
Matholi
P14. Barkandi-Himni pass 3350m
V12. Uninhabited valley 3200m
Dolam 2960m
Himni 2400m
V13. Valley 2000m
Balan 2300m – camp May 21
P15. Ali Khal 3450m
Gairuli Patal 3200m
Dhar 2700m
V14. Wan 2450m
P16. Kukin Khal 3100m
Watoli
Kanol 2700m
Sithel 1850m – camp May 22
V15. Nandakini river
Aala Jokhna
Boora 2100m
Padarghow 2400m
Ghuni 2400m
@Sveer 7351681057 1000 sheep
Ghana 3050m
P17. Surya Ghat 3180m
@Madhan singh 8449598174 1000 sheep
Jhenji
V15. Valley 1880m
Pana
Sartoli – camp May 23
@Pritham Singh 9997625463 1000 sheep
V16 Uninhabited valley
P18. Kuari pass 3700m
Gorsoun top
Auli 2650m
Joshimath 1900m
V16. Alaknanda river 1200m
Helong 1250m
Salma 1600m – camp May 24
Thana 1900m
Urgam 2000m
@Sanjan Bandari 8755049445
Ridge 2600m
Palla 2550m
Jakola 2400
Kimana 2350m
Ridge 2620m
Uchwan
Kujani
Kalgod 2550m
Jokuda
Dumak 2400m
River 2100m – camp May 25
Toli Taal 2630m
Panaar Bugyal 3460m
Ridge 3670m
Pitradhar 3760m
P19. Naola pass 3800m
Kandai Bugyal 2300m
Amrit Ganga river 2000m
Anusuya Devi Temple 2040m
Siroli
V17. Mondal 1500m – camp May 26
Road: Mondal-Chopta-Oshimath-Sonprayag
Sonprayag 1700m
Trijugi Nārāyan 2200m – camp May 27
P20. Kyunkhola Khal 3500m
Uninhabited valley
Ridge 3680m
Panwali Kantha Bugyal
V18. Ghuttu 1600m – camp May 28
Reeh 2100m
Luni 2500m
Minsadu 2800m
P21. Reeh-Gainwali pass 3360m
@Arjun 8988671841
Bagi 2980m
Gainwali 2180m
V19. Valley 2030m
Rayana 2700m  – camp May 29
@Jaghu 7579481274
P22. Gainwali-Pinswar pass 3150m
@Shivaraj 8650740514
Kunala 2900m
V20. River 2230m
Naga 2420m
Lengwadi 2550m
Dulpe 2800m
Unnamed 3080m
Unnamed 3350m
Unnamed 3350m
P23. Pinswar-Malla pass 3300m
Unnamed 3300m
Unnamed 3300m
Unnamed
Shilla 2050m
V21. Malla 1550m – camp May 30
Optional: road Chareti-Uttarkashi-Riathal
Riathal 2200m
Gui 2970m
Dayara 3350m
P24. Dayara pass 3600m
House on ridge 3550m
V22. Valley 2600m
Manjhi 2950m – camp May 31
Dodi taal 3080m
P25. Darwa Pass 3760m
V23. River 3200m
Stuck on steep ridge and gorge stream. U turn.
River 3200m – camp June 1st
P26. Darwa pass (2) – Dodi taal – Manjhi 2950m
Bedra 2250m
Agoda 2000m
Sangamchatti 1600m
Road: Sangamchatti-Uttarkashi-Dunda-Barkot
Bramkhal – camp June 2nd
Rajgarhi 1800m
Phari 1500m
Koti 1500m
Bachangawn 1750m
Chapthari 1850m – camp June 3rd
Surnol 2100m
Chanika Badiar 2200m
Pauti 2150m
Gaul 2100m
Kimdhar 2100m
Sur Badiar 2300m – camp June 4
V24. River 1920m
Darsaun 2400m
P27. Darsaun-Jewanu pass  2800m
Pass 3470m
P28. Sure-Sankri Pass 3460m
P29. Kedarkanta 3800m
Sankri 1900m
Motwar 1800m
Natwad 1400m – camp June 5
Rupin river valley
Dhaula 1580m
Dhoni 1800m
Masri 2150m
Khanna 1780m
V25. Rupin river crossing 1700m
Sewa 2000m
side valley crossing 1900m
Gabujadhe 2000m
Dodra 2500m – camp June 6