Trans Sahyadris 2019
A two week journey climbing up 22 forts across the Sahyadris in Maharastra in February 2019.  Initial focus on the Northern side near Nasik where the Sahyadris are more dramatic, followed by those closer to Pune and finally several coastal forts South of Mumbai.
Location of all forts can be found on Google Maps and the access trail easily found from the nearest village. Visited forts are marked in green on map.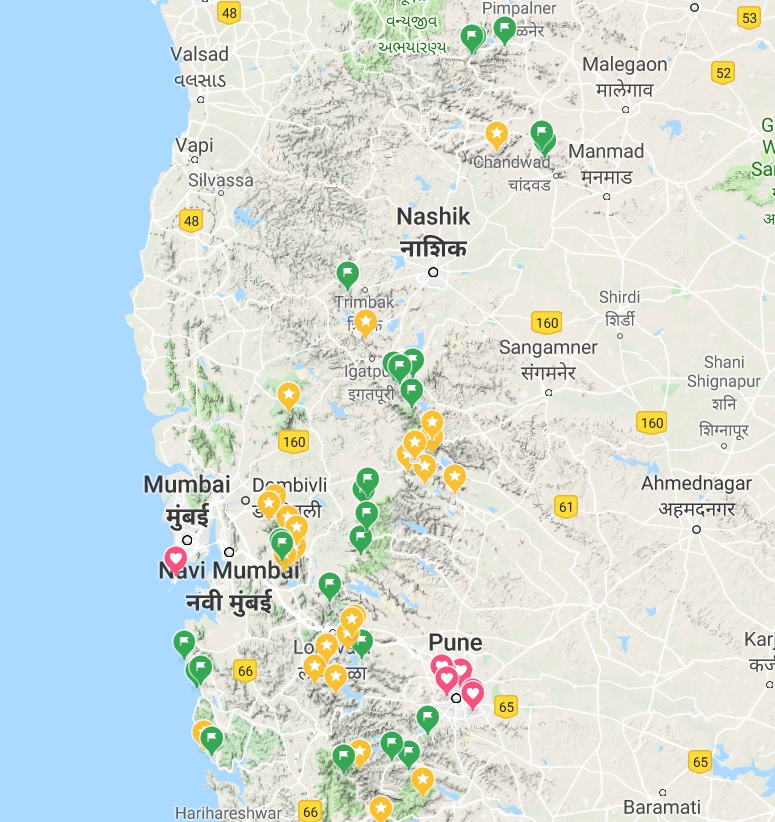 Singhad-Rajgad-Torna
50K SRT Ultra run connecting the forts of Singhad, Rajgad and Torna near Pune
Lonavala 2 Rajmachi
30K run from Lonavala to the beautiful twin forts of Rajmachi
Kalsubai
Running up the highest peak of Maharastra, Kalsubai
Ratangad
The spectacular fort of Ratangad with the pinhole view from top
Sandhan Valley
Rapelling down through the "gorgeous" Sandhan valley
Alang Fort
Technical climb up the spectacular Alang fort
Madan
Yet another technical ascent of the Madan fort in the AMK traverse
Kulan
The third and final fort in the challenging AMK traverse
Harihar
Climbing up the steep Harihar fort through the beautiful rock gallery
Indrai
Exploring Indrai fort and its rock caves North of Nasik
Rajder
Climbing the steep ladder up to the Rajder fort in the Northern Sahyadris
Mulher
Exploring beautiful heritage architecture while climbing up Mulher fort
Salota
Climbing up the twin forts of Salota and Salher
Salher
Exploring the highest fort in Maharastra, Salher
Sidhgad
Beautiful trail leading up to Sidhgad fort in the Sahyadris between Pune and Mumbai
Gorakhgad
Climbing up the pinnacle of Gorakhgad fort
Bhimashankar
Visiting the ancient temple of Bhimashankar climbing up from the Konkan plains to the Deccan plateau
Kothaligad
Discovering beautiful historical architecture inside the rock corridors of Kothaligad
Prabhalgad
Exploring the dense forest on top of Prabhalgad and neighboring pinnacle of Kalavantin Durg
Kolaba
The coastal for of Kolaba on the Konkan coast South of Mumbai
Revdanda
The highly eroded rock walls of the majestic coastal fort of Revdanda
Korlai
The Portugese fort of Korlai on the Konkan coast
Janjira
The Island fort of Janjira of the coast of Murud
Raigad
Capital of Shivaji's kingdom, Raigad Fort
Katraj-Singhad
Ridge trail run from Katraj to Singhad in the outskirts of Pune
Pune-Tikona
Trail run on the ridges from Pune to Tikona fort
Vetal-Tekdi
Trail running at Vetal Tekdi in Pune city